By Christopher R. Bartocci
The magazine is the heart and soul of any weapon system. If the magazine is not functioning the weapon will not be functioning. Lord knows there are a plethora of magazine manufacturers out there in the industry. Magazines are now made of aluminum, stainless steel, translucent polymer and polymer. Of course some are blends of these materials.
C-Products, LLC has been in the business of manufacturing magazines since late 2004. Located in Newington, Connecticut they are right in the middle of Gun Valley and in the valley are many manufacturers of the Black Rifle. C-Products is co-owned by Larry Panka and Berry Bergen and is a Vietnam Veteran owned Company (Larry Panka served in Vietnam). This 30 person company has the capacity of manufacturing 125,000 magazines per week. C-Products is ISO 9001:2008 certified.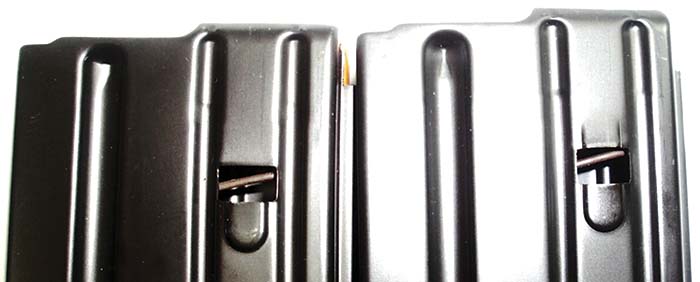 C-Products manufacture mostly stainless steel magazines. The only magazines offered in aluminum are the AR-15/M16 20- and 30- round magazines. All other models are stainless steel. These include AR-15/M16 20-, 30- and 40-round magazines, 5.45x39mm, 6.5 Grendal, 6.8 Rem SPC, 9mm, 7.62x39mm, 50 Beauwolf and 450 SOCOM AR based magazines as well as SR-25 5-, 10- and 20-round magazines, M1911 and M9 magazines. C-Products has a wide variety of customer bases including the armed forces of the Republic of Georgia, Colombia, Turkey, Philippines, Macedonia and Malaysia. Along with selling the magazines directly they also provide magazines to Original Equipment Manufacturers (OEM) of rifles including J&T Distributing, POF, Midway, Ferfrans, Bushmaster, Barrett ,Stag Arms, Les Bear, Alexander Arms, Ruger, LWRCI and Smith & Wesson to name a few.
To look into the manufacturing process of a magazine it all begins with a two piece stamping of the magazine body. The stamping is done by an outside vendor with dies designed and owned by C-Products. After the stampings are received, they are vapor degreased. Then the two halves snap together by 4 dimples stamped into the front and rear of the bodies. The magazine is then fed to 1 of the 4 state-of-the-art robotic welding units. Each unit contains two stations. The robotic arm picks up the magazine from a conveyer belt and places it in a fixture where 8 welds are done to the front and back of the magazine. The next phase is off to heat treating. Upon return from heat treating they go out for coating. Aluminum magazines will be anodized and the stainless steel magazines will be Teflon, isonite, grey moly or black oxide finished.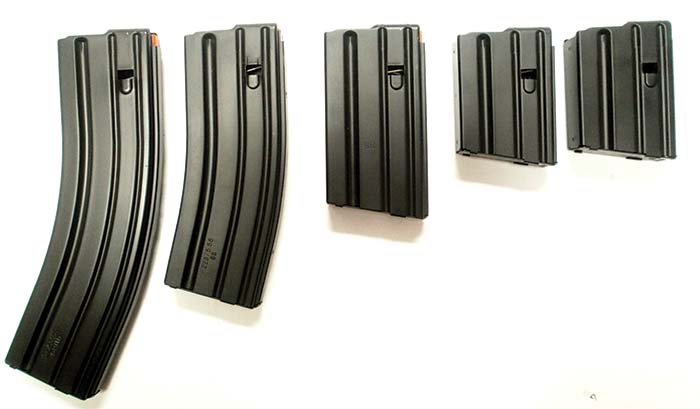 The finished magazine body is then off to assembly. C-Products have designed and use their own followers and all are anti-tilt. They are manufactured by an outside vendor with molds designed and owned by C-Products. The magazine springs used by C-Products are exclusively chrome silicone springs. However if requested stainless steel springs can be provided.
Prior to assembly every magazine is placed in a go/no go gauge. This ensures the magazine will fit in a Mil-Spec magazine well. When the magazine body passes the spring is attached to the follower, placed in the magazine and the floor plate inserted. Then the follower and spring are manually compressed with a tool and released to ensure free movement of the follower. The magazine is placed again in the go/no go gauge to insure its integrity and then sealed in plastic and boxed up.
To insure quality, random magazines are selected from every lot and tested. For instance, if the magazines are for an M16/M4, the random magazines would be taken to the range and loaded and shot three times to insure reliability. Government contracts may vary depending on what that particular customer requires. Throughout each part of the manufacturing process there are quality inspections. Every magazine design is proofed by more than 2,000 rounds of firing before pre-production starts. The company maintains its own reference collection of various rifles and pistols to conduct their design and quality control testing.

C-Products work with weapons manufactures that are in the process of designing weapons and require a magazine to be designed with it. For example C-Products worked with Smith & Wesson on the development of their 5.45x39mm M&P rifle as well as designing the 6.5 Grendal magazines with Alexander Arms.
The Magazines
The AR-15/M16 families of weapon magazines are by far the most produced magazines by C-Products. Approximately 80% are manufactured of stainless steel and 20% of aluminum. They come in 10-, 20- and 30-round capacities. Newly introduced is a 40-round magazine designed for match shooters. As of this writing, C-Products is implementing an enhancement to the magazine catch slot on the magazine. To aid in engagement, the top is flared out as well as the bottom holding the magazine more steadily.
Additionally C-Products manufacture magazines for the Colt 9mm SMG/Carbines. These come in 10-, 20- and the standard 32-round capacity. Manufactured of stainless steel and utilize orange followers.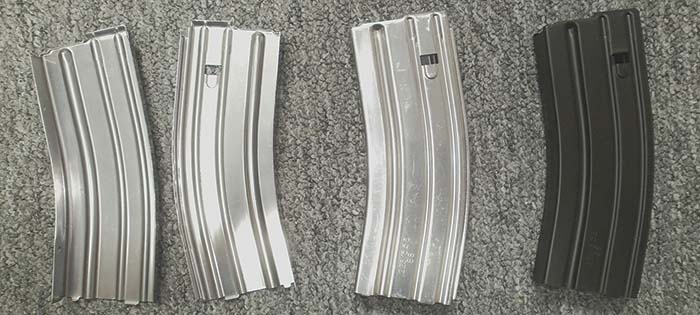 Additionally for AR-based weapons, C-Products manufacture magazines in 5.45x39mm caliber for the Smith & Wesson M&P rifle in 5-, 10-, 15- and 25-round capacity. They manufacture both 6.5 and 6.8 magazines in 5-, 10-, 20- and 25-round capacities. They manufacture SR-25 7.62x51mm magazines with a 5-, 10- and 20-round capacity. Magazines are made in 7.62x39mm caliber in 5-, 10- and 30-round capacities.
C-Products also produces stainless steel magazines for the .45 Auto caliber M1911 and soon the Beretta 9mm M9 (92FS) pistol.
As well as complete magazines, C-Products sells replacement followers and magazine springs as kits to customers so they can rebuild/enhance their existing magazines.
At The Range
The only way to find out how well a magazine is made is to simply shoot with it. I received several test and evaluation (T&E) magazines from C-Products that I picked up personally from their Connecticut manufacturing facility. The first magazines tested were their 9mm Colt SMG magazines. I obtained five magazines and shot them with a Colt 9mm SMG and a Colt AR-15 9mm Carbine. More than 1,000 rounds were fired in both semi- and fully automatic without a single malfunction. The ammunition used was American Eagle 9mm ball.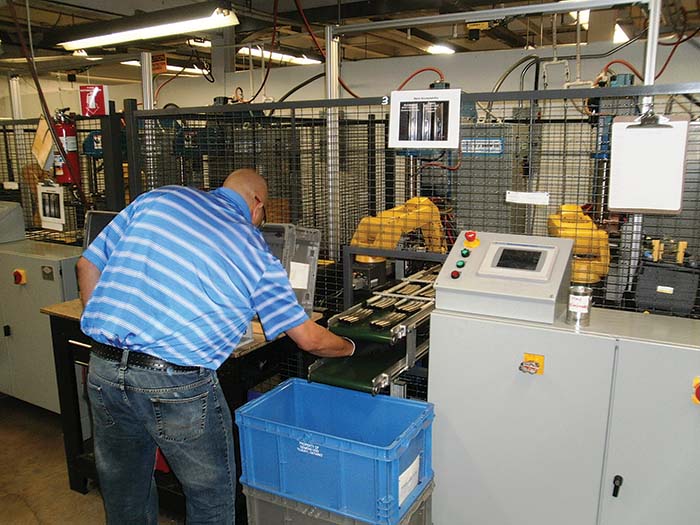 The next magazines tested were four of their 7.62x51mm SR-25 magazines. These magazines were fired in a Knight's Armament Company SR-25 Enhanced Match Rifle and a LWRCI REPR sniper rifle. All the magazines ran flawlessly in both weapons and the magazines dropped free when the magazine release was pressed. The ammunition ranged from Silver State Armory M80 Ball to Silver State Armory 168 grain OTM.
Additionally, the 25-round 6.8mm Rem SPC magazines were tested in a Lewis Machine & Tool MRP with the 6.8 barrel assembly. More than 600 rounds were fired in 4 magazines with no malfunctions at all. Testing was conducted using an LMT MRP 6.8mm carbine.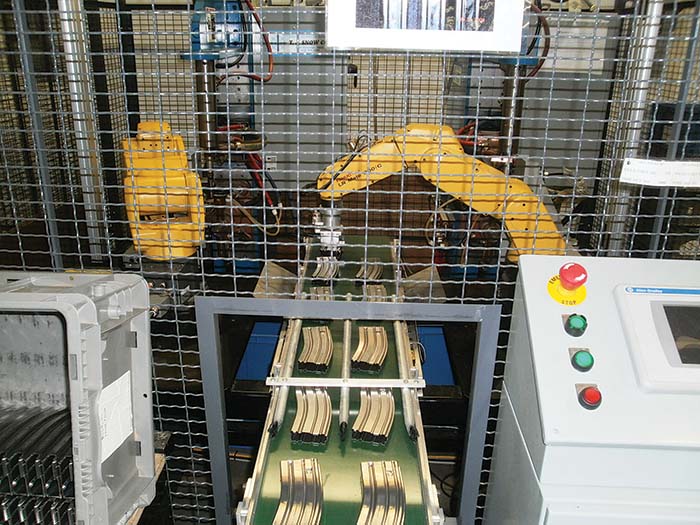 Lastly, the 5.56mm M16/AR-15 magazines were tested. Magazines with 20-, 30- and 40-round capacities were tested in Colt LE6920, Colt M4, Colt M4 Commando, ArmaLite and Lewis Machine & Tool MRP using the 5.56mm piston barrel assembly. More than 2,000 rounds were fired between all these different models without malfunction and the magazine dropped free from every rifle when the magazine release button was depressed.
Magazines are a critical part of any weapon system. Confidence in the reliability of a weapon is largely based on the devise that feeds it. C-Products is a magazine manufacturer you can bet your life on. Military and police agencies do all over the world every day.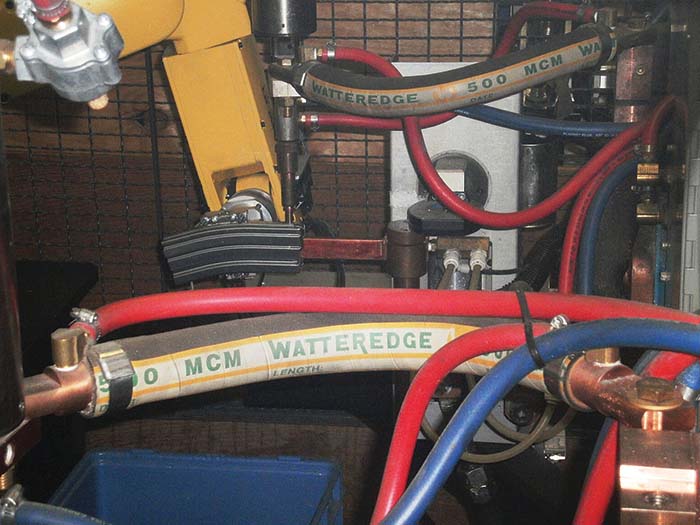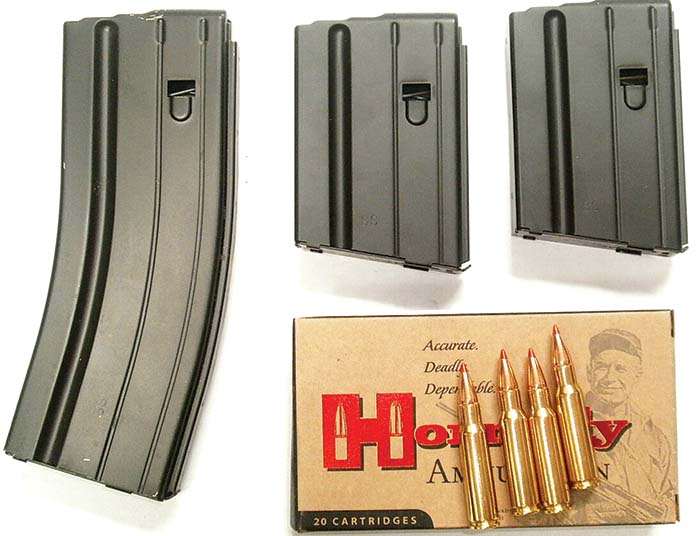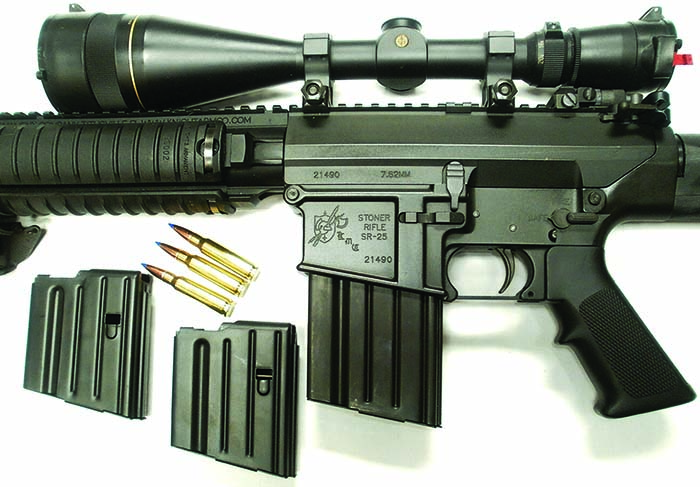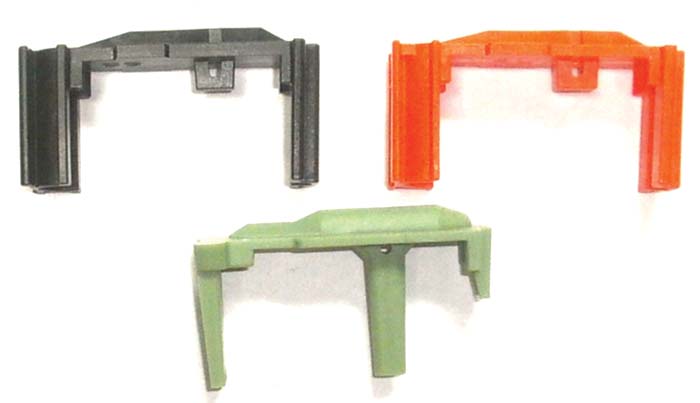 This article first appeared in Small Arms Review V16N4 (December 2012)