By Todd Burgreen
Generally speaking, firearm manufactures focus production on specific categories of weapons. Examples of category labels consist of sporting arms (rifles/shotguns), handguns, competition, tactical and personal defense. This is often further sub-divided into handguns, rifles, and shotguns. This specialization allows for brand recognition and lends a degree of credibility to their wares with customers. Most firearms companies strive to be the single source for all of their customer's needs within a certain product line. This is understandable as market sectors and customers are very often distinct in their needs. This ensures loyal repeat customers, which are the bedrock to steady sales performance as a company.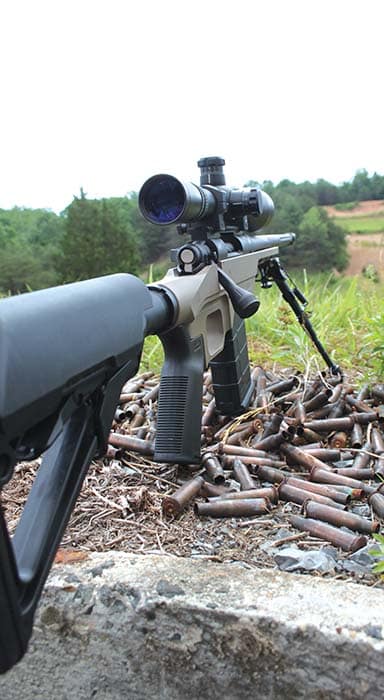 A manufacturer that is developing into a noteworthy force in the U.S. for multiple firearm categories i.e. ARs, shotguns, bolt action rifles is Mossberg. Some may be late arriving at this revelation; only being exposed to the familiar with Mossberg shotguns. Mossberg has established a solid place in the American gun psyche in terms of American-made quality and customer service. Many are having epiphanies due to recent introductions such as the MVP LC (Light Chassis) .308 bolt action rifle catching their eye. This rifle model indicates a continuing focus on product expansion at Mossberg.
Though originally named after its quarry, the Mossberg Varmint Predator (MVP) rifle line of rifles has now expanded rapidly to include both hunting and tactical models with many that are equally at home in the field or on the range. The MVP LC rifle expands on earlier Mossberg MVP series rifles such as the Varmint, Patrol, Scout, and LR (Long Range) with its closest cousins being the Mossberg Patrol and LR rifles. The Mossberg MVP Patrol and now the LC is often overlooked when tactical rifles are discussed. The MVP Patrol is the center of Mossberg's law enforcement series. It is available from the factory in various calibers with many notable features including different stock types, recessed target crown, Picatinny rail over receiver, and Mossberg's industry leading LBA (Lightning Bolt Action) adjustable trigger. One thing that sets apart the MVP Patrol series of rifles, including the LC, functionally and aesthetically, is the ability to accept AR-15/AR-10 type magazines.
Misconstrued prejudices abound when it comes to Mossberg rifles stemming from misconceptions based on price and elitist sentiments. Many individuals, not to mention industry competitors, want you to believe that the moderately priced Mossberg must somehow be deficient when compared to rifles costing two to three times more. An individual's or department's needs should be fully analyzed and the Mossberg MVP LC considered. The Mossberg MVP LC takes a back seat to no rifle in terms of precision, repeatable accuracy, ergonomics, reliability, trigger, capacity and safety.
The MVP LC evaluated herein is chambered .308 Win. with a 5.56mm/.223 Rem. model available. The MVP LC features a modified Mossberg 4×4 bolt action. Overall length is 38 inches with the free-floated medium profile 18.25 inch barrel equipped with a threaded on SilencerCo Trifecta muzzle brake that can be removed to make room for other muzzle devices or capping of the 5/8 x 24 threads. Mossberg is using a MDT LSS (Modular Driven Technologies Light Sniper System) chassis with the MVP LC. The integral bedding block and free floated forend assist in improving accuracy and ergonomics. The chassis system is manufactured out of billet 6061-T6 aluminum, which is then hard anodized to Mil-Spec type III for extra strength. With an emphasis on compactness, the MDT LSS was designed for collapsible AR-15 buttstocks. The MDT LSS stock enables the use of external detachable magazines. The MDT stock is pre-drilled and threaded in various locations to accept Picatinny rails along its sides as well as a night vision hood in front of a mounted optic.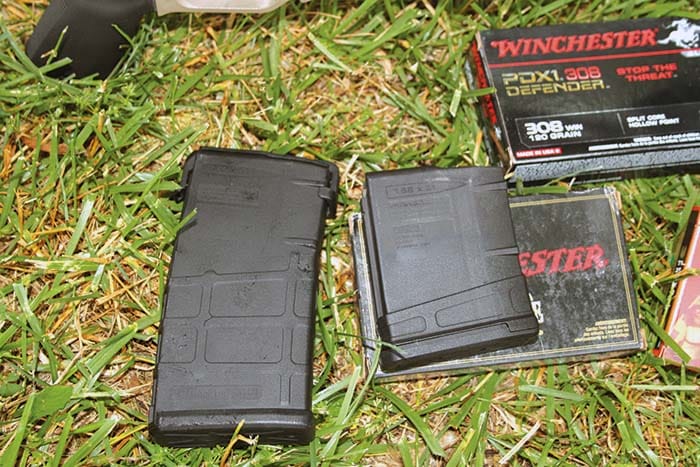 The 1:10 twist hammer forged barrel gets the most out of the various wide ranging .308 loads on the market i.e. 147 grain to 175 grain. The MVP LC weighs 8.5 pounds empty without an optic attached. The rifle's relatively light weight gives the rifle improved portability and above average handling characteristics for a precision tactical bolt action rifle. Many tactical rifles, while accurate, resemble boat anchors when it comes to handling due to weight and stock configuration.
The Mossberg 4×4 bolt is the basis of all of the MVP's bolt actions, including the LC. The MVP's action is machined from bar stock and Mossberg has modified the bottom of the bolt head. This is done to enable use of AR-15 magazines with the 5.56mm rifles and AR-10/M1A magazines with the .308 variants. The patented MVP 7.62 Dual Push bolt design is the key to using high capacity detachable magazines. Mossberg provides a 10-round Magpul 7.62 magazine with the MVP LC. Laying cartridges in the raceway to single feed rounds did not work smoothly. It was required to first click the rounds under the magazine's feed lips for chambering to go smoothly.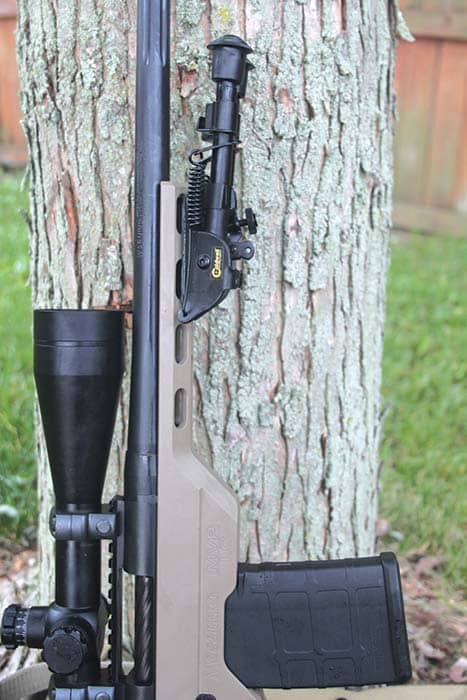 When the Mossberg MVP series of rifles first appeared in 2011 there was some concern expressed that the bolt modification might prove to be a weak point in terms of durability. It seems this concern has died away now that the MVP has been on the market for awhile and proving a favorite of varmint hunters. This is an important distinction as no group of users fire more ammunition in such compressed time frames than a dedicated varminter sitting over a prairie dog town. Empty magazines were easy to detach and reinsert loaded ones via push button release in front of trigger guard area. The feel of the bolt was no different than any other bolt experienced even with stripping rounds from PMAG 7.62 magazines versus from an integral box magazine most associated with bolt action rifles. Credit must be given to Mossberg for designing such an inherently simple modification tweak to the bolt action enabling use of the ubiquitous AR-10 (LR308/SR-25) and M1A magazine.
One has to be impressed with Mossberg's design work in getting the MVP series to feed via the popular detachable magazines i.e. AR-15, AR-10 (LR308/SR-25), and M1A. The MVP LC is no different. Multiple Magpul 7.62 magazines were used during testing with no feeding issues encountered. Reliability is something that can not be compromised. Another notable feature found on the MVP LC is an oversized bolt handle that facilitates rapid and sure operation of the smooth Mossberg bolt for follow up shots. The oversize bolt and smooth passage of the bolt in the raceway allows for minimal disturbance of the rifle when the bolt is worked. The MVP LC's oversized bolt handle and detachable magazine are features that lend themselves to performing in a tactical environment and serve to maximize the Mossberg bolt's potential.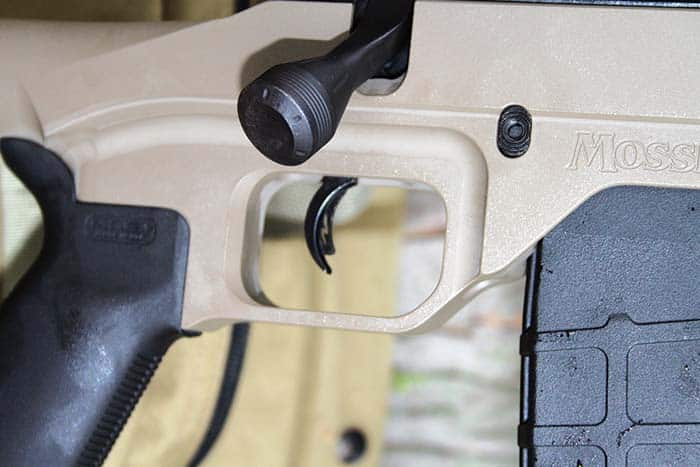 Many will wonder what is the purpose or niche for the Mossberg MVP LC. Why not just use a tuned semiautomatic AR in lieu of the bolt action MVP LC? The answer lies with individual or department preference for a bolt action. This could be based on cost, public perceptions, or myriad of other reasons. Mossberg decision to use the MDT LSS chassis stock is a wise decision with it being rock solid with design characteristics making it conducive to accurate shooting from a variety of positions. The wider/flatter than normal forend handles bipods or sandbags with equal aplomb. In fact, Mossberg equips the MVP LC with a Caldwell bipod as standard equipment. However, the MVP LC is not exclusively designed for shooting from the supported prone or bench position. The stock allows for offhand and other types of supported fire if needed. Think hood/trunk of a squad car or other field expedient positions. The ergonomics of the adjustable length of pull Magpul CTR buttstock allows for a comfortable, repeatable cheekweld. This is combined with a Magpul AR pistol grip making hand placement conducive to pulling the Mossberg LBA trigger smoothly to the rear.
The LBA trigger is a huge part of the phenomenal accuracy to cost ratio factor derived from the Mossberg MVP LC for any agency considering it. The LBA trigger is just as important to accuracy as the Mossberg bolt action and quality barrel. A rifle's trigger is the interface between shooter and rifle and must be right or accuracy will suffer. Mossberg's desire is to give the shooter an enhanced trigger that is crisp, creep free and fully adjustable between 2 and 7 pounds. From the box it measured just below 4 pound pull weight. Without going into minutia, the LBA's distinctive "trigger blade" release lever in front of the trigger proper is the secret to maintaining minimal trigger weight, without creep, while keeping the system safe. The "trigger blade" must be activated (i.e. moved rearward into the trigger) before the sear will move firing the cartridge. A sudden drop or impact will not do this, even if the safety is off. This allows the LBA trigger to be adjusted by the user without having to resort to an armorer. The LBA's contribution to precise accuracy can not be overemphasized.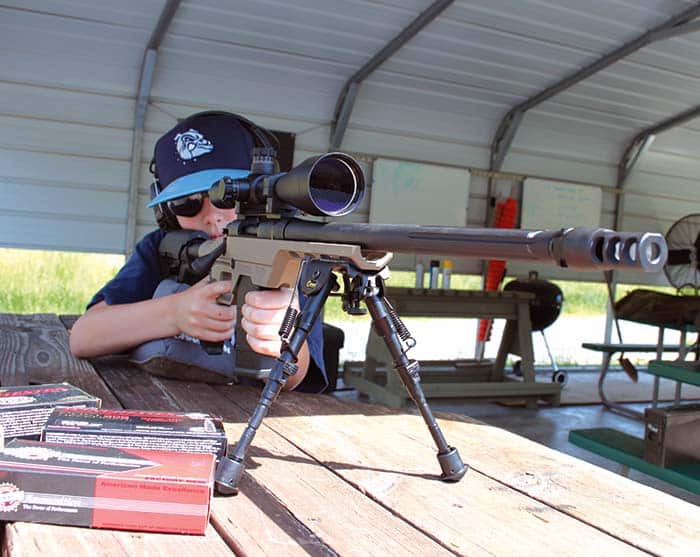 The first requirement of a tactical rifle is precise accuracy. A Leupold Mark IV 6.5-10x50mm scope with mil dot reticle was mounted on the one piece Picatinny rail above the MVP's receiver via Leupold Mk IV rings. It has the typical great Leupold reliability, clarity, and image quality with a near perfect variable power range for a precision .308 rifle. Importantly, Mossberg provides the LC with an integral Picatinny rail so that optics can be mated right up to the action for a solid zero maintaining connection between rifle and optic. Champion tripod front rest and sandbags were used to support the Mossberg LC during bench testing phase of evaluation in conjunction with supplied bipod.
Various .308 loadings from Black Hills Ammunition, Federal, Winchester, and Hornady provided the basis of accuracy tests. The Black Hills Match loads tested consisted of 168 grain Match bullets. The Federal chambering was the venerable 168 grain Match load that still serves as the benchmark for performance. 168 grain TAP from Hornady along with Winchester 168 grain Match was also used. The Mossberg LC's 18.25 inch barrel produced velocity in the low 2,600 feet per second (fps) range with the 168 grain loads. As to be expected with quality ammunition, velocity figures within the different loads deviated very little from round to round as witnessed shooting over a RCBS chronograph. The Mossberg MVP LC produced MOA groups with several different ammunition brands – an important logistic consideration. The accuracy figures are based on firing five three-round groups and veraging group sizes.
Steel targets were smacked with ease out to 310 yards using field expedient rests at Echo Valley Training Center's Range #1 stepped berm. While by no means rivaling a semiautomatic for pure fire power, the detachable magazines were handy to recharge the Mossberg MVP LC after the last empty case was flipped out on the ground. Unlike other bolt actions there was no initial tightness from the new Mossberg MVP LC's bolt action. It was "slick" and smooth as it emerged from the box.
The Mossberg LC's 18.25 inch barrel maximizes portability and handling while maintaining .308 Win. ballistics and terminal performance. For those who prefer a bolt rifle in lieu of a military style AR weapon, the LC is worthy of consideration. This is due its power, accuracy, and multi-mission capability considering likely engagement distances – even in terms of precision shooting.
Further tactical modification of the Mossberg MVP LC is possible. For example, by adding MDT night vision hooded rail accessories on the stock's forend, one can mount a PS 22 type night vision device. An example of this type of device is the American Technologies Network ATN PS 22 Night Vision Device. The ATN PS 22 allows for the day scope to stay constantly zeroed, yet allows for quick adaptation for night use. It can be attached or detached with no impact on the day optic's point of aim and parallax is not an issue. Another benefit of the PS 22 is that a scope's reticle does not need to be illuminated or IR compatible for it to be visible when it is in use. This differs from NV products that mount to the rear of the scope.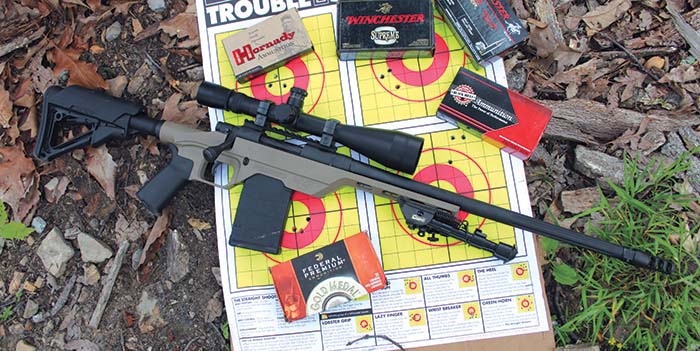 Even though a bolt action and imminently qualified to serve as a precision tactical weapon, the MVP LC should not be pigeon holed into solely a sniper rifle role. There are many jurisdictions that will appreciate its non-assault rifle persona while maintaining its high capacity capability even though a bolt action; think lightweight patrol rifle with 20 round capacity. Concerns related to over penetration could be addressed with ammunition selection; the new Winchester PDX 1 Defender loading for the .308 Win. featuring the SplitCore Technology 120 grain bullet immediately comes to mind. The use of detachable AR magazines simplifies loading/unloading procedures compared to fixed box magazines that require the action to be manipulated to unload.
While not fair to compare the Mossberg MVP LC to other rifles costing thousands more, it is unavoidable. The MVP LC performed equal or better as other rifles tested in this format costing significantly more. Readers are urged, whether civilian or LE, not to fall into the trap of thinking that only dollars spent equate into proficiency. Yes, equipment is a huge part of the skills equation when precision marksmanship is sought, but it is often emphasized in lieu of training and practice. The Mossberg MVP LC is not a compromise candidate in terms of performance; though a user will benefit from selecting it by having funds left in the budget for optics, ammunition, and training.
The Mossberg MVP LC rifle will take care of most imaginable engagements from 0-600 yards involving two or four legged adversaries/quarry. Mossberg is establishing itself as a "one stop shop" for all consumers' needs either sporting or personal defense with its increasingly varied product line up. It is rare to find a company that can provide products that can serve customer needs so fully. The Mossberg MVP LC is hard to argue against in terms of utility for LE or security conscience civilians.
SITES OF INTEREST
O.F. Mossberg & Sons, Inc.
www.mossberg.com
Echo Valley Training Center
www.echovalleytrainingcenter.com
Leupold & Stevens, Inc.
www.leupold.com
This article first appeared in Small Arms Review V20N2 (March 2016)