By Alton P. Chiu
Hearing protection is of paramount importance, since lost hearing cannot be recovered. Typical gunfire measures 150 to 160 decibels, with 140 decibels being the commonly accepted threshold for hearing damage. Cost-effective and readily available foam earplugs provide some attenuation, but that alone may be insufficient (Ylikoski et al., 1995). In addition, environmental factors such as an overhead awning or a barricade can cause reverberations and amplify noise to unsafe levels.
Impetus
The author experienced the amplification effect during a sporting event, when he fired through a tube with his 7.62x51mm rifle and head inside. Despite having tightly fitting foam earplugs, one shot dazed the author and caused temporary deafness in one ear. Other shooters with 5.56x45mm rifles also reported discomfort and disorientation, despite having their heads outside the tube.
This experience prompted the author to seek more robust hearing protection. "Doubling up" with foam plugs and a passive headset helped dramatically, but it also blocked conversations and range commands. MSA Supreme Pro-X electronic hearing protection overcame this by reproducing conversations while providing a passive noise reduction rating (NRR) of 18 decibels (Wonderling, 2015). This article examines both its passive noise protection and active ambient sound reproduction characteristics.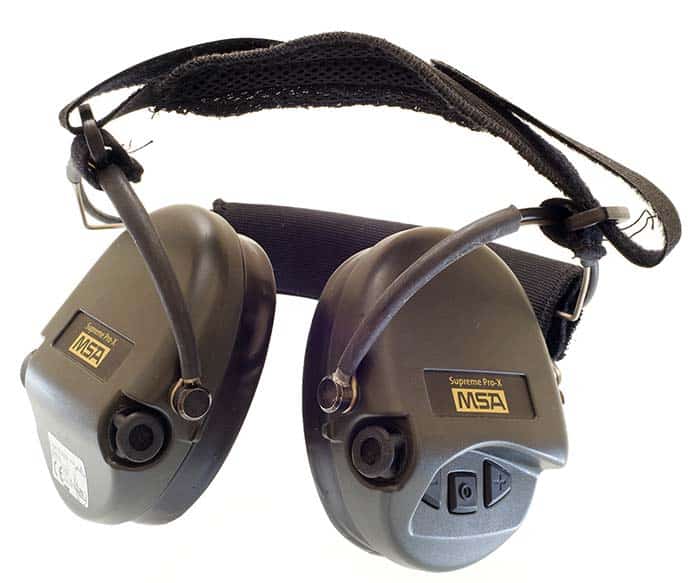 Fit
The MSA Supreme Pro-X is an ear cup design available with both headband and neckband options. The headband version places the band vertically over the head. Although one can wear baseball caps under the ear cups, this arrangement is incompatible with wide-brimmed hats. The neckband option places the main headband behind the skull and features an overhead net as an added measure to keep the ear cups in place. However, the cups still limit how tightly a hat can be worn, therefore chin straps may be necessary. The neckband option is also compatible with some helmets. The thin ear cups did not prevent the author from shouldering his rifles.
Ear cups come with standard foam cushions that can be upgraded to gel seals. Gel seals provide superior comfort and soundproofing, especially for bespectacled users. In addition, MSA offers a hygiene kit that replaces both the seal and the acoustic absorbent. Part number 10061294 replaces the standard foam cushions, while part number 10082377 replaces the gel seals. The head- or neckband cushion and overhead net can be removed for washing.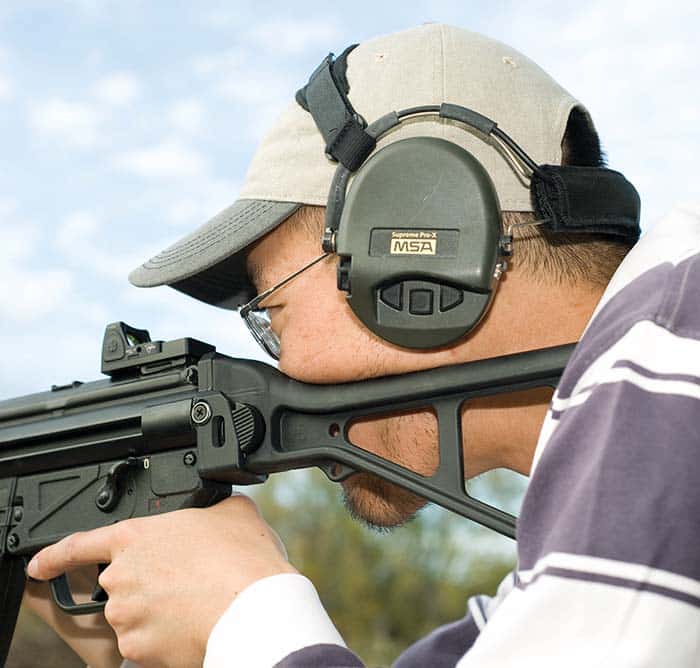 Electronic Controls
Three buttons on the left ear cup control the electronic sound reproduction. Tapping the middle power button turns on the electronics, while holding it turns them off with a long "beep." If no buttons are pressed for four hours, the electronics emit a warning tone and automatically shut off. Pressing any button resets the four-hour timer. The "+" and "-" buttons control volume, with sound reproduction capped at 82 decibels to prevent hearing damage. The two highest volume settings amplify environmental sounds. A 3.5mm audio input jack is located at the rear of the left ear cup for use with radios, mobile phones, MP3 players or other devices.
Two forward-facing microphones, one on each ear cup, collect ambient noise for sound reproduction. Pro-X utilizes AAA batteries loaded in the right ear cup via a water-resistant cover.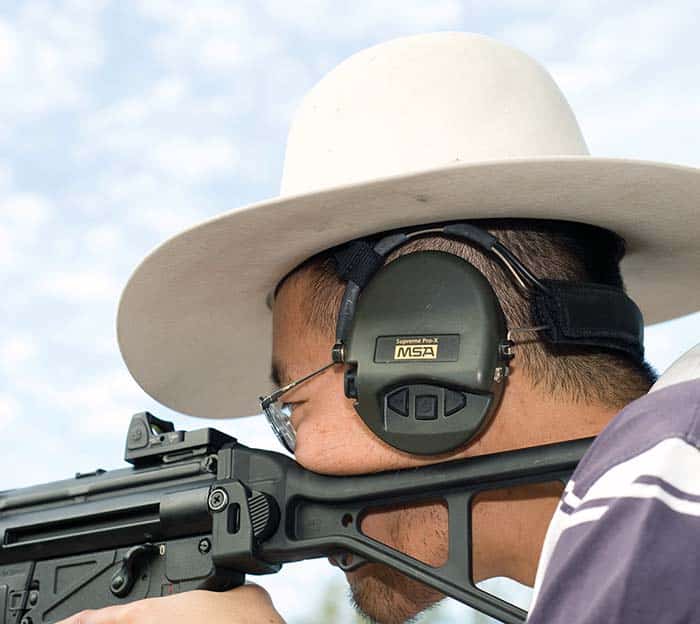 Audio
The Supreme Pro-X works very well in conjunction with foam earplugs. At high volume settings, one can easily hear conversations and range commands through foam earplugs with little discernible delay. This allows for clear communication while maintaining a high degree of protection. It should be mentioned that, when a firearm is discharged 5 meters away under an awning, the Pro-X will reproduce the gunshot echo. This is notable even at the lowest volume setting. While a nuisance for range use, this serves as a testament to the sensitivity of the microphones.
The dual microphones offer credible stereo sound. One can easily discern direction from high off-boresight sources. The author felt oscillations in directionality with a source directly ahead reproduced at the highest volume setting. This effect is not noticeable when used in conjunction with foam earplugs.
The audio quality of the reproduced sound may not rival that of studio recordings, but it is quite good for everyday use. Voices are reproduced faithfully, so that different speakers can be identified by voice. When listening to the Trauermarsch of Mahler's Fifth Symphony, the author noted a "scratchy" treble and the removal of bass elements, whether the music was electronically reproduced or played directly through the audio jack. However, this quibble is inconsequential given the primary role of the Pro-X for hearing protection.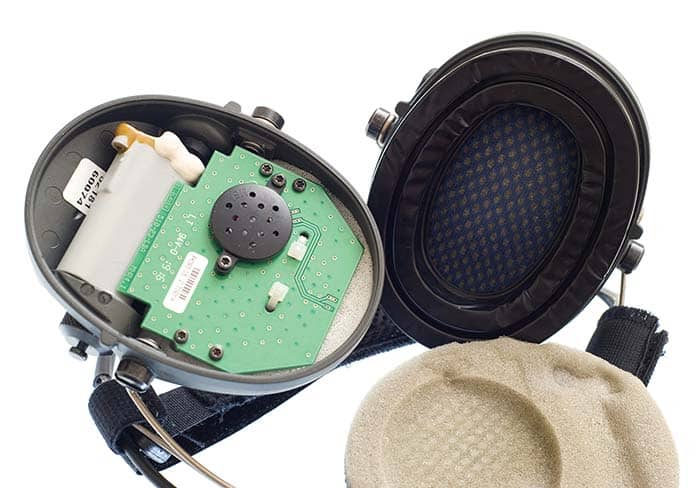 Noise Reduction
MSA Pro-X is certified to an NRR of 18 decibels for the headband version and 19 decibels for the neckband version (Wonderling, 2015). This is comparable to foam earplugs (Ylikoski et al., 1995).
The author performed some rudimentary qualitative comparisons. Against the high-pitch noise of an electric leaf blower, the Pro-X seems as effective as foam earplugs, while "doubling up" provides further noticeable—but not significantly greater—attenuation. Against high-pressure gunshots, as achieved with .300 Winchester Magnum ammunition or a short-barrelled 5.56x45mm rifle, the author also felt that the thin ear cup design of the Pro-X did not attenuate as well as deep cup designs. Nonetheless, the Pro-X with foam earplug combination seemed to deliver markedly superior attenuation while facilitating a high degree of situational awareness.
The following plot shows attenuation with respect to frequency from the user manual.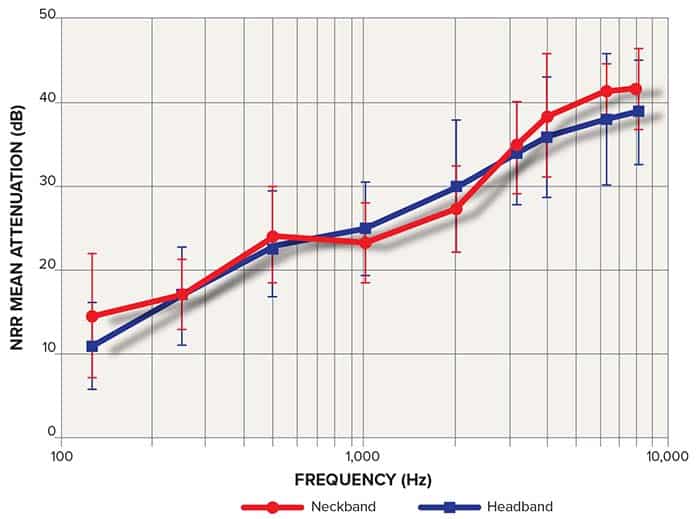 Conclusion
MSA Pro-X offers an excellent combination of hearing protection and situational awareness. Environmental sound reproduction faithfully reconstructs the human voice and provides a good sense of source direction, even when used in conjunction with foam earplugs. The passive hearing protection provides an NRR of 18 decibels and combines with foam earplugs to give superior protection. The Pro-X is an excellent investment to protect hearing, especially for the author who enjoys his Shostakovich as much as his rifles.
References
Wonderling, J. (2015, July 6). "MSA Declaration of Conformity in Accordance with ANSI/ISEA 125-2014 IAC-09-014-ANSI-Z04_r1." Cranberry Township, PA: MSA. Retrieved from http://s7d9.scene7.com/is/content/minesafetyappliances/IAC-09-014-Z04-ANSI_CAL_r1
Ylikoski, M., Pekkarinen, J.O., Starck, J.P., Pääkkönen, R.J., & Ylikoski, J.S. (1995). "Physical characteristics of gunfire impulse noise and its attenuation by hearing protectors." Scandinavian Audiology, 24(1), 3–11. https://doi.org/10.3109?/01050399509042203
This article first appeared in Small Arms Review V22N5 (May 2018)