By Dan Shea
Richard D. Jones, The Lt. Col. George M. Chinn Award
The Chinn Award is perhaps the most prominent award ever presented in the small arms community. It is an honor the Small Arms Steering Committee weighs carefully. We are US-centric, of course, but on occasion a citizen of another country who is deemed to have contributed so much to our collective knowledge base and defense qualifies. Richard D. Jones is just such an Awardee.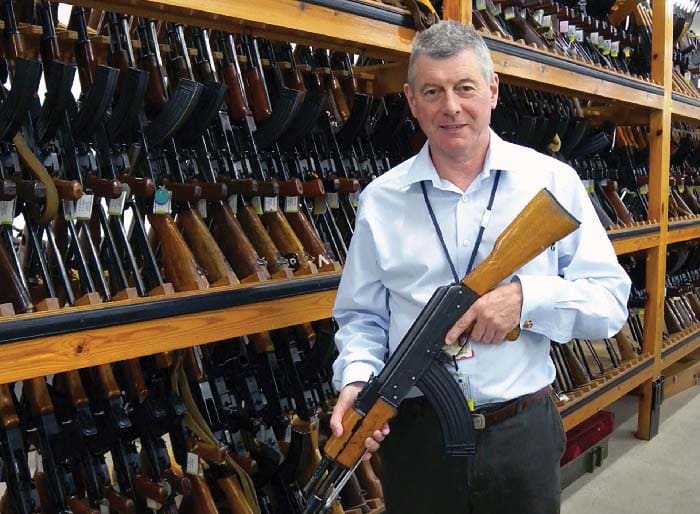 Mr. Richard D. Jones:
Curator Emeritus of the National Firearms Centre Collection, Leeds, UK (The former MOD Pattern Room).
Editor-in-Chief, Janes Infantry Weapons (recently retired)
Over half a century's service to the warfighter.
While not a requirement of the award, it certainly gives a window into a candidate's life if he or she has been in active military service and continued after to serve the end users in some capacity regarding small arms. Richard Jones' long and distinguished career in the British Army began in 1961, and he ETS'd in 2007 with 45 years and 14 days in service. He served in "The Indonesia Confrontation" in Singapore and Sarawak; Intelligence cells in Germany and Malaya working with small arms; and during The Troubles in Northern Ireland, Jones performed numerous services not to be discussed, as well as adapted new technologies and oversaw weapon and ballistic tracing in Northern Ireland. That was an 8-year post, and he met "Herself" there, his beloved wife Eleanor. Jones' work on the "Improvised Weapons of the Irish Underground" is still the classic study. During the 1980s, Jones' posting into Bulgaria led to him becoming an expert on many variations of the AK/PKM systems. In the early 1990s, Jones was tasked with forming a group of de-briefers to gather political, economic and military information of use from refugees in the Balkan region of fighting for Her Britannic Majesty's government. This led to massive amounts of small arms intelligence shared with the US and NATO groups. Starting in 1994, Jones was the military liaison when he became Assistant Custodian of the MOD Pattern room (this was the period where this author had the distinct pleasure of meeting Mr. Jones).
Richard was the man who helped thousands of UK, US and NATO military personnel in training and analysis of foreign weapon systems. Around 2003, Jones was made Custodian of the MOD Pattern Room, then of the National Firearms Centre, maintaining the services to all MOD and friendly military/intelligence personnel. He always ensured that there was a lifeline to researchers and authors who needed access to the collection to continue their work, thus ensuring that generations of small arms students had access to the knowledge pool there.
Richard D. Jones was a personal friend of General Kalashnikov and has been involved in small arms for over half a century; he has been a mentor, instructor, teacher, custodian, researcher and a guide to many thousands in the small arms world. He's been in numerous combat zones performing military intelligence duties with small arms and has written thousands of scholarly works for the end users and students of arms. Thus, in the tradition of Colonel Chinn himself, Richard Jones was chosen as 2018's Chinn Awardee.
ABOUT THE AWARD
The George M. Chinn Award is presented annually to honor a government or industry individual who, in the opinion of the Small Arms Division Executive Board, has made significant contributions to the field of small arms and/or infantry weapons systems. A significant contribution is considered to be a creative invention, new design or innovative concept in small arms weapons, ammunition or ancillary equipment that provides an advancement in the state-of-the-art or capability enhancement that clearly benefits the warfighting or general military capability of the United States. The Chinn Award may also be conferred as recognition to an individual who has performed sustained superior service in a career field of science, engineering, test & evaluation, manufacturing, program management, academic study & research, publishing or maintenance relating to military small arms or infantry weapons.
The Chinn Award is named in honor of LtCol George M. Chinn, a career Marine Corps officer who dedicated his life to the study, development and refinement of machine gun mechanisms. LtCol Chinn is remembered for his work as a gun designer and for having compiled a five-volume reference work titled, The Machine Gun.
Past Recipients of the Chinn Award:
1988 Thomas E. Cosgrove
1989 James Ackley
1990 John S. Wood, Jr.
1991 Roderic A. Spies
1992 not awarded
1993 Edward C. Ezell
1994 Richard E. Brown
1995 Joseph Unterkofler
1996 C. Reed Knight, Jr.
1997 Robert A. Trifiletti
1998 George E. Kontis, PE
1999 Vernon E. Shisler
2000 Salvatore A. Fanelli
2001 L. James Sullivan
2002 Ernst Mauch
2003 Phil Baker & Georges Chauveheid
2004 Ronnie Barrett
2005 Rich Audette
2006 Richard Swan
2007 Bill Dittrich
2008 Troy Smith
2009 Joel M. Goldman
2010 Frank Puzycki
2011 Chuck Buxton
2012 Dan Haywood
2013 Rudy Nedelka
2014 George Niewenhous
2015 Jim Schatz
2016 Philip H. Dater
2017 E. Daniel Shea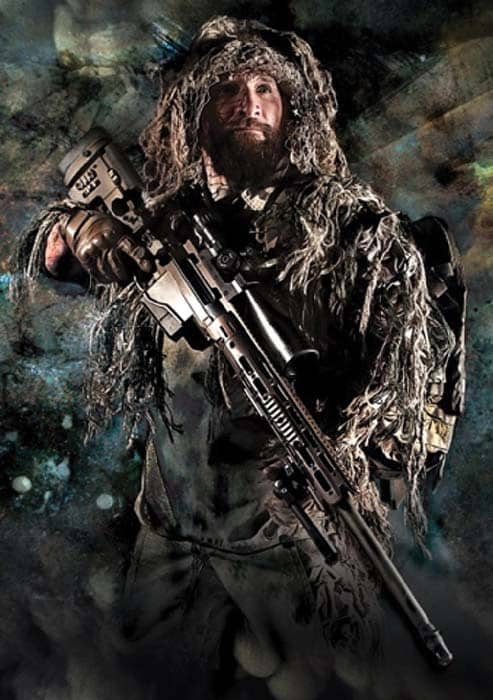 Stephen Toboz, Jr., The Gunnery Sgt Carlos N. Hathcock Award
It has never been enough for the Hathcock Awardee to have been a sniper; it's about the service to the sniper community, the impact a prospective awardee has had, the contributions made. Stephen Toboz, Jr. was chosen to be the 2018 Gunnery Sergeant Carlos B. Hathcock Awardee because of the sacrifices and continuing contributions he has made to his brothers in the craft. Many of us knew Gunny Hathcock, and we hold his memory dear—keeping the flame alive is important to us.
Stephen Toboz, Jr. is a medically retired Petty Officer/Navy SEAL, who served as a SEAL sniper. He has been the Sniper Training Manager for Naval Special Warfare Command. He lost a leg as a result of a combat injury, persevered and returned to full duty with a prosthesis. His awards include a Silver Star with Valor and a Purple Heart.
The continued service is what highlights a Hathcock Awardee, and Stephen Toboz, Jr. has actively worked with both foreign and domestic snipers around the world to ensure their knowledge, skills and abilities were at the highest level possible. He created the annual Sniper Summit for the SF community and recognized the need for liaison with foreign allies as well as state and local police. He expanded the Summit to include assets outside SF while maintaining the necessary security. He invited SMEs (Subject Matter Experts) like Todd Hodnett, SGM Pete Gould, W. Hays Parks, Jeff Hoffman and Buford Boone to speak at the Summit and coordinated breakout sessions to promote candid dialog and sharing of technology. At this time, the attendance has grown from around 35 to over 300 attendees. This summit has become a must-attend for the sniping community.
Stephen Toboz, Jr.'s continued service to the sniper community has resulted in sharing technical information and coordination between the SF and LE communities and select foreign partners, as well as spreading the cutting edge of technology to those who need it, and for those reasons, the Small Arms Steering Committee is pleased to present the 2018 Hathcock Award to him.
ABOUT THE AWARD
The Hathcock Award is presented to recognize an individual who, in the opinion of the Small Arms Division Executive Board, has made significant contributions in operational employment and tactics of small arms weapons systems which have impacted the readiness and capabilities of the U.S. military or law enforcement. A significant contribution is considered to be a superior performance of duties in an operational environment or the development of tactics or training. The Hathcock Award is named in honor of Gunnery Sergeant Carlos N. Hathcock, II, USMC, a career Marine who dedicated his life to the service of this country in both the military and law enforcement communities. He was honest, tactful, considerate, courageous, quietly proud and determined in all things and all places from the range to the battlefield. "The Gunny" not only distinguished himself in combat as a scout-sniper but also as a competitive marksman and trainer. In his capacity as a trainer, he not only significantly impacted the current United States Marine Corps Scout-Sniper Program but also influenced the sniper programs of the other military services and similar law enforcement programs nationwide.
Past Recipients of the Hathcock Award:
1999 Carlos Hathcock
2000 Charles B. Mawhinney
2001 Bart Bartholomew
2002 Jim Owens
2003 Larry Vickers
2004 Steve Holland
2005 Pat Mitternight
2006 Allen Boothby
2007 American Snipers.org
2008 J. Buford Boone
2009 Lt. Commander Robert J. Thomas
2010 Jeff Hoffman
2011 SGM Jason Beighley
2012 MSgt Craig R. LaMudge, USAF (Ret)
2013 MSG Jim Smith
2014 not awarded
2015 SGM Pete Gould, USA (Ret)
2016 W. Hays Parks
2017 Todd Hodnett
Wilcox Industries Corporation, The James R. Ambrose Award
NDIA's Small Arms Steering Committee chooses our awardees with care. In the case of the Ambrose Award, we really want to ensure that a company is more than a vendor. They must have a long track record of responsiveness to end users' needs and products to match.
Wilcox Industries Corporation in Newington, NH, is deserving of the Ambrose Award. This 215-employee ISO 9001-2015 company has been agile and quick to take up end users' needs and provide solutions and has done so for many years. They have a long history of partnering with other companies in the small arms industry to enhance the products that the end users utilize. Some examples:
HK—Wilcox has an 11-year history of manufacturing HK products for the US market, with zero delivery defects.
Colt—Wilcox has a 30-year history of interfacing and development with Colt.
SIG SAUER—Wilcox prototyped the first lot of SIG P229 handguns.
Barrett/Remington—Wilcox built the first weapon mounted laser rangefinder with a ballistic computer.
Ruger/Pinetree—Utilized the first cast stainless steel slide to manufacture the HK45F and HK45C handguns.
Nammo Talley—Under contracting authority of US Navy/Crane developed a LAW M72 shoulder launched Fire Control System.
Nammo Talley—Developed the first disposable trajectory mount for SMAW-D Rocket Launcher with unique attach/detach laser module.
This is all industry cooperation—their behind-the-scenes work is the real reason we wanted Wilcox Industries to have the Ambrose Award. Wilcox personnel look closely at the needs of those in harm's way and try to work through the answers; NAVSPECWARCOM, USASOC, SOCOM and many other groups are constant customers. Whether it's stabilizing soldier-based Night Vision, working for 40x53mm Fire Control Systems or the Wilcox Hybrid Life Support System, Wilcox is at the forefront in serving our military end users. For that, we chose them for the 2018 Ambrose Award.
ABOUT THE AWARD
The Ambrose Award is established and presented periodically to recognize an Industrial Firm which, in the opinion of the Small Arms Committee Executive Board, has made outstanding contributions to the field of small arms systems. An outstanding contribution is characterized by exemplary commitment and contribution to the Armed Forces by delivering superior materiel that meets required operational capabilities and supports a high level of force readiness in the conduct of warfighting activities or homeland defense. Such contributions may be shown through a record of continual demonstration of emerging technologies, development of products and systems, establishment of enhanced production capabilities and integration of innovative weapons systems and supporting products and services required by the DoD and Allied countries.
The Ambrose Industry Award is named in honor of former Under Secretary of the Army, James R. Ambrose because of his recognition of the value and contribution of industry in meeting the needs of our National Defense. This was made unmistakably clear during his tenure from 1981-1988 as Under Secretary of the Army during the Presidency of Ronald Reagan. He was a major force in the post-Vietnam modernization of all small arms weaponry where new and improved versions of the M16, M249 and M9 were purchased in large quantities as a result of industry competitions.
Past Ambrose Award Winners
2008 St. Marks Powder
2009 Otis Technologies
2012 Winchester Ammunition
2013 Surefire
2017 Oehler Research Inc.
This article first appeared in Small Arms Review V22N7 (August 2018)