By Robert Bruce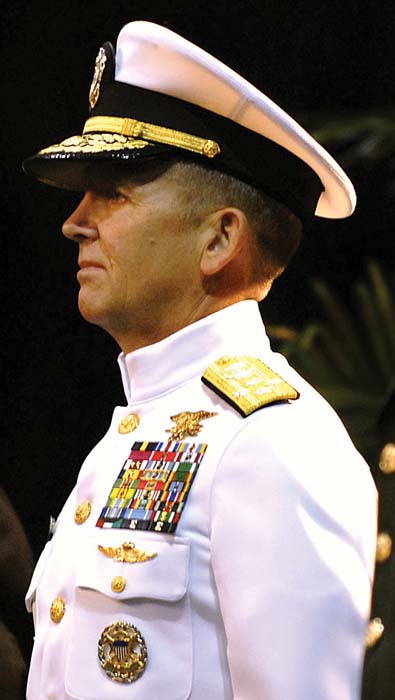 Olson, the first US Navy SEAL with the honor of leading USSOCOM, the world's largest and most diversely capable assembly of counter-terror operatives, knows what he's talking about.
Delivering the keynote address on the first of three days of the National Defense Industrial Association's yearly February gathering of key government, military and private sector attendees, the combat-seasoned Admiral commanded the attention of several hundred high level attendees in Washington, DC's stately Marriot Wardman Park Hotel with a tough and pragmatic look at the realities of what has come to be known as "Persistent Conflict."
Left unspoken but understood by most in the audience are the underlying reasons behind recent disfavor of the term Global War On Terror and its decidedly bland replacement in official jargon, underscoring the likelihood of years and perhaps decades of struggle ahead.
While strongly affirming the continuing necessity for immediate "kinetic" solutions to specific challenges best met with direct action to kill or capture, Olson emphasized the long-term payoffs from "soft power that brings real and tangible value…."
"Decisive, enduring results," the four-star former SEAL declared, come from "indirect approaches by contributing to (host nation) capabilities through advising, training, equipping, and transferring technology."
As a result, America's top Special Operator explained, a substantial percentage of USSOCOM's 63,000 personnel are deployed to as many as 70 countries for a variety of missions including augmenting local military training, providing medical aid and humanitarian support. "They're building long-term relationships…in every region in the world and we need them there for a long time."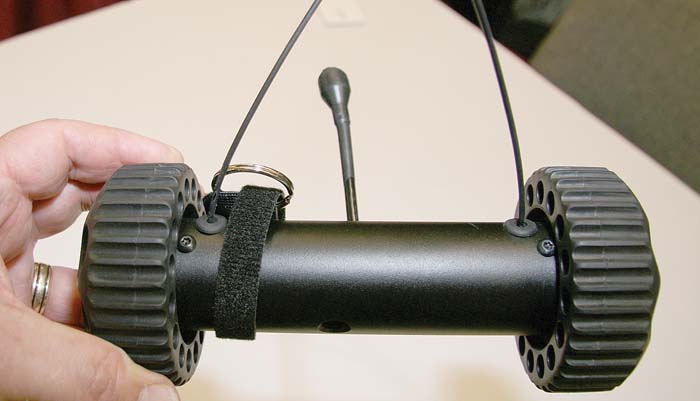 Devil in the Details
Seven panel discussions followed, reinforcing Olson's observations on the harsh realities of long-term commitment to a wide spectrum approach for strengthening the ability of cooperating nations to combat destabilization from insurgencies, terrorism, narcotics smuggling and other criminal activities.
(Editor's Note: Bullet point slides from panel participants and selected "white paper" presentations are posted for public access at www.dtic.mil/ndia/2009SOLIC/2009SOLIC.html).

Leading off the first panel, "Regional Views," was the Operations Officer for SOCCENT (Special Operations Command Central), an area notable for a combined population of 650 million under heavy Islamic influence of which 40 percent make up the prime military demographic of males ages 15 to 29.
Although this is the best known theater of operations given the prominence of ongoing conflict in Iraq and Afghanistan, Lt. Colonel Chuck Miller, Jr. surprised few with the assertion that Pakistan, strategically vital for many reasons including its importance as a major land route for resupply to Coalition operations in Afghanistan, is "the world's most dangerous place."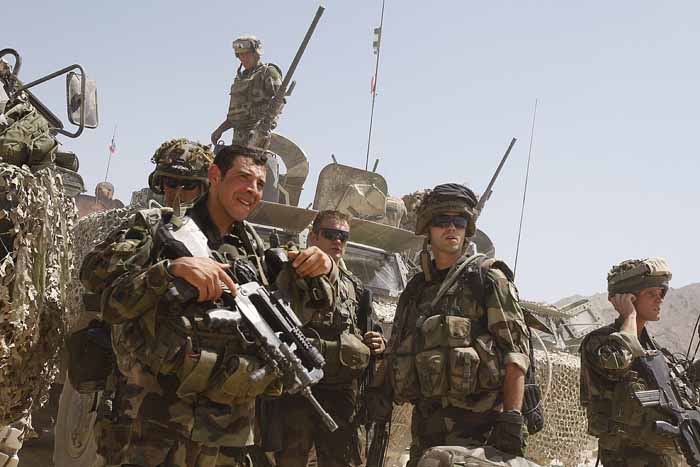 Miller cited a combination of factors including Pakistan's nuclear-capable, military-dominated Islamic government that has little power in the Swat Valley and other vast and rugged provinces bordering Afghanistan. There, impoverished people with strong tribal loyalties provide safe havens for a variety of militants with decidedly anti-Western sentiments.
Special Operations forces are taking an "enduring approach, paced out over time," Miller said, in training and equipping the Pakistani Army for counterinsurgency.
The SOC Pacific perspective came from Lieutenant Colonel Brian Petit, 2nd Battalion commander in the Army's 1st Special Forces Group. The Green Beret officer cited evidence of strong Red Chinese efforts to increase influence throughout the Asia-Pacific Rim, an enormous operational area containing more than 60 percent of the world's population. He also noted positive developments arising from special operations assistance in a variety of forms to the Philippine government and military in the perennial struggle against Moro separatists and newer Islamic-influenced insurgencies.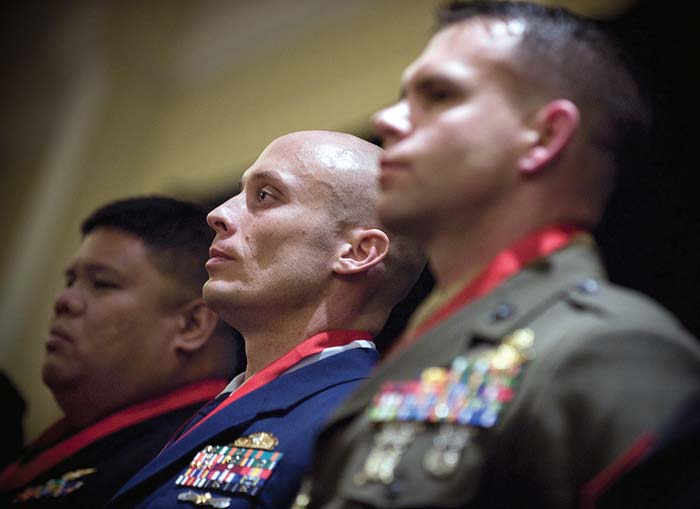 Simmering conflicts in Central and South America don't have the prominence of those in hot spots elsewhere. While speaking favorably of relationships with Brazil, Argentina and Chile in efforts to combat a range of organized criminal activities and official corruption, SOC South's J3 (Operations Officer), Navy Commander Victor Hyder, revealed some troubling signs in Paraguay. Noting the disturbing presence of Lebanese operatives from the notorious Hezbollah and Hamas organizations, he believes that "all the networks a terrorist organization could use are in place in the region."
Meanwhile over in Europe, NATO is standing up its new Special Operations Forces Coordination Center. French Navy Captain Bruno Julien de Zelicourt, SOFCC J3, noted its recent transition to an operational focus in Afghanistan. Looking ahead to the next decade, he detailed a list of global security risks including increased extremism and terrorism, nuclear proliferation, cyber war, plus the growing power and influence of overtly criminal organizations.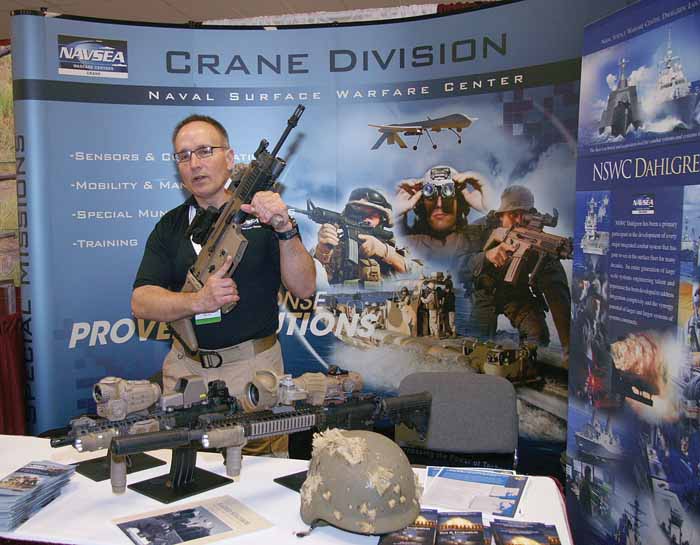 Technological Solutions
The panel discussion that followed, "Technology and Persistent Conflict," was long on philosophical assertions and surprisingly short on hardware revelations. In contrast, Air Force Colonel Jim "Hondo" Gertz, program manager for fixed wing aircraft at USSOCOM, noted progress toward the goal of acquiring up to sixteen new C-27 SPARTAN aircraft configured as gunships.
SAR sees this as a particularly interesting development in light of steady progress with Boeing's game-changing Advanced Tactical Laser for gunship applications, a program set in motion several years ago with an eye to replacing AFSOC's fleet of aging C-130 flying firebases.
The session closed with a provocative paper on Lockheed Martin's extensive experimentation with collection, processing and dissemination of practical intelligence derived from networked UxVs (land, sea and air robots). We highly recommend Dr. Miles Libby's paper, "Special Reconnaissance/Unconventional Warfare – How about an UxV for a Teammate?" available in its complete form with text and illustrations at the DTIC website noted above.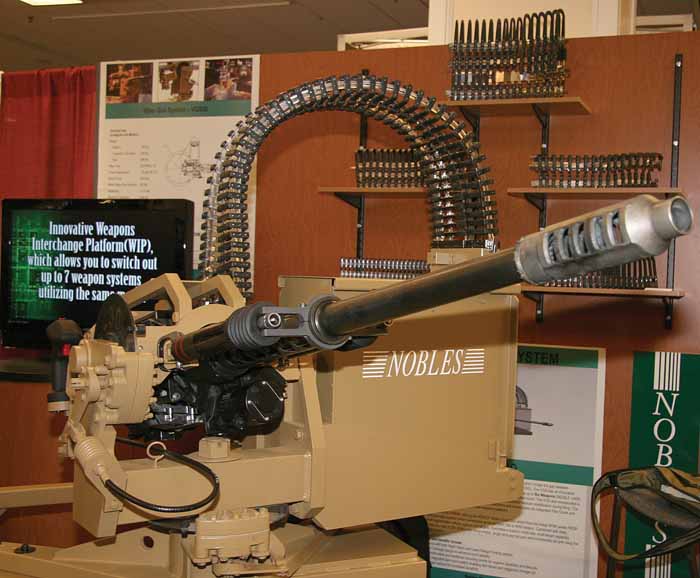 Operational Realities
Navy Captain Tom Brown, Commander of Naval Special Warfare Group One, was the first presenter on Panel Three, "Views from the Practitioners," adding to the impact of Libby's observations by citing the favorable cost to benefit ratio of the Scan Eagle recon fixed wing. Originally developed to spot large schools of tuna for commercial fishing operations, Brown called it a "poor man's Predator." He also noted with favor the plans to upgrade combatant craft capabilities with new medium and heavy boats that are stealthier and have greater endurance.
US Army Green Beret Colonel Sean Mulholland, 7th Group Commander, detailed a classic "hearts and minds" strategic vision for counterinsurgency operations, Air Force Colonel Joseph Clem noted the success of a self-deployment exercise to Africa of four AFSOC CV-22 tilt rotor aircraft and Marine Major Mike Brooks cited MARSOC's increasing involvement with FID (Foreign Internal Defense) activities, particularly in coastal regions.
Subsequent panels examined more esoteric aspects of Special Operations including the Human Dimension, Strategies, Training and Education, as well as Interagency Perspectives: this last one featuring representatives from Director of National Intelligence, Project on National Security Reform, and the State Department.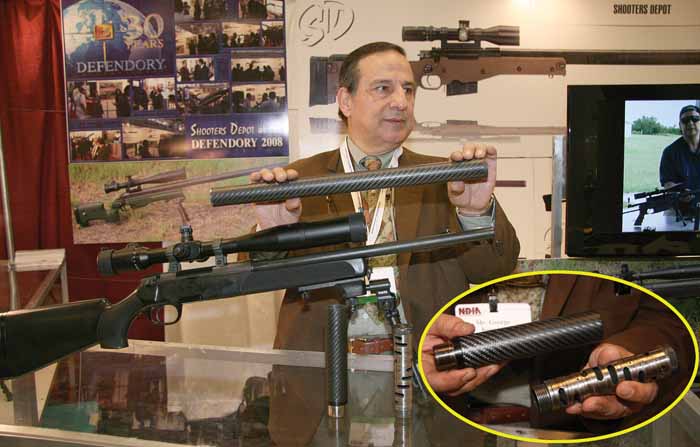 Target America
Those who stuck with the program to the very end got a special reward from retired General Barry McCaffrey, who is now free to speak the truth as he sees it. His address combined geopolitical realities with informed speculation, revealing certain things that may be officially denied but tacitly affirmed.
While there should be little argument with McCaffrey's assertion that the growing number of nations with weapons of mass destruction, along with the spread of WMD technology, remains the principal threat to the American people, it's hard to understand his apparent belief that global animosity toward the US will appreciably lessen under the Obama administration.
More controversial statements followed, particularly in a pair of bullet-point slides headed "Looking Toward the Future." Among their provocative predictions: Russian hostility toward the US will grow, North Korea will implode and Iran will go nuclear, forging an alliance with Sunni Arabs to further destabilize the region.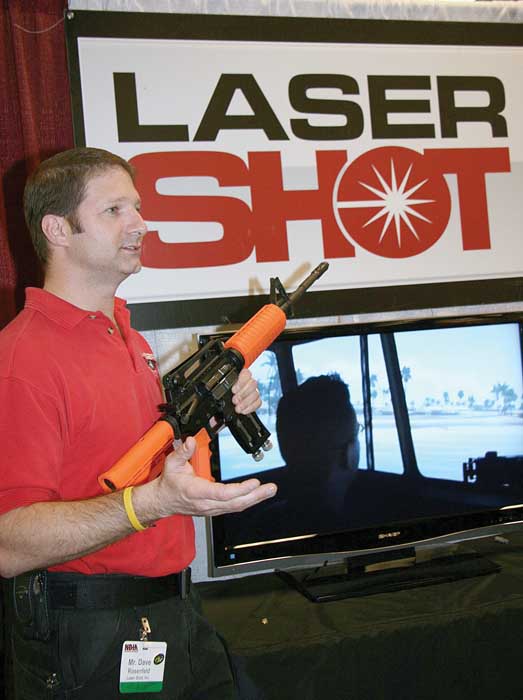 The former commander of US Southern Command also foresees confrontation closer at home with a politically and financially destabilized Venezuela and that Cuba's totalitarian regime will lose its grip after Castro dies, unleashing a flood of a quarter-million refugees on the US. And right on our southern border, he cites a "desperate" situation caused by Mexico's violent criminal drug cartels in Mexico.
Last but not least came the chilling prediction that "terrorists will strike at America during the (Obama) administration's first term."
Exhibit Hall
Because this event strongly favors the interests of senior military leaders, a large percentage of the sixty exhibitors are major players in the defense establishment. Their often elaborate displays usually feature high end items recently adopted and fielded or those that are moving through the procurement bureaucracy. Extra interest accrues to the proponents of goods and services favorably mentioned by speakers in the symposium.
For example, such things as Boeing's A160T HUMMINGBIRD UAV, the multi-national consortium's C-27J SPARTAN tactical cargo plane, General Dynamics' submersibles, Lockheed Martin's UxVs, and tactical radios from Thales Communications and Harris Corp., attract the lion's share of attendees.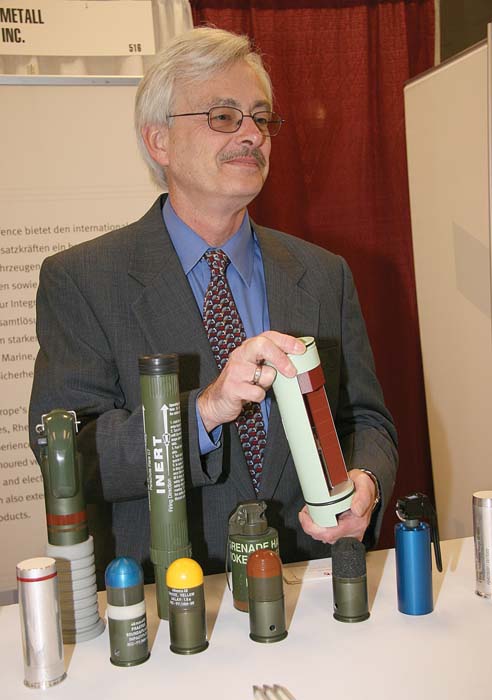 Gun Guys
While there was plenty more to see that represents a wide spectrum of things applicable to worldwide special operations, SAR's interest is primarily with individual and crew-served weaponry. So our first stop was at NAVSEA Crane's Special Missions Center (SMC) display booth to catch up on the latest developments in ammo, arms, and accessories.
SMC supports the Department of Defense joint capability areas of Special Operations, Irregular Warfare and Maritime/Littoral/Expeditionary Operations. They're the go-to source for elite warfighters including SEALs and Special Warfare Combatant Craft Crewmen. Kevin Banker, a Senior Engineering Tech, was holding down the fort and he proved most helpful in our quest.
Banker walked us through specifics on the three representative weapons on display starting with the 5.56mm MK 16 Mod 0 (FN's Special Operations Forces Combat Assault Rifle-Light), the newest member of the NAVSPECWAR family. SCAR-L was the first to be deployed in a family of modular weapons from FN that now includes a 7.62mm version and an innovative clamp-on 40mm grenade launcher.
A Crane-modified 5.56mm M4 type carbine with handy 10.5 inch barrel came next, designated MK 18 Mod 0. This one was particularly noteworthy for several add-ons and accessories arising from the SOPMOD (Special Operations Peculiar Modification) program and subsequent enhancements. In addition to a sloping cheekweld telescoping buttstock, Banker identified items on the top rails such as the SU-231 PEQ ECOS-CQB day scope in line with the SU-232/PAS CNVD-T thermal night scope.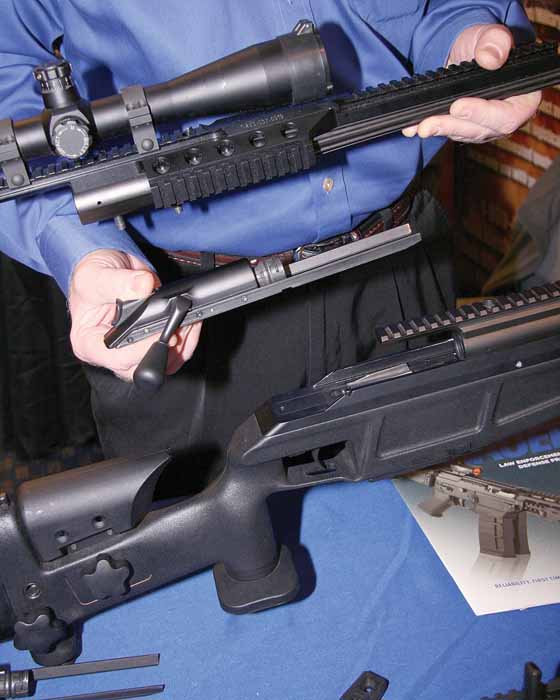 Then there was a 5.56mm M16 flat top, tipped with a Knight's Quick Disconnect sound suppressor. The rifle's Daniel Defense Rail Interface System carried just about all of the latest version day/night/CQB sights in the NAVSPECWAR inventory. In addition to flip-up iron sights front and rear, the top rail surface sported Elcan's SU-230/PVS Enhanced Combat Optical Sight 1-4 power Variable Articulated Telescope with piggyback Docter red dot. The snout of this versatile combo was hidden under the light-hiding "skirt" of L-3 Comm's exciting new rubber-armored AN/PVS-24 Clip-on Night Vision Device Image Intensified, a Gen III starlight magnifier of exceptional amplification and clarity. www.crane.navy.mil
Also represented at Crane's booth was NAVSEA Dahlgren's Test & Evaluation Division, providing a wide range of services including a 20 mile long over-water live fire test range, explosive experimental area, and a state-of-the-art shock and vibration testing facility. They shoot helmets too, as seen in the form of a well-perforated PASGT "K-Pot" on the display table that had been used in multi-caliber evaluation firing.
JSSAP
Another "must see" display is the Joint Service Small Arms Program, an Army-administered clearinghouse for weapons technology in support of operations by all of the US Armed Forces. Retired Army Colonel Joseph Kaelin, whom we have known for many years, was on duty there and brought us up to date on developments in LSAT, the Lightweight Small Arms Technologies program.
"The caseless track is progressing well," Kaelin said, "and there are plans to conduct a public demonstration firing at NDIA's Small Arms conference in May 2009."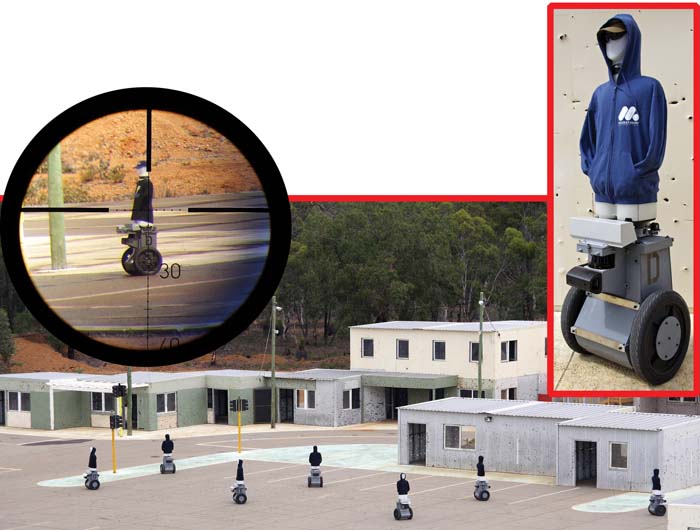 This is a significant development given the many technological challenges inherent in manufacturing caseless ammunition and designing a mechanism to efficiently fire it. All the more so, we observe, in a belt fed machine gun intended to equal or better the performance of the current M249 Squad Automatic Weapon at considerably lighter weight.
Alas, there was no additional information to be had on engineering details of the caseless gun's inner workings. "You'll have to wait until that's cleared for release," Kaelin advised. Their website is at: www.pica.army.mil
Super Snipers
Precision rifles and their suppressors are of great interest to us, particularly in the context of special operations. The ability to take out "high value" individual targets at long range with minimal chance of detection by those on the receiving end is an important force multiplier.
Shooters Depot has been getting a good deal of attention recently with their Advanced Rifle Integral External Suppressor, a clever and cost-effective system for retrofitting favorite sniper rifles. George Koumbis, SD's CEO and creator of the A.R.I.E.S. system, showed us his latest version as fitted to a Steyr SSG.
A strong and light carbon fiber tube surrounds the weapon's existing barrel, screwing into a threaded ring at the chamber end. The tube is free floating with significant air space for gas and heat generated on firing. The new two-piece suppressor module has the end cap attached to the perforated sound buffer unit and this assembly screws into a fitted length of carbon fiber tubing the same diameter as the barrel shroud. Assembly and disassembly can be done without tools and cleaning is a snap.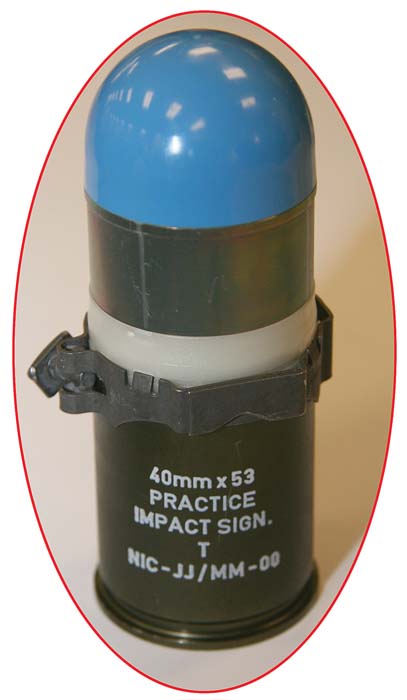 Koumbis points out a list of advantages beginning with adaptability. Existing weapons need not be replaced so operator and armorer experience is retained with no retraining and parts restocking needed. Also, there's exceptional reduction in noise, flash and recoil with no change in the point of bullet impact. The strong and light carbon fiber tubing contributes to an overall component weight of about 1.5 pounds plus heat shielding for no mirage to mounted optics. Cost is also very reasonable with most conversions beginning at around $2,000. www.shootersdepot.com
The Kiesler Defense booth showed a comprehensive line of weapons and equipment for military and law enforcement applications. There, the futuristic lines of SIG Sauer's new TACTICAL 2 precision rifle caught our eye. SIG's Dane Davis showed us how the operator can customize adjustments on the synthetic buttstock and demonstrated quick-change of the barrel and bolt modules for three popular long range cartridges. Ultra fast cycling of the straight pull action comes from a clever radial bolt head that expands on locking and the trigger is fully adjustable for position, pull and stop. www.kiesler.com
Crew Served Weapons
Belt fed guns and their various mounting options also rate high with us so we always make it a point to seek them out.
After extensively reporting on the development and initial deployment of the Army's Common Remotely Operated Weapon System we take some pride in seeing how Kongsberg's CROWS II and others in its PROTECTOR family are proliferating throughout US and allied armed forces. A fully operational CROWS II with .50 caliber M2HB machine gun was in place at their booth, steadily attracting visitors who wanted a turn on the joystick-operated video control. Website located at: www.kongsberg.com
Noting the relative heavy weight, cost and complexity of the PROTECTOR line and similar powered remote mounts, Nobles manufacturing has developed the VIPER GUN SYSTEM, reportedly at the request of Army Special Operations Command. This one man operated, attended gun station is also called the WIP (Weapons Interchange Platform) and it uses common components that are operator-configurable in about 15 minutes to accept the M230LF, LW25, MK19 and MK47, M3P3 and M134 guns.
Traverse and elevation are muscle powered for simplicity and Nobles' patent-pending GMBS (Gun Mount Braking System) is said to provide superior stabilization during firing. This is particularly important for the heavy-recoiling 30mm M230LF auto cannon that's the first weapon fully integrated into the planned VIPER line. www.noblesmfg.com.

Feeding The Tiger
Ammunition was hard to find at the event and what was seen was mostly 40mm grenades, suitable for high and low impulse launch platforms. American Rheinmetall Munitions, Inc., the US arm of the famous European defense giant, displayed the largest variety. We were interested to learn from Walt Galvin that their MK281 40mm high velocity practice rounds for MK 19 and MK 47 grenade machine guns are now US made. USMC and USSOCOM are said to be primary clients, utilizing both the original Mod 0 and now the new Mod 1 with a special marking powder that is visible at night using NVGs.
American Rheinmetall is also proud to introduce the new 66mm VIRSS-L114A1 smoke screening cartridge for the projector tubes mounted on many armored fighting vehicles. This round generates a thick and persistent cloud of smoke and special infrared screening components to defeat visual and IR observation, aiming equipment, sensor-guided weapons, beam riders, plus laser illuminators and rangefinders. Their website is located at: www.americanrheinmetall.com
Free-Ranging ROVER
There are a number of suitable ways to present multiple, moving targets for somewhat realistic sniper training but we're unaware of any that can compare with Marathon Robotics' new ROVER system, our favorite find at the event.
Marathon's Dr. Alexei Makarenko told us that ROVER resulted from combat experience of Australian military special operators in Central Command's AO. It seems there were too many instances when precision shooters were frustrated by not being able to effectively engage multiple individuals due to the universal reaction of "hear a shot and scatter."
Video trainers and rail-running targets just didn't do the job because the first type doesn't allow long range, open air shooting and the second is too predicable. Marathon, funded by the Australian Department of Defense, has met the challenge with a "smart" robotic system featuring a team of independently moving lifelike target mannequins that can execute complex pre-planned scenarios.
"They can move in and out of buildings, momentarily hidden from observation, or pause behind open windows," Makarenko said, describing how the system works in the realistic urban training complex built for sniper training. "They'll come out from different doorways and join the flow of other robots moving around the town square."
Existing technologies are a key to the relative low cost and flexibility of the system. Marathon's engineering team started with the novel but well-proven SEGWAY scooter, a battery-powered, gyrostabilized two wheel mobility platform giving fast human-like motion to a life size 3D polymer mannequin. "They lean forward to accelerate, rearwards to stop and they can turn abruptly," Makarenko explained, "presenting a real challenge for the shooter to track and hit them on the move."
An onboard computer gives the robot a "brain" with a combination of programmed actions, remote control and stimulus-driven responses. Each ROVER has a GPS and a scanning laser rangefinder for navigation as well as obstacle detection and avoidance. High speed wireless Ethernet is used to communicate with a central control station and with other robots to allow remote monitoring, interactive control and multi-'bot coordination.
"Reaction in a shooting scenario is amazingly realistic," Makarenko asserted. "When a robot is shot it provides instant feedback by stopping and its mannequin drops backward. Simultaneously, it sends a signal to all the others and they quickly scatter, running to the nearest cover."
This is a big part of the system's payoff in realistic training for fast, multiple target engagement when the first "terrorist" is hit and there are precious few seconds to get one or more of his fleeing accomplices. Scoring feedback for shooters and evaluators comes from the robot's acoustic sensors, discriminating between hits to the torso or head and spine.
No joystick control is needed so a single instructor can conduct intricate programmed scenarios for long duration with multiple robots. Also, the "script" can be changed in the middle of an exercise if desired, adding layers of complexity unattainable with other systems.
The 265 pound ROVER 'bots are pretty tough, Makarenko told us. "In addition to being able to operate for many hours at a time day and night in heavy rain, we've put armor plate shielding over vital areas of the mobility components." www.marathon-robotics.com
NDIA's Special Operations/Low Intensity Conflict Division
The National Defense Industrial Association's SO/LIC Division was formed as an industry-based advocacy group and forum to discuss the utility of our Special Operations Forces (SOF) across the conflict spectrum – particularly in those cases below the level of conventional war in what is called Low Intensity Conflict (LIC).
Its mission is to assist industry, government and the public in understanding the role of SOF in our national security strategy and how these forces are integrated within our national military structure. In fulfilling this mission, the division facilitates contact and cooperation between industry and SOF in order to help assure that they will have access to the ideas and technologies that originate in our nation's industrial and academic base.
Through meetings and symposia, the division provides information on the wide range of matters involving SOF, LIC and related national security issues including both traditional combat roles and today's emphasis on such missions as counter narcotics, combating terrorism, helping to control the proliferation of weapons of mass destruction, force protection, humanitarian assistance, and peacekeeping.
Detailed information on NDIA and its SO/LIC Division, as well as next year's symposium, is available at www.ndia.org
Warrior Foundation
The brotherhood of SPECOPS is particularly strong and all the more so when its fallen warriors and their families need help. Since 1980, the Special Operations Warrior Foundation has been providing immediate financial assistance to severely wounded personnel. The foundation also pays for college education of surviving children. SAR urges our readers to contact the foundation and explore ways to help with their good work. www.specialops.org
United States Special Operations Command
USSOCOM, headquartered at MacDill Air Force Base, Florida, has approximately 63,000 active duty, Reserve and National Guard Soldiers, Sailors, Airmen, Marines, and Department of Defense civilians.
Its four components are USASOC (US Army Special Operations Command), NAVSPECWARCOM (Navy Special Warfare Command), AFSOC (Air Force Special Operations Command), and MARSOC (Marine Corps Forces Special Operations Command).
Core activities include direct action, special reconnaissance, unconventional warfare, foreign internal defense, civil affairs/psychological/information operations, counterterrorism and counterinsurgency, counterproliferation of WMDs (Weapons of Mass Destruction), security force assistance, and the catch-all category of "activities specified by the President or Secretary of Defense."
USSOCOM has a worldwide reach with six geographic combatant commands: SOC Central, SOC Europe, SOC Pacific, SOC Korea, SOC South, and SOC Africa. www.ussocom.mil
This article first appeared in Small Arms Review V13N3 (December 2009)