By Chris Choat
Advanced Technology, Inc. Introduces New AK Stock

Advanced Technology, Inc. introduces their new AK stock. The new stock features a collapsible and side folding buttstock with ergonomic pistol grip and forend. Made with matte black, glass-filled nylon, the AK buttstock is six-position collapsible as well as side folding to the left side of the receiver. It takes only 2 seconds to either open or close. The stock is Section 922R compliant with included conversion kit. The stock has a sling swivel stud and a slot for a tactical sling attachment, removable rubber buttpad and a removable/adjustable cheekrest. Extra battery storage is located inside the stock tube. The pistol grip and ventilated forend are both textured. One 4-inch and three 2-inch removable Picatinny rails are included and stock inserts are provided for when the rails are not being used. The new stock requires no gunsmithing, is made in the USA and carries Advanced Technology's Lifetime Warranty.For more information, or to order one of these stocks, please contact Advanced Technology, Inc., Dept. SAR, 102 Fairview Drive, Versailles, KY 40383. Phone: (859) 873-9877. Fax: (859) 873-6229. They can be found on the world wide web at www.atigunstocks.com.
New "Slim" AR Rail Handguard from DoubleStar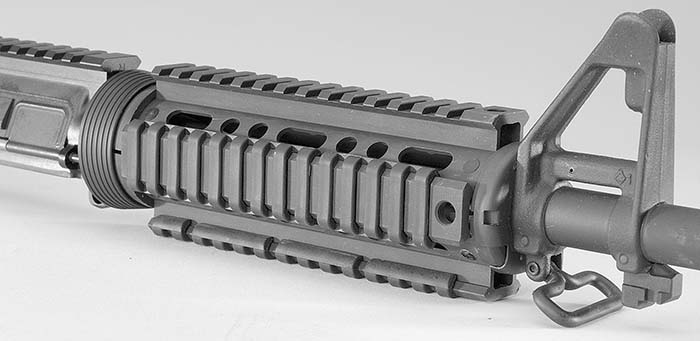 Sleight of hand isn't just for card tricks and poker. If you're a shooter who's "slight of hand," you'll appreciate DoubleStar's new two-piece AR handguard. With its trademark oval shape, this four-rail handguard system should prove to be a favorite among shooters with small hands. However, those with large hands will also find the handguard easy to grip and maneuver. Some people with smaller hands feel like the round handguard systems on the market today don't fit their hands very well. The new AR handguard just fits better. The oval handguard is made of aircraft-grade 60-61 T6 aluminum extruded to provide a lightweight advantage that still offers extreme strength. The mil-spec 1913 Picatinny rails will accept attachments from nearly every manufacturer, so pack on your sites, grips, scopes, lasers – whatever you need. The handguards' snap-on installation has a spring pressure that forces it against the front handguard cap. The tight fit allows no side-to-side movement. The handguard currently is available only in a carbine AR version, but a rifle model should be available soon. A free-float version is expected to be available later this year. For more information please contact DoubleStar, Dept. SAR, P.O. Box 430, Winchester, KY 40391. Phone: (859) 745- 1757. Fax: (859) 745-4638. Website: www.jtdistributing.com.
New Counterfire Target Systems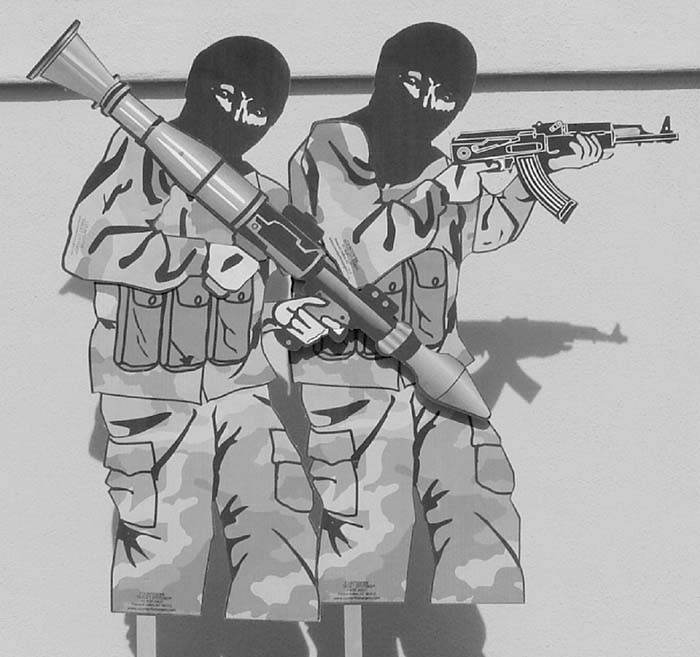 Counterfire Target Systems has now created a new look for tactical training. These targets are currently in use by military, law enforcement as well as recreational shooters worldwide. The die-cut targets are shaped like enemy combatants; with add on arms holding weapons; an AKS rifle or an RPG launcher. The arms can also be mounted in various positions. Lifelike in size, they can be set up for back yard Airsoft shooting fun, to serious practical drills. Shapes come in regularsoldier in green camo, or hooded combatant in brown camo. They are available in die-cut cardboard or on 25″ X 38″ 70 pound paper. For more information contact Counterfire Target Systems, Dept. SAR, P.O. Box 26637, Prescott Valley, AZ 86312. Phone: (928) 303-6669. Fax: (928) 759-9564. Their website can be visited at: www.counterfiretargets.com.
1919A4 Stainless Steel Flash Hider

For those shooters who would rather not have a large fireball erupting from their 1919A4, there is now a solution. A man named Richard Miller is making a very nice looking, as well as very efficient, flash hider for the 1919A4 machine guns as well as the semi-auto versions. The flash hiders are made of 303 SS and have 5 prongs. They have the booster built in to them and they are 1 3/4″ OD x 3 1/2″ long. The new flash hider will fit the two piece1919A4 bearing: just take your old booster plug off and thread the new custom SS 5 prong flash hider on – that's all there is to it. It will not rust if you use corrosive ammo and they come in 308, 8MM or .30-06. Price for this unit is $60 plus $6 s&h. By the time you read this, a second model should also be available. It will be styled after the .50 M2 version, will be 5.5 inches long, made from 4140 steel and parkerized. For more information please contact Richard Miller, Dept. SAR, 1384 Cherry Way, Brighton, CO 80601. Phone: (303) 659-5563. His e-mail address is detect@att.net.
Colt and Browning Replica Wrenches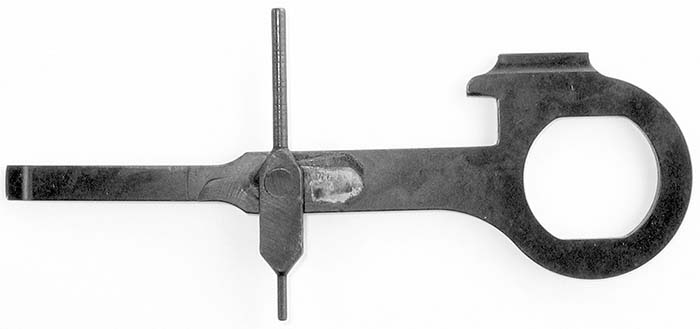 BMG Parts Co. has introduced two quality reproductions of the hard to find Colt and Browning .30 caliber water-cooled combination wrenches. The Colt wrench is made from 4130 steel and has been surface ground to the exact thickness as the original, which allows it to properly fit between the flash hider and the end cap. These are two practical and useful tools for your ordnance tool box. Drawing number and proofs are included to make these wrenches a fine collectable. The Browning combination wrench comes in a polished blued finishand the Colt combination wrench comes in a black parkerized finish and both are offered at a retail price of only $49.95 each. Please contact BMG Parts Co., Inc., Dept. SAR, Carson City, NV. Phone: (775) 671- 7500. Fax: (877) BMG-1919. They can be found on the web at www.BMGparts.com.
Weaver Introduces Bases with New Tactical Multi-Slot Options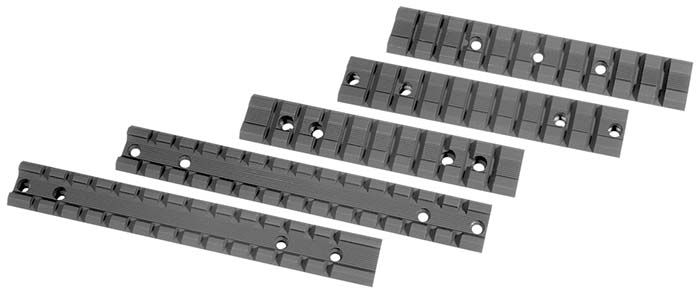 For the past 77 years, Weaver has provided hunters and shooters with rock-solid, dependable mounting systems for all their shooting needs. With many new products lined up for 2007, Weaver continues to be an industry mainstay. One product joining the Weaver family is the Tactical Multi-Slot Bases (MSRP $4.49 to $38.49). These versatile bases will help give consumers' guns the tactical edge. They are constructed of tough, lightweight aluminum in order to withstand the most powerful recoil. They accept all Weaver Top Mount Rings and allow the consumer the option of mounting devices such asscopes, red dots and laser optics, while allowing for optimal eye relief. For more information on these, as well as the entire Weaver lineup, please contact them at Weaver Mounting Systems, Dept. SAR, N5549 County Trunk Z, Onalaska, WI 54650. Phone: (800) 635-7656. Fax: (763) 323- 3890. Their website is www.weavermounts.com.
Black Dog Machine Introduces AR-15/M16 .22 Magazines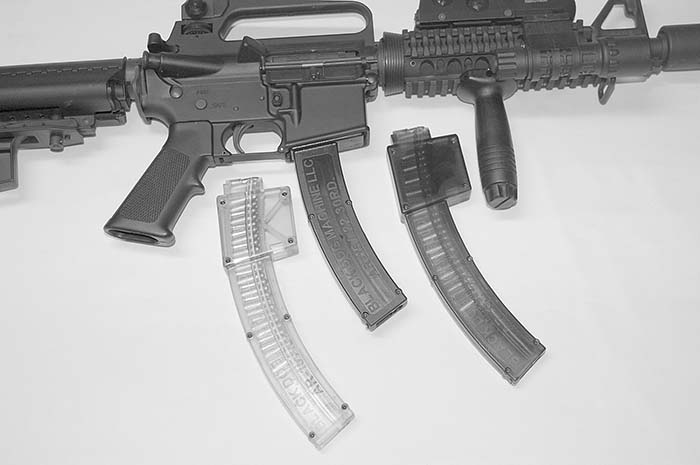 Black Dog Machine, LLC has introduced a new magazine for the Ciener AR-15/M16 .22 conversion kits. The new magazines come in black, clear and smoke. They were designed from the ground up to work with the Ciener conversion. They are injection molded from high-impact polycarbonate. These 30-round magazines load easily and feed flawlessly to both semi and full-auto. Best of all, the magazines can be disassembled for easy cleaning. Retail price for these new magazines is just $30 each. They are made in the US and are fully warrantied. By the time you read, this Black Dog Machine will also have their magazines available to fit the US military .22 conversions. For more information,or to order magazines, please contact them at Black Dog Machine, LLC, Dept. SAR, 22843 Buskirk Drive, Middleton, Idaho 83644. Phone: (208) 585-6581. Cell: (208) 989-7443. E-mail: blackdogmachine@msn.com.
This article first appeared in Small Arms Review V10N12 (September 2007)