By Chris Choat
Japanese T96 and T99 Magazines from J&G Machine Service
J&G Machine Service has announced new Japanese T96 and T99 light machine gun magazines. They are intended for the shooter, not as a reproduction for the original Japanese magazine. Each magazine is individually cut from steel plate, hand formed and fitted, welded, hand finished and blued. Every magazine has been test fired for fit and function. J&G Machine Service guarantees each magazine: "Satisfaction Guaranteed." Both magazine models weigh a little more than their original Japanese magazine counterpart due tothe use of plate steel. In tests, the 30-round magazines functioned flawlessly. The Type 99 magazine is for the 7.7x58mm cartridge, while the Type 96 is for the 6.5x50mm round. Why risk damaging an original $1,000 magazine when you can now use J&G Machine Service's $180 (postage paid) shooter's magazine instead. For information or to place an order, please contact J&G Machine Service, Dept. SAR, PO Box 10, Congress, AZ 85332. Reach them by phone: (928) 427-3180. Email: AZGUNSO@yahoo.com.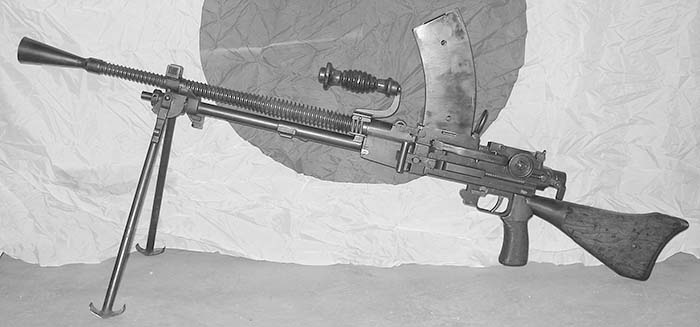 New Amphibian "S" From AWC Systems Technology
AWC Systems Technology, a worldleader in commercially available silencer technology, introduces the newly redesigned Amphibian S, the last silenced .22 pistol you will ever own. The AWC Amphibian S is the Ruger KMK 512 with an integral AWC Systems Technology suppressed barrel. This pistol is constructed of stainless steel and will never be worn out, damaged beyond repair or become obsolete. AWC Systems Technology can also modify any existing suppressed Ruger pistol to this standard of excellence. The Amphibian S is offered in stainless matte navy grey or polished stainless finish. An optional upgraded finish of matte black, charcoal black or NATO green is also available. The integrally suppressed barrel has an overall length of 7 inches and complete pistol system weight of 41 ounces. Shooting 40gr high velocity, the Amphibian S is dead accurate and is much less noisy than a CO pellet pistol.
AWC Systems Technology has provided suppressed weapons systems to the U.S. Army, Navy, Air Force and Marine Corps, major law enforcement agencies nationwide, the Department of the Interior, the Department of Energy, federal and state correctional facilities and Special Forces units in Central America and the Middle East. For more information contact AWC Systems Technology, Dept. SAR, 1515 West Deer Valley Road, Suite 105A, Phoenix, AZ 85027. Phone: (623) 780-1050. Fax: (623) 780-2967. On the web at www.awcsystech.com.
GG&G Introduces New Back Up Iron Sight
The New GG&G A2 Spring Actuated Back Up Iron Sight (BUIS) represents the latest innovation in BUIS products. Many operators requested a BUIS that would deploy with just the push of a button and GG&G delivered. The unique and proprietary design of the spring actuated mechanism captivates the actuator spring and mechanical components, preventing adverse environmental contact. The revolutionary design ensures reliability and long life of a critical component. The superior new design of the A2 Spring Actuated BUIS provides the operator the ability to activate the push button with the non fire control hand ensuring the user a tactical advantage under any condition. The locking mechanism functions for both the raised and lowered position, completely eliminating the potential of accidentally raising or lowering the sight and providing a low profile stance when lowered to allow the use of most optics. When properly mounted, the A2 Spring Actuated BUIS can be used to co-witness with most red dot and holographic sighting systems. In the unfortunate event of a electro-optic failure, the A2 Spring Actuated BUIS will deploy rapidly and securely. Standard A2 double peep aperture and windage knob allows for known point of impact by the end user. Optional XS same plane aperture or Trijicon Tritium Apertures are available by request. The mount body and sight stem are manufactured from solid billet 6061 T6 Aluminum, Type III hard anodized matte black. Steel components are Matte Black Manganese Phosphated and all finishes are per Mil-Spec. For more information, or to order the A2 Spring Actuated BUIS or any other of their fine products, please contact them at GG&G, Dept. SAR, 3602 East 42nd Strave, Tucson, AZ 85713. Phone: (800) 380- 2540. Fax: (520) 748-7583. Their website is www.gggaz.com.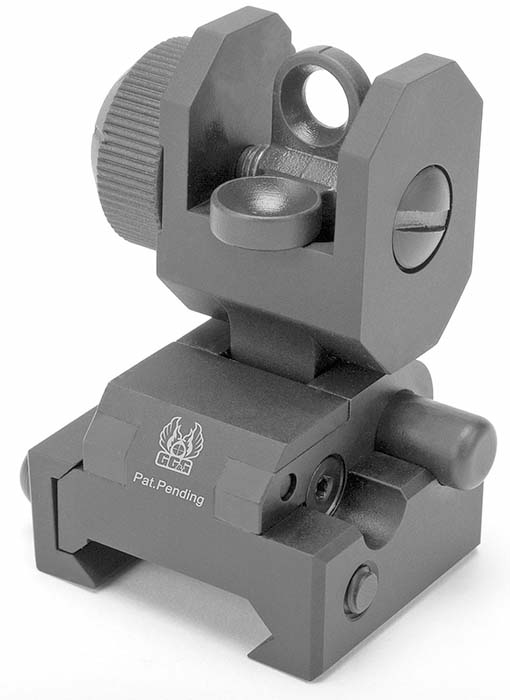 Buffer Technologies Introduces New AR-10 Buffer
Buffer Technologies is expanding its line of high-quality tactical components with the addition of a hydraulic AR-10 buffer from Enidine, Inc. The new hydraulic AR- 10 buffer is an improvement over the weapon's standard metal tube buffer. It dramatically reduces felt recoil and helps shooters maintain accuracy by suppressing bolt bounce and muzzle flip. It also helps protect optics by reducing shock to the delicate instruments. The Enidine buffer replaces the standard buffer assembly in the AR-10, but shooters retain their stock and buffer spring. The buffer has been engineered for an easy installation that doesn't require any special tools or gunsmithing. The new AR-10 buffer is made from anodized steel with a corrosionprotection finish. Buffer Technologies also offers the AR-Restor, Enidine's hydraulic buffer for both carbine and full stock AR- 15s. Enidine is a market leader in hydraulic energy absorbers for the industrial, aerospace and defense industries. Its hydraulic recoil buffers are used by the U.S. military and NATO forces for automatic weapons. For more information on this as well as their outstanding line of accessories and firearms buffers, please contact them at Buffer Technologies, Dept. SAR, P.O. Box 105047, Jefferson City, MO 65110. Phone: (877) 628-3337. Fax: (573) 634-8522. They can be found on the web at www.buffertech.com.
Sabre Defense Introduces New M2 and MK19 Tools
Sabre Defense Industries, a prime contractor to the United States military as a supplier of ordnance systems and components, is proud to introduce a simple solution for reducing breakdown time on M2s and MK19s while preventing potential personal injury; the M2 Tool and MK19 Tool. Simple disassembly and reassembly of an M2 or MK19 can be time consuming especially when in the field where every minute of response time is precious to the safety of the operator and his team. Throw in cold weather and wearing gloves and loosening a bolt with a standard wrench becomes near impossible. The Sabre M2 Tool is the perfect size for loosening and removing bolts and adjusts the timing without having to remove gloves. The M2 Tool makes removal of the drive rod spring easy and a special end sets the headspace gap and buffer body release pin. The Sabre MK19 Took allows the operator to hold down the sear to remove the bolt while preventing injury to the operator's thumb. A pry end removes charging handles, aligns the slide and pin for the back plate. A builtin hammer can be used to remove the secondary drive lever. Both Sabre tools have been developed and tested with combat troops in mind. Soldiers in the field using the M2 or MK19 tools are already experiencing a time saving difference from a standard minimum operating time of 8 minutes to 3 minutes or less. Priced at $90 SRP per tool, Sabre's M2 and MK19 Tools are the most efficient breakdown tools on the market. For more information or to place an order, please contact Sabre Defense Industries, LLC, Dept. SAR, 450 Allied Drive, Nashville, TN 37211. Phone: (615) 333-0077. Fax: (615) 333- 6229. Their website address is www.sabredefense.com.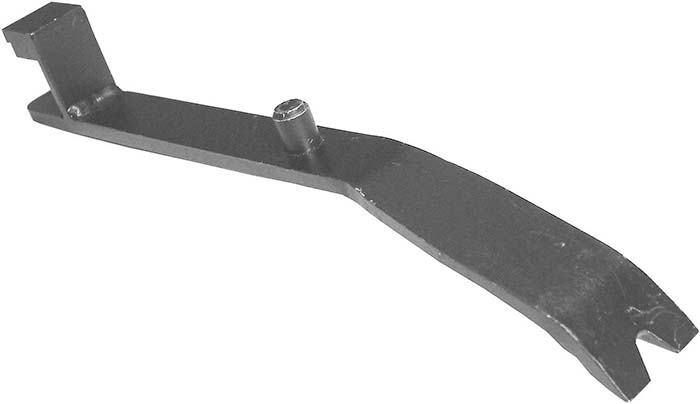 SafeBox Portable Security Unit
Response Technologies Incorporated (RTI) has just announced their new SafeBox, a portable security unit. The SafeBox is small enough to mount almostanywhere and large enough to protect some of your most valuable possessions. The most innovative and unique feature is that the SafeBox is portable. Mount the SafeBox's steel sleeve in your car, boat, RV, home, office, almost anywhere. Just unlock and slide the safe out of the sleeve and now the SafeBox is a portable lock box. It can be open or unlocked until secured back into its steel sleeve again. By purchasing additional sleeves your valuables can be secured in multiple locations. The places sleeves can be mounted are almost endless. The SafeBox is ideal for jewelry, guns, medications, or just about anything you need to keep safe. The SafeBox features barrel style keys and hardened steel construction. Safes can be keyed alike for multiple location security. For more information, please contact Response Technologies Incorporated, Dept. SAR, P.O. Box 222, Flanders, NJ 07836. Phone: (973) 252-7755. Fax: (973) 252- 7771. Website: www.response-tech.com.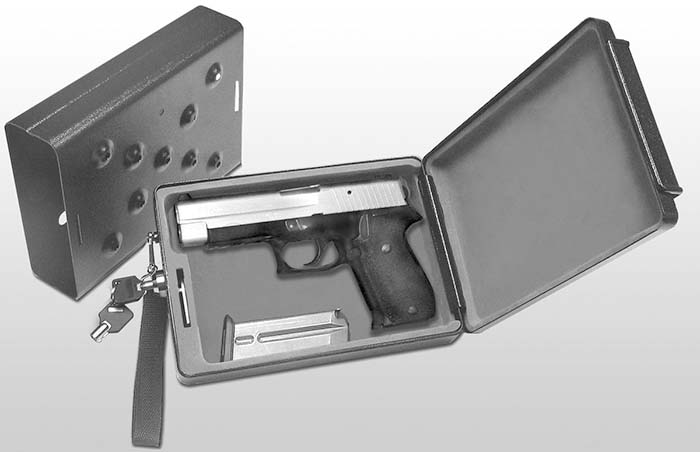 This article first appeared in Small Arms Review V11N2 (November 2007)