By Chris Choat

SureFire Introduces New X300 WeaponLight

When SureFire introduced its X200 WeaponLight series several years ago, they decided to offer two versions: one with a tightly focused beam for extended reach and one with a wider-angle beam more suitable for CQB (close quarter battle) situations. With the introduction of their new X300, users can now enjoy the best of both worlds with one light. The X300 WeaponLight's solid-state light emitting diode produces a beam that's tight enough to penetrate the night but with enough surround beam to prevent any surprises in closer-range applications – an unfortunate cause of too many accidental shootings. With a maximum output of 110 lumens, the X300 is bright enough to both illuminate a threat and temporarily overwhelm his night-adapted vision. This updated version of their most popular WeaponLight will offer tactical professionals and concerned civilians alike one weaponmounted light that just about does it all. Its versatile beam pattern provides users with a tactical advantage in longer-range and close-quarter engagements and makes the X300 a great choice for a home protection.

The X300's virtually indestructible light emitting diode has no filament to burn out or break, making it immune to the effects of recoil. Electronic current regulation pushes the LED to generate five times the light of a two-D-cell flashlight and keeps it producing tactical-level output (60 lumens or more) for nearly two and a half hours on a set of batteries. A specially designed Total Internal Reflection lens gathers virtually all of the LED's light and shapes it into a tightly focused central beam with a user-friendly gradually diminishing corona. A hard-anodized aerospace grade aluminum body protects the X300's internal circuitry, and gaskets and O-rings make the unit watertight to 30 meters. The light features ambidextrous switching, and an assortment of remote switches allowing precision control without altering one's grip on a weapon are available for many handgun models. The lightweight X300 (only 3.7 ounces with both batteries installed) easily slides on to most handguns featuring a Universal accessory rail. It also fits many rail-less handguns via a SureFire rail adapter and can be attached to any Mil- Spec Picatinny rail, making it a viable option for many rail-equipped long guns as well. Retail price for the new X300 will be $225 and is available through authorized SureFire dealers or direct from SureFire. You can contact them at SureFire LLC, Dept. SAR, 18300 Mount Baldy Circle, Fountain Valley, CA 92708. Phone: (714) 545-9444. Fax: (714) 545-9537. Their website is www.surefire.com.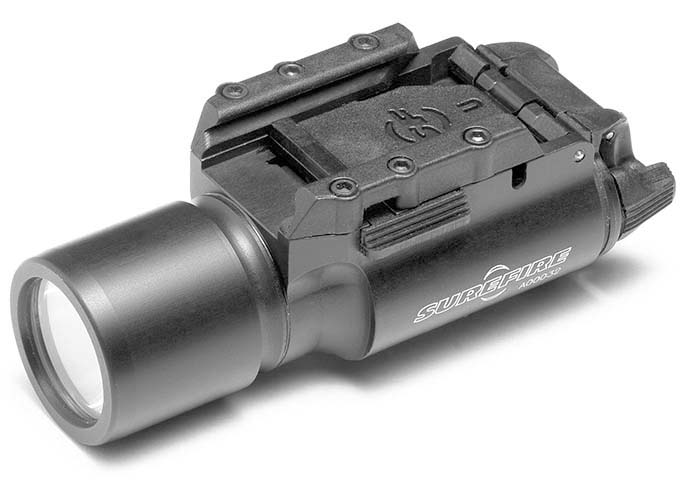 Two New Products from TSSI

Tactical & Survival Specialties, Inc. (TSSI) focuses on providing logistical support for conventional military, law enforcement and disaster response professionals in the US and in over 25 allied nations. The Range First Aid Kit can treat minimal to worst-case injuries occurring on firearms and training ranges. Contents of the kit include a variety of supplies from wound and burn dressings to cravats and splints. All items are contained in a highly visible, waterproof, bright orange case which is easily portable or mountable. Tactical & Survival Specialties, Inc. is one of the oldest and most experienced providers of tactical and specialized operational equipment. They now present their new Tactical Vehicle Kit. This kit provides access to critical equipment while in a mobile combat environment. Designed as customizable seat cover available for the HUMVEE and popular law enforcement SUV's, pouches and panels are easily portable and interchangeable. Panels are available for assault as well as medical needs. Modular pouches sold separately for mission specific needs. For more information contact TSSI, Dept. SAR, P.O. Box 1890, Harrisonburg, VA 22801. Phone: (540) 434-8974. Website: www.TacSurv.com.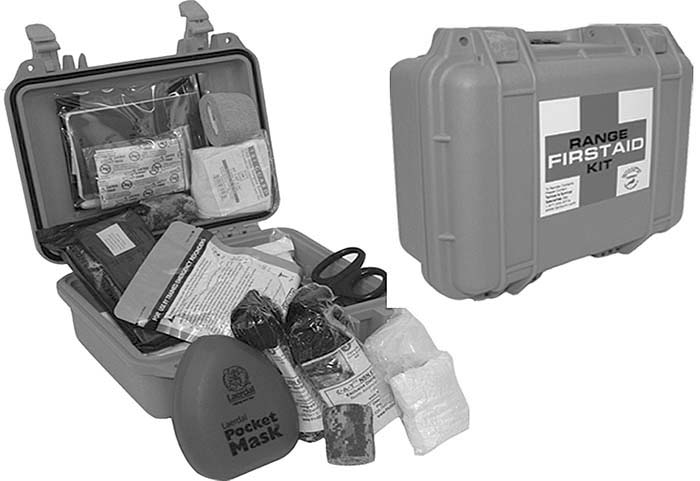 New APV Scope from Meuller Optics

Mueller Optics, the provider of a "simply better" line of optics for shooting enthusiasts, is proud to announce the widespread acceptance and praise for their newly introduced Mueller All Purpose Variable (APV) scope. With and extremely wide field of view and edge-to-edge clarity, the new APV is said by its fans to outperform anything in its class. The new APV has been specifically designed for smaller to medium caliber firearms. The new scope is in the sub $100 range.

Over the past several years, shooters all across North America have been noticing Mueller's products and their overall price to performance ratio, and with the introduction of Mueller's newest high-end scope, (the TAC II – retail $299) the glowing reviews and accolades have continued. In one third-party review the TAC II was judged to have outperformed both the 3200 and 4200 from Bushnell and the Vx3 offering from Leupold. For more information please contact them at Mueller Optics LLC, Dept. SAR, P.O. Box 457, Johannesburg, MI 49751. Phone: (989) 705-8885. You can visit their website: www.muelleroptics.com.

New Mil-Spec Beretta and S&W M&P LaserGrips from Crimson Trace

Crimson Trace has introduced another product in their continuing line of handgun LaserGrips. Their newest Model is the LG-402M (Mil-spec) for the Beretta Model 92/96/M9 pistol. The LG-402M LaserGrips for the Beretta are a first for Crimson Trace as they meet the military's strict Mil-Std-810F specification for waterproofness, salt spray and immersion in water to 1 meter for 30 minutes, and other torture type testing. The LG-402M rubberized front strap has two plastic wearpoints on both sides of the activation strap for added durability under the harshest conditions. The rugged and uniquely textured polymer side panels are effective with both a gloved hand and bare hands even when wet. A magnetized slot inside the grip itself is used to house a .050 hex wrench for sighting of the LaserGrips if needed. Two 2032 batteries located in each side of the grips provide over 4 hours of a constant-on beam. A master switch is located in the bottom of the grip to disable activation on the laser. These grips are the highest example of Crimson Trace design and quality and are based upon extensive field data from American fighting men and women. Crimson Trace has also just introduced the Model LG-660 LaserGrip that fits the Smith & Wesson line of M&P full size semi-auto pistols. The innovative design is one of the most integrated and easy to install laser products as it simply replaces the stock backstrap of the M&P. A rear activation switch makes it truly instinctive to activate. A master switch is located on the backstrap and uses a new touch sensor-switch verses a mechanical switch as found on other LaserGrips. This allows the user to turn the unit on or off even while using gloves by simply pressing and holding the recess pressure. Because they are made with the same polymer material as the frame of the M&P, the Model LG-660 LaserGrips flow seamlessly into the design of the gun. For more information on either of these, or any of their extensive line of laser products, please contact Crimson Trace Corporation, Dept. SAR, 9780 SW Freeman Drive, Wilsonville, OR 97070. Phone: (800) 442- 2406. Fax: (503) 783-5334. Website: www.crimsontrace.com.
This article first appeared in Small Arms Review V11N3 (December 2007)