By Chris A. Choat
Aimpoint T-1 QD Mount from GG&G

The new Aimpoint Micro T-1 is a great lightweight tactical scope, but the scope design does not accommodate flip-up lens covers. It comes with bikini lens covers that are not easy to remove, keep in place or reinstall and are easily lost. GG&G has now come up with a solution that is so unique, it has a patent pending. That solution is an Accucam Quick Detach T-1 Mount that includes a built-in provision that provides for the installation of a flip-up lens cover for the ocular end. Additionally, the kit includes a specially prepared flip-up cover that fits the objective lens. The Aimpoint T-1 easily and solidly installs onto the GG&G Accucam QD mount with four 3mm screws. The installation wrench is included in the kit. The ocular end of the T-1 scope fits perfectly into the small integral lens cover flange, and while providing the means to mount a flip-up lens cover, it does not interfere with the field of view. The T-1 mount is manufactured from solid billet 6061 T6 aluminum and is Type III hard coat anodized matt black per mil-spec. The new GG&G T-1 QD Mount is manufactured to mount directly to the AR-15/M16 integral rail. This will position the red dot just above the front sight post, yet is low enough to co-witness with the GG&G MAD, A2 or Spring Actuated A2 BUIS. The Accucam Quick Detach Locking Lever System provides the shooter with a solid method to quickly install or remove the T-1 from the weapon in just a few seconds. Unlike other QD systems, it is fully adjustable to fit either Weaver or MIL-STD- 1913 rails. The unique design also allows you to adjust tension to accommodate out-of-spec or worn rails. The finger loop on the mount is easily operated even with a gloved hand and its rounded edges are snag proof. For more information on this new mount as well as their full line of innovative firearm accessories, please contact GG&G, Dept. SAR, 3602 E. 42nd Stravenue, Tucson, AZ 85713. Phone: (800) 380-2540. Fax: (520) 748-7582. Their website is www.gggaz.com.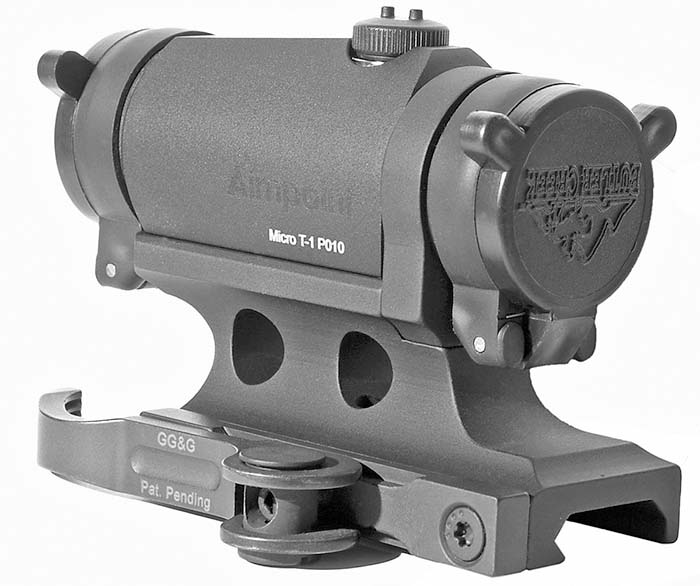 Magpul Introduces New Polymer PMAG
The Magpul Polymer Magazine (PMAG) fits the M16 series and other 5.56×45 NATO compatible weapons. It features numerous enhancements intended to improve reliability, long-term storage, overall durability and is designed to fit 30 rounds without any need for downloading. A loaded magazine inserts and locks easily in a closed bolt weapon or may be stored for extended periods with the unique Impact Cover in place. The PMAG also features a special anti-tilt follower that prevents binding and improves feeding consistency. An optional MagLevel Round Indicator System allows for visual identification of round count on either side of the magazine. The Impact Cover snaps firmly onto the top of the PMAG via interlocking tabs (unlike aftermarket dust covers) and can be quickly removed with one hand.Fitted into place, the Impact Cover provides impact protection for the feed lips, prevents dirt/dust intrusion, and eliminates distortion of the feed lips caused by longterm loaded storage. When separated, the Impact Cover serves as a magazine tool that facilitates unloading and disassembly. A lanyard hole is included to prevent part loss. The proprietary Anti-Tilt Follower works in conjunction with the magazine body to stabilize the loaded round stack. The PMAG body features a constant internal curve (unlike metal magazines with a curve-to-straight transition) and allows for consistent round stack regardless of round count. This configuration prevents many of the common feeding malfunctions seen in other magazines such as nose-diving and bolt-over head failures. The optional MagLevel Round Indicator System tracks the amount of loaded rounds remaining in the magazine. This dual window system is visible from either side of the magazine allowing for ambidextrous function. Unlike transparent magazines without this feature, the MagLevel tracks all the loaded rounds in the magazine from first to last including the final remaining rounds hidden by the magazine well. For more information please contact Magpul Industries Corp., Dept. SAR, P.O. Box 17697, Boulder, CO 80308. Phone: (303) 828- 3460. Fax: (303) 828-3469. Website: www.magpul.com.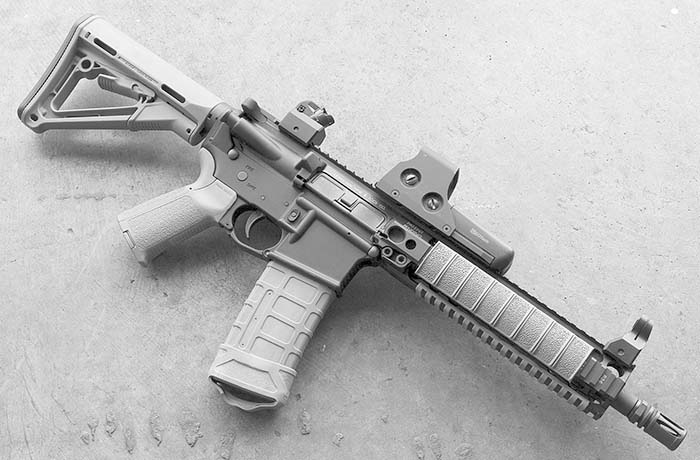 Saiga 12 Drum and Forearm Rail from Alliance Machine
Alliance Machine LLC has just introduced their new 20- round drum magazine for the Saiga 12 shotgun. Called the WraithMaker, the new drum is CNC machined from 6061 aircraft grade aluminum and hard coat anodized for extreme durability. The new drum also features hardened stainless steel feed lips and sealed internal bearings. The WraithMaker will fire most brands of 2-3/4 inch shells from birdshot to slugs. The second new product is their new Quad Rail Mount System for the Saiga 12. The rail mount is also made from 6061 T6 aluminum and hard coat anodized. It features a top rail that extends back over the gun's receiver for mounting optics plus side and bottom rails. The quad rail mount is made so that the gun's dust cover and bolt can be removed without removing the quad rail mount itself. For more information on these two new products, as well as service upgrades for the Saiga 12 shotgun, please contact Alliance Machine LLC, Dept. SAR, P.O. Box 605, Boonville, IN 47601. Phone: (812) 897-4908. Website: www.wraithmaker.com.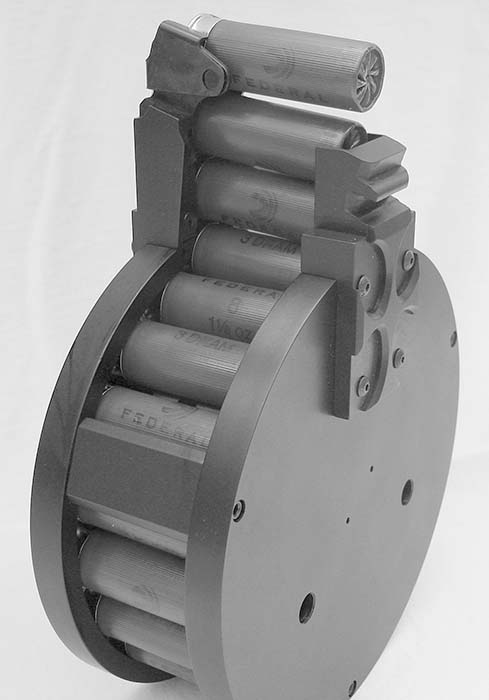 CTK Precision Introduces New P3 Mono-Grip
CTK Precision has just introduced their new P3 Mono-Grip; a vertical foregrip and a monopod all in one. The P3 Mono-Grip turns a vertical foregrip into a shooting rest with a simple turn of the wrist. The new Mono-Grip provides a rock solid support, but still gives you the flexibility and versatility when you need it most allowing you to immediately pivot your firearm from left to right to get on target fast. It is CNC machined from billet aluminum for high strength and light weight (only 6.4 oz.). Other features include a hard coat anodized finish and flat sides for attaching pressure switches. A collapsed height of 4.75 inches and an extended height of 8 inches allow the use of a 30-round magazine. The spring loaded, pop out design adjusts from a grip to mono-pod in seconds. The durable rubber foot on the bottom resists slipping and will not harm finishes. The new Mono-Grip fits all Mil-Spec 1913 Picatinny rails. For more information, or to place an order, please contact CTK Precision, Dept. SAR, E5861 Herzberg Road, Marion, WI 54950. Phone: (715) 754-2891. Website: www.ctkprecision.com.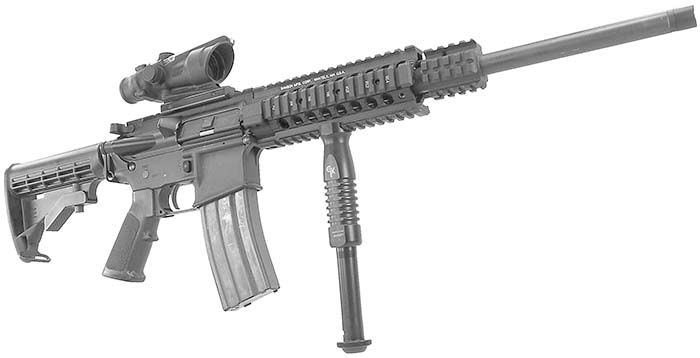 Laser Devices Introduces New High Power Tactical Lasers
Laser Devices, Inc., manufacturer of state-of-the-art visible and infrared aiming lasers, handheld and weapon-mounted tactical lights and small arms training systems is pleased to announce the new high power models of the Inline and Offset Tactical Aiming Lasers-ITAL-HP and OTAL-HP. These two new models feature a high power focusable/defocusable infrared (35mW) (835nM) beam. When focused, the beam provides pin-point aiming and pointing. When defocused, the beam spreads to provide supplemental infrared illumination for use with night vision devices. Each device is also equipped with a low-power setting to reduce the output power to an eye-safe level for use indoors, at close range and for force-on-force training exercises. A focusing ring on the front of the housing allows the user to focus or defocus the laser depending on their mission requirements. Defocusing the laser provides supplemental spotlight illumination to search shadowed areas. When the laser is focused to a point it can be used for precise aiming of the firearm or as a target pointer. The ITAL-HP and OTALHP are activated using a remote cable pressure pad switch. This electronic switch allows the user to operate the laser in a momentary mode by pressing and releasing the switch or to instantly activate the laser in a continuous ON mode by tapping the switch twice. A built-in safety circuit automatically turns the laser off after five minutes of continuous activation. Like the original ITAL and OTAL the ITAL-HP and OTAL-HP are manufactured to meet MIL-STD-810F requirements for reliability under the most adverse environmental conditions from desert heat to arctic cold. Fully waterproof to 3 meters and precision machined from hard anodized aircraft grade aluminum, the ITA-HP and TOTALHP are virtually indestructible. Powered with a single AA battery, these devices are lightweight (6.1 ounces) and compact (3.7 inches long and 1.75 inches wide). ITAHP and TOTAL-HP are available with two mounting options: Quick Release Throw Lever mount or Knurled Thumb Screw mount and supplied with one AA battery and a remote cable pressure pad switch. Optional accessories include pattern generating optics and a diffuser to provide wide area illumination at close range. ITAL-HP and OTAL-HP are powerful infrared laser devices that are only available to law enforcement and military agencies. In addition, they are subject to U.S. Export control through the International Trafficking in Arms Regulations. For more information, please contact them at Laser Devices, Inc., Dept. SAR, 2 Harris Court, Suite A-4, Monterey, CA 93040. Phone: (831) 373-0701. Fax: (831) 373-0903. Website: www.laserdevices.com.
Wilson Combat Introduces the Elite Tactical Magazine for the 1911
Wilson Combat, developer and builder of the legendary 47 Series magazine, announces a completely new 1911 magazine for serious, particularly combat oriented, shooters: the Elite Tactical Magazine, or ETM. Designed from the start as an 8- round magazine, it is the ultimate single stack magazine. The ETM features a heavier, stainless steel tube that's more resistant to spreading and lip failure than any previous magazine, by any manufacturer. The re-designed spring is new and is more reliable and longer lasting than anything previously available. Numbered cartridge observation ports are located on the rear edge of each side of the tube, 1 through 10 numbers are etched on the base pad for tracking your magazines, and an innovative base pad allows for a longer tube and less spring compression, with a perfect flare for a sure grip when removing a magazine under adverse situations. Every component is either stainless steel or super tough nylon, making the ETM impervious to the elements. For more information on this new magazine, as well as their complete line of guns and accessories, please contact Wilson Combat/ Scattergun Technologies, Dept. SAR, 2234 County Road, Suite 719, Berryville, AR 72616. Phone: (870) 545-8618. Fax: (870) 545-3310. You can visit their website at: www.wilsoncombat.com.
This article first appeared in Small Arms Review V11N4 (January 2008)