By Chris Choat
New FN PS 90 and P90 Ultra Low Scope Mounts from TROS USA
Two new ultra low scope mounts are now available for the semi-auto FN PS90 carbine and the FN P90 SMG from TROS (The Riddle of Steel) USA. These are optic specific scope mounts. They offer the lowest possible mounting for the optic and are much lower than the same optic when mounted on a Picatinny rail. TROS USA currently offers two models. Both are made from black anodized aluminum and come with self locking mounting screws. They do not require any drilling or modification to the receiver and can be used with side rails. The Aimpoint mount will work with any M/ML 2 or 3 series Aimpoint. It comes with an A.R.M.S. 22M68 Aimpoint ring and all mounting hardware. The price is $99.95 and package deals with new Aimpoint M3/ML3 optics are available. The second is for use with the Trijicon Mini ACOG scopes with the M16 base. The price is $56.95 for the mount. They can also supply the mount with a Trijicon Mini ACOG 1.5×16 with red cross hair reticle for $799.95. For more information please contact TROS USA, Dept. SAR, P.O. Box 680, Clackamas, OR 97015. Phone: (503) 658-3708. Their website is www.trosusa.com.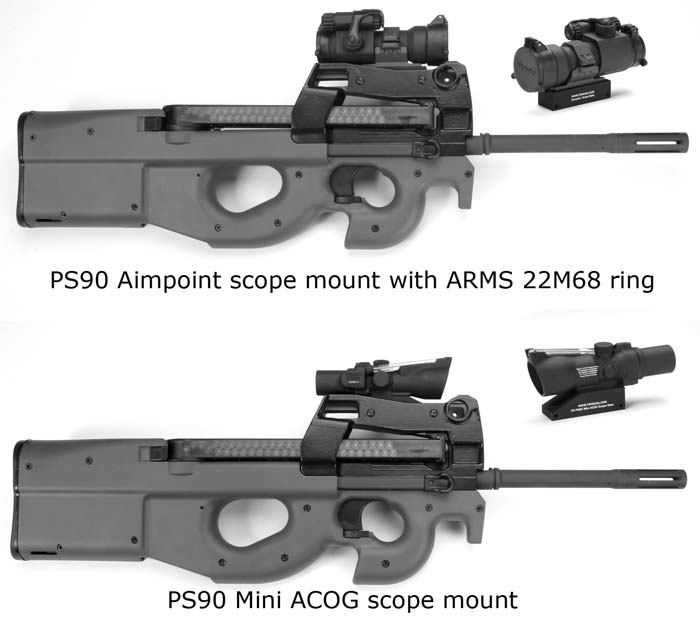 Brownells Introduces New AR-15/M16 Magazines in SOCOM Tan
Brownells, long known for their beefy catalog of gunsmithing tools and gun accessories, have been building their own 20 and 30-round magazines for the AR-15/ M16 series of rifles. All components of the new magazines are made of mil-spec materials and are manufactured under strict, IOS quality control standards. The heat treated welded aluminum body are hard anodized for superior corrosion resistance then given a tough, dry lube coating to eliminate the need for additional lubricants. Until now they were available in the standard military gray. Now they are available in Socom Tan. The magazines also feature a military-type glass reinforced composite follower to further guarantee flawless feeding in the harshest tactical conditions. The magazines can be ordered with either a mil-spec stainless steel spring or the new high lubricity, dry lube coated chrome silicon spring that's corrosion-resistant certified to 500 hour salt spray standards and less prone to take a spring "set". For more information on these new magazines or any of Brownells tools and gun accessories, please contact them at Brownells, Dept. SAR, 200 South Front Street, Montezuma, IA 50171. Phone: (800) 741-0015. Fax: (800) 264- 3068. They can be found on the web at www.brownells.com.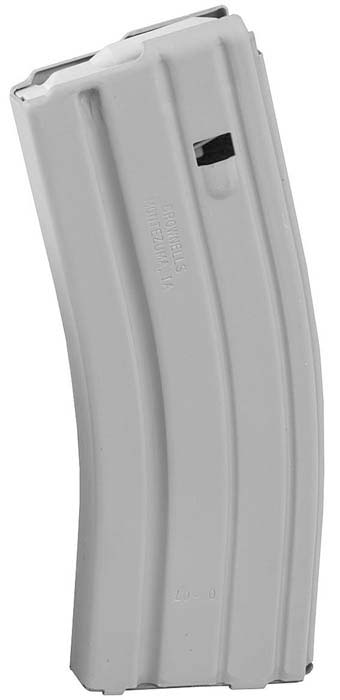 Command Arms Accessories Introduces New Front Sight Mount Rail
Command Arms Accessories (CAA), manufacturer of unique and innovative weapon accessories, is proud to introduce their new polymer front sight mounted rail system. TPR15P securely mounts to the front sight providing two rails for laser and light equipment attachment. This new product has 2.5 inch long Picatinny rails on each side. Constructed of high density polymer it is easy to install and remove. It is secured by three Allen bolts with no gunsmithing required. For more information please contact Command Arms Accessories, Dept. SAR, 76 Vincent Circle, Ivyland, PA 18974. Phone: (267) 803- 1518. Fax: (267) 803-1002. Website: www.commandarms.com.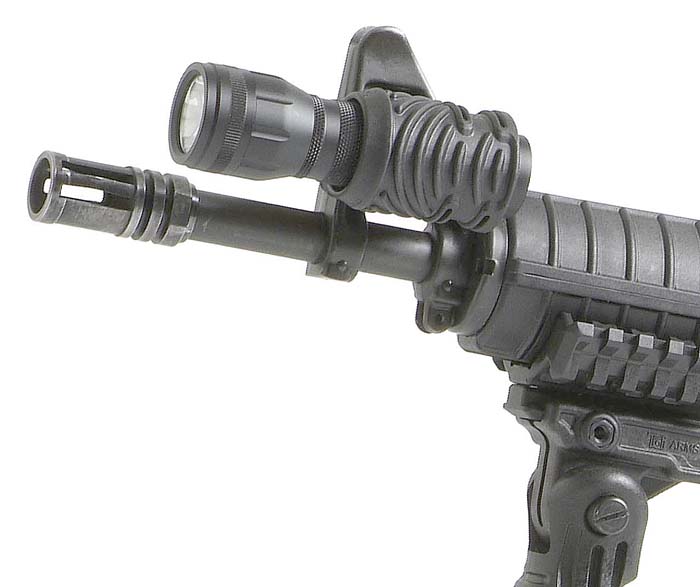 Lone Wolf Introduces New Stainless Steel Glock Slide
Lone Wolf Distributors' (LWD) new custom Glock slides provide the features serious shooters demand. The LWD slides are designed after the current production 3rd generation Glock original slide, the strongest ever offered. They include the most sought after custom features at no additional charge including front and rear c o c k i n g serrations, beveled rails and lowered ejection port. The LWD Stainless slide will be available for all Glock models. Custom laser engraving and Bullnose available on request. Manufactured from forged 416 stainless and hardened to 42/46 Rockwell standards, these rugged slides easily convert current production G17/17L/34 FGR frames to fire .40 S&W and/or .357 SIG. Competitive shooters will be able to compete in both Limited and Open class using the same gun with these slides. Glock owners will now have the ability to build custom guns like a G19L/G23L or G26L/G27L. They are also perfect for building the new CCF m e t a l frames. These new slides have a retail price of $ 1 7 4 . 9 5 each and are part of Lone Wolf's line of custom Glock components. They offer the largest selection of Glock parts and accessories in the world. Contact them at Lone Wolf Distributors, Inc., Dept. SAR, 57 Shepard Road, P.O. Box 3549, Oldtown, ID 83822. Phone: (208) 437-0612. Fax: (888) 279-2077. Their website is www.lonewolfdist.com.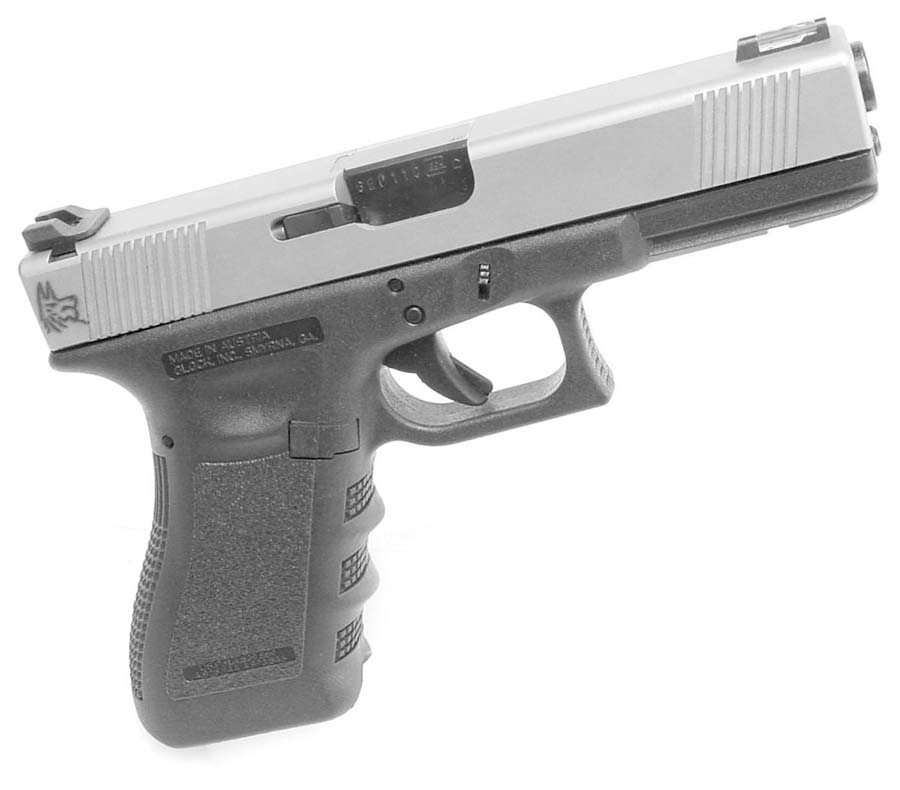 Winchester Model 70 is Back
The Winchester Model 70 is one of the most respected bolt-action rifle designs in the world. Winchester Repeating Arms is excited to announce the return of the Model 70 for 2008. The All-American Model 70s will be built by American craftsmen in Columbia, South Carolina, at the same stateo f – the-art factory (FN Manufacturing) as the rifles and machine guns used by A m e r i c a ' s Armed Forces. For 2008 the new Model 70 has the all new M.O.A. Trigger System, improved fit and finish and enhanced accuracy to go along with its classic Pre-64 Controlled Round Feeding, Three-Position safety and solid, sure handling. The improved three-position safety on the new Model 70 has proven effective and highly popular with hunters and shooters for decades. Convenient to operate with the thumb of the firing hand, the Model 70 safety lifts the firing pin away from the sear. When the safety selector is in the middle position, the action can still be operated, allowing unfired cartridges to be cycled with the safety on. Model 70 barrels are cold hammer-forged from a solid billet of steel for accuracy and long life. The Model 70's blade-type ejector allows full control when ejecting a fired case. It also helps to eliminate short-stroking malfunctions. The new Winchester Model 70 will be offered in a Super Grade, Featherweight Deluxe, Sporter Deluxe and Extreme Weather SS models. All will feature a thick black Pachmayr Decelerator pad that will help take the bite out of recoil. For more information please contact Winchester Firearms, Dept. SAR, 275 Winchester Avenue, Morgan, UT 84050. Phone: (801) 876-3440. Fax: (801) 876- 3737. Website: www.winchesterguns.com.
Ruger Introduces New Striker Fired SR9 Pistol
Ruger & Company, Inc. is proud to announce the Ruger SR9 pistol, the first striker-fired pistol from Ruger, and number one in a new line of high-performance pistols to meet the demands of today's firearm owner. The Ruger SR9 pistol delivers legendary Ruger reliability with a 17 + 1 capacity 9mm pistol in a comfortable to- shoot package. The structurally rigid, recoil-reducing glass-filled nylon frame features a unique reversible backstrap that allows owners to quickly customize the size and feel of the grip, without having to carry separate inserts or use special tools. The SR9 will appeal to both left and righthanded shooters as it features an ambidextrous manual safety and magazine latch. The glass-filled nylon frame and stainless steel slide combine to create a low maintenance handgun that resists finish punishing elements. This is not a copy of any existing Ruger pistol, although it does have the new Ruger look, similar to the current P345 pistol. A slim, ergonomic grip features a 17-degree grip angle and three 22-lines per inch checkered panels that provide a sure grip without being abrasive. The rear sight, part of the low profile, high visibility, three-dot sight system, is click adjustable for elevation. Both front and rear sights are drift adjustable for windage to put shooters on target with any choice of ammunition. The Picatinny rail accepts firearm-mounted lights for target identification in all light conditions, and lasers to provide users with modern sighting options. The first striker-fired pistol from Ruger is loaded with modern safety features like a 1911-style ambidextrous manual safety, internal trigger bar interlock and striker blocker, trigger safety, magazine disconnect, plus a visual and tactile loaded chamber indicator. For more information on the Ruger SR9 pistol and the extensive line of Ruger's other products, please contact them at Sturm, Ruger & Co., Inc., Dept. SAR, 1 Lacey Place, Southport, CT 06890. Phone: (203) 259-7843. Fax: (203) 255-5201. Website: www.ruger.com.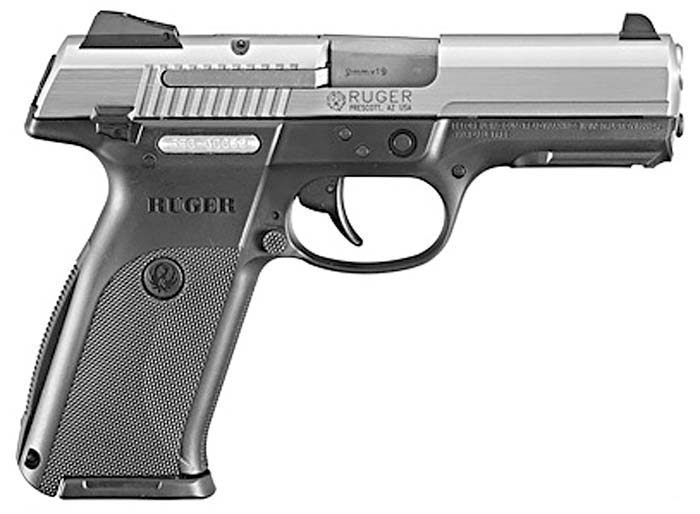 This article first appeared in Small Arms Review V11N5 (February 2008)