By Chris Choat
New Timney AR-10 Trigger
On the heels of the 2007 release of the highly anticipated and wildly successful AR-15 replacement trigger, Timney Triggers now offers another true drop-in trigger for the AR rifle platform. The new AR-10 trigger by Timney is a design created in conjunction with Frank Desomma of POF-USA, manufacturers of the popular P-415 & P-416 Gas Piston AR rifles. The Timney AR-10 trigger is a self-contained, 100% drop-in unit ready to install in an AR-10 rifle for an exceptionally smooth, crisp, single-stage trigger pull. No gunsmithing, fitting, or adjusting is required. Pull weight is factory set at 4 pounds. The lightweight 6061 T6 alloy housing is anodized for superior durability. Hammer is EDM machined from S7 tool steel that combines hardness to resist wear with superior impact resistance to withstand heavy use without chipping or breaking. Finally, a Teflon Nickel coating is applied to the hammer to deliver a super smooth trigger pull with superior lubricity. Other components are EDM cut from A2 tool steel, then heat treated to Rc 56-60 for longer service life. The trigger module installs using your rifle's original hammer/trigger pins and the proprietary design eliminates pin rotation and walkout. Timney Triggers offer the rifle shooter a convenient way to shop online. Customers can now order the model they want, with the options they want, and request it factory tuned to the pull weight desired. For more information contact them at Timney Manufacturing, Inc., Dept. SAR, 3940 West Clarendon Avenue, Phoenix, AZ 85019. Phone: (602) 274-2999. Fax: (602) 241-0361. They can be found on the web at www.timneytriggers.com.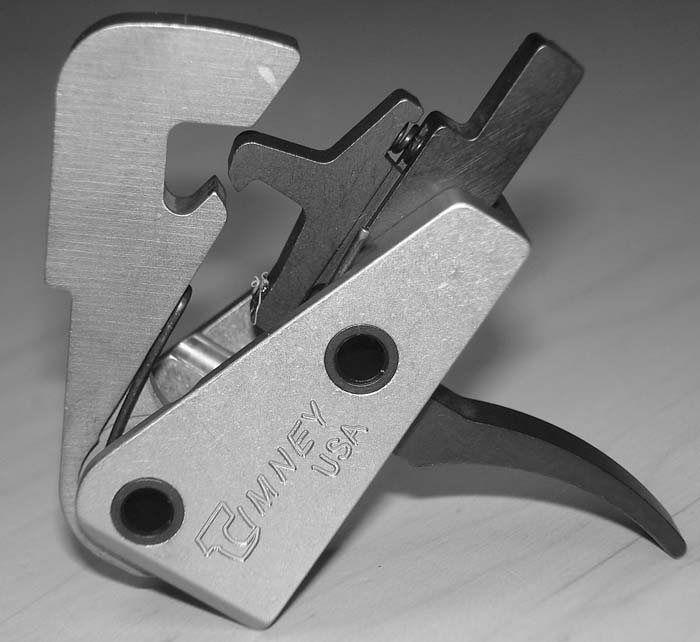 Fobus Introduces Two New Holsters for Popular Handguns
Fobus Holsters, the leader in polymer holsters with the most fits available, is pleased to announce the new Evolution Series holster for the Beretta Vertec (BRV) as well as a holster for the FN Five-seveN. The new Evolution Holster utilizes their proven Fobus passive retention system that secures the pistol while allowing instant presentation, without the need to disengage mechanical securing devices. Evolution Series upgrades such as an adjustable retention screw, one-piece holster body construction, steel-reinforced rivet attachment system and a protective sight channel have been incorporated. The Vertec Evolution Holster is available in right hand paddle (BRV), belt (BRVBH), roto paddle (BRVRP), roto belt 1-3/4 inch (BRVRB), and roto duty belt 2-1/4 inch (BRVRDB). The BRV also fits the Taurus full size 92/ 99 with rails. The FNH Evolution Holster is available in right hand paddle (FNH), belt (FNHBH), roto paddle (FNHRP), roto belt 1-3/4 inch (FNHRB), and roto duty belt 2-1/4 inch (FNHDB). For more information on these as well as their extensive line of holsters and firearms accessories, please contact Fobus Holsters/Command Arms Accessories, Dept. SAR, 76 Vincent Circle, Ivyland, PA 18974. Phone: (267) 803-1517. Fax: (267) 803-1002. Their website is www.fobusholster.com.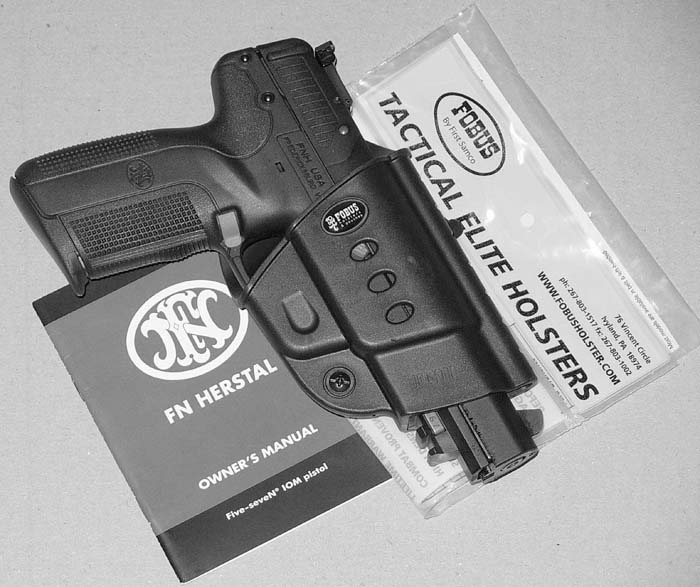 DoubleStar Introduces New Gas Blocks for AR-15/M16 Rifles
DoubleStar now has three new gas blocks for the AR-15/M16 series of rifles. They say that the new gas blocks are lighter and studier than anything on the market today. The trio includes a two-piece two rail, a one-piece four-rail and a low-profile block. Each is especially suited to the needs of individual shooters, and all are more rugged and durable than what have previously been available. The two-piece and four-piece blocks are made of standard 6061 T6 aircraft-grade aluminum with a hard coat anodized finish for a lighter weight. Each has 1913 Picatinny rail systems to accept accessory attachments. The four-rail system is securely held in place with three sets of screws, rather than the typical two. The screw sets – two on the bottom and one on top – ensure a perfect gas seal. The four-piece system is made to fit .750 inch diameter barrels and retails for $64.95. The two piece gas block is easily and securely installed with four socket head machine screws. It is available for a .750 inch diameter barrel or a .625 inch diameter A1 barrel, and retails for $64.95. DoubleStar's low-profile gas block is made from 1018 steel and mil-spec parkerized, yet maintains a light weight. Designed for shooters who always use a scope, the low-profile gas block replaces the front sight and retails for $38.95. To find out more, contact them at DoubleStar, J&T Distributing, Dept. SAR, P.O. Box 430, Winchester, KY 40391. Phone: (859) 745-1757. Fax: (859) 745-4638. Website: http://www.jtdistributing.com.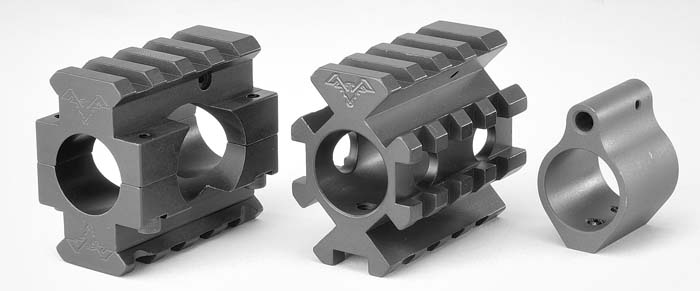 Advanced Technology Introduces New Shotgun Stock
Advanced Technology, Inc. has developed an ambidextrous, top folding stock with pistol grip for pump shotguns. Made of matte black, glass-filled nylon, the stock comes with all the necessary hardware and a sling swivel stud. It is easy to install, lightweight, compact and requires no gunsmithing. A quick-release button allows the stock to fold and unfold quickly and also allows the gun to function in both the open and closed positions. It fits the 12 and 20 gauge Mossberg 500/590, Remington 870, Winchester 1200/1300 and the Maverick Model 88. The retail price of the new stock is just $69.99. To compliment the stock, Advanced Technology offer the Deluxe Heatshield with ghost ring sights, and the ghost ring sight adapter that allows combined use of the top folding stock with the heatshield. The stock comes predrilled to accept their shot shell holder for easy access to an extra five 12 gauge rounds. They also offer the stock as the Marine Top Folding Stock with stainless steel hardware for wet weather use. For more information or ordering options, please contact them at Advanced Technology, Inc., Dept. SAR, 102 Fairview Drive, Versailles, KY 40383. Phone: (859) 873- 9877. Fax: (859) 873-6229. Their website is www.atigunstocks.com.

New M-230 Kit for the 1919A4 from TNW Firearms
Have you ever wondered what the ever reliable Browning 1919 machine gun would have looked like if it had continued in development and evolved past the A6 variant? The skunkworks design team of TNW Firearms, Inc. – Mark Eschenbacher, Dennis Gann and Tim Bero – have projected the form and function into a readily adaptable kit that converts any semi or full auto 1919 into a modern mobile squad weapon. The system consists of a lightened .308 barrel with flash hider, innovative front shroud assembly with threaded mounting holes, custom rails, bipod and folding carry handle. Other features include an improved front sight, FN style buttstock assembly and FN style pistol grip assembly with safety. The weapon retains the ability to be fired from a tripod or pedestal. The upgrade takes about twenty minutes to install and requires no permanent modifications to your 1919. The front shroud assembly has a top cover that swings up for quick and easy barrel changes. The barrel of the new system is lightened and shortened to 16 inches. By doing this there is no longer a need for a barrel booster. The custom Picatinny rails on the top, bottom and sides of the front shroud give the user the ability to add optics, front vertical grips, lights, lasers or other accessories. The kit makes the standard 1919A4 look much like an M- 240 GPMG. For more information on this as well as their semi-auto M2 .50 caliber, semi-auto 1919A4 and A6, semi-auto MG 34 and a full line of accessories and gun mounts, please contact them at TNW Firearms, Inc., Dept. SAR, P.O. Box 311, Vernonia, OR 97064. Phone: (503) 429-5001. Fax: (503) 429-3505. Website: www.tnwfirearms.com.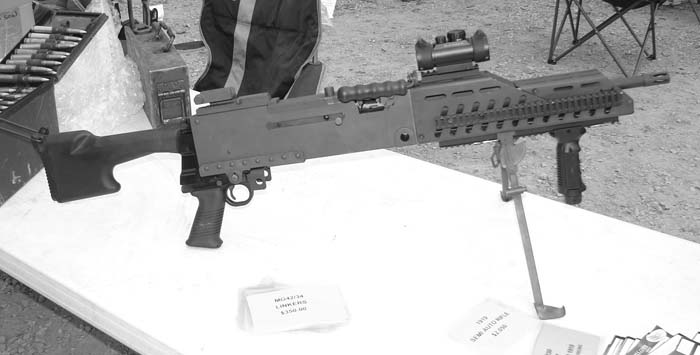 Gunslick Introduces New AR-15 Cleaning Kits
The AR-15 Cleaning Kit offers shooters a specialized high performance cleaning kit. Headlining the components in this kit is Ultra-Klenz, a high-tech copper dissolver and carbon remover and Ultra-Lube, an advanced gun oil protectant. This kit also includes a full line of cleaning accessories, steel cleaning rods and the special AR-15 bronze and steel brush that cleans the chamber. For more information on this as well as the entire Gunslick line-up, contact them at Gunslick Gun Care, Dept. SAR, N5549 County Trunk Z, Onalaska, WI 54650. Phone: (800) 635-7656. Fax: (763) 323-3899. Their web site is www.gunslick.com.
This article first appeared in Small Arms Review V11N6 (March 2008)