By Chris A. Choat

KRISS-TDI Introduces Semi-Auto Carbine Version of Vector SMG

Transformation Defense Industries, Inc. (TDI) has just released their new semiautomatic civilian version .45 ACP carbine incorporating the revolutionary and innovative KRISS Super V patented operating system. Offering the same acclaimed shoot ability of its fully automatic submachine gun sibling, the new KRISS Vector CRB/SO (Special Ops) is the only semiautomatic firearm that actually helps the operator dramatically improve accuracy in the field or on the range. By re-vectoring the forces of recoil and significantly reducing muzzle climb, the innovative KRISS Super V technology provides a more compact and lighter-weight operating system creating a firearm that can be handled more effectively, more accurately and for longer periods of time, allowing the operator to put more rounds on target more often. The Vector CRB/SO was formally unveiled to the public at the 2008 National Shooting Sports Foundation SHOT Show, February 1-5, in Las Vegas, NV. The KRISS Vector CRB/SO is an ATF-approved, 38-state legal (folding stock), 16 inch barrel semi-auto firearm, sharing the same mil-spec frame, Super V operating system, materials and sturdy housing as the KRISS Vector SMG, designed for military and law enforcement markets. It also uses the same, easy-to-maintain Super V mechanism that reduces felt recoil by more than 50 percent and reduces barrel elevation by more than 95 percent. Non-folding stock and California versions will follow in mid-2008. Rugged and reliable, the Vector CRB/SO remains easy-to-service with an elementary yet robust mechanism featuring fewer moving parts. To date, more than 60,000 rounds have been fired through test firearms without a single major failure. By providing a compact and lightweight package that re-vectors the forces that typically cause recoil and muzzle climb, the Vector CRB/SO is a highly maneuverable, forgiving-to-shoot firearm. The KRISS Super V Vector CRB/SO is offered to civilian purchasers in two versions. The CRB/SO Basic System which consists of firearm, custom KRISS DC/HM flip-up sight system, foregrip, full top and bottom Picatinny rails, grip storage pod, sling point mount, two Glock 21 magazines and custom cleaning kit. The other version is their CRB/SO Tactical System that consists of all items in the Basic System as well as EOTech 512 holographic sight, custom single-point sling, Surefire E1E light and GripPod/bi-pod foregrip. For more information, please contact them at Transformational Defense Industries, Inc., Dept. SAR, P.O. Box 8928, Virginia Beach, VA 23450. Phone: (202) 659-6888. Fax: (202) 659-6887. Their website is www.kriss-tdi.com.


Smith & Wesson Introduces New Walther SP22 Sport Pistols

Smith & Wesson has introduced their new SP22 sport pistol from Walther. Designed with the flexibility and performance features needed for competition or plinking, the SP22 offers various expansion options through a four-model family. Each SP22 model is chambered in .22 LR and offers a variety of accessories for all levels of sport shooting. The SP22 pistols will be offered at multiple price ranges from entry level to high-end. The SP22 pistol is manufactured with a high-strength aluminum housing with all-steel internal components. The pistol will be offered in four unique models – the SP22 M1, SP22 M2, SP22 M3 and SP22 M4. The basic version of the new pistol is the SP22 M1. The M1 is equipped with a 4-inch standard barrel along with a two-stage trigger complete with adjustable trigger stop. The base model is manufactured with an adjustable steel rear sight and a three-width adjustable front sight. Medium sized polymer grips are standard on the M1 model with smaller grip sizes also available. For shooters wanting a longer barrel, the pistol is also available in a second model – the SP22 M2. Designed with the same standard features that are found in the M1 model, the M2 pistol is standard with a 6-inch barrel for increased velocity and accuracy. For competition shooters, the pistol is offered as the SP22 M3. The M3 model features a 6-inch match grade barrel along with an adjustable match trigger with trigger stop. The M3 pistol comes standard with removable Picatinny-style rails on the top of the slide and underneath the barrel for quickly and easily adding optional accessories. For quick loading and unloading during competition, the M3 is standard with an extended magazine release. The M3 pistol is equipped with medium sized polymer grips along with an adjustable rear sight and a three-width adjustable front sight. Also available to competition shooters is the SP22 M4. The M4 model retains the same standard features that are found on the M3 model but includes a medium sized adjustable wooden grip with hand support. Optional Picatinny-style rails can be added to the M4. Providing the ultimate in flexibility, the SP22 will be available with a variety of optional accessories to match each pistol. Allowing users to tailor the pistol to all shooting sports disciplines, the SP22 can easily cater to every user group from beginners to expert competition shooters. Accessories for the SP22 include: an interchangeable 6-inch barrel system, Picatinny-style rails for the 4 and 6-inch models, junior polymer grips, adjustable wooden match grips, TruGlo sport sights, laser sights and a variety of optics. In addition, the M2, M3 and M4 models can accommodate an under barrel weight that can be individually removed and positioned to suit user preference resulting in customized balance. For more information please contact Smith & Wesson, Dept. SAR, 2100 Roosevelt Avenue, Springfield, MA 01104. Phone: (413) 747-3286. Fax: (413) 747-3317. Their website is www.smith-wesson.com.

Ruger Introduces
the 22 Charger Pistol

The Ruger 22 Charger Pistol delivers the fun, versatility and reliability of the time tested Ruger 10/22 in a handgun. The 22 Charger features a 10-inch precision-rifled barrel mounted in an ergonomically designed, warp-proof, laminated stock. The adjustable bipod that ships with every 22 Charger pistol provides added control and stability on the range or in the field. A new extended magazine release allows easy removal of the legendary Ruger 10-shot rotary magazine. Whether you prefer a high magnification scope for long-range varmint shooting or a red dot sight for quick and sure target acquisition, a combination Weaver-style and "tip-off" sight mount allows your choice of optics. Either way, it is a great new pistol for long-range target shooting. The Ruger 22 Charger pistol has an overall length of 19-1/4 inches and weighs 3-1/2 pounds, without the supplied bipod. The matte black finish compliments the black laminate stock and completes the weather-resistant package. It comes with a gun rug bearing the Ruger logo. For more information please contact Sturm, Ruger & Co., Inc., Dept. SAR, 1 Lacey Place, Southport, CT 06890. Phone: (203) 259-7843. Fax: (203) 255-5201. They can be found on the web at www.ruger-firearms.com.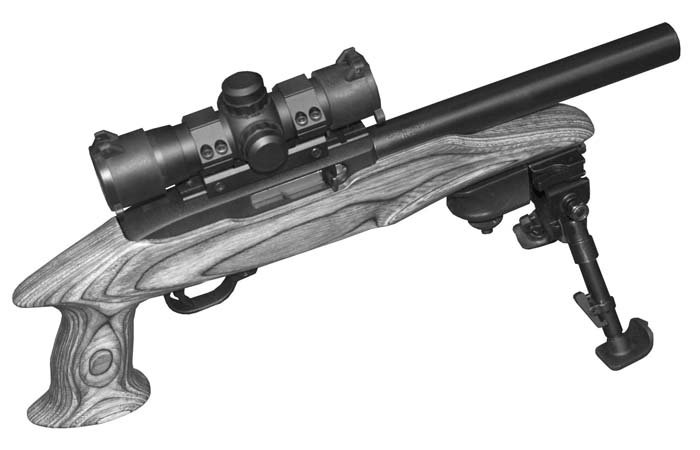 Lone Wolf Distributors Unveils New Glock Accessories

Lone Wolf Distributors' SIDERLOCK is the new security trigger for use with all Glock pistols. This unique cross bolt security trigger replaces the original Glock trigger providing an infallible stop to any rearward trigger movement.

SIDERLOCK works under a simple concept: Quick, positive deployment of a cross bolt safety pin that allows simple and fast displacement in either direction. Pushing the safety on restricts rearward trigger movement and pushing it off allows the trigger to work as intended. Easily installed or removed, it works for left or right hand use and provides additional assurance avoiding any accidental discharge. There is a lifetime guarantee on materials and workmanship. Also available from Lone Wolf is their new Custom Slide Cover Plates featuring basically most anything you want. Let your imagination run wild. They have thousands of images, names, and numbers to choose from. If they don't have what you want, they can do it with custom engraving available for an additional fee. They also have a full line of Glock accessories as well as trigger work and barrel porting. If you need anything for your Glock, contact them at Lone Wolf Distributors, Dept. SAR, 57 Shepard Road, P.O. Box 3549, Oldtown, ID, 83822. Phone: (208) 437-0612. Fax: (888) 279-2077. Their website is http://www.lonewolfdist.com/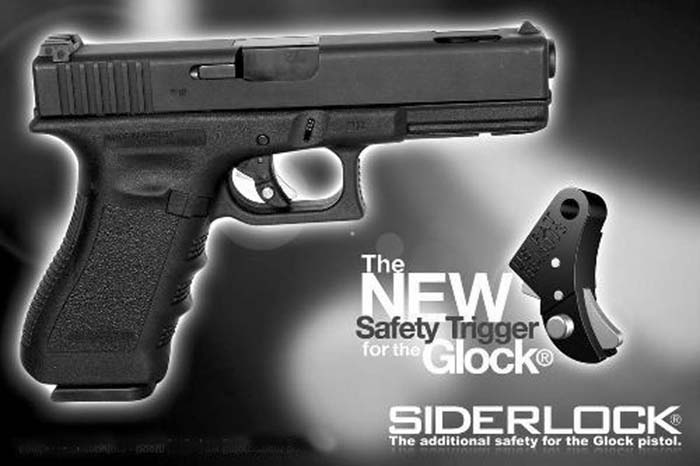 This article first appeared in Small Arms Review V11N8 (May 2008)