By Chris A. Choat
New Translucent 30-Round AR-15/M16 Magazine from Lancer Systems
Lancer Systems, LP has announced that they've launched the L5 Translucent Magazine for the M16/M4/AR-15 rifle. The L5 Translucent Magazine was developed to implement improvements recommended by military and law enforcement personnel. Lancer Systems, working with a major small arms manufacturer, applied an engineered translucent polymer, steel feed lips and a removable rubber coated bottom to produce a 30-round translucent magazine that can withstand the rigors of professional use. Features of the new magazine include a translucent polymer body that is impact resistant through a wide range of temperatures; chemical resistant polymers; corrosion resistant steel feed lips that are permanently molded into the body; round-count markers at 20 and 30 rounds; body texture, contour and rubber coated bottom designed to provide positive gripping and improve retrieval from magazine pouches; a magazine body design that incorporates a constant radius geometry that facilitates follower/spring travel, and same design envelope as the USGI aluminum magazine so it can be used with existing pouches and carriers. The new magazine is also easy to disassemble and maintain. For more information on the new Lancer L5 magazines, please contact Lancer Systems, Dept. SAR, 7566 Morris Court, Suite 300, Allentown, PA 18106. Phone: (610) 973-2600. Fax: (610) 973-2601. They can be reached on the web at www.lancer-systems.com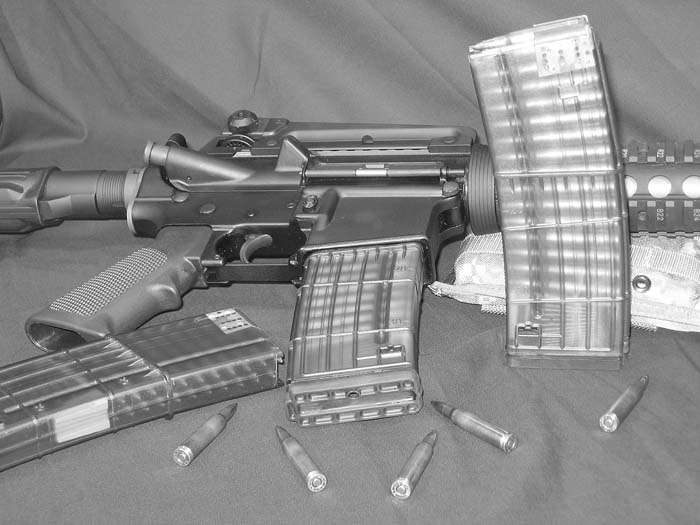 Adams Arms Retro-Fit Piston Drive Kit for AR-15/M16 Series Rifles
Adams Arms is now producing a retro-fit kit to change your gas operated AR-15/M16 rifle into a piston driven gun. The new kit installs easily by the end user with no permanent modification to the host rifle. The kit consists of a new gas block with an adjustable gas plug, one-piece drive rod, a return spring with captive bushing, a new bolt carrier key and modified handguard cap and handguards. Also now included is a hardened guide bushing that fits into the host upper receiver that keeps the drive rod from wearing the upper receiver. The new kit takes less than 30 minutes to install. Benefits of a piston driven system include no carbon or un-burnt powder residue blown back into the receiver like a gas system; as well as a system that runs cooler. This all adds up to a smoother running gun with parts that last longer and a much cleaner gun that requires less maintenance. Watch for an in-depth test on this new system in an upcoming issue of SAR. For more information please contact Adams Arms Inc., Dept SAR, 30218 US Highway 19 North, Clearwater, FL 33762. Phone: (727) 853-0550. Fax: (727) 853-0551. Website available at: www.adamsarms.net.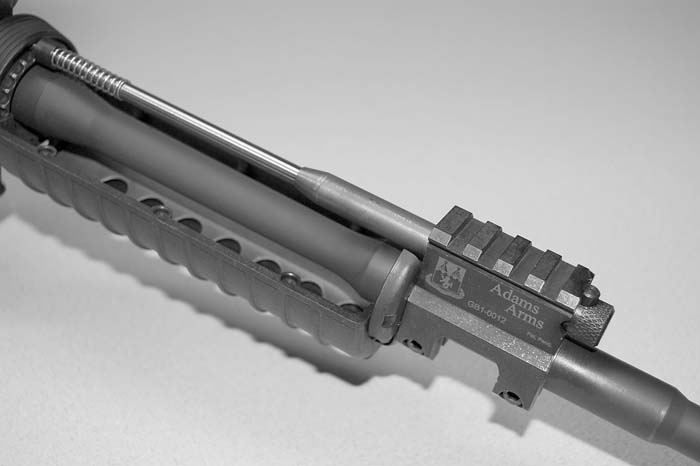 Nordic Components Introduces New AR22 Stock System
Nordic Components, Inc. has just released their new AR22 stock for the Ruger 10/22. Their aluminum stock housing system makes your Ruger look and feel like an AR-15. Mainly developed as training rifle for 3-gun competitors, police and military, it also serves as a great platform for small game hunting and plinking as well. The AR22 stock allows for a free-floated barrel system as well as being able to use many aftermarket parts available for the 10/22 and the AR-15. This new stock housing allows the user to install any AR-15 buffer tube and stock making for a very versatile platform. The front of the new unit accepts any AR-15 free float rail forearm allowing the use of rail accessories such as bipods, vertical foregrips, lights, lasers, etc. The AR22 stock also allows the user to add any pistol grip made for the AR-15 series of guns. The unit is made from aluminum and is available in black as well as custom colors. The new stock retails for just $224.95. Please contact them for more information about this, as well as a line of competition shotgun parts, at Nordic Components, Inc., Dept, SAR, 1158 B Highway 7 East, Hutchinson, MN 55350. Phone: (320) 234-6015. Fax: (320) 234-6016. On the web at www.nordiccomp.com.

The Thompson Pistol Has Returned
After a long hiatus and great demand, the Thompson Pistol has returned to the market. The Thompson Deluxe Pistol TA5 has an aluminum construction with a 10.5 inch barrel and a walnut, horizontal foregrip. Included with the Thompson TA5 is one of the most famous accessories, the 50-round drum magazine. The authentic drum is entirely U.S. manufactured to the specifications that are as close as possible to the original. A 30-round stick magazine, 10-round stick magazine and 100-round drum magazine are optional. Since 1999, Kahr Arms has been proud to support the legacy of the Auto-Ordnance Corporation, the original maker of the famous Thompson submachine gun. To ensure the historical accuracy of the Auto-Ordnance design, Kahr researched the original engineering drawings and hundreds of U.S. military microfiche and hand drawings of the Thompson models dating back to 1919 were examined. The Thompson submachine gun is a historical firearm. Each model is the union of original design, quality materials and fine workmanship. An American Legacy preserved. The Thompson Deluxe Pistol TA5 is now available. For more information please contact Kahr Arms, Dept. SAR, 1 Blue Hill Plaza, 10th Floor, Suite 1518, Pearl River, NY 10965. Phone: (845) 652-8535. Fax: (845) 735-4610. You can also learn more about Thompson, Auto-Ordnance and Kahr Arms at www.tommygun.com and also at www.kahr.com

This article first appeared in Small Arms Review V11N10 (July 2008)