By Chris A. Choat
New Assault Systems Discreet Carry Cast for the FN FS2000
Elite Survival Systems is pleased to introduce a new Assault Systems Discreet Carry Case for the FN FS2000. The low profile case has a rectangular shape and clean lines. The case has a large accessory pocket on the front with four fitted magazine pouches. Inside the main compartment are dual tie-down straps for the weapon. The main compartment is large enough to accommodate the weapon with an optic attached. It is constructed of 1000 denier nylon inside and out with removable closed-cell foam padding. The case is made more durable with heavy-duty zippers and hardware, double stitching and bound internal seams. Also included is a 2-inch shoulder strap. As with all Elite products, it is made in the USA. Attention to detail and quality of materials make Assault Systems cases an ideal solution. For more information please contact Elite Survival Systems, Dept. SAR, 310 West 12th Street, P.O. Box 245, Washington, MO 63090. Phone: (636) 390-8360. Fax: (636) 390-2977. Their website is www.elitesurvival.com.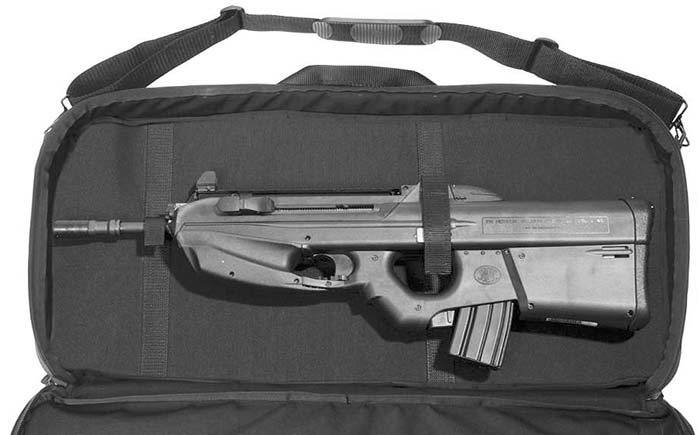 New Thermal Monocular from Insight Tech-Gear
Insight Tech-Gear now offers the MTM-V2, a truly pocket-sized, 320×240 high resolution, hand-held thermal imager for a wide range of missions including reconnaissance, surveillance and search & rescue. The ergonomically designed MTM-V2 provides moving man-sized target detection up to 500 meters with adjustable focus, unity magnification and 2x digital zoom. The lightweight, pocket sized MTM-V2 can be tripod mounted and operates continuously for over 4 hours on two 3-volt lithium 123 batteries. The MTM-V2 starts up quickly and has a standby operating mode that saves battery life. Other features include a co-aligned, integrated marking laser (650 nm red or 820 nm IR) and a menu function for custom operation of brightness, gain, polarization, and calibration. The new unit has an integrated 1/4 x 20 tripod mounting plate. Highly functional and portable, the hi-res MTM-V2 is a mission-critical, life-saving tool. The new unit weights only 12 ounces with batteries and is waterproof to 3 feet. Options include a digital picture/video upgrade, a helmet mounting plate and "J-Arm" adapter and amber night filter/demist shield. For more information please contact Insight Tech-Gear, Dept. SAR, 23 Industrial Drive, Londonderry, NH 03053. Phone: (877) 744-4802. Fax: (603) 668-1084. Their website is www.insighttechgear.com.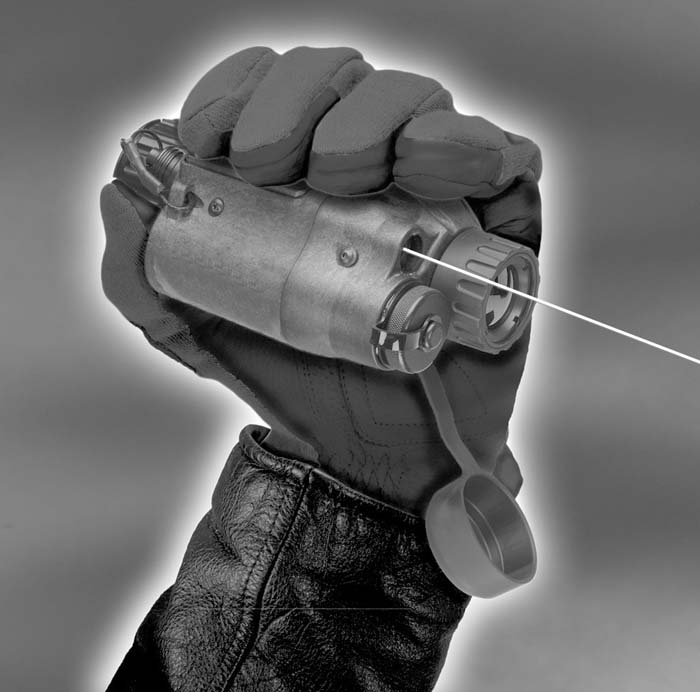 Crimson Trace Introduces New LaserGrips for the Ruger LCP
Crimson Trace has just introduced its new LaserGrips for the popular Ruger LCP compact pistol. The Model-431 further cements Crimson Trace's move into the sub-compact market of polymer-frame concealable handguns. The Model LG-431 adds very little mass to the already compact package of the Ruger LCP allowing the pistol to fit into most holsters. It attaches directly and securely to the trigger guard of the polymer frame using two screws that add to the overall stability of the unit. The LaserGrips clamp to the outside of the trigger guard while hugging the frame as it nears the front of the pistol. With the laser diode housing directly under the barrel, it allows the laser to be closer to the bore of the gun creating a very accurate laser sighting device. It is instinctively activated by a pressure switch built into the front underside of the polymer LaserGrips. Simply grasping the firearm in a normal shooting grip activates the laser. All electrical components fit into the LaserGrips and are ergonomically designed for comfort. The Model LG-431 uses either two #357 silver oxide batteries or a single 1/3N 3 volt lithium battery. These small batteries allow the LaserGrips to be unobtrusive yet powerful enough to provide the brightness that Crimson Trace customers expect. Another feature of the LG-431 is that it uses the smaller 3.3mm diameter laser diode versus the standard 5.6 diameter diode that is found in most all other brands of laser sighting devices. This reduces the overall size of the laser diode housing. As with all other LaserGrips, the LG-431 has both windage and elevation adjustments for shooters to adjust the laser on their own. All LaserGrips come with an accessory pack that contains batteries, hex wrenches for laser adjustment, a cleaning cloth and several cleaning swabs. A three-year warranty is standard. For more information contact Crimson Trace Corporation, Dept. SAR, 9780 Southwest Freeman Drive, Wilsonville, OR 97070. Phone: (503) 783-5333. Fax: (503) 783-5334. Website: www.crimsontrace.com.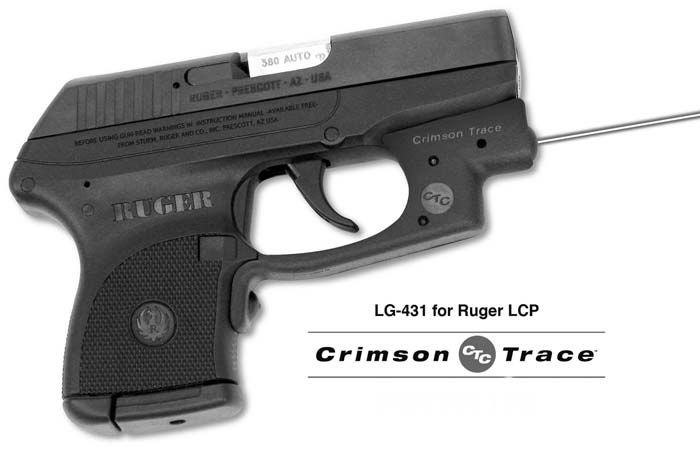 Trijicon Unveils New AccuPoint Riflescopes
Hunters and serious shooters the world over have asked for it, and Trijicon, Inc. has delivered the first series of Trijicon AccuPoint riflescopes to combine the company's advanced, self-luminous aiming technologies and superb clarity with the added precision of the hunting industry's most popular reticle – a crosshair. The new Trijicon AccuPoint with an illuminated crosshair reticle does not require batteries for operation eliminating the need for extra batteries and potential for failure during a critical moment in the field. The new Trijicon AccuPoint riflescope series is designed to deliver accurate, effective aiming under even the most challenging conditions. Trijicon's exclusive battery-free tritium technology provides precise amber illumination where the crosshairs intersect for effective aiming and optimum target clarity, regardless of available light. The new series of Trijicon AccuPoint riflescopes with a crosshair reticle also features Trijicon's newly updated Manual Brightness Adjustment Override, which allows the user to shade the tritium and fiber-optics during daylight for the option of decreasing the brightness of the illuminated reticle during increased light situations. In addition to this new illuminated crosshair reticle, Trijicon will continue to offer the original triangle reticle design, which has the additional benefit of the Bindon Aiming Concept (BAC), allowing the shooter to keep both eyes open while tracking, taking aim, and shooting. These new models are loaded with advanced optical elements like multi-layer coated lenses for superior light transmission with no distortion offering exceptional clarity and precision. Additionally, a quick-focus eyepiece, long eye relief, and precise windage and elevation adjustments make the Trijicon AccuPoint easy to zero and quickly make in-the-field adjustments. Each weather-resistant, nitrogen-filled scope body is carefully crafted from aircraft quality, hard anodized aluminum for superior performance and durability. Trijicon's black matte finish reduces glare to help conceal the shooter's presence for wary game. For more information, please contact Trijicon, Dept. SAR, 49385 Shafer Ave., Wixom, MI 48393. Phone: (800) 338-0563. Fax: (248) 960-7725. You can also visit them at www.trijicon.com.
DoubleStar Now Has New Dovetail Angle Mount for AR-15/M16
DoubleStar Corp. has announced the development of a new dovetail angle mount for the AR-15 rifle. The new angle mount is made from 6061 T-6 aluminum and hard-coat anodized to military specifications. It still allows use of the rear sight and works well for attaching scopes, lasers, lights or other accessories at a 45-degree angle. The angle mount clamps onto a flat-top upper and can be mounted on either the left or right side and is securely held in place with three socket-head screws and a clamp. This new angle mount uses two mounting screws for a secure lock as compared to most mounts on the market that use only one screw and are prone to movement. DoubleStar's U.S. made angle mount retails for $24.95. For more information on this as well as an extensive line of other firearms accessories please contact DoubleStar/J&T Distributing, Dept. SAR, P.O. Box 430, Winchester, KY 40391. Phone: (859) 745-1757. Fax: (859) 745-4638. Website: www.jtdistributing.com.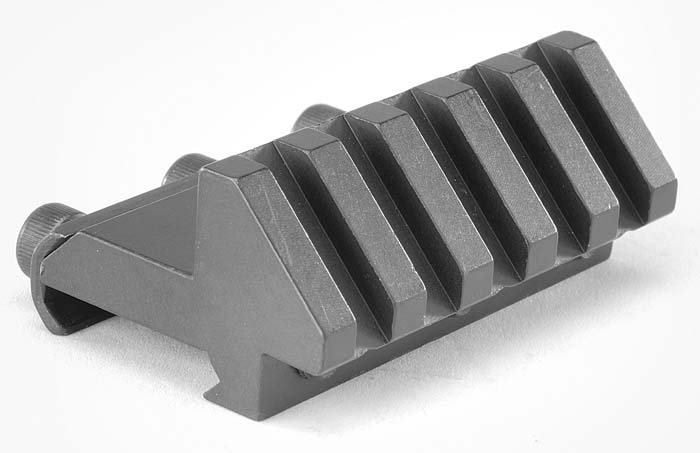 New Picatinny Rail for Ruger Mark II and Mark III pistols
Volquartsen Custom, a pioneer in the design and manufacture of innovative custom parts for Ruger 10/22 rifles and Ruger MK II and MK III pistols, has done it again. This time, Volquartsen's flare for both functionality and drama take center stage with the introduction of a unique no-gunsmithing scope mount for the Mark II and Mark III pistols. The tactically-influenced mount features a mil-spec Picatinny-style rail on both the top and bottom to provide an efficient double mounting platform for virtually any combination of conventional scope, red dot optic, laser aiming device or tactical light. The new mount attaches easily to any Mk II, MK III, and 22/45 models with the 5.5 inch bull barrels. The sturdy yet lightweight mount is CNC machined from billet aluminum and it's available anodized in several different colors. Buyers can select either a pre-installed TL rear adjustable sight or a no-sight option. For more information, please contact Volquartsen Custom, Dept. SAR, P.O. Box 397, 24276 240th Street, Carroll, IA 51401. Phone: (712) 792-4238. Fax: (712) 792-2542. Website is located at: www.volquartsen.com.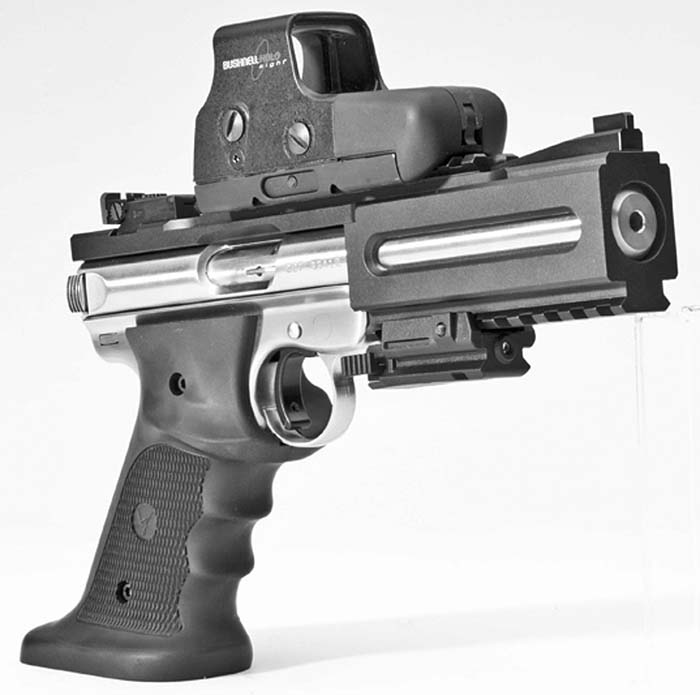 This article first appeared in Small Arms Review V11N11 (August 2008)