By Chris A. Choat
New Panther Sportical 7.62 Rifle from DPMS
DPMS Firearms, LLC takes the affordable 5.56x45mm Panther Sportical to the big-bore market with the introduction of the 7.62 NATO Panther Sportical. This introductory level, large-bore rifle is capable of transitioning between the forest and the rifle range with ease thereby bridging the gap between the sporting and tactical markets. Chambered in 7.62 NATO, this lightweight rifle features a 16-inch chrome-moly steel heavy barrel, a slick-side upper receiver and carbine length GlacierGuards. The aluminum upper and lower receivers feature a uniform, Mil-Spec hard-coat anodizing. A semiautomatic trigger group, integral trigger guard, A2 Pistol Grip and the Pardus 6-position, telescoping carbine stock complete the introductory rifle. Two 20-round steel magazines, a cleaning kit and hard case for storage come standard with each rifle. The rifle weighs just 8.3 pounds when empty. Optic is not included with the rifle. Available now, the 7.62 NATO Panther Sportical retails for $989. DPMS Firearms, LLC is an industry leader in providing quality AR-style rifles, components and accessories. No other company offers more styles or configurations of AR rifles. DPMS also provides choices for high-power and small-bore shooters by offering several rifles chambered in .204 Ruger, .223 Remington, 5.56×45 NATO, .243 Winchester, .260 Remington, 6.5 Creedmoor, 6.8×43 SPC, 7.62×39, .308 Winchester, .300 Remington SAUM and .338 Federal. For more information on this new rifle please contact them at DPMS Firearms, LLC, Dept. SAR, 3312 12th Street SE, Saint Cloud, MN 56304. Phone: (320) 258-4448. Fax: (320) 258-4449. They can be found on the web at www.dpmsinc.com.

A New Version of the Famous Sterling Submachine Gun
CPS Company announces, A Gun from Dagenham, American Redux 1958-2008. It is their new line of limited edition Sterling L2A3 submachine guns available beginning this fall. These fully transferable NFA submachine guns are the result of eight years of research and materials acquisition to authentically document and reproduce the original British military version of the well-known Mk4 submachine gun. Between 1956 and 1959, Sterling Armament Company, Dagenham, Essex, England produced approximately 26,000 L2A3 submachine guns for the British Ministry of Defence, before the MoD decided to finish production requirements themselves. As a result of a court settlement, Sterling went on to make the Mk4 version and sell it commercially around the world; while the L2A3 remained exclusively with the British military, never available for sale or permanent export anywhere. Total Government and Sterling L2A3 production reached 190,000. Only a handful remain today in overseas museums as the rest were declared obsolete and destroyed in 1994. These historical recreations are marked GUN, SUB MACHINE, 9mm L2A3 and serial numbered as Sterling production pieces. Each one has additional Government modifications of a reinforced butt stock, checkered magazine release button and finished in smooth black paint, applied over a phosphate treatment. Additionally, four new-in-wrap magazines, original No.5 bayonet and scabbard (both MoD refurbished), sling, military handbook, F1 magazine pouch and a serial numbered Certificate of Authenticity are fitted together inside a custom birch display case. For more information contact CPS Company, Dept. SAR, P.O. Box 261, Monticello, WI 53570-0261. Phone: (608) 274-7946. Fax: (608) 276-7477.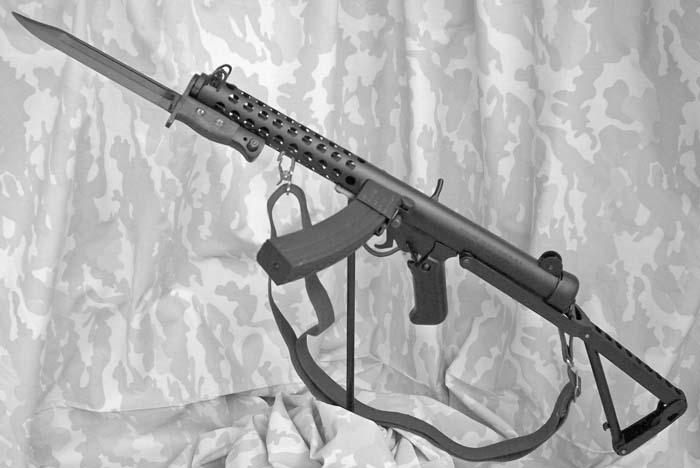 StormWerkz Introduces New Krinkov Scope Mount
StormWerkz has just added two new scope mounts to their line of firearm upgrades for the Bulgarian/Russian and Yugoslavian Krinkov AKs utilizing the military standard Picatinny rail. Both Weaver and Picatinny rings and adapters fit this mount. Previously, the only way to mount an optic on a "Krink" was the use of a side mount, which can be expensive, or by using a rail fastened over the gas tube that can expose the optic to extreme heat. StormWerkz has taken care of the problem and its new mounts fasten to the gun's top cover right in front of the rear sight. It fastens with 4 socket head cap screws through the top cover for a rock solid attachment. They have designed it to make as much rail as possible in the space available on the top covers. These affordable Krink scope mounts are ideal for many of the new compact optics on the market today. The mount body is completely CNC machined from aerospace aluminum and anodized matte black. Each mount comes with screws, wrench, drill bit and a drilling template. For more information contact StormWerkz, Dept. SAR, 408 15th Ave East, Superior, WI 54880. Phone: (218) 349-6175. Website: www.stormwerkz.com.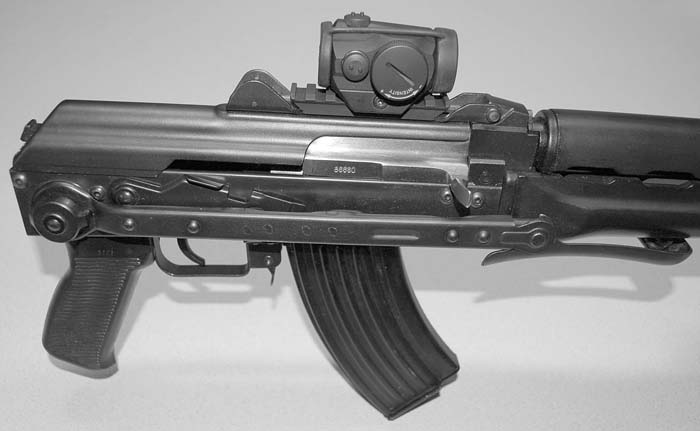 This article first appeared in Small Arms Review V11N12 (September 2008)