By Chris A. Choat
Insight Introduces 125 Lumen Rail Mounted LED Tactical Light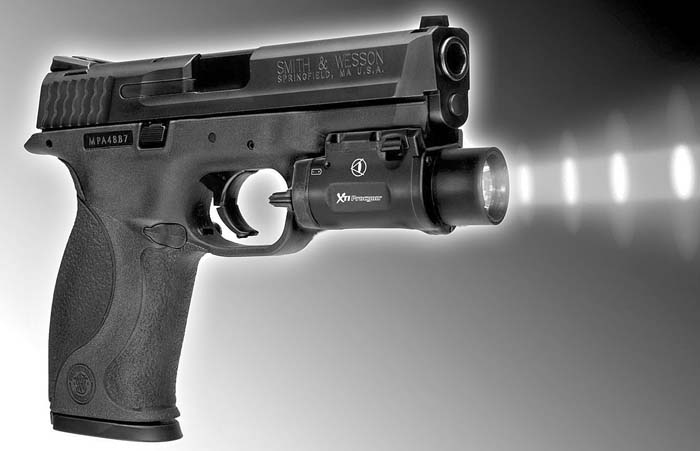 Insight, the world's most trusted provider of tactical lasers and illuminators to the US military and leading manufacturer of thermal imaging systems, introduces their newest tactical rail-mounted LED light, the XTI Procyon. The XTI Procyon (PRO-see-on), named after one the brightest stars seen in the night sky, is a simplified multi-function tactical rail-mounted LED light providing dynamic flexibility without confusing complexity. Its 125 lumen high-output LED, along with its precision focused reflector, provides exceptional brightness with a tightly focused uniform beam. The Procyon has a truly ambidextrous toggle switch for intuitive activation in even the most crucial, stressful moments. Double tapping the toggle switch in any direction initiates a strobe effect that disorientates an unsuspecting target, giving you the advantage of potentially life-saving seconds. Some of its features include an adjustable rail interface that fits all standard rails, a precision focused reflector and patented Slide-Lock attachment design. The new light is water resistant to 15 feet and has a run time of 90 minutes on two lithium 123 batteries. It will fit existing M3 light compatible holsters and carries a limited lifetime warranty. For more information on this super bright new light please contact Insight Tech-Gear, Dept. SAR, 23 Industrial Drive, Londonderry, NH 03053. Phone: (877) 744-4802. Fax: (603) 668-1084. They can be found on the web at www.insighttechgear.com.
New Vertical Foregrips from Wilcox Industries

Wilcox Industries now has two new models of vertical foregrips made of rugged lightweight aluminum. Both new grips, the Para Grip and Steady Grip, are available with the option of either a bipod or a battery storage compartment. The Para Grip is a collapsible grip that stows beneath the weapon's rail during transport, storage or in close confinement operations, while the Steady Grip remains fixed below the rail. Both grips mount to any MIL-STD-1913 Picatinny rail using a thumbscrew mount. Flats located on the left and right sides of the grips allow for the use of remote pressure pads for controlling tactical lights and lasers. The spring-loaded retractable bipod is easily deployed by depressing a button located on the back of the grip and easily collapses back to a stowed position. A waffle-pattern grip prevents hands from slipping while firing the weapon even in cold, muddy or wet conditions. Made of aerospace-grade metals, Wilcox's new Vertical Grips are lightweight; weighing between 44 and 50 ounces. For more information contact Wilcox Industries Corporation, Dept. SAR, 25 Piscataqua Drive, Newington, NH, 03801. Phone: (603) 431-1331. Fax: (603) 431-1221. Website can be visited at: www.wilcoxind.com.
New 3rd Generation Rifle Scopes from ATN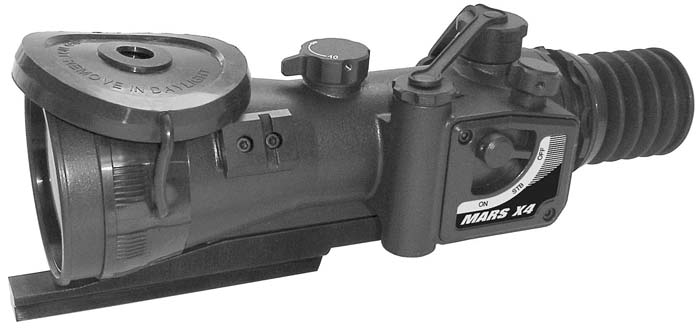 American Technologies Network, Corp. (ATN) now offers the ATN MARS series of night vision weapon sights. The MARS 4X-3P and the MARS 6X-3P both feature a new ATN proprietary feature; a two-color manual brightness of the aiming reticle. This unique feature allows the operator a choice of color (red or amber) of the projected reticle depending upon operator preference and the lighting situation. Both the MARS 4X-3P and the MARS 6X-3P utilize the industry's leading 3rd generation ITT Pinnacle Image Intensifier tubes. The Pinnacle tubes provide superior performance in high-light or light-polluted areas, such as urban environments, while minimizing any "halo" effects. The MARS series of night vision riflescopes are CNC milled from a solid quality aluminum billet and fitted with titanium inserts. This one-piece construction makes the MARS series compact, lightweight, and extremely rugged. Utilizing top quality multi-coated all glass optics with a Mil-Dot reticle, the MARS 4X-3P and the MARS 6X-3P provide powerful 4X and 6X magnification, respectively. The sights are nitrogen-purged for internal fogging resistance and also feature an automatic brightness control. Windage and elevation can be easily adjusted with precision. The versatile MARS series sights feature a tactical rail that enables the mounting of an IR illuminator or an IR laser and includes a mount for a Picatinny, 7/8" Weaver-style rail, or an AK style weapon. Additional features include a low battery indicator, a digital remote control, and a day-time cover with an IR filter all packed securely in a Mil-Spec hard case with batteries (the MARS series accepts either one 3V CR123A lithium batter or one AA battery), user guide, mounting hardware, and an informative Night Vision instructional video. For more information please contact them at American Technologies Network, Corp., Dept. SAR, 20 South Linden Ave., Unit 1B, South San Francisco, California 94080. Phone: (800) 910-2862. Fax: (650) 875-0129. Their website is www.atncorp.com.
Blackhawk Armor Offers 3 New Soft Armor Options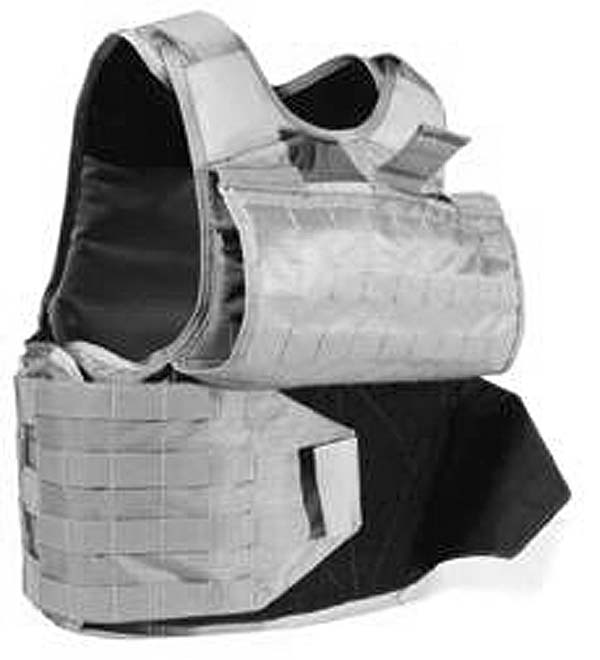 Blackhawk! Products Group founded the Blackhawk! Armor LLC division in 2007 to develop a broad range of innovative ballistic armor packages to meet the demanding needs of Special Forces, Law Enforcement tactical teams, and Industrial Security professionals. Since the initial offering of ballistic vests, helmets and rifle plates, the Armor division has continued to develop new products. Three new soft ballistic panel packages have just been certified in accordance with NIJ 0101.04 and the Interim 2005 Requirements. The new Armor options include a Level III Special Threat, Level IIIA and a Level II Special Threat that provides a light weight package for the high speed, low drag special operations environment. Common elements to these ballistic panels include 20% greater area coverage, a sonically welded water resistant ballistic wrapper and a five year limited warranty. In keeping with the Blackhawk! philosophy of product compatibility, the soft armor packages are combined with a choice of CutAway or Traditional Tactical Carriers in black, coyote, olive drab and ARPAT. The CutAway carrier allows the user to easily disengage and strip gear in less than two seconds facilitating either immediate first aid, escape and evade maneuvers or elimination of gear when transitioning from land based to maritime operations. The CutAway carrier is available with 3D mesh lining providing maximum air flow for operator comfort or, without the 3D mesh for a more compact shell. A traditional non-CutAway tactical carrier is also available. To support mission specific set-up, each carrier offers 360 degrees of mounting surface for attachment of a wide array of Blackhawk! accessories. Integrated length and girth adjustments provide a custom fit and can easily accommodate layered clothing. External front and back pockets accept Blackhawk! Level IV Hard Armor in 6×8, 9.5×12.5, and 10.5×13.25 inch sizes. A full line of ballistic 3A accessories are also available including collar, throat, yoke, groin, drop leg, and bicep protection making this offering the most comprehensive package available on the market today. For more information please contact Blackhawk Armor LLC, Dept. SAR, 6160 Commander Parkway, Norfolk, VA 23502. Phone: (800) 694-5263. Fax: (888) 830-2013. Website: www.blackhawk.com.
New AK Magazine Followers Now Made in the USA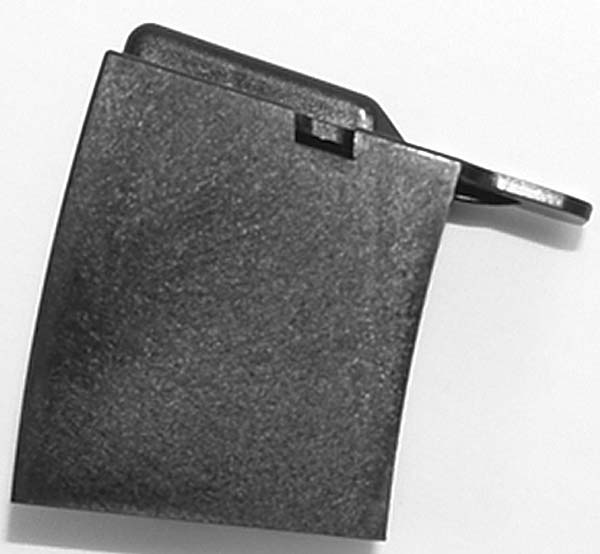 Arsenal, Inc. has just come out with a new enhanced reliability AK 7.62×39 magazine follower that is marketed through K-VAR Corporation. The new follower is made in the USA and is fully 922R compliant. The followers are made from a high quality advanced polymer and offer flawless function with any mil-spec AK magazine. They are a copy of the original design, not reverse engineered. The polymer material is solvent and salt spray resistant and will not dissolve or deform from cleaning solutions, chemicals or salt water. These new anti-tilt followers will work in magazines of 5, 20, 30 and 40-round capacities made from either polymer or metal. They will also work in Siaga magazines. The new follower is designated the model MA7-001UB and retails for only $1.99 each. For more information or to place an order please contact K-VAR Corporation, Dept. SAR, 5015 W. Sahara Ave., #125, Las Vegas, NV 89146. Phone: (702) 364-8880. Fax: (702) 307-2303. Their website is www.k-var.com.
Crimson Trace LaserGrips Now Available for Kahr K and MK Models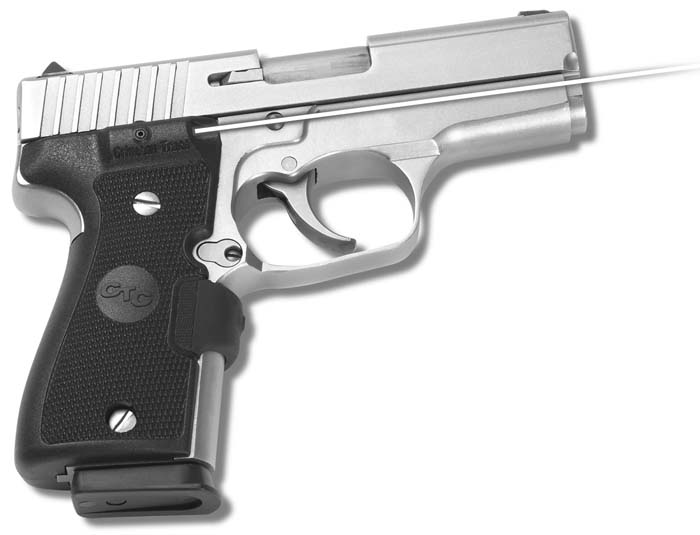 Crimson Trace has just released two new models of their LaserGrips, the LG-460 and the LG 461 for the Kahr models K and MK respectively. The new models are a wrap-around grip design that use the same grip screws as the stock grip for easy installation. They are activated by a pressure switch built into the front strap of the polymer grips. Simply grasping the firearm in a normal shooting grip activates the laser. All electrical components fit onto the LaserGrip, which mirrors the size and weight of the stock grips and are ergonomically designed for comfort. The front strap is rubber overmolded for added comfort. The sides of the LaserGrips are made of hard polymer material for ease of draw when carried in a pocket holster. The grips are powered by two 2032 batteries located in the palm swell and provide over 4 hours of constant-on run time. The master on/off switch is located on the underside or "butt" of the grip. Even if the switch is in the "on" position there is no power drain from the batteries until the laser is activated. As with all other LaserGrips, the new models feature both windage and elevation adjustment. For more information on these as well as all of their other extensive line of LaserGrips please contact Crimson Trace Corporation, Dept. SAR, 9780 SW Freeman Drive, Wilsonville, OR 97070. Phone: (800) 442-2406. Fax: (503) 783-5334. Website can be visited at: www.crimsontrace.com.
This article first appeared in Small Arms Review V12N1 (October 2008)