By Chris A. Choat
BRP Corporation Introduces New STG 34k Machine Gun
BRP Corporation has just introduced their newest Stemple Takedown Gun (STG), the STG 34k, and features complete new parts packages that are be installed on unmodified/transferable Stemple 76/45 machine gun receiver tubes. The set-up is assembled using an AK underfolding or fixed stock, Swedish M37/Suomi M31 components, newly manufactured Stemple-compatible parts and MG 34 fire-control parts with the same select-fire trigger system. Selecting semi or fully automatic fire is simply done by moving your trigger finger to the top or bottom of the "W" shaped trigger. Pulling the upper "E" position on the trigger enables semiautomatic fire; pulling the lower "D" position enables full auto fire. There are "takedown" systems of interlocking subassemblies that can be easily attached or removed from the 76/45 receiver. This method of assembly is ATF approved. The Stemple 76/45 machine guns are fully transferable to individuals. The gun weighs just 10 pounds. It uses Suomi KP 31 25, 36 or 60-round magazines as well as 40 and 70-round drums. Sights are co-witnessing along a full length Picatinny rail. The gun's foregrip also has a three sided rail system. The finished gun features an 8.5 inch barrel that is threaded 1/2×28 for a suppressor and fires at a cyclic rate of 750 rpm. The finish of the steel parts is black oxide and the aluminum parts are black anodized. For more information please contact BRP Corporation, Dept. SAR, 7590 Commerce Lane, Clinton, MD 20735. Phone: (301) 807-5234. Fax: (301) 234-0059. Their website is www.brpguns.com.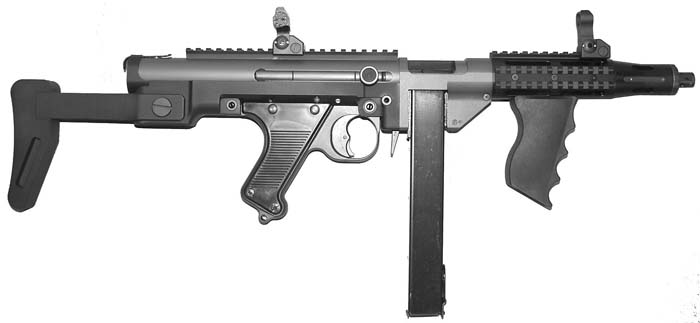 A Suppressor for First Time Buyers
AWC Systems Technology, a world leader in commercially available silencer technology, introduces the new Odyssey II. The Odyssey II is the first entry level silencer released by AWC, and is designed for use on all .22 LR pistols and rifles. It incorporates the new Lynsonic technology that AWC Systems is now introducing into their entire line of suppressors. The Odyssey II has an overall length of 6 inches, a diameter of .98 inches, and a weight of 5.5 ounces. It is constructed of stainless steel and high tension aircraft grade aluminum. This new silencer is offered in standard matte black or OD green finish. The Odyssey II is the perfect suppressor for first time buyers or those recently becoming familiar with the use of silencers. AWC Systems Technology also offers an extensive line of more sophisticated silencers to choose from for the more experienced buyers, including the Archangel "T", of which the Odyssey II is comparable with. AWC Systems Technology now invites everyone – from beginners to pros – to experience the comfort, accuracy, and enjoyment of shooting with the advanced technology, quality, and durability found only in an AWC Systems Technology product. For more information on this as well as their entire line of world-class suppressors, please contact them at AWC Systems Technology, Dept. SAR, 1515 West Deer Valley Road, Suite 105A, Phoenix, AZ 85027. Phone: (623) 780-1050. Fax: (623) 780-2967. They can be found on the web at www.awcsystech.com.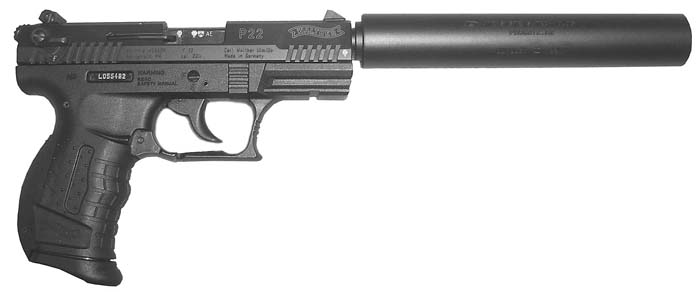 TangoDown Vertical Grip Now Available with QD Lock Lever
TangoDown's vertical foregrips are already the choice of real-world professionals because of their ergonomic design, waterproof internal compartment and patented switch pockets for Insight and SureFire pressure switches. Now TangoDown's battle-tested grips will be available with a self-locking, quick-detach attachment, featuring a Lock-Lever mount, making the grips fast to mount onto a Mil-Std 1913 accessory rail. The Lock-Lever mount is a throw-lever style mount in which a lever pivots side-to-side to securely lock the mount's clamp bar onto an M1913 rail. However, unlike other brands of lever mounts, the Lock-Lever requires no tools to adjust and locks itself automatically when pressed shut. The Lock-Lever mount, made by American Defense Mfg. to TangoDown's specifications, is CNC machined from aerospace-grade aluminum and features a stainless steel cross pin nut and spring-tensioned clamp bar. The clamp bar is quickly and easily adjusted for the correct tension on the rail by simply pressing on the Lock-Lever itself to expose a nut that is turned by mere finger pressure to adjust. No tools whatsoever are needed and adjustments take only seconds, yet are rock-solid. TangoDown's Lock-Lever mount is available on both the full-size vertical foregrip and the "shorty" version, made for maximum compactness. The grips retain TangoDown's patented recessed pockets for either Insight or SureFire pressure switches and are available in flat dark earth, foliage green or flat black. The manufacturer's suggested retail price is $85. For more information contact TangoDown LLC, Dept. SAR, 1588 Arrow Highway, Unit F, La Verne, CA 91750. Phone: (909) 392-4757. Fax: (909) 392-4802. Their website is www.tangodown.com.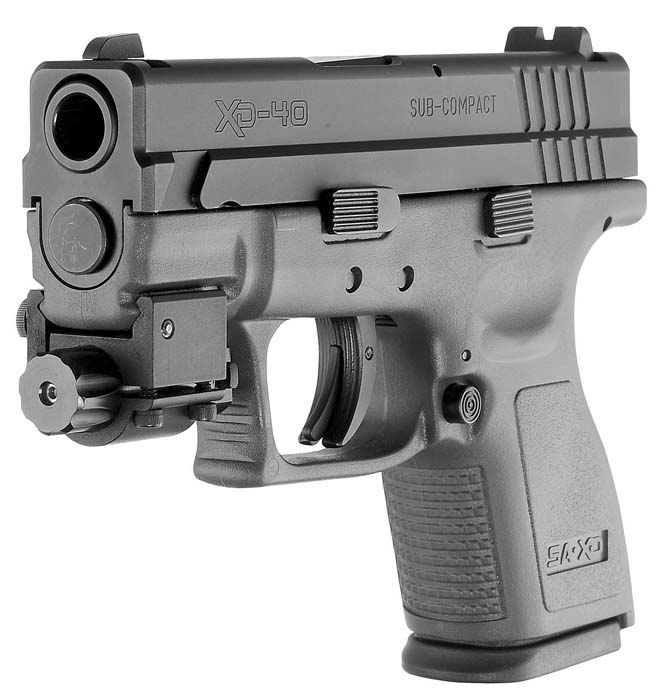 New SureFire X400 LED WeaponLight
The SureFire X400 is a rugged LED WeaponLight with a powerful, fully integrated red laser sight. Its versatile beam and highly visible laser make it an excellent choice for both close and longer range applications. The X400's solid-state LED, which has no filament to burn out or break from the effects of recoil, generates 110 lumens of blinding light and continues producing tactical-level light (enough to overwhelm the night-adapted vision of an aggressor) for 2.4 hours on a set of batteries. The X400's unique Total Internal Reflection (TIR) lens gathers virtually all of the LED's light and forms a tightly focused beam that reaches far into the darkness but has enough surround beam to accommodate a user's peripheral vision. At 635 nanometers, the X400's laser sight is one of the most powerful available to the general public. Its shorter wavelengths make it nearly twice as bright as the nearest competitor's laser sight, which means it's more visible to the human eye and easier to track at longer distances. The laser's sighting adjustment uses Nylok screws, which won't back out or loosen from the effects of recoil, so the X400 rarely needs to be re-zeroed even after extended use. A tough, hard-anodized aerospace-grade aluminum body protects the X400's electronics, and a tempered Pyrex window covers its TIR lens and LED. O-ring seals and gaskets keep out dust, dirt, propellant residue, and moisture. Ambidextrous switching makes it easy to operate the X400 with either hand, and remote switching for many weapons is available for precise control without altering your grip on the weapon. The X400 slides onto most handguns with Universal Standard accessory rails and fits many guns without rails via a SureFire rail adapter. It can also be mounted on long guns sporting a Mil-Spec Picatinny rail. For more information, please contact SureFire LLC, Dept. SAR, 18300 Mount Baldy Circle, Fountain Valley, CA 92708. Phone: (714) 545-9444. Fax: (714) 545-9537. On the web at www.surefire.com.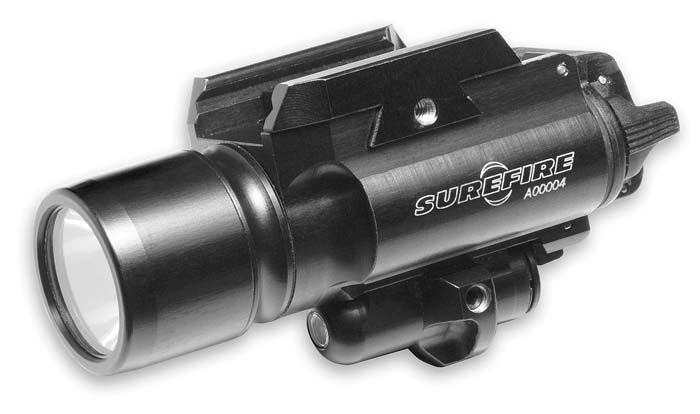 LaserLyte Introduces New Universal QD Rail Mount System
LaserLyte, the leader in laser technology, introduces the new and innovative Quick Detachable (QD) Universal Rail Mount System that attaches quickly and securely onto all 3-inch barrel sub-compact pistols with rails and all other weapons with rail systems. The system is 50 percent smaller than previous versions and features an ambidextrous slide switch that allows the operator to activate the laser from the left or right side. Constructed of T6 aluminum for extra strength and durability, the QD Universal Rail Mount System weighs .9 ounces and is available with the reliable 650nm laser module (maximum range of 500 yards at night). The proven round body design can easily adapt to an optional remote switch for long gun mounting. The new low profile design will fit into almost any nylon holster. This product's small profile, quick detachable features and ambidextrous switch make it one of the most user-friendly sighting systems available. MSRP is just $99.95. For more information please contact LaserLyte, Dept. SAR, 101 Airpark Road, Cottonwood, AZ 876326. Phone: (928) 649-3201. Fax: (928) 649-3970. Their website is www.laserlyte.com.
This article first appeared in Small Arms Review V12N3 (December 2008)