By Chris A. Choat
DoubleStar Introduces New "Oval" AR Handguards
With its trademark oval shape, this two-piece four-rail handguard system should prove to be a favorite among smaller-handed shooters. However, those with large hands will also find the handguard easy to grip and maneuver. People with smaller hands feel like the round handguard systems on the market today don't fit their hands very well. The new AR oval handguard just fits and feels better in your hand. The oval handguard is made of aircraft-grade 6061 T6 aluminum extruded to provide a lightweight advantage that still offers extreme strength. The mil-spec 1913 Picatinny rails will accept attachments from nearly every manufacturer, so pack on your sites, grips, scopes, lasers – whatever you need. The handguards' snap-on installation has a spring pressure that forces it against the front handguard cap. The tight fit allows no side-to-side movement. DoubleStar started working on the oval AR handguard back in November after a group of law enforcement officers complained about the current market offerings. The handguard currently is available only in a carbine AR version, but a rifle model should be available soon. A free-float version is expected to be available later this year. For more information please contact DoubleStar, Dept. SAR, P.O. Box 130, Winchester, KY 40391. Phone: (859) 745-1757. Fax: (859) 745-4638. They can be found on the web at www.star15.com.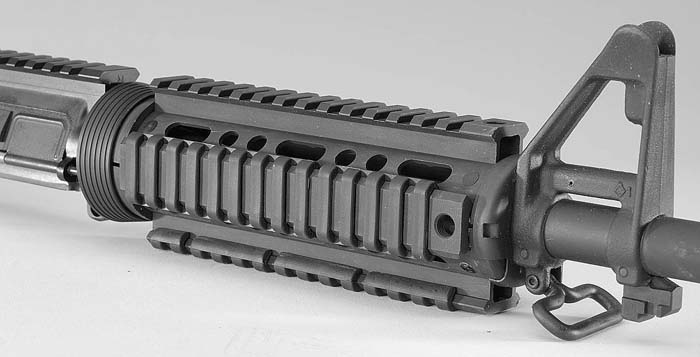 ATI now has the GSG-5PK Variation of the GSG-5 Rifle
American Tactical Imports, Inc., the world wide importer and exclusive overseas representative for several manufacturers of high quality shooting sports and law enforcement products, introduces the new GSG-5PK pistol model. The new GSG-5PK pistol is a .22 Long Rifle HV caliber with a barrel length of 4.52 inches with a total length of 15.275 inches and a total height of 10 inches. It weighs in at a dainty 5.2 pounds. It has an alloy frame construction and features a magazine safety and click-adjustable target sight. At a MSRP of $549.95, the GSG-5PK pistol is the perfect partner to the original GSG-5 rifle model. The GSG-5PK is a remake of the H&K MP5K-PDW (Personal Defense Weapon). The MP5K-PDW is a compact submachine gun designed for vehicle operators, air crew members, security details, and others who require a small but powerful weapon. While comparable in performance to the full size GSG-5, the size and weight of the GSG-5PK make this weapon the ideal choice when a rifle or full-sized submachine gun is unmanageable and a handgun is a poor compromise. Because the GSG-5PK is chambered in .22 cal., it is the ideal choice for plinking or training without the high cost of ammunition. American Tactical is the exclusive U.S. importer of the GSG – German Sports Guns. The GSG-5 is a world innovation, the first semiautomatic rifle in the legendary design of the MP5. There has not been a more sought after product to hit the market in the firearms industry than the GSG-5, and now with the introduction of the GSG-5PK, things just keep getting better and better. For more information contact American Tactical Imports, Dept. SAR, 100 Airpark Drive, Rochester, NY 14626. Phone: (800) 290-0065. Fax: (585) 328-4168. Website: www.americantactical.us.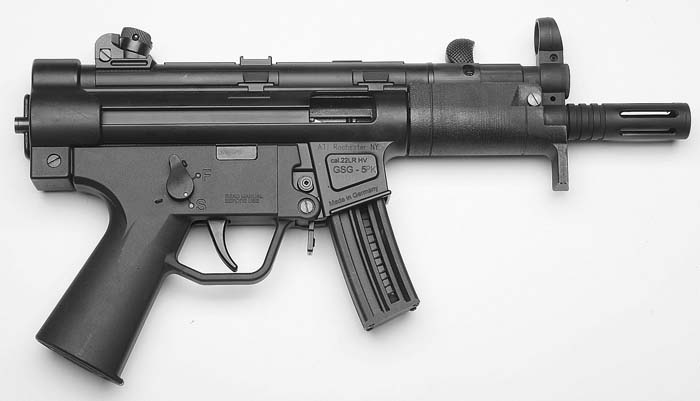 New "Universal" Bullet Puller from Forster
Every reloader is eventually confronted with the problem of having to pull bullets from loaded cases either to correct an error or to modify a load using a different bullet or powder. Pulling bullets isn't always as easy as it sounds, particularly when the only available bullet puller won't fit the press or when the diameter of the loaded bullet won't fit the puller. Forster Products now comes to the rescue. Their new Universal Bullet Puller fits not only Forster's patented Co-Ax Press for which it was originally designed, but it will fit virtually any standard reloading press with a 7/8 x 14 inch thread. It makes pulling bullets much easier, quicker and safer than using a hammer style puller. To ensure true universal function, the Universal Bullet Puller uses diameter-specific Bullet Puller Collets to hold the bullet, which are available in twenty-one different sizes from .17 to .458. So, almost any caliber of bullet can be held securely by simply tightening the collet screw with a 9/16 inch wrench. Changing calibers is as simple as changing collets. Each Universal Bullet Puller is supplied with a modified version of Forster Products' exclusive Cross Bolt Locking Ring which locks the puller securely into the Co-Ax press. Caliber-specific Bullet Puller Collets can be ordered separately. For more information or to place an order please contact them at Forster Products Inc., Dept. SAR, 310 East Lanark Avenue, Lanark, IL 61046. Phone: (815) 493-6360. Fax: (815) 493-2371. Website: www.forsterproducts.com.

Mesa Tactical Announces New Shotshell Carrier for Mossberg 930
Mesa Tactical, a Costa Mesa, CA manufacturer of professional grade tactical shotgun accessories, and recognized originator of the industry acclaimed SureShell shell carriers, which are available for most popular tactical shotguns, announces the completion and availability of its four, six, and eight-shot receiver-mounted SureShell shotshell carriers for Mossberg's recently released Model 930 tactical shotgun. Mesa Tactical's four, six, and eight-shot SureShell shell carriers are an industry standard and the preferred choice of most federal, state, and municipal law enforcement agencies due to their hard anodized aircraft aluminum construction, fail-safe shell retention system, serial number access window, and ease of installation. Mesa Tactical also manufactures other SureShell shell carriers in a variety of styles and mounting methods for Remington, Mossberg, and Benelli tactical shotguns, including Benelli's SuperNova. Mesa Tactical also manufactures a wide variety of other accessories for tactical shotguns, including: various stock adapters, AR-15 style telescoping stock kits with, or without, hydraulic recoil buffers, Picatinny optical sight rails, barrel and magazine clamps for mounting flashlights, rails, slings, and additional hook and loop sling mounting hardware. For more information contact Mesa Tactical, Dept. SAR, 1760 Montrovia Avenue, Suite A14, Costa Mesa, CA 92627. Phone: (949) 642-3337. Fax: (949) 642-3339. Their website is www.mesatactical.com.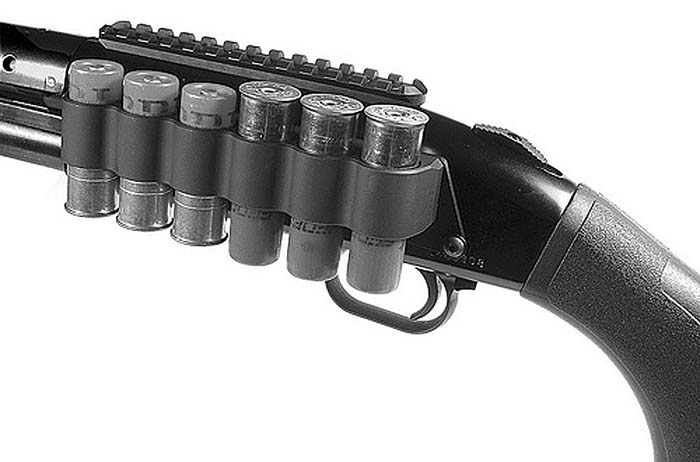 Portable Tool Kit from SOG Knives
SOG Knives, maker of civilian, military, law enforcement and utility knives, debuts its latest high speed extreme power multi-tool. Thanks to SOG's S.A.T. (SOG Assisted Technology) this is the only multi-tool in the world that features a one-hand power assisted opening system configured for two blades. Many times users in a working environment have only one hand available to operate a multi-tool. SOG has the solution. Once the blade is moved about 10-15 degrees by the user's thumb the S.A.T. takes over and completes the opening. Now the user has two blades (one fully serrated for cutting cord and other slick surfaces and one with a conventional edge) to pick from (especially handy if the worker is wearing gloves). SOG's PowerAssist features a unique robust internal gear drive system that multiplies the closing force of the pliers, cutter, and crimpers. Simply stated, it doubles the operator's grip power. Finally, a handy sized robust utility tool that actually can do some serious work. Comfort plus robust construction: SOG's PowerAssist multi-tool features a wide grip for comfort and incredibly tough industrial grade construction. The other tools and accessory blades lock safely and securely once opened. No more accidental closing yet one finger can easily release and close these accessory locks with light pressure thanks to SOG's ingenious easy to use Piano-Lock blade locking system. The multi-tool market is extremely popular with consumers and professionals alike for their utility tool usefulness. This new SOG PowerAssist multi-tool comes armed with: combo pliers/wire cutter, utility blade, serrated utility blade, metal saw, can opener, flat and Phillips screw drivers, crimper tool, ruler, and handy V-cutter for line and industrial packing straps. The new tool weighs just 9.3 ounces and is only 4.6 inches long in the closed position. It comes in either stainless or black oxide over stainless finish. Retail prices of this new tool are $115 for stainless and $122 for the black oxide. You can contact them at SOG Specialty Knives & Tools Inc., Dept. SAR, 6525 212th Street Southwest, Lynnwood, WA 98036. Phone: (425) 771-6230. Fax: (425) 771-7689. They can be found on the web at www.sogknives.com.
New Night Vision Monocular from NIVISYS Industries
NIVISYS Industries announces their military grade night-vision system is now available for public purchase. NIVISYS is a name new to many but they have been around for some time. NIVISYS makes an extensive line of ultra-quality military specification infrared, laser, and night vision systems for military and law enforcement. Due to NIVISYS' advanced technology, these systems have been restricted to government use, require proof of U.S. citizenship, and restricted outside the U.S. unless State Department approved. Finally, NIVISYS has a system they can sell to civilians. It's a Generation III unit designated MUM-14 (Multi-Use Monocular) that also meets all U.S. military specifications for combat use. The MUM-14 is a top level high-resolution piece of gear. The MUM-14 is ideal for security and covert work and is fun for any night recreational use or any situation where seeing what can't be seen is desired. The MUM-14 is the smallest and toughest system available anywhere. It is designed for hand-held operation, helmet mount, head-mount, and firearm. As a head-mount unit, it affords users night vision while keeping their naked eye available for observation and/or gun-sight acquisition. For use even in total darkness it features a built-in infrared flashlight emitting light only visible through the MUM-14. The MUM-14 uses a single AA battery for 20-plus hours of use or a single CR-123 three-volt battery for 40-plus hours of operation. NIVISYS products are ruthlessly tested in altitude, heat, cold, water, and humidity chambers. NIVISYS is making the MUM-14 available in a special package containing the MUM-14, quick detachable Picatinny weapon mount and complete night-vision head-mount system with a retail of $3200. For more information they can be contacted at Nivisys Industries LLC, Dept. SAR, 400 South Clark Drive, Suite 105, Tempe, AZ 85281. Phone: (480) 970-3222. Fax: (480) 970-3555. Their website is www.nivisys.com.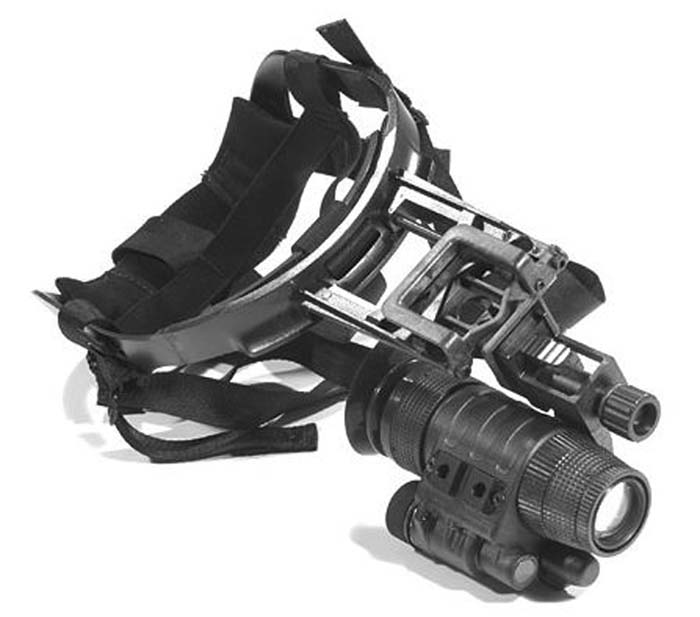 This article first appeared in Small Arms Review V12N5 (February 2009)