By Chris A. Choat
SIG Sauer Introduces New SIG 556 Classic Rifle
SIG Sauer, Inc., a leading manufacturer of commercial, law enforcement, and military firearms, is proud to introduce the next generation in the evolution of the SIG 556 platform with the new SIG 556 Classic model. The legendary performance and accuracy of the Swiss-built SG 550 tactical rifle is found in every SIG 556 and further enhanced in the new SIG 556 Classic. The Classic is a semiautomatic rifle with the silhouette that harkens back to the original military-only 550 model. Featuring a full length gas piston operating system with a two-position gas valve, the rifle will keep operating even when the environmental conditions deteriorate. Available in 5.56 NATO, the Classic features a Swiss-type folding stock that adjusts to length, as well as a Swiss-type polymer ergonomic forend. The SIG 556 Classic's steel receiver features a Picatinny rail with a SIG Sauer Mini Red Dot Sight and an improved combat style hooded front and flip-up rear sights. The Classic's sleek profile and compact length is enhanced by a 17-inch cold hammer forged barrel. SIG Sauer shaved a pound off the Classic model by incorporating the redesigned alloy trigger housing, AR style magazine and flash suppressor. Two 30-round polymer magazines with connector are included. The SIG 556 Classic brings back the look and feel of one of the world's most sought after military rifles but on a platform available for law enforcement and responsible citizens. MSRP is $1,998. For more information please contact them at SIG Sauer, Dept. SAR, 18 Industrial Drive, Exeter, NH 03833. Phone: (603) 772-2302. Fax: (603) 772-9082. Visit their website: www.sigsauer.com.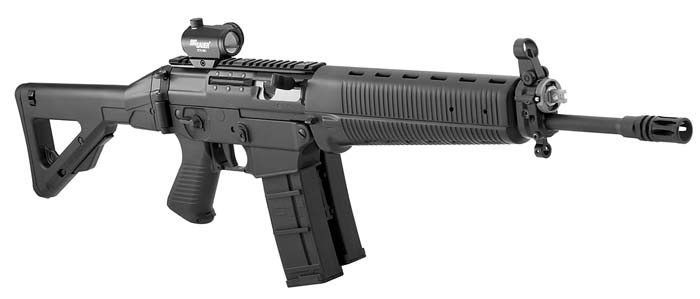 ATN Announces New Thermal Imager
American Technologies Network Corp. (ATN) proudly introduces the latest in thermal imaging technology with the OTIS-14 Thermal Imaging device. OTIS stands for Optical Thermal Imaging System – System being the key word. The ATN OTIS-14 is a multi-mission capable monocular designed for optimum use by military operators, law enforcement personnel, private contractors and security conscience civilians desiring to convert the darkness into a tactical advantage. The ATN OTIS-14 offers maximum versatility being capable of handheld, head/helmet mounted, as well as, weapon mounted use. The ATN OTIS-14 bears many hallmark ATN features such ergonomic design, simple to operate controls, and ruggedness ensuring reliability even when exposed to the harshest conditions. The ATN OTIS-14 contains miniature thermal imaging technology enabling the highest quality stable image in the most compact package. Thermal imaging capability has great utility for both night and day operations. Its versatility and compact size guarantees its usefulness across the full spectrum of operations both night and day. The ATN OTIS-14 features simple user friendly operating controls, one year warranty, quick detach rail system for attaching accessories or mounting the OTIS-14 to a weapon, hands-free adaptability, compatible with 3x Afocal lens for increased magnification, light weight yet rugged design, and the latest digital thermal technology. The ATN OTIS-14 will serve as a benchmark for thermal imaging devices. With the OTIS-14, ATN stands poised to do for the thermal imaging what ATN did for night vision optics; develop and manufacture high-quality state-of-the-art products at competitive prices, backed by ATN's industry leading customer support. Numerous other accessories are available that are compatible with the ATN OTIS-14 Thermal Imaging device. MSRP of the new imager is $10,995. For more information please contact American Technologies Network Corporation, Dept. SAR, 20 South Linden Avenue, Suite 18, South San Francisco, CA 84080. Phone: (650) 875-0130. Fax: (650) 875-0129. They can be found on the web at www.atncorp.com.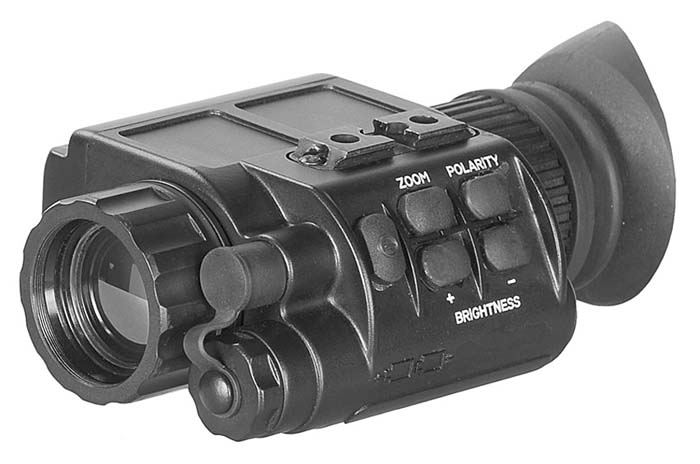 Brownells New Gun Specific Driver Set for Glocks
While Glock pistols don't require many tools for disassembly, armorers and other pros use some special items to make the job easier. Brownells, the Montezuma, Iowa gunsmith supply house, has combined them all into one compact, self-storing unit: their Screwdriver Set for Glock (#080-000-408). You get a nut driver for the front sight nut, a punch for the frame pins, one to help with magazine disassembly, a flat blade to push the mag catch spring aside and two Allen bits for various adjustable rear sights. All the "bits" fit into the full-size, hollow handle with a short shank, to keep you close to the work for maximum control. The Screwdriver Set for Glock is one of 30,000+ items listed in Brownells easily recognized, horizontal format, Catalog #61 that has become the standard reference for gunsmiths and serious hobbyists since the company was founded in 1939. Answers to any installation or troubleshooting questions – on Glocks or other guns, and gunsmithing processes – are available from the experienced technical services staff with a quick, toll-free call to Brownells at (800) 741-0015. Brownells is the world's largest supplier of firearm parts, gunsmithing tools, equipment and accessories. All of their products are backed by a 100% satisfaction, unconditional, lifetime guarantee. To order the Screwdriver Set for Glock or get a copy of any Brownell catalog contact them at Brownells, Dept. SAR, 200 South Front Street, Montezuma, IA. Phone: (641) 623-5401. Fax: (641) 623-3896. Website: www.brownells.com.

Mossberg Now Has a New LBA Trigger
For 90 years Mossberg has been a leader in the design and manufacturing of firearms in the hunting, shooting, military and law enforcement community. This year marks another great year for Mossberg as they introduce the new Lightning Bolt Action (LBA) Trigger System for their centerfire bolt action rifles – enhancing the performance and accuracy while keeping safety in the forefront of its development. With its distinctive skeletonized lightning bolt trigger blade, the Lightning Bolt Action Trigger System offers the best in form and functionality, giving the shooter the flexibility of adjusting the trigger pull without the need of taking their rifle to a gunsmith. A simple twist of a standard screwdriver enables the LBA trigger to adjust from 2 to 7lbs. The design of the LBA trigger's sear engagement offers a truly crisp, creep-free trigger, optimizing accuracy. The LBA trigger blade blocks the sear from releasing the striker unless the blade is fully depressed, even at the lightest adjustment setting. The trigger assembly is machined from aircraft-grade aluminum then hard-coat anodized to military specifications, preventing corrosion and minimizing wear over time. With Mossberg's extensive line of 4×4 and 100ATR bolt action rifles, you can expect to find the new LBA Trigger System in over 100 models in 2009. The LBA Trigger System is taking Mossberg's line of firearms to the next level in accuracy and performance. For more information on this as well as all of their current line of firearms, please contact them at O.F. Mossberg and Son's, Inc., Dept. SAR, 7 Grasso Avenue, North Haven, CT 06473. Phone: (203) 230-5300. Fax: (203) 230-5420. Their website is www.mossberg.com.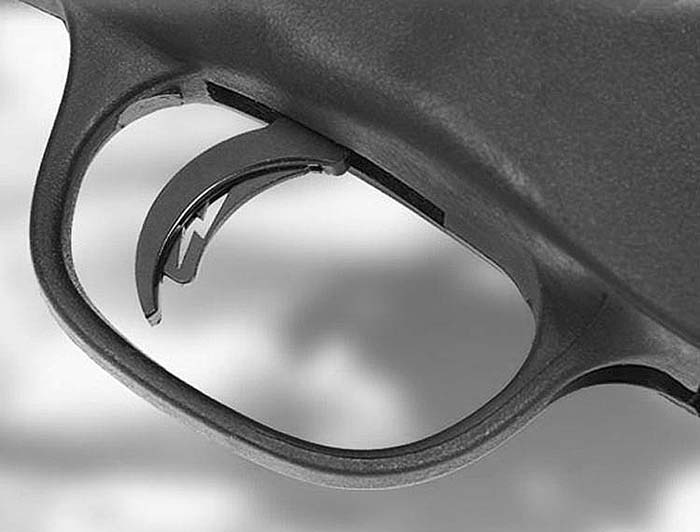 New Fiocchi Frangible .223 Ammo for Training
Industry innovator Fiocchi Ammunition is proud to announce a new .223 Remington 45-grain frangible cartridge. Part of a new frangible, non-toxic line of quality cartridge products, this innovative round is ideal for the training market, and in particular for indoor shooting ranges, close-quarter steel plate shooting, and for use by police departments in tactical training scenarios. This new Fiocchi .223 Rem. cartridge, while part of the competitively priced Rifle Shooting Dynamics line, does not skimp on the quality of its ingredients. The cartridge features well-known and respected SinterFire frangible, lead-free bullets. Fiocchi chose the copper/tin composite SinterFire bullet for this cartridge as it yields the proven benefits of functional reliability (due to the bullet's molded-in taper crimp), along with uniform dimensions and weight, that all work together to give the user the added attributes of superior accuracy and consistent performance. SinterFire bullets are ideal for training, since they contain no jacketing or plating, and will literally crumble to dust upon impact with hard surfaces. Since its name and thus its more than 130-year reputation rest on each round, Fiocchi strives to achieve ammunition perfection with every round it produces. Fiocchi's .223 Rem. 45-grain frangible round is also the fastest cartridge in the company's entire .223 Rem. product range. Leaving the muzzle at a sizzling 3,300 fps while generating a relatively mild 1,087 ft./lbs of energy, the new round is still moving at a very brisk 2,812 fps at 100 yards while putting out 790 ft./lbs. energy. At 300 yards, the frangible bullet is still racing along at 1,976 fps and producing 390 ft./lbs. energy. While at the maximum practical target distance of 500 yards, the round delivers a more than adequate 1,329 fps velocity and 176 ft./lbs. energy. For more information on Fiocchi's .223 Rem. 45-Grain Frangible ammunition or Fiocchi's full line of rifle, pistol, rimfire, shot shell and unique rounds, contact them at Fiocchi Ammunition of America, Inc., Dept. SAR, 6930 North Fremont Road, Ozark, MO 65721. Phone: (417) 725-4118. Fax: (417) 725-1039 or visit them on the web at www.fiocchiusa.com.
This article first appeared in Small Arms Review V12N6 (March 2009)