By Chris Choat
Mossberg Introduces the Night Train II bolt Action Rifle
O.F. Mossberg & Sons, Inc. raises the stakes with their new 100ATR Night Train II bolt-action rifle. As with its counterpart, the Night Train, this tack-driver is equipped with the new adjustable LBA (Lightning Bolt Action) Trigger System and free-floating 22 inch button-rifled barrel. To further enhance the performance of this well-balanced and fast handling bolt gun, the Night Train II features upgrades including a factory-mounted Barska 6-24 x 60mm variable scope; muzzle brake; Harris Bipod; and neoprene comb raising kit with foam cheek pad inserts – all factory installed. The gun is finished in a dark matte blue. The integral top-load magazine offers a 4+1 capacity with .308 Win cartridges while providing reliable feeding and simple loading and unloading. Available in black or digital camo, every 100ATR Night Train II is fully factory assembled and includes a free gun lock and two-year limited warranty. Watch for a full test of this new rifle in an upcoming issue of SAR. For more information please contact O.F. Mossberg & Sons, Inc., Dept. SAR, 7 Grasso Avenue, North Haven, CT 06473. Phone: (203) 230-5300. Fax: (203) 230-5420. Website available at: www.mossberg.com.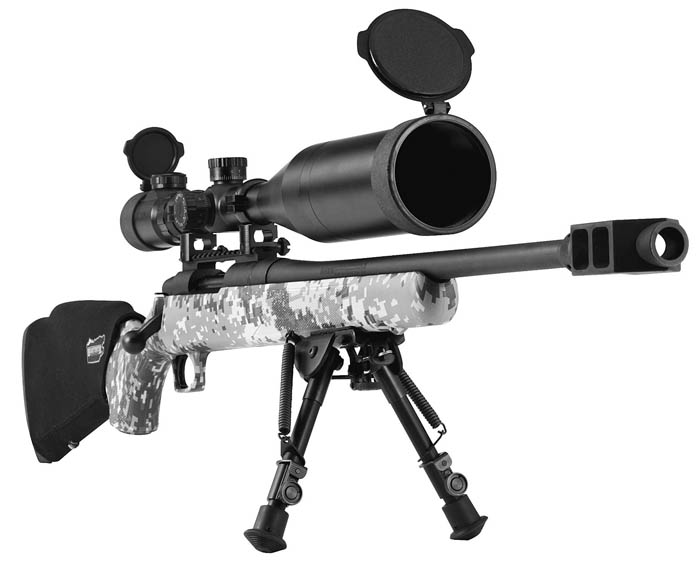 New Field Survivor AR Multi-Tool from Samson Manufacturing
Samson Manufacturing has just introduced another groundbreaking product to add to their line of top grade forearm rail systems, sights and other AR tactical items. The new item is called the Samson Field Survivor. Imagine having every tool you need to get your AR back into service right from your pistol grip. The Samson Field Survivor is a multi-tool system that has a patent-pending mechanism that secures it inside the pistol grip. The Field Survivor contains a broken shell extractor, wire brush for bore cleaning, an ampoule of oil with enough for one field lube, a cable to pull the brush through the bore, a carbon scraping tool, a magazine feed lip gauge, a front sight adjustment tool, a flat blade screwdriver, a feed lip adjustment tool, a gas key cleaning tool, a bolt cotter pin hook and a strike plate. The new Field Survivor tool is the one tool necessary for every AR to keep you in the fight or in play at the range. Just insert the Field Survivor into place in the hollow at the bottom of the pistol grip and twist the base to lock it in place. The new tool fits all A2 pistol grips and also the new Hogue AR-15 Rev 2 grips. Field Survivors for other grips are now in development. For more information contact Samson Manufacturing Corporation, Dept. SAR, 110 Christian Lane, Whateley, MA 01373. Phone: (888) 665-4370. Fax: (413) 665-1162. Their website is www.samson-mfg.com.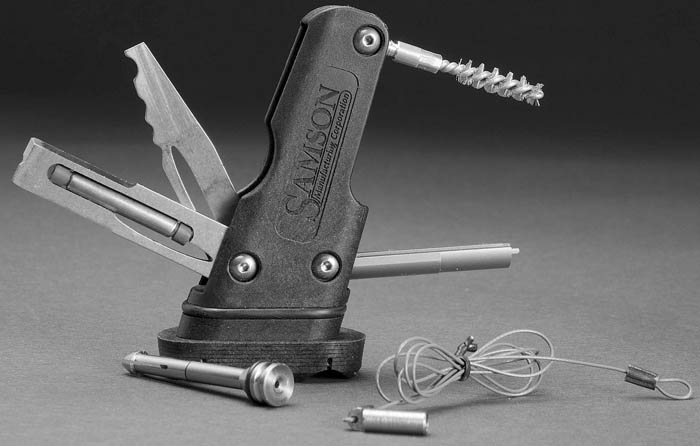 New Tactical Eyewear from Revision
Revision Eyewear, leading supplier of ballistic eyewear to the U.S. Military, launches the Sawfly-TX Tactical Eyewear System; a next generation ballistic spectacle that provides superior communications and headset compatibility with custom lens shapes for enhanced mission performance. The Sawfly-TX Eyewear System's weightless frame provides second-to-none comfort, while ultra-thin arms ensure comfortable compatibility with ear-pro and communications headsets. The Sawfly-TX frame, developed with input from a variety of U.S. Military Special Operations Forces, is specifically engineered to maintain the seal between the wearer's headset and ear, resulting in minimal noise leakage and uncompromised hearing protection. Its adjustable arms and low-profile design offer full compatibility with helmets, weapon sights and NVGs. Purpose-built to enhance performance, the Sawfly-TX Tactical Eyewear System offers two custom lens solutions. The Sawfly-TXP is designed for high activity missions where big airflow provides superior fog protection; while the Sawfly-TXM is designed for high threat environments where maximum lateral lens coverage gives added protection. True to the entire Sawfly Eyewear line, the Sawfly-TX Tactical Eyewear System exceeds military specifications for ballistic protection (MIL-PRF-31013 clause 3.5.1.1; MIL-DTL-43511D clause 3.5.10; and EN 166, 170 and 172). The system provides flawless optics, interchangeable lenses and is prescription (Rx) ready. The two-lens Essential Kit (Sawfly-TXP or Sawfly-TXM) retails for $99.99. For more information please contact Revision Eyewear Ltd., Dept. SAR, 7 Corporate Drive, Essex Junction, VT 05452. Phone: (802) 879-7224. Fax: (802) 879-7224. Website: www.revisionready.com.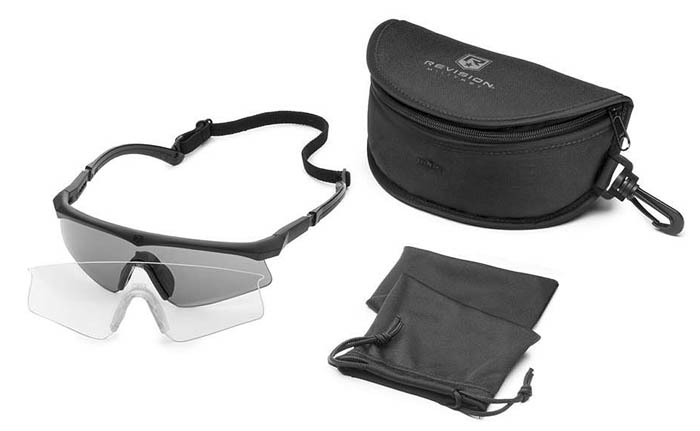 New Diopter Sight for SIG 556Rifle
SIG Sauer, Inc., the leading manufacturer of commercial, law enforcement, and military firearms now has a Rotary Diopter Sight System optimized for the SIG556 rifle. This new sight system provides four site stations for accurate engagement at varying distances including CQB, 100m, 200m, and 300m, all with tool-less windage and elevation adjustment. Designed to work in conjunction with the hooded front sight, the Rotary Diopter Sight System attaches to the receiver's M1913 rail. Made of durable steel construction, the Rotary Diopter Sight System retrofits all existing SIG556 rifles. The front and rear sight co-witness with the SIG Sauer Mini Red Dot Sight and are optimized for M855 and M193 ammunition. The Rotary Diopter Sight System features 0.5 MOA (1/2 inch) click adjustments and 34 inch windage/25 inch elevation adjustment range at 100 meters. The SIG Sauer Rotary Diopter Sight System is now standard on the SIG556 SWAT and Classic rifle models. This feature now provides serious shooters with a high quality indexed set of iron sights with CQB capabilities. MSRP is $259. For more information please contact SIG Sauer, Dept. SAR, 18 Industrial Drive, Exeter, NH 03833. Phone: (603) 772-2302. Fax: (603) 772-9082. They can be located on the web at www.sigsauer.com.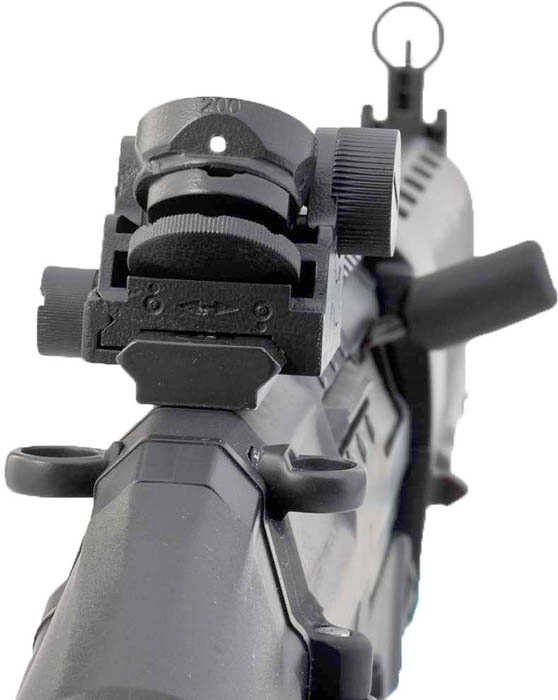 Wilson Announces New AR Flip-Up Front Sight
Wilson Combat announces the introduction of their backup iron sight, the Flip-Up Front Sight (FUFS2WC). A great complement to the Wilson Combat FURS (flip up rear sight), the FUFS2WC offers customers the ability to have a complete backup to their optics equipped AR style rifle. CNC machined from only the finest materials, finished, and hardened to last a lifetime, the FUFS2WC is easy to operate and locks solidly in place when needed. When folded down, its low profile will not interfere with optics use. For more information you can contact them at Wilson Combat, Dept. SAR, 2234 County Road 719, Berryville, AR 72316. Phone: (800) 955-4856. Fax: (870) 545-3310. Website: www.wilsoncombat.com.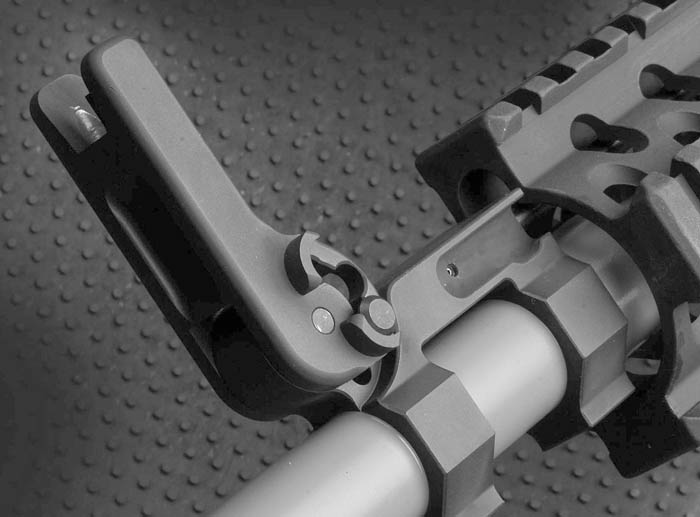 New ArmaLite AR50 Carry Handle from CTK Precision
Introducing the AR BMG50 Carrying Handle from CTK Precision. The AR BMG 50 Carrying Handle allows single handed carrying of the 33+ lbs. ArmaLite AR50. The AR BMG 50 Carrying Handle is CNC machined from 6061aluminum with a Mil Spec hardcoat anodized finish. It is attached to the ArmaLite AR50 using two 2-inch long steel T-nuts that provide 4 inches of rail contact for extremely secure attachment. The AR BMG 50 Carrying Handle combines high strength and light weight (18 oz.) and the AR BMG 50 Carrying Handle's Universal Attachment Mount incorporates a recoil absorbing rubber bushing that is built around the US GI M2/M3 pintle (9/16 hole dia. x 2.34 inches wide). This allows the ArmaLite AR50 to be attached to a wide variety of mounting sockets. For more detailed information please contact CTK Precision, Dept. SAR, E5861 Herzberg Road, Marion, WI 54950. Phone: (715) 754-2891. Website: www.ctkprecision.com.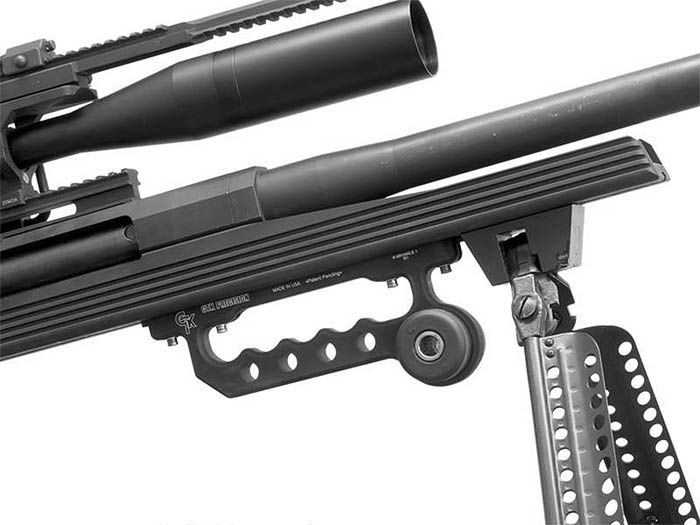 New 3X and 4X Magnifiers from DM Premium Firearms
DM Premium Firearms, manufacturers of firearm accessories, is pleased to introduce DM Premium Optics 3x and 4x Magnifiers for use with all holographic and red dot optics. DM Premium Optics has taken a unique approach to magnifier design by manufacturing a high quality magnifier using the best quality components at a competitive price point delivering a blend of reliability, high performance and value. DM Premium Optics start with a 6010 aluminum housing with a non reflective hard anodized black finish. Magnification is accomplished using optic quality coated lenses resulting in the highest light transmission possible. These lenses have up to 20 coatings per lens depending on location in the magnifier. The final assembly uses a rubber eye relief installed and then the unit is fully sealed and nitrogen filled to eliminate fogging. These features ensure a high quality magnifier for a lifetime of use. Another feature of the DM Premium Optics Magnifiers is the mounting systems. Both the 3x and 4x magnifiers come complete with the DM Premium Adjustable Mounting System; a sturdy tactical style, 6 bolt 30mm mount that features windage adjustability in order to align the magnifier with all optics on the market. Many low end magnifiers use solid mounts that are impossible to align to the variety of optics available. DM Premium Optics mounts are manufactured from 6061 aluminum with a non reflective hard anodized black finish. Also supplied is a DM Premium Optics 6061 aluminum riser block to use with higher mounted optics. For information please contact DM Premium Firearms LLC, Dept. SAR, 5020 N. 18th Avenue, Phoenix, AZ 85015. Phone: (602) 277-4871. Fax: (602) 242-5815. Website: www.dmfirearms.com.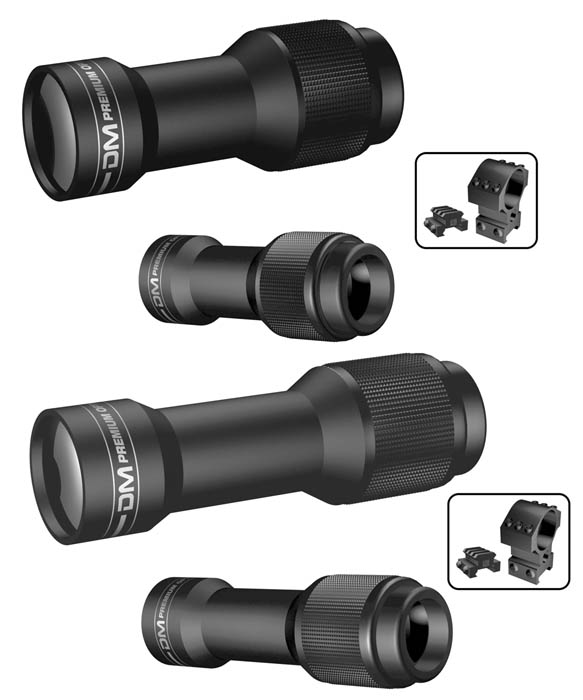 This article first appeared in Small Arms Review V12N9 (June 2009)