By Chris A. Choat
Trijicon Introduces Tough Mini Reflex Sights
Trijicon, Inc., the world leader in the development of Brilliant Aiming Solutions for the military, law enforcement and hunting/shooting markets, has introduced its new Trijicon RMR Sight – a patent-pending new generation Ruggedized Miniature Reflex designed to improve shooter precision and accuracy with any style or caliber of weapon. Unlike other red dot sights on the market, this innovative solution is designed for superior durability under the most extreme conditions. Trijicon also designed the new RMR sights to be as strong as the company's renowned Trijicon ACOGs, and provide ease of sighting and adjustment, solving important issues often associated with other red dot sights. Trijicon's new design begins with a rugged, forged aluminum housing – one that is extremely sturdy, yet lightweight. This advanced housing encases premium quality optics for superior performance in every tactical, shooting or hunting situation. Other advancements in the Trijicon RMR sights include new large, easy-to-use adjusters that allow for quick one MOA per click adjustment for windage and elevation using a common screw driver or shell casing. The Trijicon RMR provides rapid target acquisition and enhances the shooter's capabilities in a wide variety of applications. In keeping with Trijicon's commitment to battery-free illumination, a battery-free model features dual illumination using Trijicon's patented fiber optics and tritium, and comes in dot sizes of 9 or 13 Minutes of Angle (MOA). This model is the world's first battery-free mini reflex sight, measuring a mere 1.78 inches long by 1.24 inches wide by 1.03 inches high and weighs in at only 1.22 ounces. Another version features LED illumination provided by a standard 2032 battery, and comes in dot sizes of 4 or 8 MOA. Both are available in black housings and, as further testament to their rugged construction, are rated as waterproof to sixty-six feet. The Trijicon RMR mounts onto Trijicon ACOGs, compact ACOGs, AccuPoints, Mil-Std 1913 rail equipped weapons systems, Weaver rail equipped weapons systems and the more popular handgun models. For more information please contact Trijicon Inc., Dept. SAR, 49385 Shafer Avenue, P.O. Box 930059, Wixom, MI 48393. Phone: (248) 960-7700. Fax: (248) 960-7725. Their website is www.trijicon.com.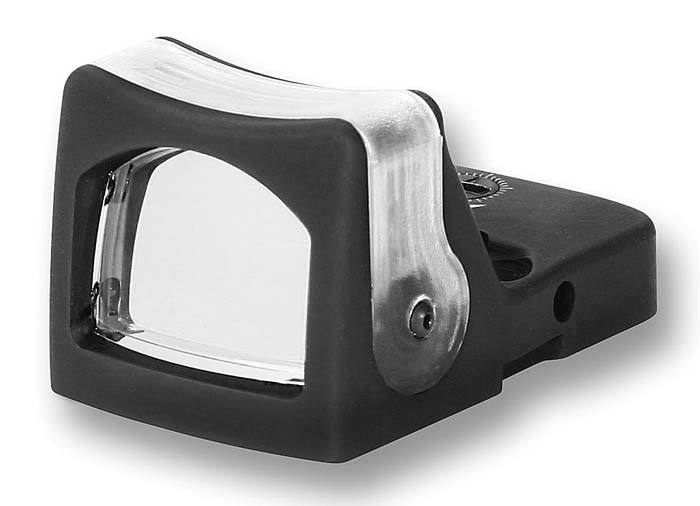 New Products from Tactical Night Vision Company
Tactical Night Vision Company (TNVC) is now offering several new night vision related products that have been long awaited by consumers. The first is their new PT-HELMETS A-Alpha Jump Rated Helmets. The A-Alpha is an affordable, lightweight tactical helmet designed for Military and Law Enforcement special operations. Available in three sizes (S-M-L) and three non-reflective matte colors (Black, Tan and OD), it features a removable ACH 4-point chin strap that provides the wearer a more stable NVG platform. The A-Alpha is pre-drilled for both single and 3-hole pattern NVG shrouds, giving the user complete freedom to use any shroud on the market. The shell is expanded polystyrene with removable EVA foam padding, meets EN1078, ASTM1040, and is HALO/HAHO jump rated. The A-Alpha comes with a hard mounted Picatinny rail on the left for accessory attachment, pile tape patch on the right for flag or morale patches and a goggle retention strap on the back. It can be ordered bare, with shroud or ready to go with shroud and flip-up Rhino arm.
The next item is called the MURLM (Multi-Use Rail and Light Mount). This innovative mount allows the mounting of a light and a mini red dot sight. The light mount is for 1 inch diameter lights and positions them right by the users thumb when using a forward mount vertical grip. The rail of the MURLM positions the sight at a 45° angle off of the right side of the weapon. This allows the user to simply roll the rifle slightly to the left and utilize the red dot for close-in engagements. The MURLM can also be ordered bare or with a light and mini red dot already mounted. TNVC also has two new scope accessory ring rails that allow mounting accessories right to a scope. For more information on these as well as a full line of night vision optics and accessories, please contact them at Tactical Night Vision Company, Dept. SAR, 25612 Barton Road # 328, Loma Linda, CA 92354. Phone: (909) 659-2842. Visit websiteat: www.tacticalnightvision.com.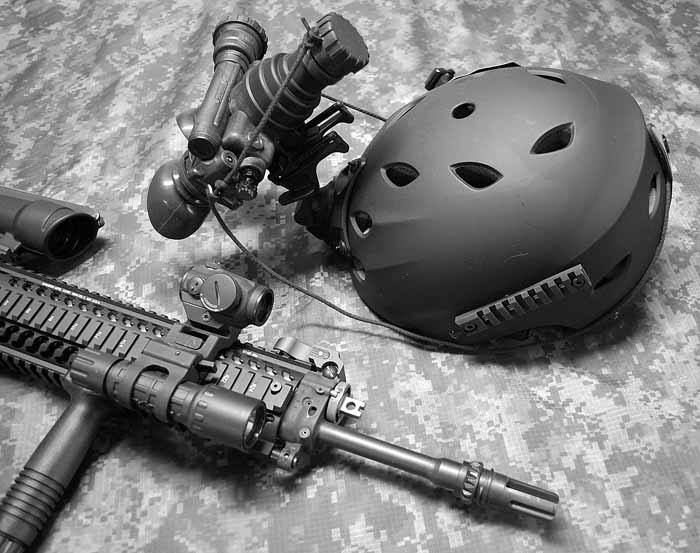 DoubleStar Unveils New 1911
Accuracy, reliability and American pride are qualities that DoubleStar builds into each of its many AR-15 offerings. Now, the Kentucky-based manufacturer is bringing those same attributes down to size by building them into its first-ever handgun. The handgun uses only American-made components and retails for less than $1,200. DoubleStar started with a forged – not cast – steel frame to ensure maximum strength and accuracy. Forging produces a stronger frame by aligning the grain structure of the steel, whereas the annealing and heat-treating of casting may strengthen steel, but it still leaves hard and soft spots in the metal. DoubleStar's 1911 offers a parkerized, mil-spec finish and 1913 rail for laser, light and scope attachments. At 8 inches in length and 38 ounces unloaded, the handgun features a 5 inch stainless steel barrel and a Novak white dot sight. The 1911 is standard with National Match stainless barrel, Greider trigger and Ed Brown's Memory Grip Safety. Grips are available in Ergo, Stryder, standard, fancy walnut and even exotic woods. The magazine capacity is 8 plus 1, and the magwell is beveled for an easier, quicker load. DoubleStar's 1911 is also available with a round or square trigger guard. For more information contact DoubleStar, Dept. SAR, P.O. Box 430, Winchester, KY 40391. Phone: (859) 745-1757. Fax: (859) 745-4638. Visit website at: www.jtdistributing.com.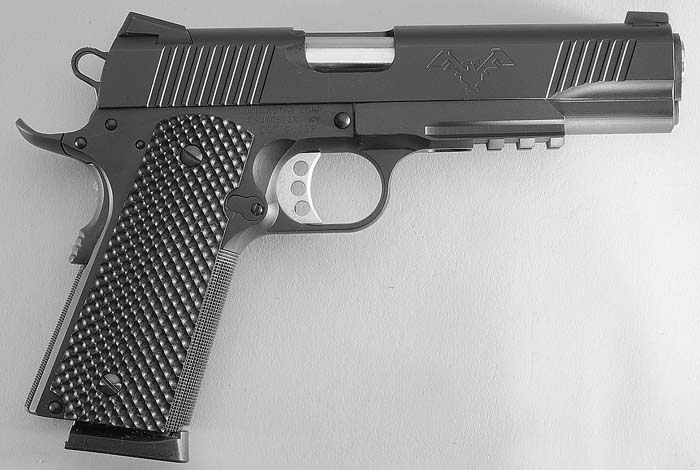 New PolyTac Tactical Flashlights from Streamlight
Streamlight, Inc., a leading flashlight manufacturer for law enforcement, military and tactical users, has introduced two super-bright, polymer personal lights: the Streamlight PolyTac, featuring a high-performance xenon incandescent bulb, and the Streamlight PolyTac LED with the latest in C4 power LED technology. Their compact size, combined with their strong, tough polymer casing and high light output make both lights perfect for a wide variety of law enforcement and tactical uses. The LED version uses a power LED that provides two to three times the output of Super High Flux LEDs, and the xenon model offers super-bright light as well. Whether used on night-time patrols, investigations, or just carried in a back pocket or holster, these small but tough tactical lights are ideal for police, and military and tactical personnel to carry. The incandescent xenon PolyTac offers a light output of 6,000 candela peak beam intensity and 72 lumens measured system output, while the LED model offers 4,800 candela peak beam intensity and 120 lumens measured system output. The PolyTac model uses a 6-volt xenon bulb, and the LED version features a C4 LED bulb that is impervious to shock with a 50,000 hour lifetime. The xenon model also offers an adjustable head which allows for variable spot-to-flood focus. The xenon version provides 80 minutes of continuous runtime to the 10% output level, and the LED version offers 3 hours of continuous runtime to the 10% output level. The PolyTac weighs 3.9 oz while the PolyTac LED weighs 4.1 oz. Both lights measure 5.22 inches in length and 1.25 inches in diameter. Both the PolyTac and PolyTac LED feature bodies made of high impact, super tough nylon polymer for exceptional durability and a sure grip. Each light features a tailcap push button switch for easy, one-handed operation. The tailcap also can be rotated to a "Safe" position. Both lights use two 3-volt lithium batteries, which have a shelf life of 10 years. Available in black, coyote or yellow, the PolyTac retails for $52 and the PolyTac LED for $65. The light comes with Streamlight's limited lifetime warranty. For more information please contact Streamlight, Inc., Dept. SAR, 30 Eagleville Road, Eagleville, PA 19403. Phone: (610) 631-0600. Fax: (610) 631-0712. Visit website at: www.streamlight.com.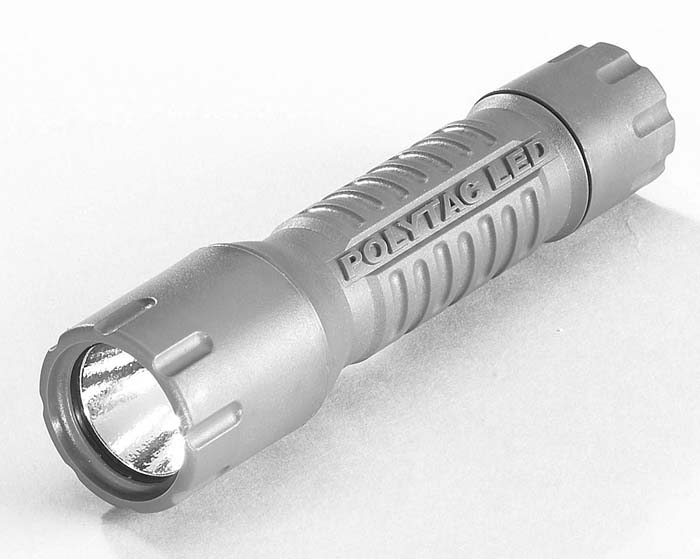 New Ruger Mini-14 LULA Strip Clip Loader
The LULA Strip Loader was an instant hit with avid shooters who purchase surplus ammo on stripper clips. For 2009, Butler Creek introduces a Strip Loader for Mini-14 rifles. This lightweight strip clip loaders makes it easy and painless to load magazines from clips. You can also load loose rounds and a built-in tab makes unloading rounds a quick and simple operation. Like most LULA loaders, it is small, lightweight and simple to use. It is made from a durable, reinforced polymer plastic, about 1/3 the size of similar loaders and will fit easily into a range bag or pocket. With a little practice, a shooter can load 30 rounds in about 12 seconds. Suggested retail is $29.95. For more information please contact them at Bushnell Outdoor Products, Dept. SAR, 9200 Cody, Overland Park, KS 66214. Phone: (913) 752-3400. Fax: (913) 752-3550. Website: www.butlercreek.com.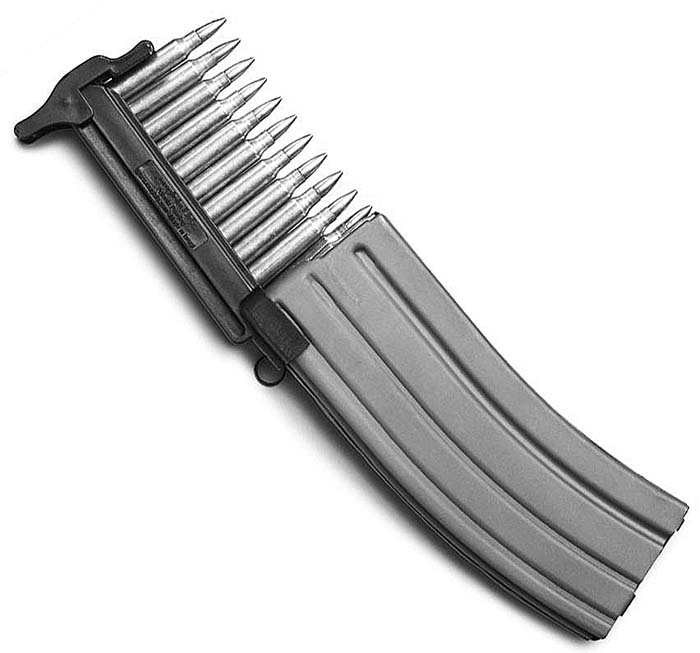 This article first appeared in Small Arms Review V12N10 (July 2009)