New Mini and Micro Suppressors from SureFire

SureFire, LLC, manufacturer of high-end illumination tools and tactical products, have released their Mini and Micro suppressors. Both work with existing SureFire flash hiders and muzzle brake suppressor adapters, but come in a significantly smaller package than previous models.
At 5 inches in length and 14 ounces in weight, the Mini suppressor is SureFire's new flagship 5.56mm suppressor. It provides the same performance as its predecessor, the SureFire FA556-212 suppressor, but at one inch less in length and two ounces lighter in weight. At 4 inches long and 12 ounces in weight, the compact and lightweight SureFire Micro suppressor is designed to attenuate the sound signature of a carbine or rifle to a safe level, as well as reduce the dust and flash signature while minimizing added weight and length to a host weapon with a 14.5 inch barrel or longer. The Micro, like the Mini, features the Fast Attach system for rapid attachment/detachment on any weapon equipped with a compatible SureFire suppressor adapter. Thanks to SureFire's overlapping mount, only 1.75 inches are added to the length of the rifle.
SureFire's proprietary suppressor design not only reduces the sound levels and muzzle flash of a fired weapon, helping to protect an operator's hearing and keep his location concealed, it also typically increases projectile velocity and improves a weapon's accuracy. This is SureFire's philosophy of Total Signature Reduction. Contrary to existing suppressor models, which typically degrade performance of a 1-2 MOA (Minute of Angle) rifle to 3-4 MOA – sometimes as much as 8 MOA, SureFire suppressors typically improve grouping sizes. Most suppressors also cause a shift in a weapon's point-of-zero when attached or detached. Under fire, an operator seldom has the time to re-zero his weapon after attaching a suppressor. With a SureFire Suppressor, there is no need to re-zero the weapon. Its Fast-Attach mechanism locks the suppressor onto the firearm in the same position every time, producing a negligible, repeatable point-of-impact shift. SureFire Suppressors are as durable as the barrels they're mounted on, making full time suppressor use not only probable but practical. All SureFire suppressors include a nylon cleaning brush and a padded, ballistic nylon MOLLE pouch for storage. The suppressors are available in a black or dark earth finish. For more information please contact Surefire, LLC, Dept. SAR, 18300 Mount Baldy Circle, Fountain Valley, CA 92708. Phone: (800) 828-8809. Fax: (714) 545-9537. Website: www.surefire.com.
MasterPiece Arms Introduces New Protector Series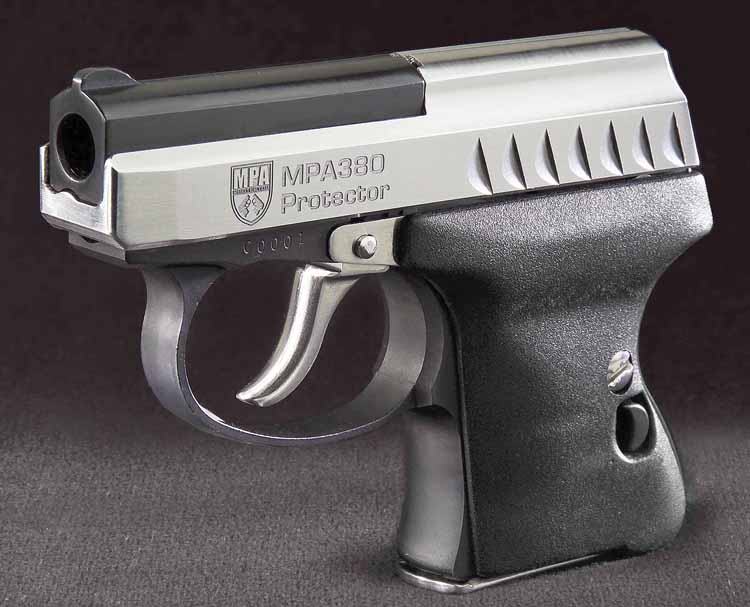 MasterPiece Arms proudly introduces a brand new addition to its unique and impressive product line, the MPA Protector Series. As the first MPA series not based on the MAC platform, the Protectors offer brand new advantages such as the ability to conceal and carry for everyday protection. Offered in two calibers, the MPA32 (.32 ACP) and the MPA380 (.380 ACP) Protectors both come in all black or with a stainless steel upper slide. The scalloped design of the slide adds an attractive touch and a better grip when pulling the slide back. The handle and grip are designed in a way that is comfortable to hold and safer to fire because the shooter has more control of the weapon. The hammer is slightly recessed which enhances the overall safety of the weapon. The Protectors have 6+1 capacity, fixed sights and injection molded black grips. The MPA32 weighs 10.9 oz. and the MPA380 weighs 11.3 oz. Both measure .820 inches in width, 4.4 inches in length, 3.150 inches in height and have a 2.25 inch barrel. The MPA32 and MPA380 Protectors have no castings and are fully machined from solid steel. They have machined 4140 receivers and machined 4140 or stainless steel upper slides. MSRP for the MPA32 and MPA380 in black is $322.90. MSRP for both in stainless steel is $345.90. For more information please contact them at MasterPiece Arms, Dept. SAR, 976 Highway 124, Building B, Box 669, Braselton, GA 30517. Phone: (770) 832-9430. Fax: (770) 832-3495. They can be found on the web at www.masterpiecearms.com.
American Tactical Imports Announces New FX45 Series Pistols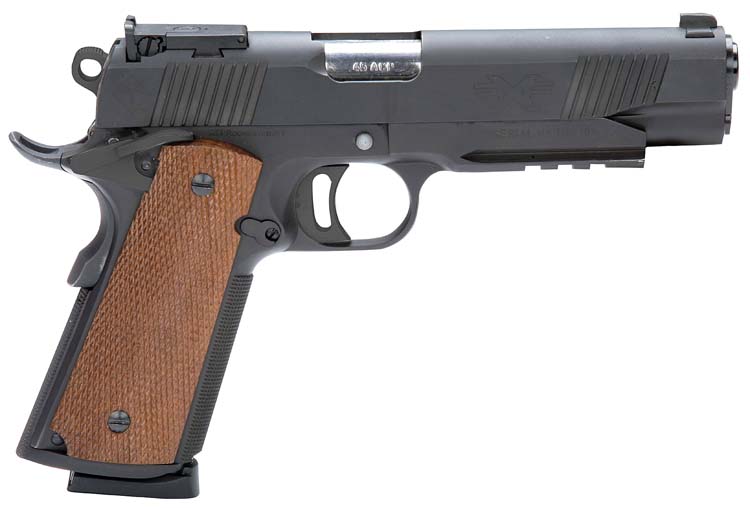 American Tactical Imports, a worldwide importer of firearms, is proud to announce the release of the FX45 Series, a .45 ACP caliber 1911 pistol series from Shooters Arms Manufacturing in the Philippines. The impressive ATI FX45 Series includes five pistols priced from $449.95: the ATI FX Military, the ATI FX GI, the ATI FX Thunderbolt, the ATI FX Titan Blue and the ATI FX Titan Stainless. The ATI FX Military weighs 2.31 pounds and is 8.5 inches long. The 1911 has a 5 inch barrel, all steel parts, a matte black military front and rear site, a military slide stop and safety lock, solid mahogany grips, 8+1 magazine capacity and a MSRP of $449.95. This single-action, semiautomatic pistol is compatible with many different brands of 1911 magazine. The ATI FX GI is a slightly more compact version with basically the same features but has a 4.25 inch barrel. The ATI FX Thunderbolt weighs 2.4 pounds and is 8.7 inches long with a 5 inch barrel. It sports chrome steel parts, a Picatinny rail, 8+1 magazine capacity, mahogany, textured grips, and white dot LPA Bomar sights. The MSRP is $699.95. Both the ATI FX Titan Blue and the ATI FX Titan Stainless weigh 1.76 pounds and are 6.9 inches long. The Titans have 3.13 inch barrels, low profile rear sights, dovetail front sights, two-stage recoil spring systems, military slide stops and safety locks, 7+ 1 magazine capacity, and mahogany grips. The FX Titan Stainless has all chrome steel parts. The Titan Blue has a MSRP of $519.95 and the Titan Stainless is listed at $599.95. For more information contact American Tactical Imports, Dept. SAR, 100 Airpark Road, Rochester, NY 14624. Phone: (585) 328-2212. Their website is www.americantactical.com.
Lucid Launches 3X Magnifier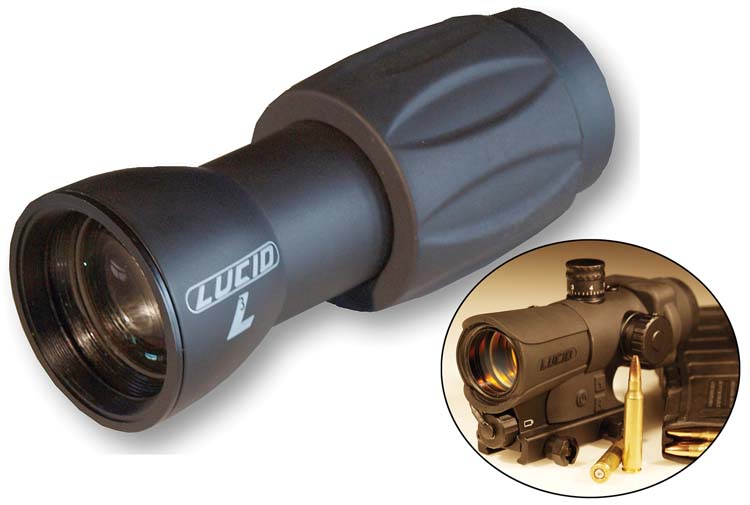 Lucid, LLC, a relatively new entry in the shooting sports field, has introduced the second in what is to be a long line of new and innovative products for the shooting sports industry. The new Lucid 3x magnifier is a stand alone, mount in-line magnifier. It has a 30mm tube for mounting and outstanding optical quality. True to Lucid's form, this magnifier exhibits optical quality and features that are commonly seen on competitive items at much higher price points.
The 3x magnifier offers a crystal clear image, with a field of view of 40feet at 100 yards, a comfortable eye relief of 3 inches and impressive optical performance. The 3x magnifier will add precision to any red dot use. The magnifier is built on a rugged aluminum frame that is rubber armored, with optics that are 100% waterproof, shockproof (.308 tested) and fog proof (nitrogen purged) for extreme durability. There is an adjustable focus on the ocular ring to ensure clarity for all shooters. The new Lucid 3x magnifier is compatible with all red dots. This magnifier is the perfect companion to go with their economical priced HD-7 red dot scope. You can contact them at Lucid, Dept. SAR, 235 Fairway Drive, Riverton, WY 82501. Phone: (307) 840-2160. Website: www.mylucidgear.com.
Extreme Shock Releases New Air Freedom Round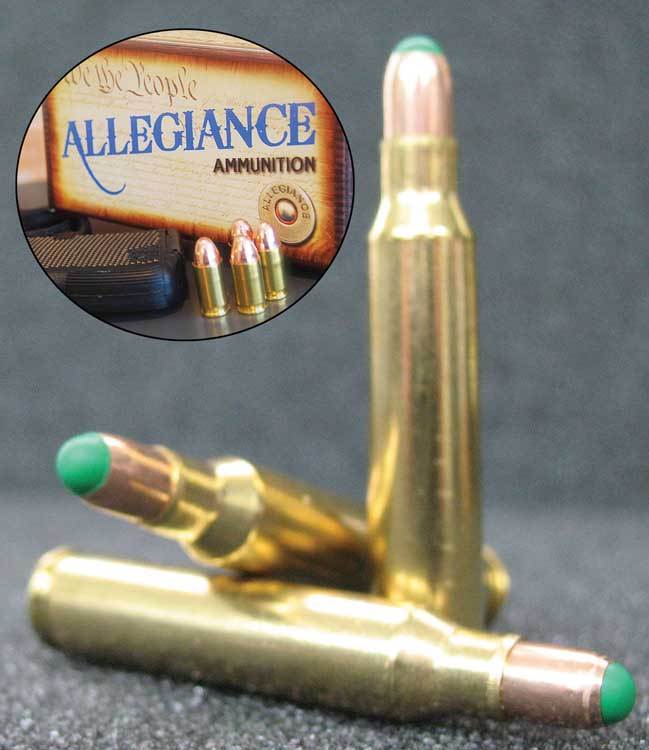 Extreme Shock Ammunition, known for producing the world's most advanced ammunition, has released a new cartridge in the Air Freedom Round series, the .223 30 grain AFR. This round embodies the reliability and safety of the handgun Air Freedom Rounds. They are specifically designed for tactical entry teams in an urban environment, where it is crucial to contain the rounds within a limited space. The frangible characteristics of the new AFR make it a necessity when the situation requires a round with no ricochet, reduced over-penetration, and will drop all the kinetic energy inside the target thereby reducing liabilities. This round is designed to fragment after passing through two 3/4 inch sheetrock partitions, thus making your .223 rifle an ideal home-defense weapon. The .223 30gr AFR has a 30-grain Tungsten core, copper jacket and has a flat base and round nose. When tested with a 14-inch barrel Colt M4, this round reached a velocity of 3,100 feet per second and possessed 816 ft/lbs energy. MSRP for the .223 30grain AFR is $9.38 for 6 rounds, or a box of twenty for $27.75. Extreme Shock Ammunition has also announced that it will be producing its own line of high quality copper plated, lead core ammunition under the brand name Allegiance Ammunition. This new line of ammunition comes in response to the demand for affordable, high quality ammunition and a shortage of components in the market. Each Allegiance round will undergo the same strict quality control procedures as the Extreme Shock tactical line. The 9mm, .40 S&W, .45 ACP, .223 and .308 will have the case mouth and primer sealed, or waterproofed to U.S. Mil-Spec standard. This procedure will give the Allegiance brand of ammunition an estimated 20-year shelf life. For more information to place an order for either of these new items you can contact them at Extreme Shock USA, Dept. SAR, 182 Camp Jacob Road, Clintwood, VA 24228. Phone: (276) 926-6772. Fax: (276) 926-6092. Their website is www.extremeshockusa.com.
This article first appeared in Small Arms Review V14N2 (November 2010)