Blackheart International Makes AR-
15 Handguard System
A fully loaded AR-15 forend may have a visual "cool" factor, but in the real world of tactical rifle deployment, overweight and Overburdened hand guard and rail systems can create serious problems. Excessive rails and attachments aren't required for every operation. They add unneeded weight, minimize grip control and comfort, and add unnecessary surface area that can hang up on your gear when exiting a vehicle, clearing a room or deploying your backup weapon. Blackheart International's new freefloat BHI-15 Hand Guard System offers a better solution: use only the accessory rails you need, when you need them. The improved BHI-15 Hand Guard System delivers additional features that make it simply the best AR-15 hand guard on the market today. It has a very slim profile of just 1 7/8 inches in diameter. It weighs just 9.16 ounces for the carbine model and 14 ounces for the rifle length unit. Made of billet aluminum, the BHI-
15 Hand Guard keeps the weight down when accessories are needed. Its freefloat design offers enhanced accuracy and cooling. The BHI-15 Hand Guard mounts directly onto the barrel nut allowing the entire barrel to free-float for maximum accuracy and heat dissipation.
It also features an aggressive GatorGrip checkering design along the grip portion of the tube that is both comfortable and provides
the most secure, sticks-likeglue grip you'll find anywhere. The unit also has a Co-witnessed Top Rail so that it is now co-witnessed
(level) with the standard A3 upper receiver Picatinny rail. Backup sights can now be adjusted with no possibility of run-out on the
front post or rear peep. Other features include dual QD sling mount positions, and rail mounting slots at 45°, 90°, 135° and 180°. Several Picatinny rails are available for the BHI-15 Hand Guard: 1.5-, 2-, and 4-inch accessory rails, and 8.625-, 10.5- and 14-inch top
rails (depending on the hand guard model used). This allows the operator to select the exact rail size needed to accommodate lights, vertical grips and other accessories. The BHI-15 Hand Guard System is available in carbine-length (8.625-inch), mid-length (10.5-inch) and rifle-length (14-inch) configurations. The BHI-15 Hand Guard System is a universal fit on most 5.56mm NATO contoured barrels featuring a low-profile gas block. Simply remove the standard Delta ring and spring assembly from your conventional AR-style rifle and install the BHI-15 Hand Guard using the supplied two-piece clamp assembly. For more information contact Blackheart International, LLC, Dept. SAR, RR3, Box 115, Philippi, WV 26416. Phone: (877) 244-8166. Fax: (304) 457-1280. You can find them on the web at www.bhigear.com.

LaserMax Launches Smallest,
Lightest Rail Mount Laser
LaserMax, Inc. introduces the smallest, most lightweight rail mount laser: The Uni-Max Micro. The Micro, with its miniaturized design, delivers the strength and durability needed to withstand the shock of recoil while possessing a sleek contoured look and an MSRP of $129.
It's a perfect match for compact and subcompact pistols with an accessory rail used for CCW. The ambidextrous tap on/off activation will not hang up or snag when holstered or carried in bag, pocket, or belt. There is a 10 minute timeout feature put in place to preserve the life of the battery, which has been clocked at over 5 hours runtime. The Micro combines LaserMax ingenuity and current laser technology to create a versatile, low-cost, fully adjustable laser solution for various types of firearms. Established more than 20 years ago, LaserMax is proud to continue serving U.S. military and allies, law enforcement agencies and worldwide commercial markets. LaserMax products are designed and assembled by U.S. citizens in their state-of-the-art facility in Rochester, New York. Contact: LaserMax, Dept. SAR, 3495 Winton Place, Building B, Rochester, New York 14623-2818. Phone: (585) 272-5420. Fax: (585) 272-5427. Website: www.lasermax.com.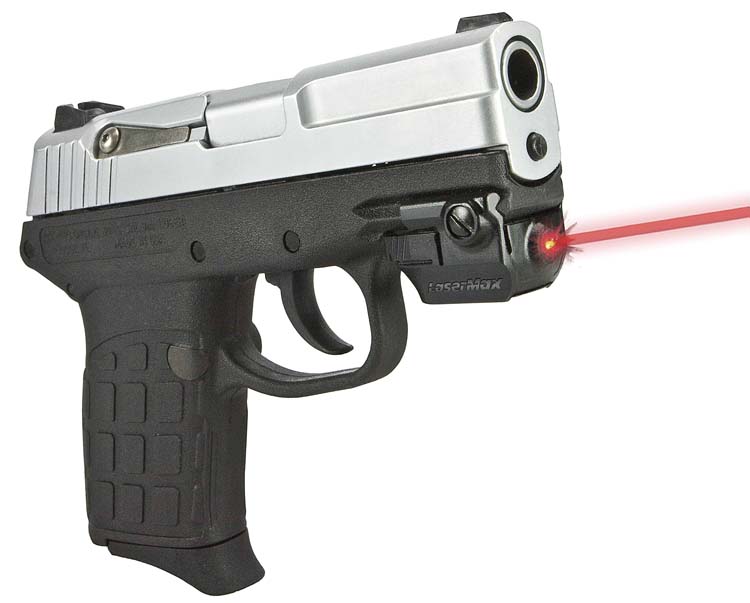 Revision Introduces New Sawfly
Military Eyewear
Revision, leading developer of protective eyewear for military and law enforcement forces worldwide, introduces the completely redesigned Sawfly Military Eyewear System. The new Sawfly Eyewear features a redesigned frame, Comms Compatible arms, new Comfort Nosepiece, an extended lens and new retention system. The result is a superior eye protection product that provides optimal comfort, fit and gear compatibility without compromising ballistic performance, optics or durability. The system's multiple changes provide significant end-user
gains; the Sawfly Eyewear's redesigned frame not only features an aggressive new look but it facilitates lens changing with the new quick-change lens system. New Comms Compatible arms are leaner and longer for the utmost comfort, equipment compatibility and retention; their overmolded undercarriage provides shock absorption and grip while their thinner profile ensures that hearing protection works as designed. The eyewear's new Comfort Nosepiece has been reengineered for enhanced comfort, retention and durability; it features a softer durometer nosepad which provides added grip and cushioning. The Sawfly's new extended lens provides greater lateral lens coverage for full side-impact protection – without compromising airflow and anti-fog performance. Finally, the system's new Secure-Snap retention band clips firmly into the frame, keeping eyewear in place, even during high activity missions. For more information contact Revision Eyewear Ltd., Dept. SAR, 7 Corporate Drive, Essex Junction, VT 05452. Phone: (802)879-7002. Fax: (802) 879-7004. On the web at www.revisionready.com.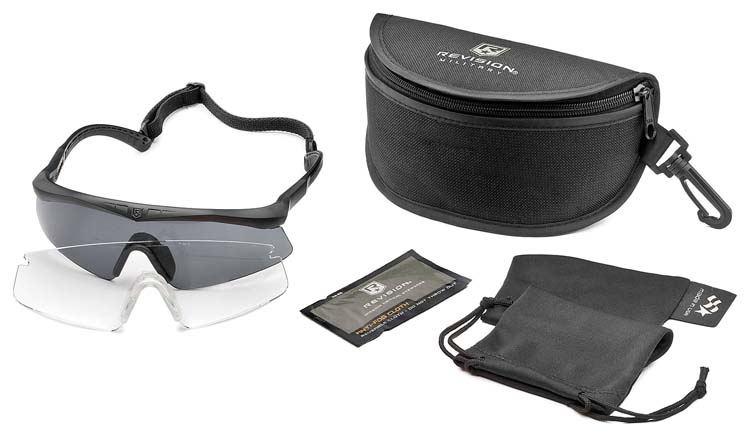 Dez Arms Announces 16-inch AR-15
Dissipator Upper
Dez Arms, Inc. has announced the release of their new 16-inch Dissipator upper designed specially for law enforcement tactical use as well as medium to heavy shooters. The upper includes an AR-15 A3 flat top receiver, 16 inch heavy barrel with 5.56 NATO chamber and 1/9 twist, bolt, bolt carrier and charging handle. This is a complete upper, ready to attach and fire. These carbine length match barrels feature Dissipator length handguards, either standard A2 front sight or railed low profile gas blocks and A2 3-port flash hiders. All metal parts feature black manganese phosphate (parkerized) finish. The barrels also are particle tested and air gauged with a polished chamber and oil lapped bore. For more information readers can contact them at DEZ Arms, Inc., Dept. SAR, 2899 11th Drive, Adams, WI 53910. Phone: (630)
668-2041. Fax: (630) 280-9448. Website: www.dezarms.com.

Rock River Arms Piston Driven
System Now In Carbine Version
Rock River Arms has the reputation for producing top quality AR-15s. They now have their PDS (Piston Driven System) available in a carbine version. The Rock River Arms PDS Carbine utilizes a purpose-designed bolt carrier, an adjustable gas piston and an over-the-barrel spring and guide rod arrangement. The Rock River Arms Piston Driven System is able to completely do away with the traditional recoil system, making for an extremely accurate, fast-handling and versatile weapon platform. The new PDS Carbine has a full length top mounting rail
from the rear of the receiver to the regulator housing, allowing flexible placement of numerous optics, lights, lasers and other accessories. The RRA side-folding 6-position Tactical CAR stock features a receiver extension storage compartment that nicely houses extra batteries for optics. The PDS Carbine hosts an injection molded handguard that is ribbed for a sure grip. The folding ambidextrous, non-re-ciprocating charging handles may be used independently or in unison to charge the RRA PDS Carbine. The RRA two-stage trigger made its way onto the long list of proven features aiding in accuracy. The two position adjustable regulator can be repositioned for reliability for versatility in ammunition usage and is conveniently located on the right side of the regulator housing. You can contact them at Rock
River Arms, Dept. SAR, 1042 Cleveland Road, Colona, IL 61241. Phone: (309)792-5780. Fax: (309) 792-5781. On the
web at www.rockriverarms.com.

This article first appeared in Small Arms Review V14N5 (February 2011)