Mounting Solutions Plus Introduces PKM Optics Mount
The ArmaDynamics PKM-RAP (Rail Adaptive Platform) system is the world's only truly quick-attach/detach accessory rail mounting available for the world-standard military issue Kalashnikov-pattern PK/PKM/PKMS/6P41 "Pecheneg" light machine guns. The PKM-RAP rail system is designed to permit the rapid mounting and adaptability of all military standard optical or electro-optical sighting and target designating devices or other accessories directly to the unmodified host-weapons' top cover through a fast, simple, and highly secure universal attachment via its Mil-Spec M1913-standard Picatinny rail interface. The RAP unit mounts to the weapon's existing iron sight bases via a secured locking mechanism that, by design, permits the unit's attachment even to damaged top-covers, yet still allows rapid securing or subsequent dismounting using no tools or proprietary modifications to the host weapon. It is equipped with an integral impact-drop safety mechanism. The PKM-RAP system can be mounted/dismounted one-handed in less than 3 seconds, and requires no modification to the existing arrangement of the iron sights. If the weapon is being employed only with iron sights and the tactical environment immediately shifts requiring the use of an optical sight, or night vision intensifier, the operator may instantly mount the PKM-RAP system with optics attached in seconds bringing these sighting enhancements immediately into action. After initial installation and zeroing, subsequent removal or re-attachment of the PKM-RAP mount allows immediate return to the combat zero of the attached optics. Conversely, if a RAP-mounted optical sight becomes unusable, the entire RAP mount can be removed in under 3 seconds returning the weapon to full effectiveness using the normal iron sights. The unit is designed to fit all European/ComBloc production variants of the PK/PKM/PKMS weapons made in Russia, Hungary, Poland, Bulgaria, Yugoslavia, Romania, etc., that are factory equipped with the standard rear iron sight base. For more information contact Mounting Solutions Plus, Dept. SAR, P.O. Box 971202, Miami, FL 33157. Phone: (305) 253-8393. Fax: (305) 232-1247. Website: www.mountsplus.com.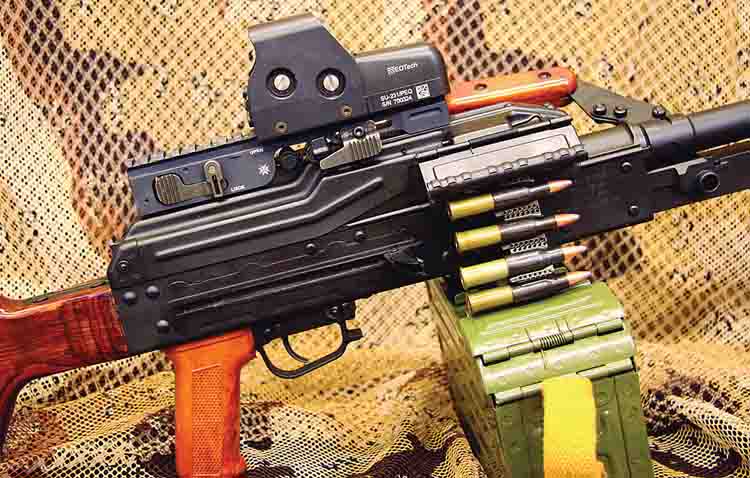 New Shoulder Carry Bags from Disse Gear
Disse Gear, which provides quality bags and shotgun cases, introduces their New Celo 1ed and Celo 2ed shoulder carry bags. Disse Gear bags, using a multi-functional design, offer many opportunities for use from concealed carry to outdoor photography. The Celo 1ed is compact in design, yet large enough to carry the necessities and its counter-part, the Celo 2ed is a full-size carry bag with even greater room to take along the needs of the day. The Celo 1ed Compact and Multi-Functional Carry Bag is rugged in design and comfortable to carry. It offers five zippered pockets and a pouch with a quick release buckle for instant access. The dual zippered-easily accessible pocket measures 8 inches long by 9 inches wide. The additional pockets are well-located for carrying other basic needs such as cell phone, flashlight, or GPS. The Celo 1ed has several rows of extra webbing and two D-rings to allow for the attachment of keys or additional accessories. The ID holder located on the front of the bag allows quick access of your identification without having to reach into the bag. The main compartment is covered with a zippered lid for added protection and measures 7×6.5 inches wide and 4 inches deep giving room for compact binoculars, tape recorders, wallets, etc. The Celo 2ed Full Size and Multi-Functional Carry Bag is an upgrade in size over the Celo 1ed, yet is still compact enough in design to carry comfortably. The Celo 2ed offers four larger zippered pockets, a pouch with a quick release buckle, an adjustable rifle magazine style side pouch and an adjustable top pouch. This multi-functional bag carries a lot of gear with the ability to customize and is built to endure the unexpected conditions of everyday carry. Both the Celo 1ed and Celo 2ed are constructed using UTX buckles, YKK zippers, functional nylon webbing, high strength nylon stitching and rugged 1000D Nylon. You can find out more from Disse Outdoor Gear, Dept. SAR, P.O. Box 6181, Glen Allen, VA 23058. Phone: (888) 854-5605. Website: www.dissegear.com.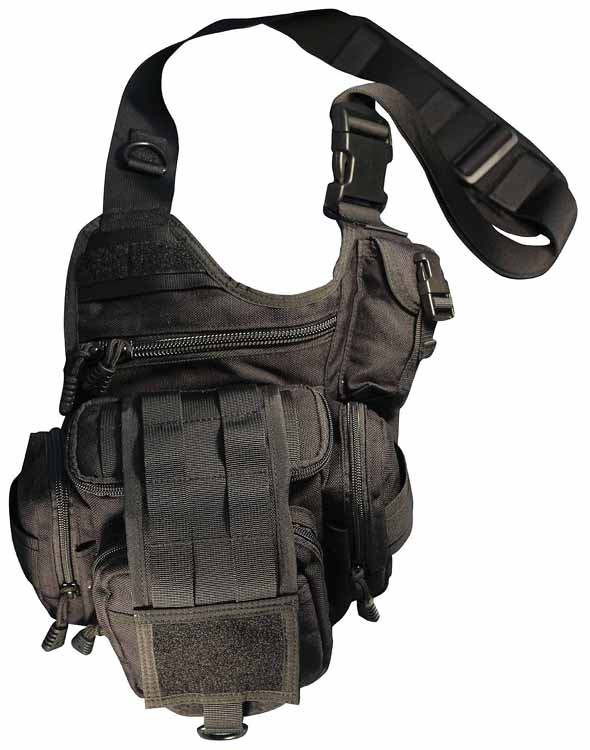 Elzetta Announces New Tactical Strobe Tailcap
Elzetta is pleased to announce their new Tactical Strobe Tailcap, available on new Elzetta ZFL-M60 LED flashlights and also available separately as an upgrade (all Elzetta flashlight components may be purchased individually). Unlike competitive designs, you do not need to know Morse Code to change modes. There are no multiple clicks, no confusing menus, and no precise movements required to change modes. On/Off is achieved with the pushbutton while High/Strobe is selected by rotating the Tailcap (fully clockwise is Constant-On while unscrewing the Tailcap anywhere from a few degrees to a 1/4 rotation engages the strobe feature). This decoupled user interface is simple and intuitive, appropriate for high stress situations. (The user interface is just like our popular High/Low Tailcap only a high-frequency strobe replaces the 'Low' mode.) The Mode can be changed whether the Light is on or off. Also, unlike many competitive units, this High/Strobe Tailcap draws zero current when switched off so it will not drain your batteries when the light is in storage. For more information please contact Elzetta Design LLC, Dept. SAR, P.O. Box 54364, Lexington, KY 40555. Phone: (859) 707-7471. Fax: (859) 918-0465. On the web at www.elzetta.com.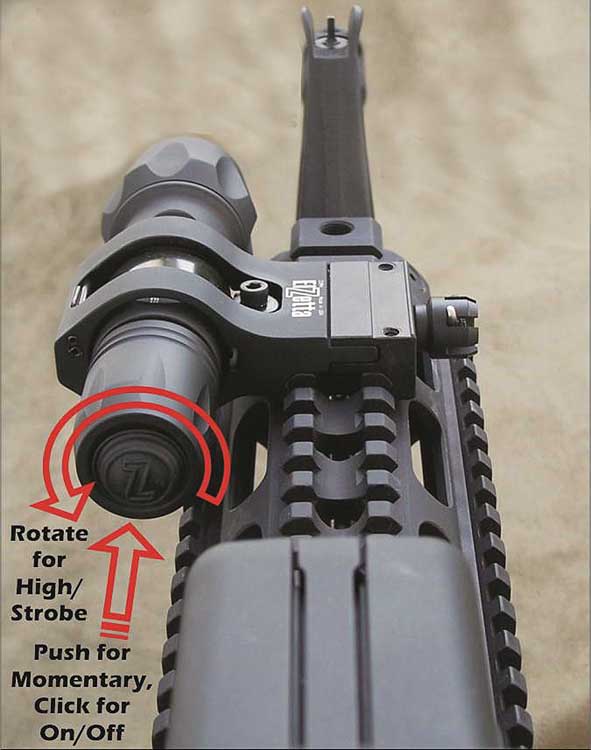 Three New Products from Iron Creations LLC
Iron Creations LLC has three new products of special interest to the 1919A4 belt-fed shooter. The first is their Armorers/Display mount. This can be used either to work on the 1919A4 or just to display it without using a heavy, bulky tripod. It uses a standard .30 cal or .50 cal pintle and pins in place at the rear where the traverse would hook in. The mount comes apart for transport or storage and comes with all hardware except the pintle. It is black anodized and has rubber feet to keep it from sliding or marring surfaces. Next is their 1919A4 buttstock adapter. This is an adapter that allows an AR-15 stock to fit on the 1919A4. The 1919A6 looks cool but are very uncomfortable to shoot. With this adapter you can mount any AR-15 stock and solve the problem. All is does is replace the large screw in the back of the grip buffer tube. Then an AR stock just screws into the adapter. The adapters are made from steel and are parkerized. Finally, the have a 5-round 1919A4 linker. This is a small linker that is hand operated and very simple to use. Just lay in links and ammo, hold the black knob with one hand and push with the other to link 5 rounds at a time. This is an inexpensive way to link just a few at a time, especially in states where only 10 rounds can be link at once. Works with Israeli links and can link .308, .30-06 and 8mm. For more information or to place an order contact Iron Creations LLC, Dept. SAR, 1352 Shawhan Road, Morrow, OH 45152. Phone: (513) 535-4627. Website: www.ironcreationsllc.com.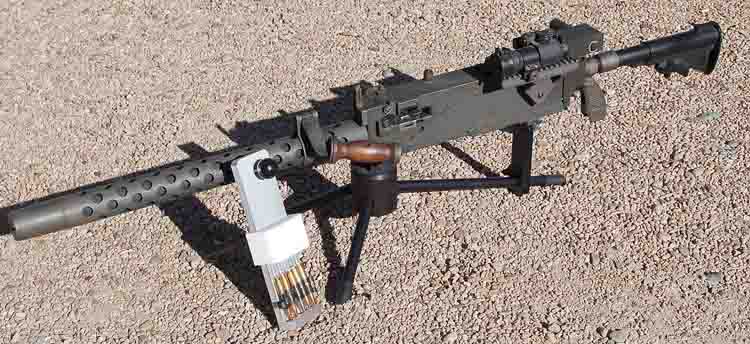 Crimson Trace Announces Mil-Spec Laserguard for H&K 45C
Crimson Trace Corporation, manufacturer of Lasergrips and Laserguard laser-sighting systems and six time Academy of Excellence award winner for innovation, has launched their first product for a Heckler and Koch pistol – the Mil-Spec LG-645 Laserguard. Specifically designed to fit securely around the trigger guard of the HK 45C (compact), this rugged, waterproof compact laser sighting device is instinctively activated by a rubber overmolded switch located directly under the trigger guard on the front-strap of the pistol. This proprietary design assures that when the gun is held in a shooting grip, the laser activates immediately and reliably. Other features include a battery compartment easily accessible on the side of the Laserguard with a lanyard that secures the battery door to the unit at all times. This facilitates changing the battery without having to remove the unit from the gun, if desired. With its waterproof housing and same design characteristics as the IR version carried by the Naval Special Warfare, the LG-645 is a truly unique product. You can contact Crimson Trace Corporation, Dept. SAR, 9780 SW Freeman Drive, Wilsonville, OR 97070. Phone: (800) 442-2406. Fax: (503) 783-5334. On the web at www.crimsontrace.com.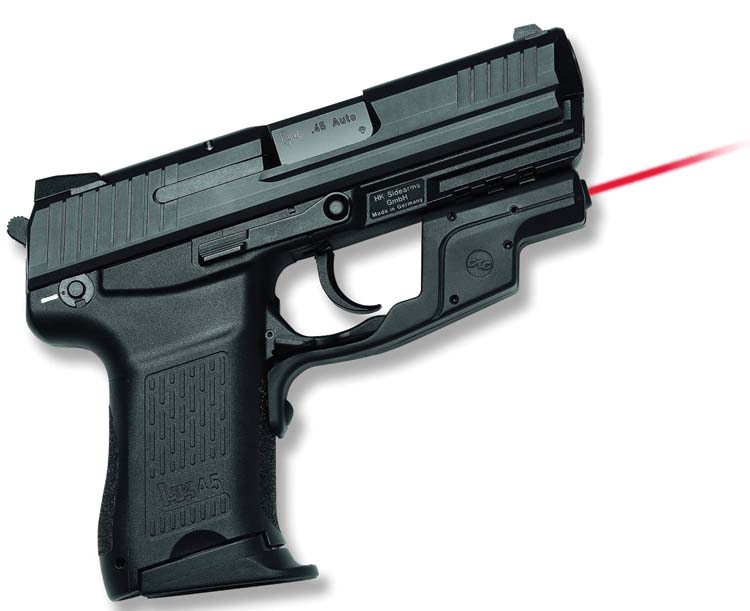 New Bushnell Rangefinding Binoculars
With 15 years of laser rangefinder experience combined with over 60 years of optics ingenuity, Bushnell introduces the new Fusion 1600 ARC range finding binoculars. This device combines quality optics with the latest in laser range finding technology into one easy to carry package. The 10×42 binoculars feature BAK-4 roof prisms, built-in battery life indicator, twist-up eye pieces, and fully multi-coated optics with RainGuard HD coating, fully waterproof and submersible to meet IPX7 waterproof specification. The built in laser rangefinder will measure distances from 10-1,600 yards. It features ARC (Angle Range Compensating) technology, which calculates the angle to the target and gives the "hold over" range for the rifle shooter, and true horizontal distance for bow hunters. There is a brush mode for measuring distances in heavy cover and a bullseye mode for ranging in open areas. An additional key feature in the Fusion 1600 ARC is the Variable Sight-In Distance capability or VSI. In rifle mode, users can select between 100, 150, 200 or 300 yard sight-in distances to accommodate their shooting styles and preferences. They can also choose between inches and MOA for holdover on longer shots. The range of angle measurement is -90 to +90 degrees. The Fusion 1600 ARC laser range finding binoculars includes a battery, neck-strap and carrying case for a suggested price of $899. You can contact Bushnell Corporation, Dept. SAR, 9200 Cody, Overland Park, KS 66214. Phone: (913) 752-3410. Fax: (913) 752-3539. Website: www.bushnell.com.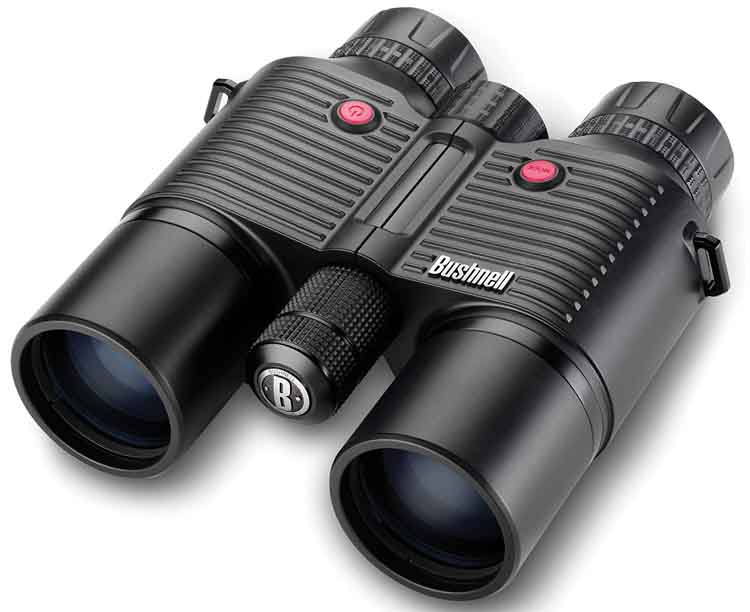 This article first appeared in Small Arms Review V14N6 (March 2011)