SureFire Announces New 60- and 100-Round Magazines
SureFire, LLC, manufacturer of high-end illumination tools and tactical products, is proud to announce the release of its hi-capacity 60- and 100-round (STANAG 4179) aluminum magazines for .223/5.56mm NATO M4/M16/AR-15-style firearms. These new high capacity magazines (HCMs), named the MAG5-60 and MAG5-100, are designed to provide military units with an overwhelming tactical advantage in the delivery of firepower. In battle, it typically takes the average soldier four seconds to reload his weapon and reacquire a target, valuable time that could be spent engaging threat targets. At best, 30-round magazines allow a soldier to fire no more than 150 rounds in 30 seconds. SureFire's 60-round high-cap magazine increases that figure to 240 rounds and its 100-rounder to 293 rounds. Both will support military units planning to incorporate full-auto firepower to more of their operators. SureFire HCMs easily and securely fit into the host weapon, with the bolt closed, when loaded with the maximum round count. The design of the magazine takes into account the allowable tolerances of cartridges manufactured to NATO and SAAMI specifications. A 4×2 quad-stack configuration features a revolutionary internal spring and follower system designed to be more reliable than current standard Mil-Spec USGI 30-round magazines. This proprietary internal design also allows SureFire HCMs to be stored indefinitely while fully loaded, in preparation for deployment, which means individual units can be issued ammo supply crates with pre-loaded magazines instead of empty mags and ammo cans; another potential lifesaving benefit in critical-response situations. The MAG5-60 will fit into most nylon pouches with Velcro cover flaps intended to hold two standard 30-round magazines, but double magazine pouches with stitched partitions may require some alteration. Both the 60- and 100-round HCMs can be disassembled for periodic cleaning or as required. The magazine floor plate can be easily removed from the body using a punch, the tip of a cartridge, or a variety of common tools. MSRP is $129 for the 60-round magazine and $179 for the 100-rounder, with orders expected to begin shipping in March of 2011. For more information you can contact them at SureFire, LLC, Dept. SAR, 18300 Mount Baldy Circle, Fountain Valley, CA 92708. Phone: (800) 828-8809. Fax: (714) 545-9537. Their website is www.surefire.com.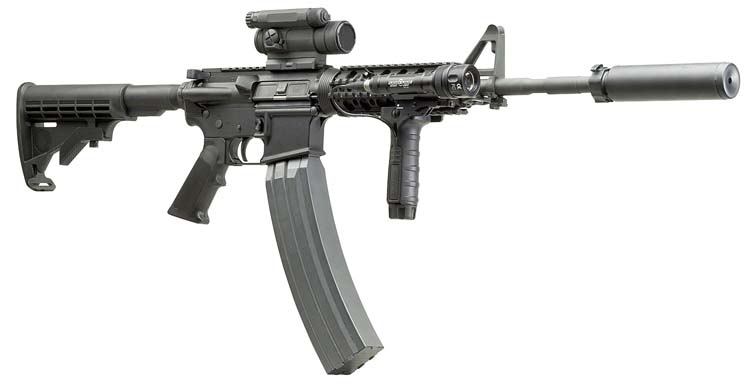 McMillan Introduces the M3A Rifle
McMillan has now expanded its tactical line with the introduction of the McMillan M3A rifle. The M1 platform has seen renewed interest as a close-range to medium range weapon where performance of a .308 Winchester cartridge is preferred, but with the firepower of a semiautomatic action. The McMillan M3A has an 18 inch barrel and utilizes a six-groove rifling with 1×10 right hand twist. The action is Springfield M1A chambered in 7.62mm NATO (.308 Win). The adjustable cheekpiece on the McMillan M3A stock positions the head for an optimum cheek weld. The stock is designed to shoot with a scope as well as iron sights. An optional Picatinny site rail system with 10.75 inch bottom rail and 2×4 inch side rails is available for mounting night vision optics, forward mounted scopes and other accessories. The M3A uses a two stage military trigger set at five to six pounds. One 10-round magazine is included with the rifle. Accessories and upgrades are available, including scope, bipod, cleaning equipment, cases and other options. For more information or to place an order please contact McMillan Firearms Manufacturing, LLC, Dept. SAR, 1638 W. Knudsen Drive, Suite 101, Phoenix, AZ 85027. Phone: (623) 582-0536. Fax: (623) 581-3825. They are on the web at www.mcmillanusa.com.

LaserLyte Subcompact V3 Laser
LaserLyte is now shipping the company's most state-of-the-art, smallest and versatile rail mounted laser to date; the LaserLyte Subcompact V3 laser. Now, half the size of the previous model, the Subcompact V3 needs less than 3/4 inch of Picatinny rail space to easily mount onto even the smallest firearms. Constructed of T6 aluminum for extra strength and durability, this updated unit offers a smart, cost-effective auto-off feature. If left on for five minutes, the unit begins to display a unique flash for one minute, indicating to the user that the unit will automatically shut off soon. After one minute in flash mode the unit shuts itself off to extend battery life, prevent accidental activation and battery depletion. Press the unit's button at any time to reset this feature for five more minutes. The Subcompact V3 easily mounts with a hex drive crossbar screw and features windage adjustment, elevation adjustment and programmable constant on and pulse modes. Additionally, the unit is ideal for left and right handed shooters with two separate activation buttons located on the backside of the laser. Not only will the laser fit nicely on the smallest of sub-compact railed pistols, it works great on modern rifles as well. The Subcompact V3 laser is powered by four 377 batteries that provide five hours in constant on mode and ten hours in pulse mode of normal usage. For more information on this tiny laser please contact LaserLyte, Dept. SAR, 101 Airpark Road, Cottonwood, AZ 83626. Phone: (928) 649-3201. Fax: (928) 649-3970. Website: www.laserlyte.com.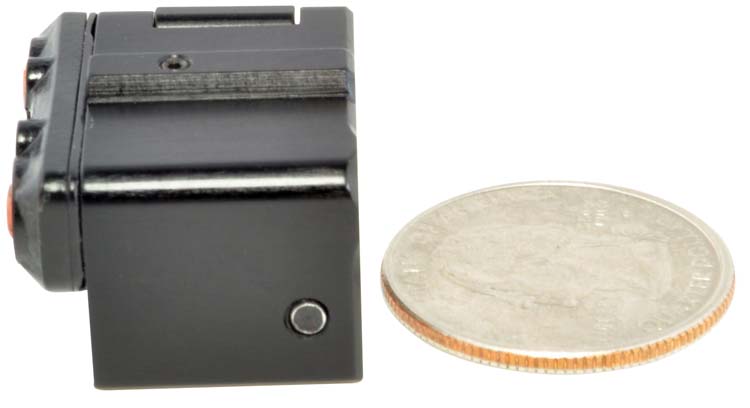 ISSC-Austria Introduces Their New MK22 Rifle
ISSC-Austria, exclusive importer and distributor of the M22 range pistol, proudly announces the introduction of the ISSC Modern Sporting Rifle; the MK22 in .22 LR. This addition to the ISSC-Austria .22 caliber lineup is engineered and precision built in Austria, incorporating the look and feel of a military-style designed rifle with the modern elements of a modern sporting rifle platform. This durable, all-metal rifle gives the shooter a "centerfire" feel even though it is chambered in the economical .22 LR cartridge. The MK22 features include an adjustable, folding open sights, a Picatinny-style quad-rail for mounting of sights, lights or vertical foregrips and a folding, collapsible stock with an adjustable cheekpiece. The MK22 will also come in a version that will meet specs where certain states require fixed, non-folding stocks. Weighing just a little over seven pounds, the MK22 has an overall length of 35.16 inches when the stock is fully extended to 33.7 inches when collapsed. There will be magazines with either 10-shot or 22-shot capacity. MSRP for the new ISSC Modern Sporting Rifle MK22 is $569.95. They can be contacted at ISSC, Dept. SAR, 91 West Main Street, Ware, MA 01082. Phone: (413) 967-3767. They can be reached on the web at www.issc-austria.com.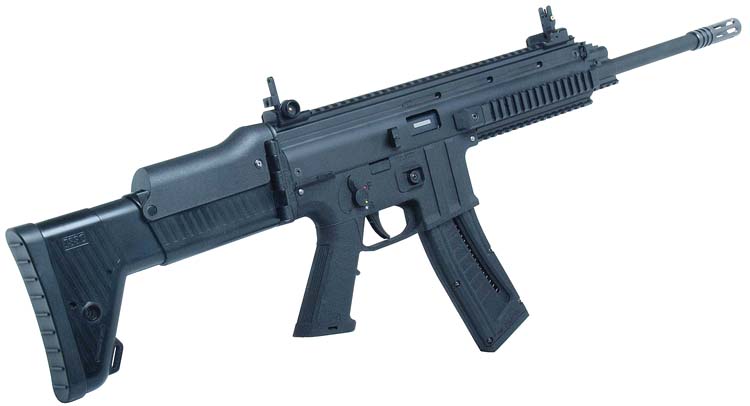 New Rifleman ACH Electronic Hearing Protection from Altus Brands
When it comes to electronic hearing protection/amplification systems, Altus Brands pretty well has it down. Their newest entry is the slim, light weight Rifleman ACH series that offers a high NRR of 21 and a crisp, natural sound quality. The Rifleman ACH is perfect for indoor and outdoor use. Each unit weighs a feather light 8.3 ounces, features a slim, adjustable headband that is easily worn with combat helmets as well as caps and other headgear. The compact unit folds into itself for easy carry and storage. Each cup is also fitted with Receiver/Input capabilities for: AM/FM Radio, CD or MP3 Player, many FRS radios or electronic communication/entertainment devices using a 3.5 mm 'mini jack'. Each cup has its own electronics and accepts two standard AAA batteries. Altus Brands, LLC also owns Pro Ears Electronic Hearing Protection/Amplification products, BenchMaster Rifle Rests, Crossfire Slings, Cass Creek Calls, Bughats, American Bison Leather and Woodland Whisper. You can contact them at Altus Brands, LLC, Dept. SAR, 484 W. Welch Court, Traverse City, MI 49686. Phone: (800) 891-3660. On the web at www.altusbrands.com.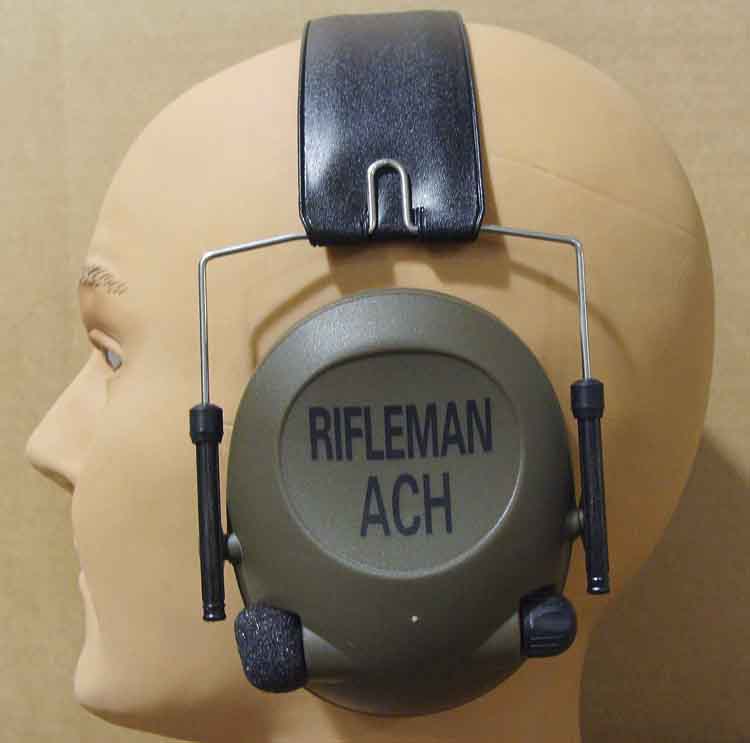 New Scope Mount for 1919 Belt-Feds from KMP Classic Arms
There is a new scope mount that fits the 1919 series of belt-fed machine guns and semi-autos. It is made by KMP (Karma Metal Products) Classic Arms, makers of 1919 and M2 belt-fed parts as well as complete guns for the industry. KMP has long been known for their high quality parts that they manufacturer for semi-auto 1919 and M2 guns, especially for the home builders. Now they have put that expertise to work in a new scope mount. The new mount is all aluminum, can be quickly attached or removed and is reversible. Now 1919 shooters can mount a scope or red dot optic on their guns and really wring out the accuracy of these belt-fed workhorses. For more information please contact Tom Taska at KMP Classic Arms, Dept. SAR, 556 Caldwell Ave., Mansfield, OH 44905. Phone: (419) 524-4371. Fax: (419) 524-4790. Website: www.karmametalproducts.com.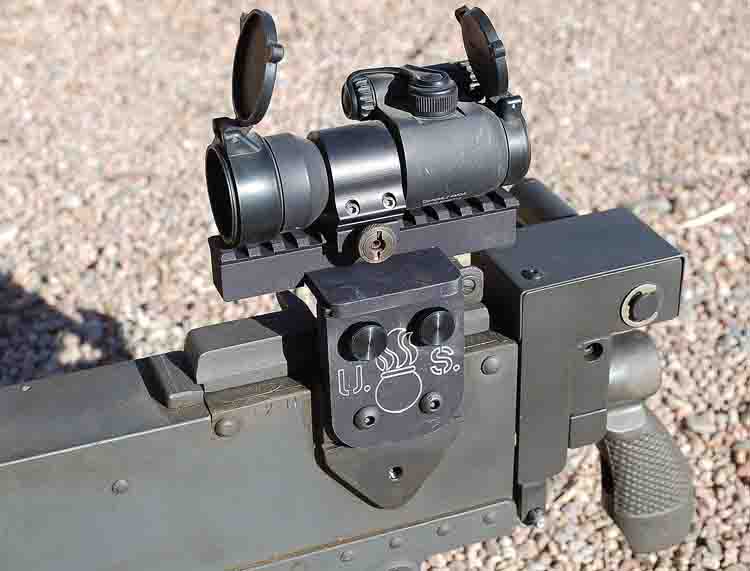 This article first appeared in Small Arms Review V14N7 (April 2011)