New .22 LR AR-15/M16 Conversion

MKS Distributing, distributor for Chiappa Firearms, debuts its M4-22 AR-15 type upper chambered in .22 LR. This high-quality and affordable Chiappa Mil-Spec M4-22 upper now makes it possible for most folks to purchase a .22 Long Rifle caliber conversion for their high-power AR platform (all models of AR-15, M16, and M4s now on the market). The Chiappa M4-22 upper features a Picatinny integral rail upper and the barrel has the same profile of the current military M4 carbine. Chiappa's M4-22 upper is reliable, robust and installs in seconds and you've got yourself a mean looking .22 caliber fun gun. The new conversion has a 16 inch barrel and an overall length of 34.25 inches. This lightweight upper weighs just 3.5 pounds and is shipped with two 28-round magazines. In restricted states the upper comes with two 10-round magazines. One of the best things about the conversion upper is that it has a suggested retail price of just $349. For more information or to place an order please contact MKS, Supply, Inc., Dept. SAR, 8611-A North Dixie Drive, Dayton, OH 45414. Phone: (937) 454-0363. Fax: (937) 454-0503. On the web at www.mkschiappa.com.

Command Arms Introduces New Magazines and M4 Handguards

Command Arms Accessories (CAA)/EMA Tactical is proud to introduce their new and innovative Three Window Magazine. The three built in windows allows the operator to see how many rounds remain in the mag allowing the operator to keep track of his remaining rounds and facilitates timely magazine changes without the operator losing his sight picture. Simply glancing down at the back of the magazine from his cheek weld shows the approximate number of rounds remaining. When the magazine is full the operator will see the brass round casings in the top and middle windows. The (orange) follower will appear in the bottom window indicating a full magazine of 30 rounds. As rounds are fired, the operator glances at the middle window. When the middle window is empty only 19 rounds remain in the magazine. Then the operator glances at the top window. When the top window is empty only 11 rounds remain. This three window system shows that when the middle window is empty the operator has 2/3 or fewer of the rounds remaining and when the top window is empty only 1/3 of the rounds remain in the magazine.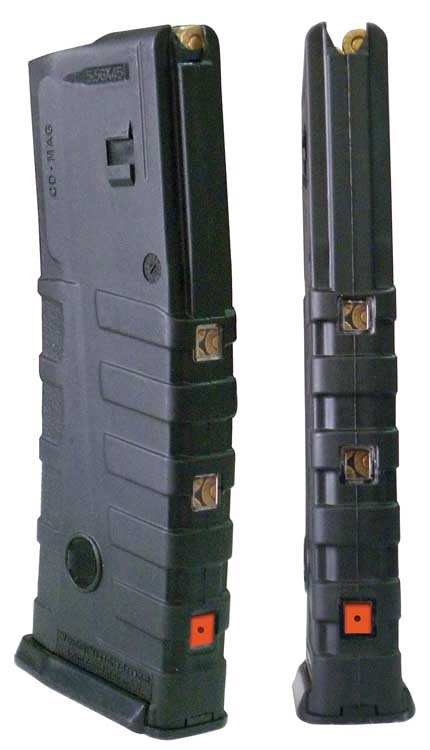 Also new from Command Arms Accessories/EMA Tactical is their M4S1 M16/AR-15 Carbine Handguard System, which sets the standard for a stable and rigid design by combining interlocking top and bottom handguard sections with a bottom rail that can be mounted to the existing sling swivel mount for absolute rigidity. The M4S1 handguard will not move once locked in place providing repeatable zero. This is the first lightweight polymer handguard designed to withstand the extreme operating temperatures of a gas piston system. This extreme heat resistance is achieved by manufacturing the M4S1 from a proprietary heat resistant polymer, including a heat shield and providing significant upper and lower handguard venting in the design. The M4S1 also works with standard direct gas operating systems. The M4S1 includes two interchangeable lower rails of 4- and 1.75-inch lengths. This allows the operator to quickly change rails based on mission need. The two 1.75-inch side rails are removable if not required. Even with the side rails attached there is enough room left on the contoured handguard for your hand to hold it comfortably. An optional 9-inch long aluminum top rail attaches to the handguard and flat top rail providing a super stable platform for mounting optics and sights. The M4S1 also includes two mounting points for a push button quick detach sling swivel. For more information contact Command Arms Accessories/EMA Tactical, Dept. SAR, 1208 Branagan Drive, Tullytown, PA 19007. Phone: (215) 949-9944. Fax: (215) 949-9191. Website: www.ematactical.com.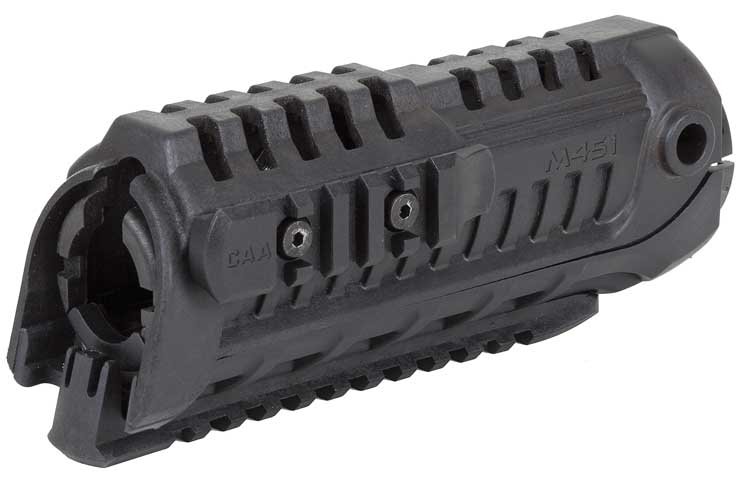 CCI Introduces New Tactical .22 Long Rifle Load for AR Style Rifles

CCI now offers a load specifically for AR-style rifles: new .22 Long Rifle AR-Tactical. These new rounds are built to CCI's high standards. The AR-Tactical bullets offer excellent accuracy – including 1.5 inches at 100 yards for 10-shot groups in factory testing. Testing also was conducted specifically for common law enforcement and military Smith & Wesson M&P 15/22 firearms. This testing confirmed the performance that tactical users require. A CCI case, primer and bullet lube combine with clean-burning powder to provide tactical-grade performance. The 40-grain rounds are a target bullet with a copper-plated round nose (CPRN) for smooth feeding. Tactical shooters can blast through an entire magazine without worrying of a glitch in feeding or on-target performance. A speed of 1,200 fps allows for excellent accuracy with low recoil. The AR-Tactical ammunition is available in 375-count loose packed, re-closeable boxes. For more on this new .22 LR ammunition contact ATK, Dept. SAR, 900 Bob Ehlen Drive, Anoka, MN 55303. Phone: (763) 323-2300. Fax: (763) 323-2506. One the web at www.atk.com.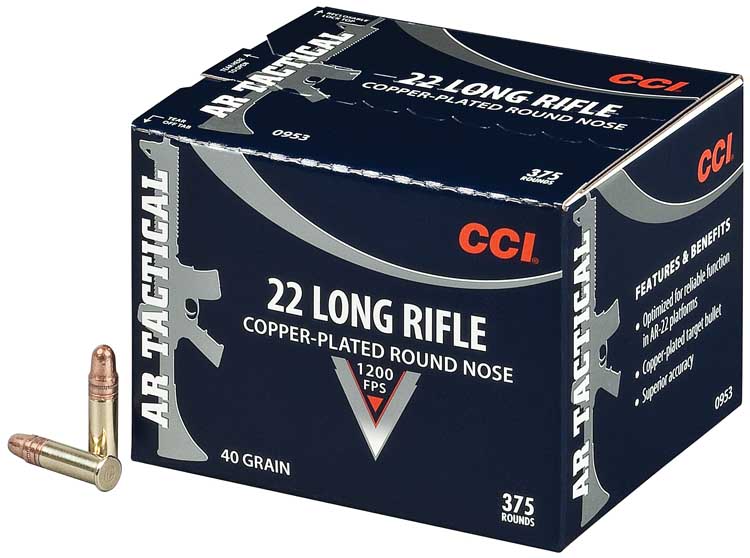 Brownells Announces New AR-15/M16 "Paratrooper" Charging Handle

The Brownells Paratrooper Charging Handle for AR-15s and M16s improves the function of your favorite modern sporting rifle by providing the longest grasping surface on the market today. When you need to use it, the handle's deeply serrated front face ensures non-slip hand contact for positive operation in all conditions. The Paratrooper is an oversized, left-side lever that folds against the receiver to present a slim, no-snag profile during carry or storage. It angles down slightly when retracted, so it won't interfere with a scope or sight mounted on the receiver rail. The handle is 2.5 inches wide when open, and measures just under an inch wide when folded. Made in the U.S., the Paratrooper Charging Handle is machined from billet 7075 T6 aluminum – the same material as USGI receivers – for superb strength and reliability. The hardcoat-anodized finish resists corrosion and surface wear, and the matte-black finish matches most factory receiver finishes. The AR-15/M16 Paratrooper Charging Handle (#080-000-819) is drop-in ready for a Mil-Spec AR-15/M16 upper receiver. There's no gunsmithing required. To learn more about the Paratrooper Charging Handle, you can contact them at Brownells, Dept. SAR, 200 Front Street, Montezuma, IA 501714. Phone: (641) 623-5401. Fax: (641) 623-3896. Website: www.brownells.com.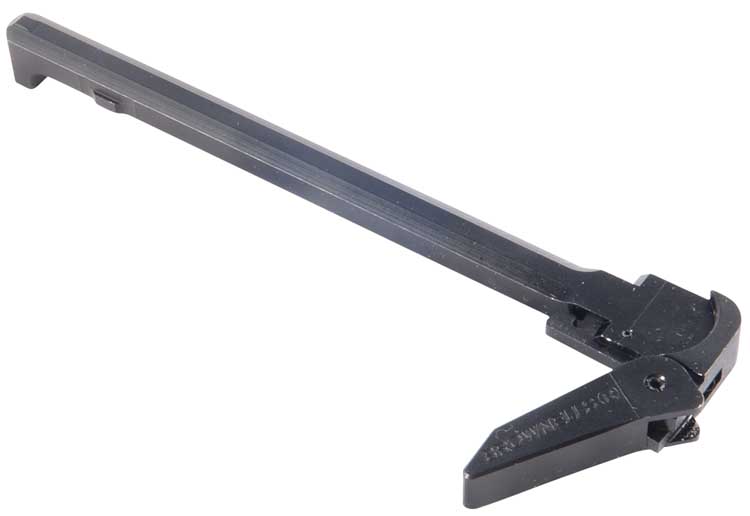 LaserLyte K-15 Kryptonyte Laser Now available in Tan

LaserLyte, the leader in laser technology for the shooting and hunting industry, is proud to introduce its popular K-15 Kryptonyte Laser in tan to match most military rifles. The cutting edge LaserLyte K-15 Kryptonyte is designed for use with the modern rifle, carbine or any weapon with three-inches of Picatinny or weaver type rail. It is constructed of aircraft grade 6061 aluminum with T3 hardness. The entire aluminum body is tan anodized with Level 2 hardness.
The concise laser engraved markings clearly display user-friendly features. The K-15 Kryptonyte is fully adjustable with hex drive screws protected by sealed turret caps. The offset design of the laser aperture allows for more flexible mounting options. The recessed activation selector can be changed to off, constant on and momentary on. The momentary on feature is used with the 10-inch long tape switch that can be mounted with provided Velcro strips. The bright green dot makes target acquisition fast and efficient. The green laser can be seen in daylight up to 100 yards. At night the laser can be seen up to a mile away. Powered by one CR-123 battery, the K-15 Kryptonyte offers 1.5 hours of continuous on. The MSRP is $249.95.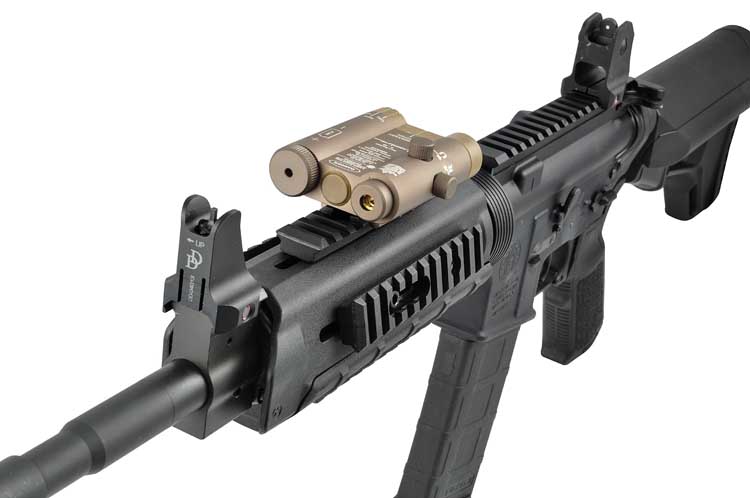 Contact them at LaserLyte,
Dept. SAR,
101 Airpark Road,
Suite C,
Cottonwood, AZ 86326.
Phone: (928) 649-3201.
Fax: (928) 649-3970.
Website: www.laserlyte.com.
This article first appeared in Small Arms Review V15N1 (October 2011)