By Chris Choat
New Combat Bipod from TangoDown/Buffer Technologies
Buffer Technologies, Inc. has announced the new ACB-4 Combat Bipod, from TangoDown LLC, designed for use with the entire AR-type family of weapons. Made of proprietary advanced injection-molded polymers and forged aircraft aluminum components, the TangoDown ACB-4 outperforms all others in design, operation and dependability. "This bipod has the ability to attach directly to any MIL-STD 1913 rail, eliminating the need for expensive adapters." said Rob Parham, Director of Operations at Buffer Technologies. "The integrated design allows it to tuck up between the side and bottom rails of the weapon, allowing a proper handgrip when the bipod legs are stowed." The ACB-4 Bipod also matches function to the design. It has the ability to cant and, more importantly, traverse. This allows accurate, rapid tracking of moving targets. It can also be reverse-mounted for depressed angle fire. The legs are adjustable in length, and the entire unit is silent in operation. There are no exposed springs or screws to catch foliage or webgear. Manufactured by TangoDown LLC and distributed by Buffer Technologies, Inc., the ACB-4 bipod offers the features needed in military and law enforcement field conditions. Buffer Technologies, Inc. is a Missouri-based manufacturer and distributor of tactical weapons accessories for military, law enforcement and shooting sports. Its signature products include patented recoil buffers for most automatic pistols and rifles, the MagCinch dual-magazine system, and TangoDown LLC components for contemporary military assault rifles. For more information, please contact Buffer Technologies, Dept. SAR, P.O. Box 105047, Jefferson City, MO 65110. Phone: (573) 634-8529. Fax: (573) 634-8522. They can be found on the web at www.buffertech.com.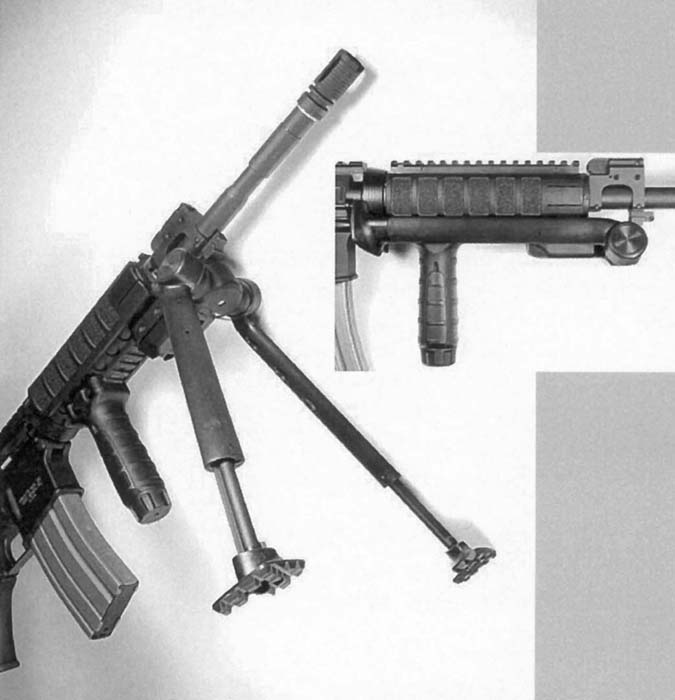 Weapon Solutions Introduces New AR-15/M16 Notch/Peep Sight
Weapon Solutions has now introduced a new co-witness notch/peep rear sight for the AR-15/M16 series of both rifles and pistols. This new sight is the most improved rear sight that can be found for use with today's holographic and red dot sighting systems. Tactical training professionals developed the notch/peep rear sight to avoid the top of the peep from covering up the commonly used red dot type optics during co-witness sighting with the AR-15/M16 rifle. This quality CNC machined 6061 aluminum replacement notch and peep type sight allows the shooter to see the entire sight picture needed to co-witness on a target. This more "open" sighting system allows the shooter to see all of the sights needed during low light and CQB conditions. Several shooting instructors have now favored the use of the notch type sight without optics at all. Elevation does not change when switching from the notch to the peep sight. There is still a "medium" sized opening on the peep half of the sight which works well for both rifles as well as pistols. For more information on the new sight, please contact Weapon Solutions, Dept. SAR, P.O. Box 934, Greencastle, IN 46135. Phone: (765) 720-2102. The sights can also be seen on the web at www.weaponsolutions.com.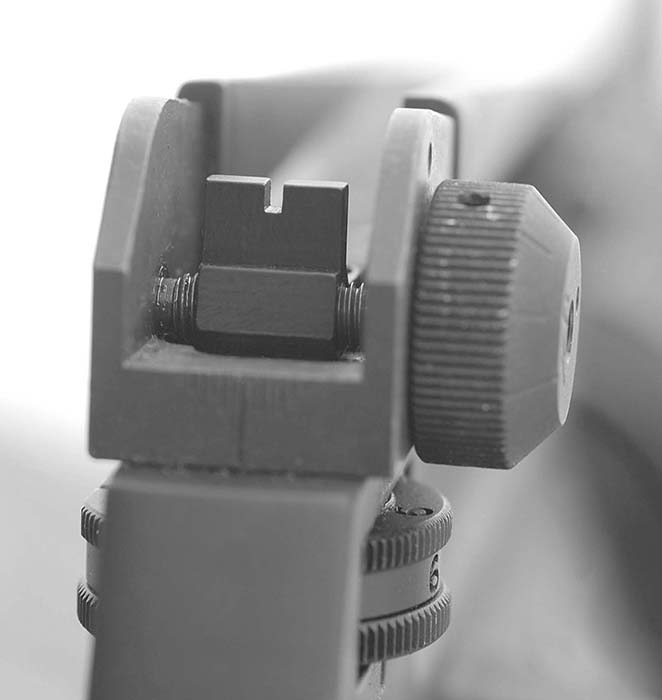 New Modular Gas Block for AR-15/M16 Series Rifles
Brownells has introduced an easy-to-install modular gas block for those seeking to optimize their AR-15/M16 rifles for tactical duty. It is designed to offer additional capacity and placement options for tactical rail-mounted accessories. The Brownells modular gas block features one integrated Picatinny (1913-style) rail, and allows the attachment of up to three additional Picatinny rails, which let you attach lights, back-up sights and a variety of other tactical rail-mounted accessories. Rugged machined aluminum construction and a durable hard coat anodized finish provides superior strength without weighing down the firearm. Three hardened steel set screws quickly anchor the Brownells modular gas block to any standard .750-inch (19mm) AR-15 or M16 barrel. The modular gas block is available alone (stock #080-000-382), or as part of the Brownells modular gas block kit (stock #080-000-384), which in-addition to the modular gas block, also includes three add-on rails. The modular add-on rails are also available separately (stock #080-000-383). Like every item Brownells offers, the modular gas rail block features the company's exclusive 100-percent satisfaction guarantee, which promises a prompt refund of the full purchase price for any product that does not satisfy customer expectations for any reason. For more information, please contact them at Brownells, Dept. SAR, 200 South Front Street, Montezuma, IA 50171. Phone: (641) 623-5401. Fax: (641) 623-3896. You can also visit their website at www.brownells.com.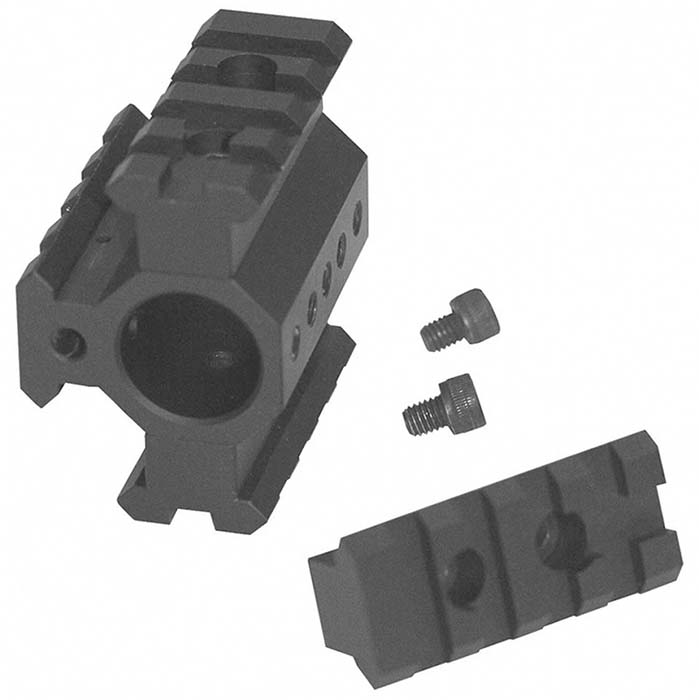 Gun Kote Introduces New One Step Air Cure Firearms Finish
Amateur and professional gunsmiths, law enforcement armorers, or anyone with a workbench or kitchen table, will now be able to add a protective, corrosion-resistant finish to a firearm without any need for ovens or special equipment. KG Industries, manufacturer of the Original Gun Kote, is a leader in the development of innovative protective coatings, lubricants and cleaning solutions for the firearms, aerospace and automotive industries. KG's new 1200 Series Stock-Kote is a single component, water based, polyurethane resin system. Stock-Kote is easy to apply with a simple airbrush and it air dries in just eighty minutes or less at normal room temperature. According to Joe Fazio, president of KG Industries, Stock-Kote is the most unique product on the market. "There are other air cure products on the market, but they're two-part coating systems which are messy and difficult to apply. Stock-Kote was developed in response to the requests we had from our customers who were having trouble achieving nice, smooth finishes. We also know from our extensive testing that Stock-Kote is extremely tough and protects equally well against chemicals, scratching and chipping."
In addition to clear coat, Stock-Kote is available in popular colors, which allows for solid color, multi-color or even custom camouflage color treatments. For more information on this new firearms coating, please contact KG Industries, Dept. SAR, 1670 South Highway 63, Building 63, Hayward, WI 54843. Phone: (800) 348-9558. Fax: (715) 934-3570. Visit them on the world wide web at www.kgcoatings.com.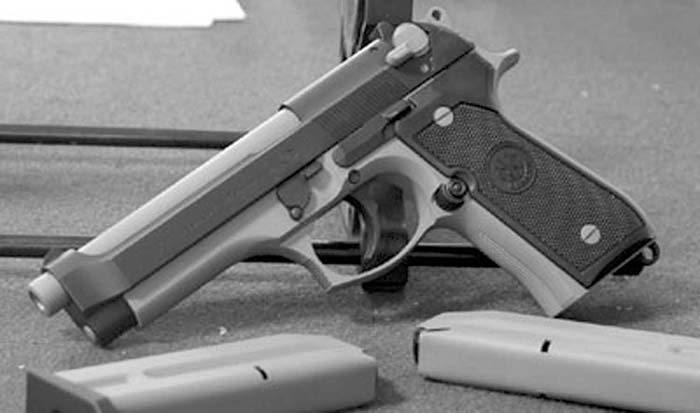 Tru-Spec Introduces New Tactical BDUs
Tru-Spec by Atlanco, one of the leading suppliers of BDUs and other apparel to the law enforcement and military sectors, has introduced a brand new style BDU focused specifically on the requirements of tactical team members. Tru-Spec's innovative new TRU Tactical Response Uniform is based on the ACU recently adopted by the U.S. Army, which is currently available from Tru-Spec. With input from several tactical officers around the country, including members of the Department of Homeland Security's ICE SRT team in San Diego, Tru-Spec has added several proprietary design improvements to its TRU aimed at improving functionality, durability and comfort in the field. Unlike the standard ACU, which is available only in a military digital pattern, Tru-Spec is offering the new TRU in six popular color choices (black, khaki, olive, navy, woodland camo and three-color desert camo) and with several coordinated accessory items including combat caps, matching t-shirts, shoulder conversion kits and name tape kits. All fabrics were developed and manufactured in U.S. government-approved factories and built to withstand battlefield conditions. Some of the exclusive features of the new BDUs include extra deep front trouser pockets, double reinforced front trouser pocket openings to protect the pocket from wear and tear caused by the clip on pocket knives, hidden 5 inch by 5 inch pockets in each side of the trouser cargo pockets, thicker than normal leg drawstrings to ensure they stay tied and 1-inch wide belt loops with 2 1/4 inch openings. For more information on these new BDUs please contact TRU-SPEC by Atlanco, Dept. SAR, 1125 Hayes Industrial Drive, Marietta, GA 30062. Phone: (770) 427-1334. Fax: (770) 427-9011. You can also find their products at www.truspec.com.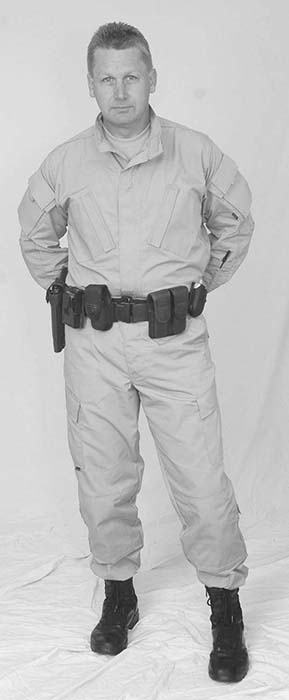 This article first appeared in Small Arms Review V10N1 (October 2006)