By Chris Choat

M2 CORPORATION INTRODUCES THE M16X

According to the M2 Corporation their new M16X is the shortest defensive M16 commercially produced in the world today. The M16X has a sight radius of only 9.25 inches, yet is precise enough to deliver accurate aimed fire within a recommended effective range of 50 yards. With the distinctive M2 design front sight system, targets are easy to acquire, identify and engage. The M16X has more firepower and is more compact than any other submachine gun. It fires standard 5.56 NATO, either M193 or equivalent, at over 1610 fps. Similar to their M16SP, the M16X shares the same technology that allows the M2 family of compact 5.56mm weapons to function reliably-magazine after magazine. When it comes to pure punching power in small packages, there is no substitute. The M16X has it all; concealment, power and accuracy. The M16X has a rate of fire of 650 to 700 rounds per minute. Standard equipment with the M16X includes muzzle caps, cleaning kit, 1 magazine, operators manual, deployment case and a Vortex flash hider. Optional accessories include laser aimers, laser designators, passive aimers, passive night vision aimers, a tactical harness, additional magazines and a bird cage flash hider or Recoil Brake. For more information on the new M16X contact M2 Corporation, Dept. SAR, , P.O. Box 96207, Las Vegas, Nevada 89193-6207. Phone: 1-702-263-4450. Fax: 1-702-263-7875. On the web at www.m2corp.com.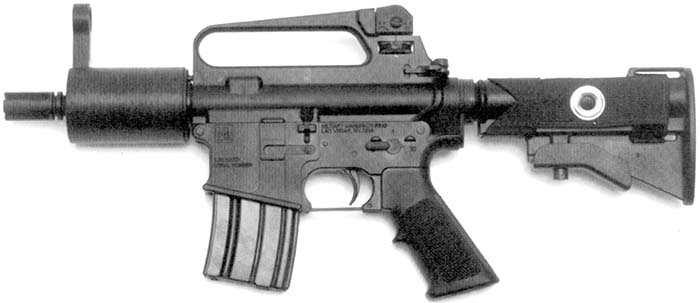 NEW ATV PRODUCTS FROM CDS, INC.

CDS, Inc., has just introduced two new products to add to their long list of outstanding All Terrain Vehicle accessories. The first is their Magnum Cajun Dri-Stor. The Dri-Stor is a huge lockable molded plastic cabinet. It measures 38" long X 16" wide and is 9 3/4" deep. It can be installed on your ATV rack either permanently with the hardware provided or temporarily with the Quick Clip. The Dri-Stor is so durable that it will not chip, crack or peel and is unaffected by temperature changes. The Magnum Dri-Stor provides safe and dry storage for your clothes, camera equipment, electronics, etc. The next new item is their ATV Utility/Gun Rack. At last there is an efficient, non-cumbersome, simply way to carry long objects on your ATV. The Utility/Gun Rack will hold hoes, shovels, string trimmers and similar long items as well as firearms. It is positioned on the ATV just inside the wheelbase so that it will not hand up on passing trees or shrubs. The Utility/Gun Rack is completely adjustable and does not interfere with the operation of the ATV. For more information on these innovative new ATV products contact CDS, Inc., Dept. SAR, , 708 Trenton Street, West Monroe, LA 71291. Phone: 1-800-791-1333. Fax: 1-318-325-0386. On the web at www.cdsatvaccessories.com.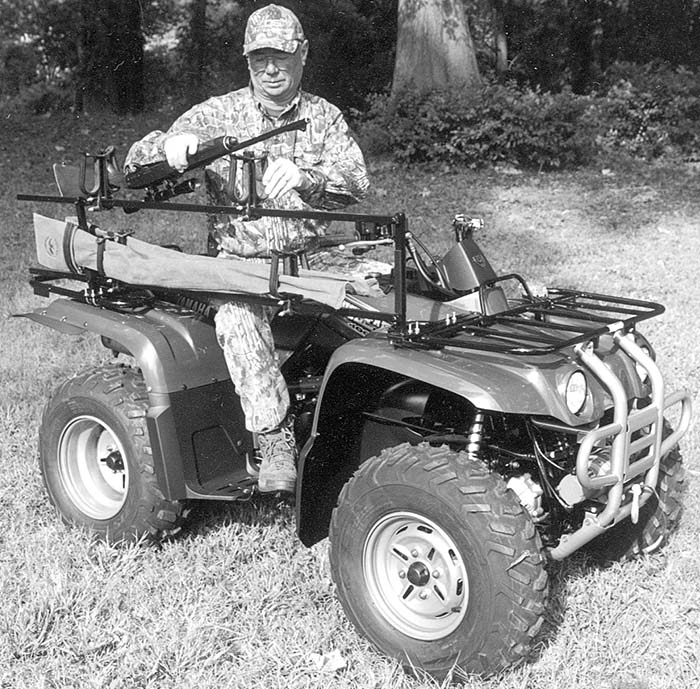 STREAMLIGHT INTRODUCES ULTRASTINGER™ FLASHLIGHT

Streamlight, Inc., a manufacturer of high-intensity flashlights for law enforcement professionals, introduces the UltraStinger™, a light performance rechargeable flashlight. The UltraStinger was designed to more completely meet the needs of the law enforcement market. The UltraStinger™ provides up to 75,000 candlepower, making it the brightest Streamlight flashlight available. At 11 3/4 inches and slightly more than one pound, the UltraStinger combines momentary on/off and a constant on switching to give officers the flexibility to search crime scenes or temporarily inhibit the visibility of suspects. Operational for over on hour of continuous use, the UltraStinger can be recharged up to 1000 times. Built to an unparalleled level of durability, the UltraStinger features a virtually indestructible machined aluminum casing and a polycarbonate lens with scratch-resistant coating. It is also individually serial numbered for positive identification. The UltraStinger, complete with AC/DC recharging capabilities and two charger holders sells for $169.95. It includes a limited lifetime warranty on the battery and charger. An UltraHead Upgrade Kit is available for current Streamlight SuperStinger flashlight owners. The upgrade kit includes an UltraStinger bulb and a reflector/lens assembly that easily retrofits on to existing SuperStinger models. It lists for $34.95. For more information on this and other high intensity light products contact Streamlight, Inc., Dept. SAR, , 1030 West Germantown Pike, Norristown PA 19403-3996. Phone: 1-800-523-7488. Fax: 1-800-220-7007. They can be located on the world wide web at www.streamlight.com.

SPEEDWELL INTRODUCES SLUGMASTER® UNLOADING STATION

Speedwell Division, Rockwood Corporation, the leading provider of targets and range equipment for the law enforcement market, introduces the SlugMaster(r) Unloading Station, a safe and easy way to unload firearms anywhere, from the range and the cell block, to the booking station and the gun storage room. SlugMaster's slip-on collar prevents ejected cartridges from hitting the floor and ricocheting. By design, semi-automatic rounds and 12 gauge 00 buckshot and slugs alike are guided to the inner plate and down to the cartridge containment chamber. Emptying and cleaning the cartridge catch simply requires unscrewing the top of the unit with an allen wrench. Made of precision-welder, high-quality carbon steel, the SlugMaster weights 180 pounds and measures 15 inches in diameter. It stands 40 inches tall. The new unloading station carries a full 20 year warranty. For more information on the SlugMaster, contact Speedwell Division, Rockwood Corporation, Dept. SAR, , 136 Lincoln Boulevard, Middlesex, New Jersey 08846. Phone: 1-800-243-8274. They are on the web at www.speedwell-targets.com.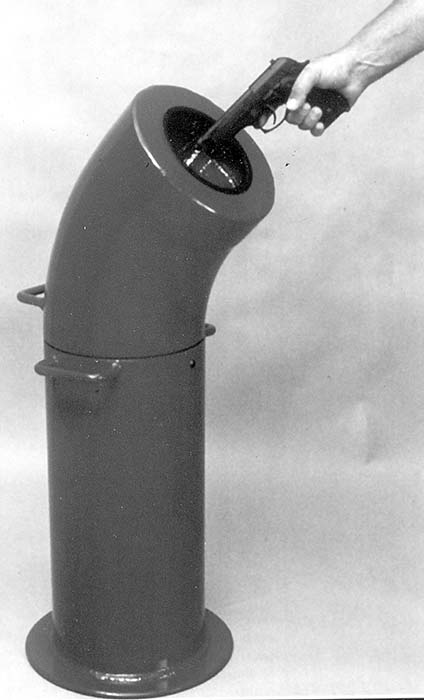 SCOPECOAT® SCOPE COVERS

Just in time for hunting season, Scopecoat® has you covered on more ways than ever. From three sizes in 1994, to twenty-two now. Scopecoat succeeds in meeting your needs by expanding their product line. Scopecoat® protective covers fit a wide range of optics from hunting to military and law enforcement, spotting scopes, Bench Rest, recreational and competition shooters. Scopecoat® also protects electronic and night vision systems such as HOLOSight, SOLOSight II, C-More, ELCAN all Trijicon's ACOG, hunting, military and Reflex Optics. Scopecoat® is based on one premise; the ability to protect your scope completely; not just the lens; protecting from dust, dirt, bumps, dings, scratches and moisture while in your safe, truck, in the field or at the range. Scopecoats® are made from the highest quality Neoprene laminated with nylon. Scopecoat® takes moisture (condensation and sweating) away from your scope. This helps to protect your optics from rust and corrosion. Nylon offers protection from the elements. For more information contact Scopecoat®, Dept. SAR, , 3001 E. Cholla Street, Phoenix, AZ 85028. Phone: 1-602-957-0497. Fax: 1-602-224-9351. They can be found on the web at www.scopecoat.com.
This article first appeared in Small Arms Review V4N7 (April 2001)