By Chris A. Choat

ARMALITE INTRODUCES NEW LINE OF CAMOUFLAGE RIFLES

Armalite, Inc. has now introduced a line of camouflage rifles. Whether you're sliding over a crest to get a closer shot at that prairie dog that avoided you all morning or just sitting quietly in a deer stand, you'll blend into the terrain perfectly with Armalites new line of camouflaged rifles. Two styles of camouflage are available, Realtree Hardwoods® and Advantage Classic©. Realtree Hardwoods is a three-dimensional camouflage with 13 natural colors, realistic leaves and limbs with light to dark contrast allowing the hunter to blend with a variety of habitats. Advantage Classic has detailed leaves and limbs that offer quality concealment up close, and at a distance it breaks up the outline completely. Each rifle is individually processed by experts, real artists, and covers the rifle from end to end for complete concealment. The hardest part about owning one of these rifles will be choosing between the patterns. Why not just buy one of each. For more information on the Armalite Camouflage Rifle contact Armalite, Inc., Dept. SAR, P.O. Box 299, Geneseo, IL 61254. Phone: 1-309-944-6939. Fax: 1-309-944-6949. Their web site is www.armalite.com.

M4 SLING ATTACHING PLATES FROM GG&G.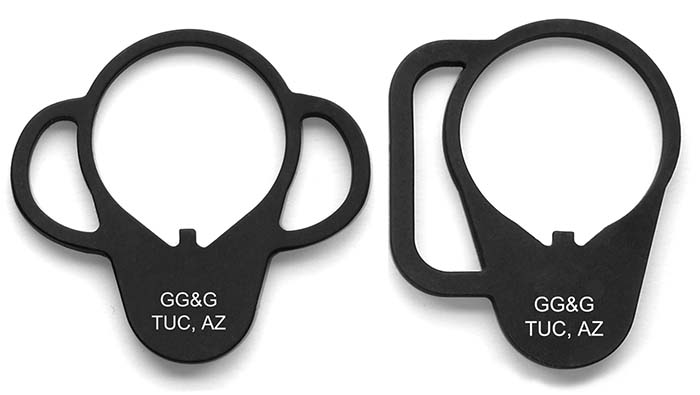 This new product from GG&G allows the user to attach tactical slings to the M4 Carbine in a more versatile and easier to use way. Instead of having to attach the sling to the sliding portion of the collapsible stock on the carbine, these new Sling Attachment Receiver End Plates allow the sling to be attached at a fixed point directly behind the receiver. This is the preferred mounting point for slings of this type. With the sling attached at this point at the rear and at the front sight, the operator can mount the weapon on either the primary or offside shoulder. As a result, during dynamic entries it becomes easier to "slice the pie" at doorways and move around corners, whether they are on the right or left side, without "telegraphing" the operator's presence. All that is required for installation is replacement of the receiver end plate, sometimes called the "egg" because of its shape, with the new Sling Attachment Receiver End Plate. In the past versions of this type of product have been fabricated from flimsy sheet metal stampings or from plastic. Now you can have a high quality, very durable unit that will last forever. These new plates are precisely machined from manganese phosphates 4140 ordnance steel. They can be easily installed by the user. There are two types available. The first one has a rectangular sling slot that will accept sling straps up to 1.5 inches wide. The other features small mounting rings on both sides for the spring loaded attaching hooks like those found on the Chalker Tactical Sling or the Heckler & Koch combat-carry slings. With either type a dual point mount can be used with the weapon's front sling swivel employed as the front mounting point. One significant advantage of the new Sling Attachment Receiver End Plate is that expanding or collapsing the stock does not affect the sling length. For more information on this as well as a wide variety of other firearm related products contact GG&G, Dept. SAR, 3602 East 42nd Stravenue, Tucson, AZ 87513. Phone: 1-520-748-7167. Fax: 1-520-748-7583. Web Site: www.ggaz.com.

NEW M16C RIFLE FROM M2 CORPORATION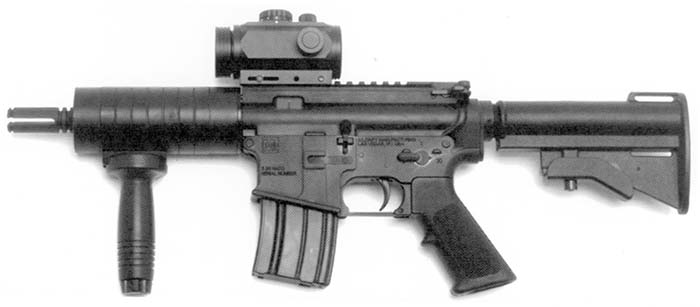 M2 Corporation, long known for their innovative AR-15/M-16 variants, has now introduced another unique rifle. Known as the M16C the new rifle is a different type of security weapon. The ultra small weapon features a 6-inch barrel and a total overall length of just 22 inches with the stock retracted. The M16C also features a flattop design, allowing operators to choose from a wide range of aiming devices. Probably the best type of sight for this type of rifle is a see-through, non-magnifying, red-dot sight, but others can be used as well. One of the special features of the M16C rifle is the removable vertical foregrip, which ensures proper placement of the non-trigger hand. This is a must on weapons of very short barrel length. The M16C rifle is manufactured with a Vortex flash hider which virtually eliminates muzzle flash which can be very dramatic on a 6" barreled .223 weapon. M2 Corporation supplies Cleandraw muzzle covers that can be fired through when the weapon is deployed from its concealed carry position. The new rifle has a muzzle velocity of around 2100 f.p.s. depending on the ammunition used. The rate of fire on full-auto is between 650 and 700 rounds per minute. The M16C ships standard with 10 Cleandraw muzzle caps, 1 magazine, cleaning kit, deployment case and operators manual. Optional accessories include laser aimers, laser designators, night vision optics, tactical harness, additional magazines and several different types of flash hiders. For more information on this rifle as well as other innovative weapons contact M2 Corporation, Dept. SAR, P.O. Box 96207, Las Vegas, NV 89193-6207. Phone: 1-702-263-4450. Fax: 1-702-263-7875. They can be found on the web at www.m2corp.com.
This article first appeared in Small Arms Review V5N7 (April 2002)