By Chris A. Choat
ALLSTEEL SCOUT SCOPE MOUNT FOR AR-15/M-16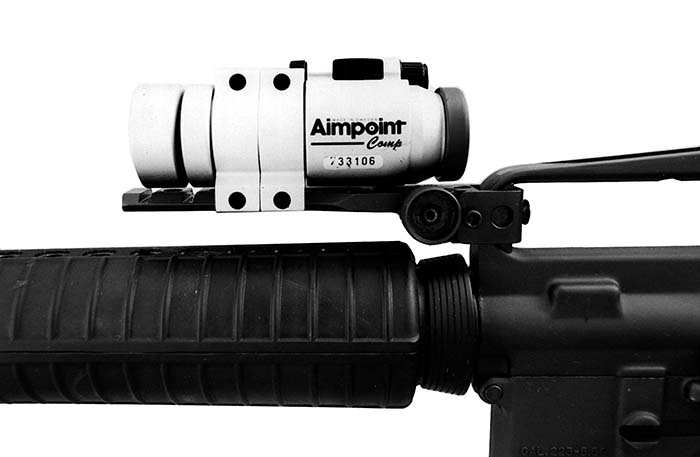 Allsteel Rifle Mounts, Inc. makes a unique, innovative scout mount for the AR-15/M-16 series of rifles. The mount is an extremely strong precision machines two part unit which consists of a base permanently attached to the front of the carryhandle (but removable), and a quick detachable Weaver rail. The height of the optics, mounted to the QD weaver rail, is adjustable and can be set to the position desired by the shooter either directly in the iron sight plane or above. Allsteel makes rails for the Bushnell Holosight, Trigicon Reflex and the C-More. No part of the 4.5 ounce Allsteel Scout Mount attaches to the top part of the carryhandle in the sight channel. Therefore scopes or Night Vision can be mounted on the top of the carryhandle with traditional mounts. The mount can be removed and will return to zero every time. Allsteel also makes target rails for the AR-15/M-16, an H&K Low Rail and an MP-5 Ultra-Low mount. The H&K rails are now available in either fixed or quick detachable. Inquires and orders by mail only. For more info or to place an order contact: Allsteel Rifle Mounts, Inc., Dept. SAR, POB 668, Godfrey, IL 62035.
THE LIQUIDATOR FROM EAGLE INDUSTRIES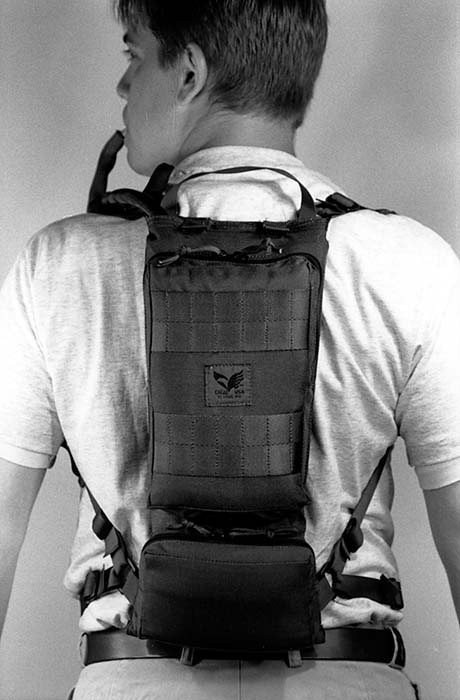 Water at your fingertips! Eagles Industries LIQUIDATOR(tm) series has a product for every situation. The Liquidator(tm) HSC-70 holds 70 oz. of water that you can wear backpack style or it easily fits into packs, bags, or can be attached to the back of a vest. They also make the LIQUA-PAK(tm) which is made from #1000 denier Cordura nylon, uses 1/4" closed cell foam for padding and insulation, and has padded shoulder straps and a waist belt. There is a large outside pouch and has slotted webbing on the outside for slide clips. It comes with a 90 oz. pure urethane bladder with radiused corners so there is no bacteria build-up. The Liqua-Pak(tm)II is the ultimate hydration system and is featured in the photo. It is also made from #1000 denier Cordura nylon, and has two outside zippered pockets. There is CoolMax(tm) on the backside for coolness and comfort and it also has detachable padded shoulder straps and a waist belt. There is a top carry handle and a 90 oz. bladder. All of the hydration systems have a push-pull valve which prevents accidental leaking and a bite valve is also furnished for hands free drinking. For more information contact Eagle Industries, Dept. SAR, 400 Biltmore Drive, Suite 530, Fenton, MO 63026. Phone: 1-314-343-7547. Fax: 1-314-349-0321. You can also visit them on the web at www.eagleindustries.com.
Denver, CO. General Communications. Inc., a leader in International Trade Publications has released it latest web site, "GUNS.COM". The newest site contains the latest technology in all weaponry and accessories. Included are sections which include The Corners (Hunters, Shooters, Gaming, Collectors, Law Enforcement, Sporting Enthusiasts, Militaria, Knives, Paintball, Archery, Air Rifles), What's New (Press Releases, Updates, Changes), Calendar of Events (Shows, Competitions, Seminars, Conferences), Reference Library (Facts and Data, Laws, Specifications and Schematics, Key word and Company Searches), Web Connections (Links), Chat Rooms (Special Interest and General Discussion), The Store (Shops, Free Offers, Magazines and Catalogs), Advertising (Classifieds, Wanted To Buy/Sell, Rentals, Miscellaneous, Display Ads), and Web Services (Hosting, Design, E-Mail, List-Services, Surveys). The official launch was at the 1998 Shot Show. The address, naturally, is GUNS.COM.
RAFTER SEVEN AMMUNITION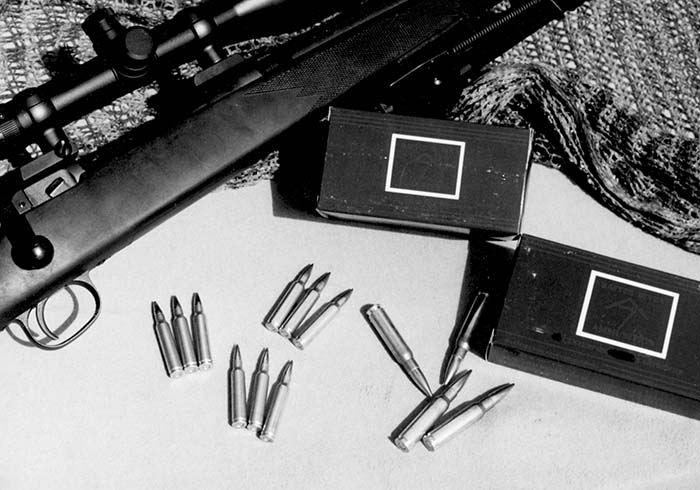 There is now a now source for high quality remanufactured ammunition. The company is called Rafter Seven Ammunition Company and is headed by Lex Bush. Rafter Seven offers the highest quality of ammo and very fast service. The ammo is available in either remanufactured (used high quality brass) or new manufactured using all new brass. Lex offer several loadings in each of the following calibers; .380 auto, 9mm, .38 Super, ..38 Special, .357 Magnum, .40 S&W, 10mm, .44 Magnum, .45 ACP, ..45 Colt, .223 and .308. I have used some of his .223 and .308 ammo in testing and can tell you that it is some of the best I have seen. I have shot some of the tightest groups I have ever fired using his .223 V-Max and his .308, 186 grain Match Hollow Point loads. He also offers the excellent new Hornady .308 A-Max load. For a price list or to place an order contact him at Rafter Seven Ammunition Company, Dept. SAR, 62 South Highway 23, Dighton, KS 67839. You can also contact him by phone at 1-888-397-2519 or fax at 1-316-397-2559. Dealer and volume pricing available.
This article first appeared in Small Arms Review V1N11 (August 1998)