By Chris Choat

FIREARMOUR GUN LOCK COMBINES FIREARM SAFETY AND ACCESSIBILITY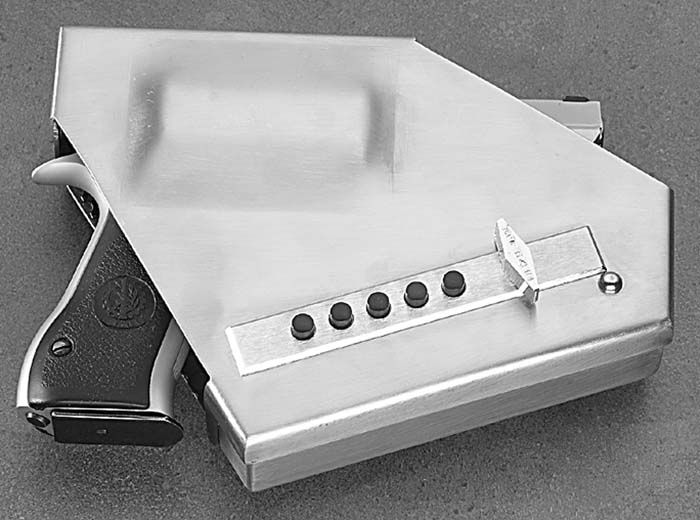 Firearmour Gunlock System, recently introduced by Firearmour LLC, allows gun owners to keep a loaded firearm readily accessible without risk of harm to family members. This combination of accessibility and security, makes the Firearmour Gunlock System the most advanced, versatile gunlocking system available. The Firearmour Gunlock System features high-rise digital buttons that can be easily used in darkness and provide access to a loaded firearm in less than five seconds. Other gunlocking systems require keys or the use of a thumbwheel combination which both require the gunowner to locate a source of light, and generally take a longer amount of time to open. For added security, the mechanical combination of the Firearmour lock can be reset to over one thousand sequences. The Firearmour Gunlock System is constructed of sturdy, tamper-proof, stainless steel. When the lock is closed, a latch moves under the lip of the unit and is completely inaccessible, even with a prying tool. If there is an attempt to pry the lock, the lip is forced down over the locking mechanism, making it impossible to open the latch. One of the unique features of this gunlock is it's pin-lock system. The bottom of the unit is covered with a removable, honeycomb-holed stainless steel plate, allowing the three moveable pins to be adjusted to fit any size firearm, including revolvers, automatics and shotguns. This allows for the lock owner to utilize one lock for a variety of guns. The back of the Firearmour lock features mounting holes that allow the owner to bolt the lock to the floor or a piece of furniture. An optional aircraft cable that enables the lock to be attached to a bed frame or automobile seat to prevent theft, is also available. To purchase a Firearmour Gunlock System, or for more information, including a list of compatible guns, as well as mandatory pin location settings for each type of firearm, contact Firearmour LLC, Dept. SAR, P.O. Box 953, Garden City, KS 67846. Phone: 1-888-486-5625. On the web at www.firearmour.com.

ATV PISTOL HOLSTER AND POUCH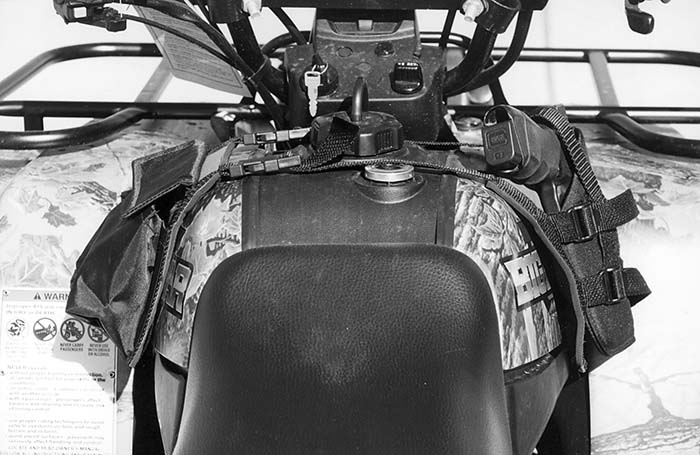 CDS, Inc., announces another innovative ATV accessory, the ATV Pistol Holster and Pouch! Better known in the piney woods of the south as "a place for my snake gun". This ATV Pistol Holster & Pouch is perfect for carrying your sidearm on the ATV and almost any revolver or semi automatic pistol will fit. The ATV Pistol Holster & Pouch makes the gun easily accessible, it is ambidextrous, and a pouch on the opposite side is large enough to carry a full box of 3" shotgun shells, a can of soda, bullets, etc. The ATV Pistol Holster and Pouch securely attaches across the gas tank with adjustable straps and 32 square inches of Velcro. For more information on this and other innovative ATV accessories contact CDS Incorporated, Dept. SAR, 708 Trenton Street, West Monroe, LA 71291. Phone: 1-800-791-1333. Fax: 1-318-325-0386. They can be reached by e-mail at cdsinc@bayou.com.

STREAMLIGHT INTRODUCES NEW PROPOLYMER FLASHLIGHTS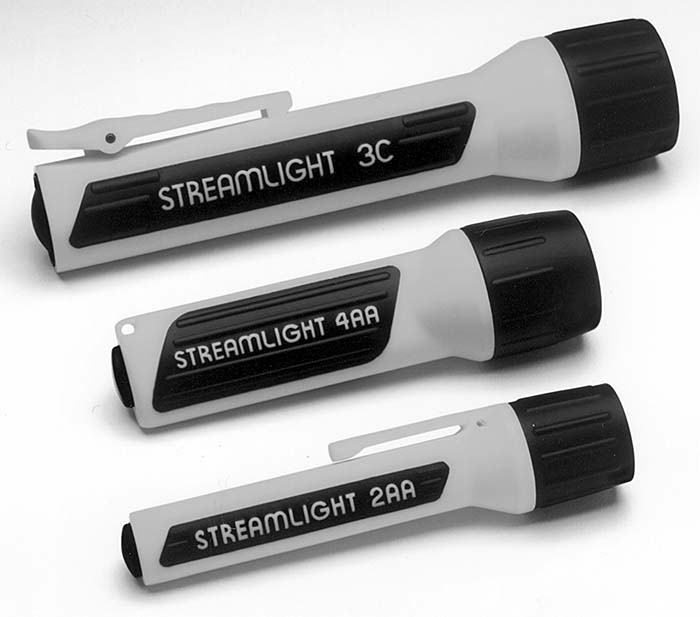 Streamlight, Inc., has announced the introduction of a new series of alkaline battery-powered flashlights which provide extreme durability at a more affordable price. Streamlight's ProPolymer series for outdoor and recreational use features three new flashlights—the Streamlight 3C, 2AA and the 4AA. The new ProPolymer offer a number of features not previously available from flashlight manufacturers in the outdoor and recreational market. Each light features unique dual head and tail on/off switching which allows the user to engage a tail cap button for momentary operation or rotate the bezel for a constant stream of light. Each light in the new ProPolymer series is designed in a virtually indestructible, non-conductive Polymer case. Their soft rubber non-slip grips provide the assurance needed when working in construction environments which could potentially make a light slippery and hard to grasp. Each roll-resistant flashlight has a rubber face cap for impact and shock resistance and an unbreakable polycarbonate lens. Additionally, all three are submersible in water up to 200 feet—making them ideal for diving enthusiasts. The new flashlights use a xenon bi-pin bulb which is many times brighter than conventional bulbs. The Streamlight 3C (8.77 inches long) operates for up to 5.5 continuous hours and has a spring-loaded clip that can be easily attached to clothing. It provides up to 12,000 candlepower of light. The Streamlight 2AA (6.06 inches) operates for up to 4 continuous hours and feature a pocket clip. It provides up to 3,500 candlepower. The Streamlight 4AA (6.38 inches) operates for 4 hours and provides 6,000 candlepower. The Models 2AA and 4AA also offer an optional helmet clamp for mounting on a helmet. All three new lights are available in olive drab, yellow or black and come with a wrist lanyard. For more information contact Streamlight, Inc., Dept. SAR, 1030 West Germantown Pike, Norristown, PA 19403. Phone: 1-800-523-7488. Fax: 1-610-631-0712. On the web at www.streamlight.com.

ADVANCED ARMAMENT INTRODUCES PHANTOM SUPPRESSOR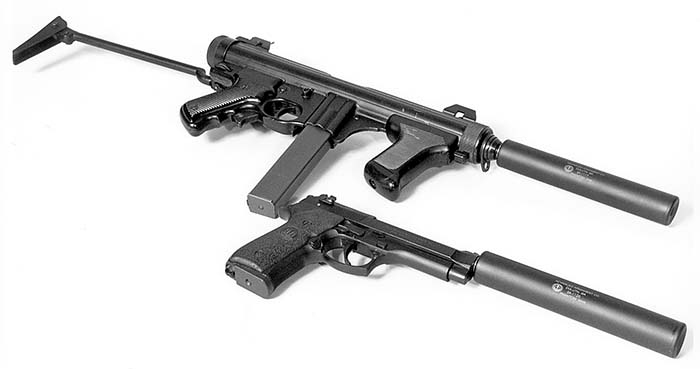 New from Advanced Armament Corporation is the high tech Phantom suppressor. The PHANTOM is a thread-mounted suppressor for 9mm pistols, carbines and submachine guns. Compact and light weight, the PHANTOM is constructed of CNC machined aircraft quality aluminum alloy and stainless steel. The internal components of the PHANTOM are designed to minimize first round pop, and are tuned to provide enough back pressure to cycle a number of popular Browning style semi-automatic pistols without the use of expensive and cumbersome recoil enhancing equipment. Equally suited for sport shooting and tactical applications, the performance of the PHANTOM can be increased by up to 30% by introducing a small amount (approximately 5cc) of water into the rear of the baffle stack. Like all Advanced Armament Corp. suppressors, the PHANTOM features a stainless steel rear mount to prevent excess thread wear common with all-aluminum suppressors. For more information on this and their full line of other suppressors contact Advanced Armament Corporation, Dept. SAR, 221 West Crogan Steet, Lawrenceville, GA 30045. Phone: 1-770-277-4946. Fax: 1-770-963-6556. Their website is www.advanced-armament.com.
This article first appeared in Small Arms Review V3N11 (August 2000)