New Review: December 1998
By Chris A. Choat
GUN-TREE FIREARMS SECURITY RACK
Don S. Graham, inventor and owner of Firearm Security Racks, Inc., has announced the availability of "The Gun-Tree" gun rack for secure storage of handguns in the home. The rack holds up to 3 revolvers or automatics of any size or caliber, providing locked security from theft or access by children. Made of steel, the rack is plasticol coated to protect the finish of guns while being stored. The patented rack is mounted directly to a single wall stud with screws featuring tamper proof screw heads. While providing secure storage, quick access to the guns is available with the removal of the owner supplied padlock, allowing the locking bar to drop downward, giving access to all stored handguns. The narrow profile of the rack allows it to be mounted in a closet behind hanging clothes for additional security. Retail price for the new rack is only $39.95. Firearms Security Racks, Inc., offers cost effective firearm security solutions for both long guns and handguns. For more information contact Don S. Graham, Firearm Security Racks, Inc., Dept. SAR, 13349 CR 1141, Tyler, TX 75709. Phone: 1-903-592-6221. You can also visit them on the web at http://gunracks.tylerrose.com.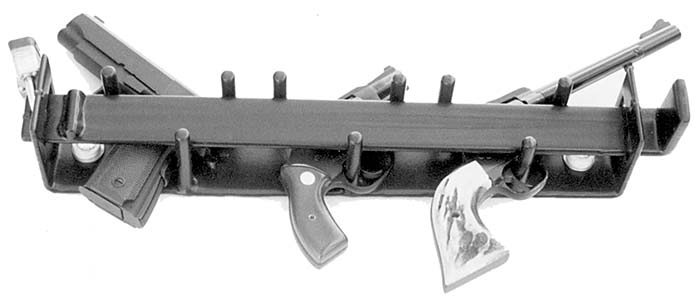 NEW FROM DICK KRAMER STUDIOS, INC.
Dick Kramer, long known for his outstanding, highly detailed drawings of tactical personnel and firearms, has introduced even more fantastic drawings and tee-shirts. Just some of the new drawings include his H&K Series II, additions to his SWAT Series, a new line of Firefighting drawings and the "U.K." Series. These new drawings as well as his existing line of drawings, posters and T-shirts have the same attention to detail that have made his work the leading advertising artwork for most of the heavy hitters in the firearms and related industries. Dick's corporate accounts include Zodiac, Remington, H&K, Smith & Wesson, Camelback, Surefire and Colt, just to name a few. He has now also expanded his line to include military and E.O.D. art. (Editors Note: I have some of Dick's Work hanging in my office and everyone that walks in immediately wants to know where these fantastic drawings came from, the detail is incredible.) For more information contact Dick Kramer Studios, Inc., Dept. SAR, 26 Plaza Street, N.E., Suite E, Leesburg, VA 20176. Phone: 1-703-443-0422. Fax: 1-703-443-0423. Their internet address is www.mnsinc.com/capitol/ .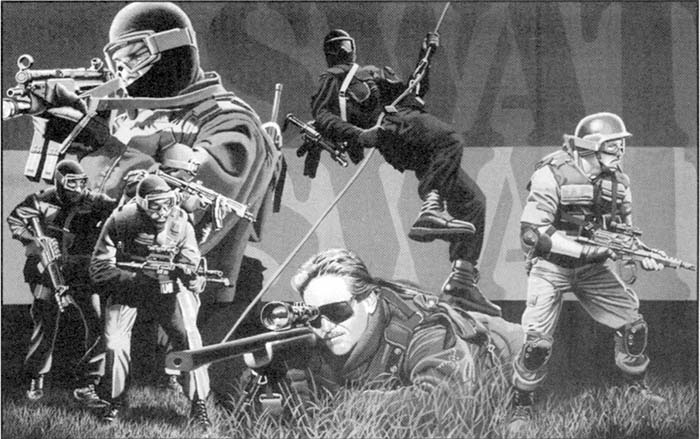 LASER SIGHTING SYSTEM FOR MARK 19/.50 BROWNING MG
If you happen to have a Mark 19 40mm grenade launcher sitting around, or are in a unit that does and you need a sighting system for it, one is now available. B.E. Meyers & Co., Inc. has developed and is now offering a laser sighting system that can be mounted to the Mark 64 Model 5 cradle which can mount either the Mark 19 launcher or the .50 caliber Browning MG. The new system uses two lasers. The long laser on the bottom is a 3 watt infrared laser illumination system that projects a cross hair as well as the scene of targets beyond 5km. At 5km it will illuminate an area 400 X 400 meters and project a cross hair like a giant infrared slide projector. The second smaller laser on the top is a pinpointing laser. It pulses a hot dot at the center of the field and allows an individual soldier to accurately target on any target at ranges beyond the standard range of each weapon. For more information contact B.E. Meyers & Co., Inc., Dept. SAR, 17525 NE 67th Court, Redmond, WA 98052. Phone: 1-425-881-6648. Fax: 1-425-867-1759. They are on the web at www.bemeyers.com.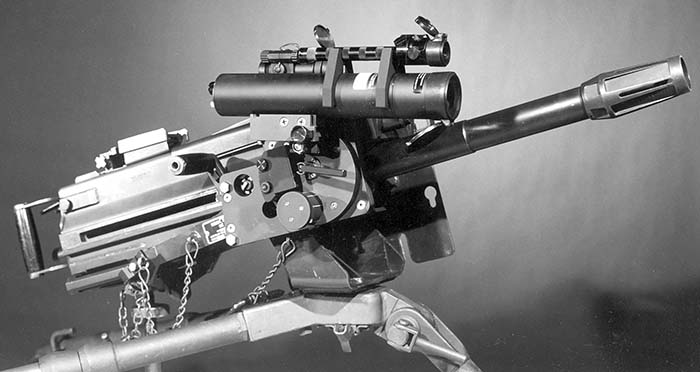 THE LIGHTNING LOADER FROM SALLY SPEEDLOADERS
The Lightning Loader is a great new speed loader for M-16/AR-15 type magazines. Made from a lightweight, very durable injection molded plastic, the new loader offers fast, one-handed loading of AR-15/M-16 type magazines. The loader is very easy to use; After attaching the Lightning Loader to any belt up to 2 inches wide (the loader includes built-in Alice clips), simply slide a loaded stripper clip into the top of the speedloader and attach an empty magazine to the bottom of it. Push the bullets straight down with your thumb in one smooth motion. Repeat this until the magazine is full. When the magazine is full push the release lever on the Lightning Loader and the magazine will fall free into your hand. It's that simple! The whole process takes as few as 5 seconds! Because the speedloader attaches to your belt, it is easily accessible and virtually impossible to lose.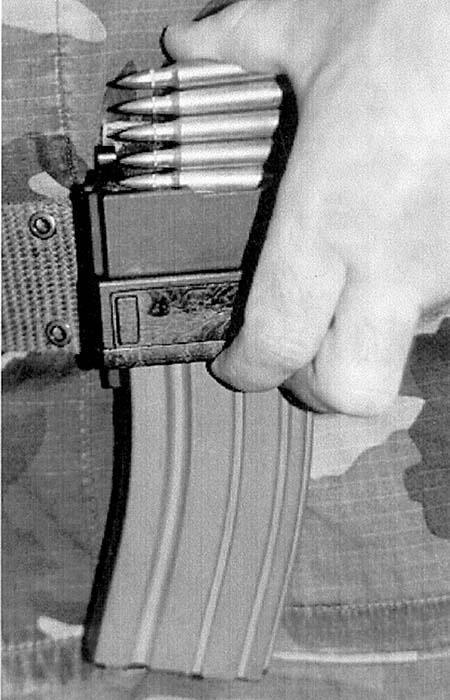 It works with standard military stripper clips and all kinds and sizes of AR-16/M-16 rifle magazines using .223 ammunition. Production will begin in the near future for the Mini-14 and AK-47 Lightning Loaders. The Lightning Loader comes with 2-stripper clips and a handy little tool that allows the user to unload loaded magazines and it also can be used to remove the baseplate from magazines for disassembly. For more information or to place an order contact: Sally Speedloaders, Inc., Dept. SAR, 2344 North Old Bethlehem Pike, Quakertown, PA 18951-3910. Phone: 1-888-773-5637. Fax: 1-215-529-7817. Visit them on the web at www.user1.netcarrier.com/~speed
AIMPOINT "XD" SIGHTS FROM SPRINGFIELD ARMORY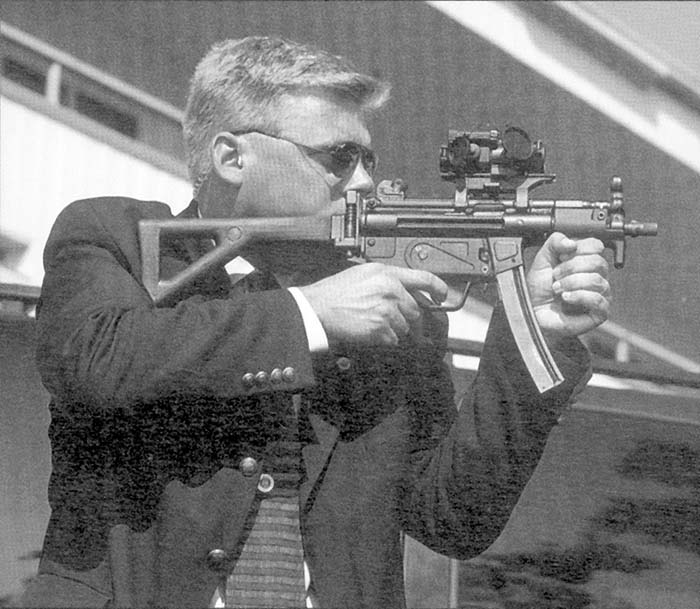 As the recognized leader for red dot sight innovation and performance, Aimpoint now introduces XD technology, a radical advancement in red dot sighting performance. With a 300% brighter dot and 500% longer battery life, Aimpoint XD delivers the brightest dot, at the lowest power consumption, of any red dot sight available. It is now the choice of the U.S. Army and elite forces around the world. Aimpoint's both-eyes-open, heads-up, rapid target acquisition and superior accuracy deliver unmatched precision for a variety of applications. The improved XD models include the 5000XD, 5000XD-2X, CompXD, CompMXD and the CompMLXD. Of special interest to a lot of SAR readers will be the CompMXD and the CompMLXD both with matte black finish, flip-up lens covers and water-proof windage & elevation caps with military style security wires. The CompMXD is also night vision compatible, allowing it to be used with both weapon mounted as well as head-mounted night vision. For more information on these great new optics contact, Aimpoint, Dept. SAR, 420 West Main Street, Geneseo, IL 61254. Phone: 1-309-944-1702. Fax: 1-309-944-3676. On the web at: www.aimpointusa.com .
This article first appeared in Small Arms Review V2N3 (December 1998)