By Chris Choat

SSK INTRODUCES .50 CALIBER PEACEKEEPER AMMUNITION
The .50 Peacekeeper is an exciting new innovation by J.D. Jones that puts 88% of the ballistics of the .50 BMG cartridge in an extremely accurate 13-14 pound 23" barreled long range man portable rifle. It uses any projectile suitable for the .50 BMG cartridge or any .50 (.510) diameter soft point bullet intended for a .50 hunting cartridge. The .50 PEACEKEEPER uses only around 50% of the powder charge of the .50 BMG to give the same bullet 88% of the velocity of the .50 BMG. Equipped with highly efficient muzzle brakes and other recoil reducing devices, felt recoil is substantially less than that of many 30 to 50 pound .50 BMG rifles. Formed cartridge cases, bullets, reloading dies and loaded ammunition are all available through SSK. The new Ed Brown single shot bolt action is one of the preferred actions when coupled with any of a wide variety of stocks. Other suitable actions include the Ruger -77 Magnum or any Weatherby action originally chambered for the .378 or .460 cartridges. SSK Industries manufactures a wide variety of extremely efficient firearms including custom barrels for Contenders, Encores, hunting rifles and highly specialized suppressed tactical firearms. Many utilize the JDJ and WHISPER series of cartridges in addition to around 400 other calibers. For more information contact SSK Industries, Dept. SAR, 590 Woodvue Lane, Wintersville, OH 43953. Phone: 1-740-264-0176. Fax: 1-740-264-2257. Their website is www.sskindustries.com.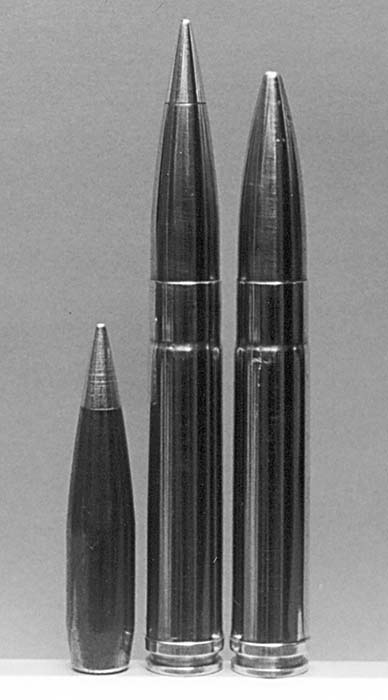 ITC SCOPE COVERS
International Training Concepts (ITC) has just introduced a line of scope covers that not only cover the scope lens, they also cover the whole scope. Scopes come in all sizes and shapes, so why not scope covers? All of ITC's scope covers are made from rugged lightweight nylon for flexibility and just enough closed cell foam padding to protect your valuable optical device. You can choose from any of three models that fit a wide range of optics. The three models include the Adjustable Scope Cover (fits scopes from 10 to 16 inches long), the Mini Scope Cover 1 (for scopes 6 to 8 inches long) and the Mini Scope Cover 2 (for scopes 4 to 6 inches long). Both Mini Scope Covers slip over the optic and are held tight by drawing the cord lock together. A new concept in design is their Adjustable Scope Cover that can be adjusted to fit the larger scopes. This cover is made from two halves that are attached together with Velcro for a perfect fit on several size scopes. These covers look great and best of all they work like they were designed to. For more information on the scope covers and a full line of other innovative marksman accessories contact International Training Concepts, Inc., Dept. DEPT. SAR, , , P.O. Box 69037, Pleasant Ridge, MI 48069-0037. Phone: 1-888-566-4486. Fax: 1-248-544-1622.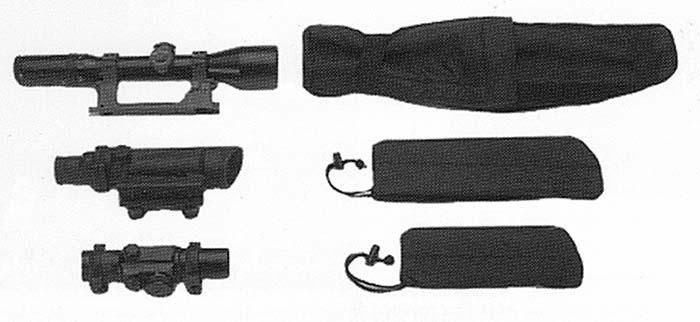 BROWNING INTRODUCES CARBON FIBER TECHNOLOGY TO A-BOLT

New for 2000, Browning has partnered with Christensen Arms to offer carbon fiber barrels on their A-Bolt rifles. This patented technology utilizes a continuously fiber wound band, sealed with epoxy. This material is used in prosthetics, bicycle frames, golf clubs, fishing rods, reinforced concrete joints and foundations and now in barrels for Browning rifles. These strong fibers surround s stainless steel liner sleeve on the new A-Bolt Carbon Fiber Stainless Steel Stalker. It is stronger than steel, 80% lighter and dissipates heat ten times faster. Your quick follow-up shots won't be affected by heat or vibration. It gives you the stiffness and accuracy of a heavy barrel without the added weight. There is less barrel whip and better dimensional stability for a more repeatable point of impact. The new A-Bolt Carbon Fiber Stainless Stalker creates the ultimate rifle for weather resistance, accuracy, light weight and shot-after-shot stability. Two calibers will be available in the A-Bolt Carbon Fiber Stainless Stalker in the year 2000: 22-250 Remington, which will fast become the ultimate long-range varmint rifle, and the 300 Win. Mag., a hard hitting, long-range nail driver. For more information on this new high tech rifle, contact Browning, Dept. DEPT. SAR, , One Browning Place, Morgan Utah 84050. Phone: 1-801-876-2711. They can be reached on the web at www.browning.com.

NIKON ANNOUNCES TITANIUM RIFLESCOPES

Nikon Sport Optics, a company known for optical innovation, has announced the introduction of a revolutionary riflescope line that incorporates titanium, one of the world's strongest metals. The newly introduced Nikon Titanium Riflescope Series utilizes titanium construction of both the ocular and adjustable objective bells, providing excelled strength and protection for these critical lens elements. Initially, the new scope line will be comprised of a 3.3-10X44AO and a 5.5-16.5X44AO, popular magnification ranges for most hunting and varminting applications. Titanium is one of the world's strongest metals. In recent years, it has gained favor in the construction of such durable products as golf club heads, bicycles, firearms and suppressors. Titanium is stronger and lighter than most steels and extremely corrosion resistant. The Nikon Titanium riflescopes feature oversized 44 millimeter objective lenses for maximum light transmission at dawn, dusk or in bad weather. Both utilize adjustable objective lenses (milled from solid titanium bar stock for maximum strength) allowing the shooter to remove parallax at any known range from 50 yards to infinity. Each model is compatible with Nikon's accessory sunshade as well. Nikon Titanium riflescopes incorporate Nikon's exclusive, 1/4 MOA handturn windage and elevation adjustments. These precise, steel-on-brass adjustments are both tactile and audible, allowing quick, accurate sight adjustments in the field or at the bench. Both models utilize Ultra ClearCoat(r) anti-reflective lens coatings and absolute internal blackening for 95% light transmission, true color rendition, and fine detail resolution. Oxygen purged, nitrogen filled, O-ring sealed construction provides complete waterproof, shockproof and fogproof performance, allowing use in all weather conditions and climates. The new Titanium scopes are covered by Nikon's exclusive Lifetime Limited Warranty. For more information contact Nikon Sport Optics, DEPT. DEPT. SAR, , 1300 Walt Whitman Road, Melville, NY 11747-3064 or call 1-800-247-3464. On the web at www.nikonusa.com.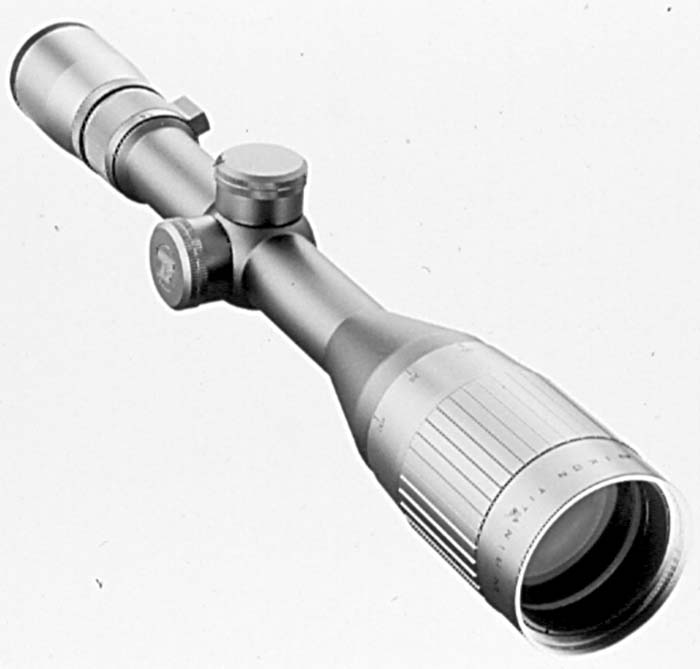 LIQUID GUNSMITH™

A new complete one step gun care product has been developed by SEAL-LOCK International. Glenside, PA. Called "S.L.I. LIQUID GUNSMITH", this new product is covered by a money back guarantee to out-perform any other gun care product on the market. LIQUID GUNSMITH is a 100% pure synthetic compound that is far superior to ordinary petroleum based lubricants and solvents. Since it can't freeze to minus 100 degrees F. and resists temperatures to plus 500 degrees F., it is virtually indestructible. In just one application, LIQUID GUNSMITH removes rust, carbon, grease, lead and brass contamination. At the same time, it penetrates metal surfaces to thoroughly lubricate all moving parts and free up actions. The superior lubricating property of Liquid Gunsmith prevents jamming, especially in semi and full automatic firearms. Liquid Gunsmith is non-oily, virtually odorless and will not stain clothing or attract lint and dust. Once applied to a blued surface, it positively prevents fingerprints as well as salt water and black powder corrosion. It also enhances the appearance of chrome and nickel-plated surfaces. Liquid Gunsmith is a superior black powder solvent and patch lubricant and improves the accuracy of all black powder weapons by dramatically reducing friction. It is also ideal for lubricating and protecting antique firearms and for restoring and protecting wood grips and stocks. Reloaders report that it is also an excellent resizing lubricant. For more information contact, Seal-Lock International, DEPT. DEPT. SAR, , P.O. Box 625, Dresher, PA 19025-0625. Phone: 1-215-643-8200. Fax: 1-215-643-8203.
This article first appeared in Small Arms Review V4N3 (December 2000)