By Chris Choat

UNDER FOREARM INTEGRATED RAIL FROM GG&G

If you have an AR-15/M-16 type rifle or the very popular H&K MP5 submachine gun you can now add a vertical forearm, special optics or other accessories to an under forearm rail very simply and very economically. GG&G, one of the world's acknowledged leaders in the design and manufacture of law enforcement and military optical mounting systems, has just introduced the new Under Forearm Integrated Rail (UFIR) for both of the aforementioned firearms. The new relatively inexpensive rail permits instant installation or removal of a number of different accessories to the bottom of the AR-15, M-16, H&K 94 or H&K MP5. GG&G's new UFIR can easily be installed onto the underside of the host weapons forearm using simple hand tools. All of the parts required are supplied by GG&G. The UFIR is manufactured from 6061 T aluminum alloy and is hard-coat anodized flat black per Milspec. The rails are cut to Mil-Std-1913 specifications. Best of all the retail price is only $40.00. For more information on this as well as all of the other innovative accessories from GG&G contact them at GG&G, Dept. SAR, 3602 East 42nd Stravenue, Tucson, Arizona 85713. Phone: 1-520-748-7167. Fax: 1-520-748-7583. They can be found on the web at www.gggaz.com.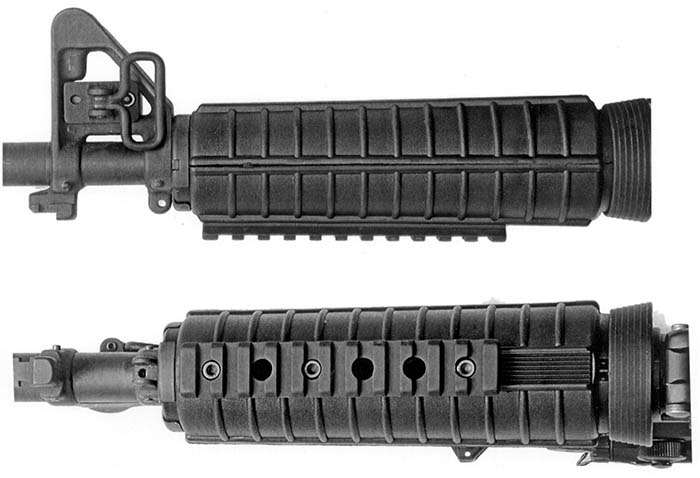 ARMALITE, INC. INTRODUCES NEW AR-180B RIFLE

Armalite, Inc., has just introduced the new AR-180B™ which boasts a combination of the best features of the famed AR-180™ with the best features of the Armalites® latest M15™ rifles. The lower receiver is made of steel reinforced polymer and is stronger than the sheet metal receiver of its predecessors. The AR-180B™ lowers employ most of the parts of the M15™ receiver group. Best of all, the new AR-180B™ uses standard M-16 type magazines and triggers. Like the earlier rifles, the receiver is formed of sheet metal and features the famed AR-180 gas system to keep operating gasses and fouling out of the receiver. The upper and lower receiver groups interchange with those of the earlier rifles. First generation AR-180 rifles may therefore be repaired by replacing the appropriate half. The barrel is chrome moly steel and features an integral muzzle break and Armalite's exclusive adjustable front sight base. The AR-180B has been subjected to a 6000 round endurance test during development and passed without a single rifle malfunction. Naturally the rifle is chambered in .223 and weighs 6 pounds unloaded. Metal parts on the rifle are manganese phosphate finished much like the finish on the original rifles. The new rifle comes with 1-10 round magazine and carries a 1 year warranty. The new rifles will have an introductory retail price of just $590.00. For more information on these great new rifles contact Armalite, Inc., Dept. SAR, P.O. Box 299, Geneseo, IL 61254. Phone: 1-309-944-6939. Fax: 1-309-944-6949. Their web address is www.armalite.com.


NEW SECOND GENERATION NIGHTSTALKER® "SO SMART™ LASER SIGHT

Wilcox Industries Corp. Has announced the release of its advanced Second Generation Night Stalker "SO Smart" laser Sighting Module. The NightStalker "SO Smart" Laser Module utilizes a microcontroller, "computer system on a chip"' to provide extensive features not available on other products of its kind such as: eight preprogrammed user selectable blink rates and battery remain time indicator both displayed on a patented LCD (Liquid Crystal Display). The eight preprogrammed blink rates were incorporated to meet consistent requests from Law Enforcement and Military for a simple method to differentiate among team member lasers. The commercial customer enjoys the ability to select a steady on or several different time pulsing blink rates for user preference rather than have the manufacturer dictate one due to design constraints. This is all accomplished with one rotary selector switch for mode selection and one button for different blink rates, if desired. The new NightStalker "SO Smart" Laser Sighting Module is available in Visible Laser, Visible Laser/Infrared laser/Infrared Illuminator and Infrared Laser/Infrared Illuminator configurations. The true strength of the system is the modular design. The NightStalker "SO Smart" Laser Sighting Module and Nightstalker "Beamer" Tactical Flashlight work together via wireless communication or separately. Both the "SO Smart" Laser Sighting Module and "Beamer" Tactical Flashlight fit together or can be used separately with Wilcox's extensive and growing list of "Sight and Forget" mounts. The "Sight and Forget" mounts are affixed and boresighted to the weapon (pistol, carbine, rifle or launcher). The "SO Smart" Laser Lighting Module and/or "Beamer" Tactical Flashlight can be transferred from one weapon platform to another through the use of the quick release levers. This provides significant versatility over the approach of a dedicated laser or tactical flashlight and a more cost effective and simpler solution. The NightStalker line is made from high impact composite material, corrosion resistant, waterproof and built to last. For more information contact Wilcox Industries Corp., Dept. SAR, Pease International Tradeport, 53 Durham Street, Portsmouth, NH 03801. Phone: 1-603-431-1331. Fax: 1-603-431-1221. Their website is www.wilcoxind.com.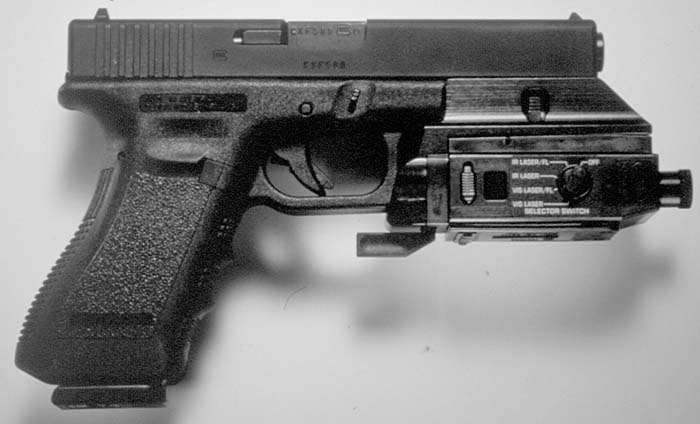 BLACK HILLS AMMUNITION ADDS NEW .45 ACP LOADING

The .45 ACP has long been accepted by armed professionals as the king of defensive handgun calibers, providing excellent results due to its large diameter, heavy bullets. Many police agencies, desiring increased stopping power, have switched to the .45 ACP. Black Hills Ammunition now has a powerful new load to further increase the effectiveness of the .45. Their new .45 ACP, 230 Grain JHP + P. The new Black Hills load propels a 230 grain Hornady XTP Hollow Point at 950 feet per second. This powerful new load develops 460 ft lbs of energy. This new loading should make for an excellent load for .45 caliber submachine guns as well as handguns and rifles chambered for this potent caliber. For more information contact Black Hills Ammunition, Dept. SAR, P.O. Box 3090, Rapid City, SD 57709. Phone: 1-605-348-5150. Fax: 1-605-348-9827.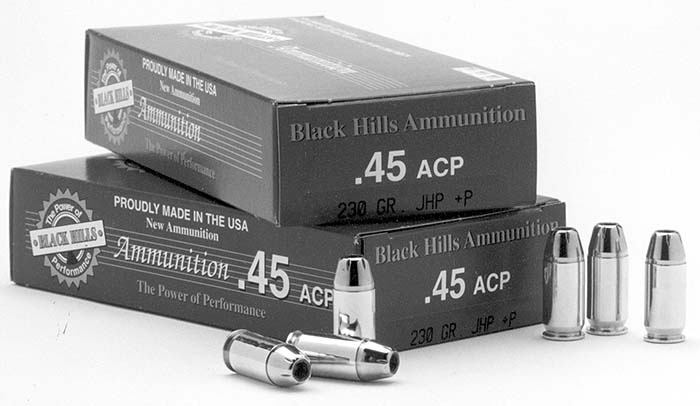 AR-15/M-16 OVERSIZED SAFETY SELECTOR SWITCH

Defense Procurement Manufacturing Services Inc., (DPMS) has just introduced a must have accessory for most AR-15/M-16 users. It's an oversized safety selector switch. The oversized safety selector switch is an extended selector, which is precision-machined from 8620 steel and ground to tight tolerances. The oversized pad makes switching the selector easier, without removing your finger from the trigger or turning your hand. The new oversized selector switch retails for just $29.95. For more information or to place an order contact DPMS, Dept. SAR, 13983 Industry Ave., Becker, MN 55308. Phone: 1-612-261-5600. Fax: 1-612-261-5599. They are on the web at www.dpmsinc.com.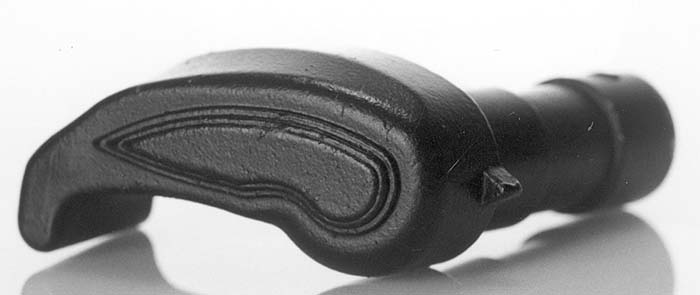 This article first appeared in Small Arms Review V5N3 (December 2001)