by Chris choat
TWENTY-ONE DAYS TO BAGHDAD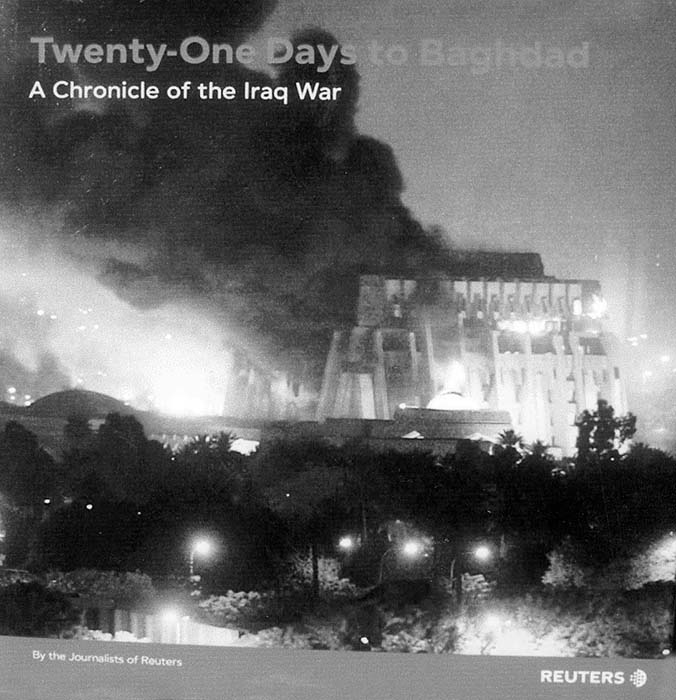 Reuters, the global information company, provides a historic and invaluable account of how the recent war against Saddam Hussein unfolded in its latest book Twenty-One Days to Baghdad: A Chronicle of the Iraq War. Twenty-One Days to Baghdad is an illustrated record in which Reuters award-winning photographers paint a unique and unbiased picture of the military campaign. Vivid text that draws on Reuters correspondents' first-hand account of the fall of Saddam's regime and precision graphics complete a compelling narrative of the conflict. The books adopts a day-by-day approach, with a gallery of more than one hundred pictures that take the reader from the decks of American aircraft carriers in the Gulf to the heat of battle in the Iraqi desert and finally to the streets of Baghdad and Saddam's collapse. The images capture the raw emotions of war – moments of pain, anguish, courage and compassion. Reuters complete and authoritative perspective comes from its team of more than 150 multimedia journalists, many of them with several decades of experience in the Gulf region, who covered the Iraqi war. Some were embedded with the US and British forces, while others worked from strategic locations within Iraq and its surrounding countries. Twenty-One Days to Baghdad: A Chronicle of the Iraq War is priced at $29.95. It is available online and at major bookstores nationwide. For more information, visit www.reuters.com/books or www.phptr.com.
PREDATOR FREE-FLOATING RAIL SYSTEM FOR THE AR-15/M-16 RIFLE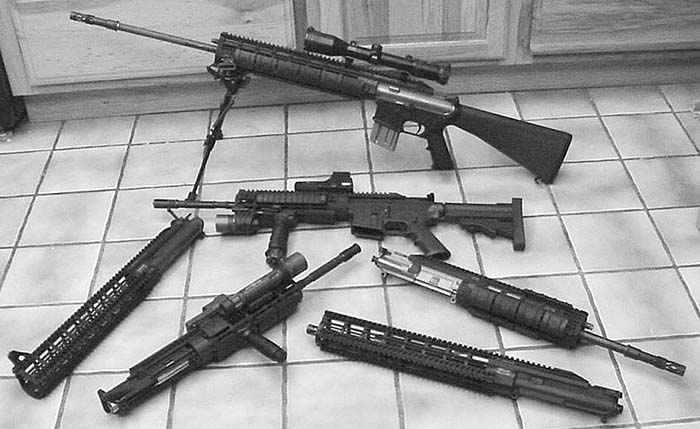 A new rail system has just been introduced for the AR-15/M16 series of rifles. Called the "Predator," the new rail system is said to be the most advanced Picatinny design on the market today. The Predator design is lighter in weight than the MIL-STD-1913 rail. It also has two to three times more surface area than the standard MIL-STD-1913 rail, which translates to better dissipation of heat. As it is mil-spec, all accessories currently available today will mount to this system. The Predator rail is designed to have excellent air flow even when hand guard protectors are used. The Predator has internal as well as external mounting points and the design allows attachment mounts to be smaller and lighter in weight. It also is based on the single part construction method as opposed to other systems that are pieced together. The Predator tactical hand guard is designed to accept suppressed barrels. The new system is made from aircraft grade 6061-T6 with a black finish that matches most AR finishes. The Predator attaches easily and uses no Loctite® so it can just as easily be removed. The Predator system is also designed for use on future weapons systems such as the XM8 weapon, which will use the 6 o'clock rail to mount a grenade launcher. Versions for both rifles and carbines are available. For more information on this innovative new rail system please contact Frank L. DeSomma, President, POF-USA, Dept. SAR; phone: 1-623-561-9572; fax: 1-623-321-1680; website: http://www.pof-usa.com/.; email:sales@POF-USA.com.
NEW TRIDENT KNIVES FROM CQB PRODUCTS INC.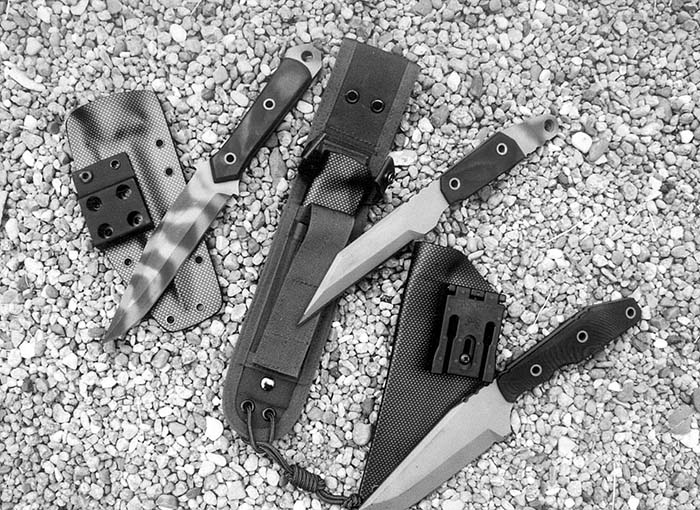 Trident Knives are true combat tools. Each knife is designed in consultation with recognized knife combat experts. Made from CPM S30V steel, Trident knives are unparalleled. Basically, the "Next Generation" of blade metals, S30V steel is formed via a proprietary CPM (Crucible Particle Metallurgy) process. Molten steel alloys are forced through a high-pressure nozzle, which forms the steel into micro "droplets." These "droplets" form a powder, which is then compressed and forged under high pressure and temperature into solid steel ingots. The resulting steel alloy is a homogeneous, fine-grained microstructure with uniformly dispersed vanadium carbides. CPM S30V is more corrosion resistant, stronger, holds a sharper edge and is more resistant to chipping or breaking than 440C, ATS 34, or D2 tool steel. All this technology makes for a knife that is nearly indestructible. If fact they have a lifetime warranty. There are several models of Trident knives available and CQB Products will also customize a knife to the customers specifications. Several finishes are available including Anti-Reflective Grey, TiN Black, Polished Tri-Camo and Dual Camo. Different handle materials include G-10, Micarta, Nylon Wrap and others. For more information on these fantastic knives please contact John Woo at CQB Products, Inc., Dept. SAR, 136Newport Ave., Suite 8330, Tustin, GA 92780-7815; phone or fax: 1-714-731-9706; website: www.cqbproducts.com.
LEUPOLD INTRODUCES NEW TACTICAL SPOTTING SCOPE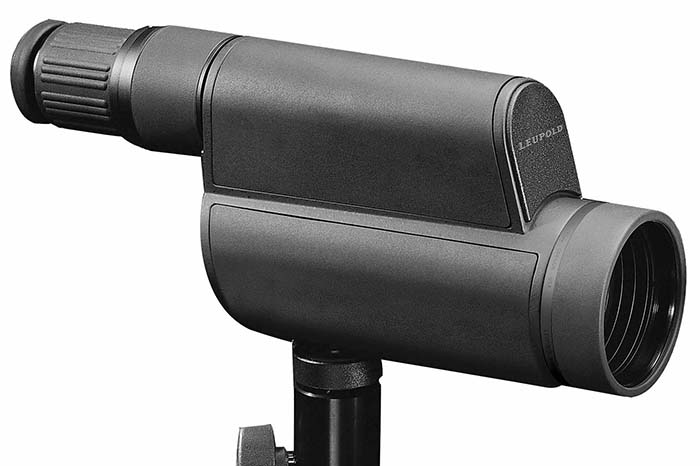 Leupold's® new 12-40x60mm Tactical spotting scope offers a special package of features designed to help military and law enforcement sniper teams operate with peak efficiency in even the most difficult conditions. The team must be able to see and act in unison – two must see as one according to Leupold's law enforcement and military specialists. The new tactical spotting scope has the variable power and optical properties that allow a spotter to work as one with the shooter. It is also important to note that this scope is constructed for reliable performance in any situation. The 12-40x60mm Tactical spotting scope features the new Leupold Mil Dot "round dot" reticle. Designed to help the US Marine Corps estimate distances, the Mil Dot reticle is now standard for all military branches. With its range-estimating function in the spotting scope, the Mil Dot "round dot" reticle assists in tactical cooperation with the shooter. The user can estimate range at any of the spotting scope's power settings. Leupold's folded light path technology allows high magnification in a lightweight, compact package. The tactical spotting scope weighs 37 ounces (1,049 grams) and is 12.4 inches (31.5 centimeters) long. Although sized for portability, the spotting scope is built to withstand the most difficult field conditions. It is nitrogen-filled and sealed with Leupold's own proven sealing technology for total waterproof integrity. Armor-coating provides the additional protection needed for rugged field use. Other key features include Multicoat 4® lens coatings to ensure exceptional light transmission, brightness, clarity and contrast at all magnifications, even in poor light, full black matte finish is non-reflective to maximize concealment potential, universal 1/4-20 thread tripod attachment and a soft-side case comes standard with the tactical spotting scope. Form-fitting and fully-padded, the case is designed to allow easy access to all critical parts of the spotting scope, even during use. A detachable shoulder strap enhances ease of transportation. As with all Leupold products, the new 12-40x60mm Tactical spotting scope is made in the U.S.A. and backed by Leupold's Full Lifetime Guarantee. For more information contact Leupold & Stevens, Inc., Dept. SAR, P.O. Box 688, Beaverton, OR 97075-0688; phone: 1-503-526-1400; fax: 1-503-526-1475; website: http:///www.leuplod.com.
MIDWAY INTRODUCES NEW SHOOTING & RELOADING MASTER CATALOG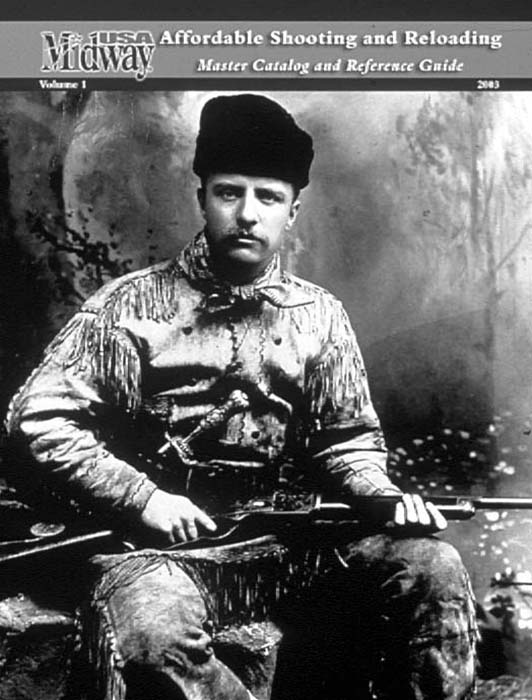 MidwayUSA, the nation's largest supplier of shooting and reloading supplies, recently announced the release of the first edition of the Affordable Shooting and Reloading Master Catalog and Reference Guide. Filled with thousands of items for everyone from the casual shooter to the professional gunsmith, the new 436-page catalog also features handy reference material and technical articles by some of the top writers in the shooting sports. The MidwayUSA master catalog will be published on an annual basis and should be a great addition to every sportsman's library. For more information contact MidwayUSA, Dept. SAR, 5875 W. Van Horn Road, Columbia, MO 65203; phone: 1-573-445-6363; fax: 1-573-445-3182; website: www.midwayusa.com.
This article first appeared in Small Arms Review V7N3 (December 2003)