By Chris Choat

COMPACT .50 CALIBER RIFLE FROM ANZIO IRONWORKS CORP.

Anzio Ironworks has just introduced their new compact .50 caliber single shot rifle. The new rifle is so compact that it can actually be stored and transported in a briefcase! The rifle is a quick take-down type but is very strong and also very accurate. The receiver is made from ETD 150 chrome-moly steel. It features a 17 inch Badger barrel as standard equipment but the rifle can be ordered with any length barrel. The 17 inch barrel is the only one that will allow the gun to be fitted into a briefcase. The barrels are 1 in 15 twist, cut rifled and hand lapped. The overall length of the assembled rifle is just 37 inches but in can be broken down to fit in a standard briefcase in less than 30 seconds. Other features of the Takedown .50 include a picatinny rail for mounting the users choice of optics, a Versa-Pod bipod and a fully adjustable trigger which can be adjusted down to around 2 lbs. One novel feature of the new rifle is the way it is cocked. The front of the pistol/trigger guard is merely rotated forward after the gun is loaded to cock it. The rifle weights 23.5 pounds without the bipod and comes standard with a blued finish. A baked-on moly-coat finish is available as an option as is a Haliburton briefcase and longer length barrels. The manufacturer guarantees that the new rifles will shoot under 1.5 moa out to 1000 yards. For more information contact Mike Remo at Anzio Ironworks Corp., Dept. SAR, 1905 16th Street, St. Petersburg, FL 33704. Phone: 1-717-895-2019. Fax: 1-727-827-4728. They are on the web at www. anzioironworks.com.

GG&G INTRODUCES WEAPON MOUNTS FOR THE M-3 LIGHT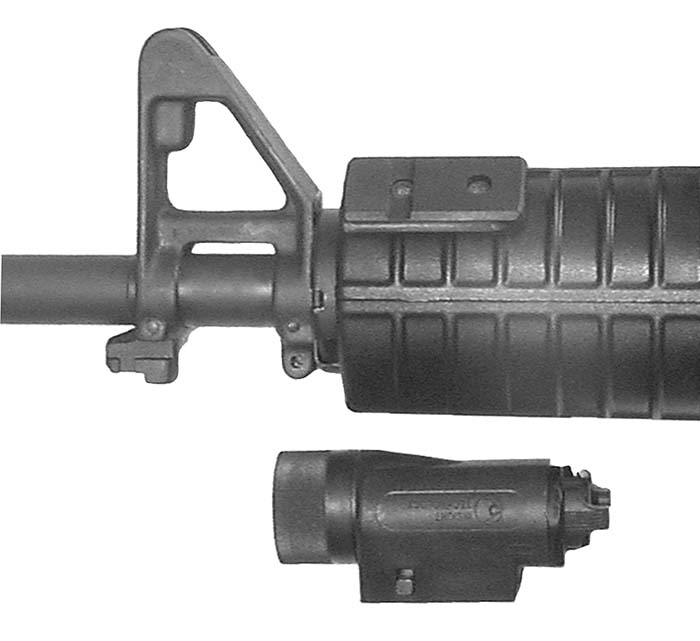 The Insight Technology M-3 light has proven itself to be one of the finest weapon mounted lights around. Its light weight, powerfully bright light and rugged construction make it the light of choice for demanding professionals. The M-3 light was originally designed to interface only with handguns, such as the Glock. Now GG&G have introduced a series of M-3 mounts for several firearms. The first is a mounting rail for the Colt M-16/AR-15 series of rifles. The rail can be installed by the operator with basic hand tools or it can be purchased from GG&G already installed on a new set of standard M16A2 or M-4 handguards. This mounting rail retails for just $25.00. Next is GG&G's M-3 rail for dovetail installation on such systems as the Knight Armament Company's "RIS" or "RAS" M-4 forearms or the D.S. Arms rail units for the FN FAL series of rifles. This unit will also fit on standard "Weaver" type dovetails. The cost of this unit is $36.00. GG&G also manufactures two universal adapter rails for the M-3 Tactical Illuminator. The 1/2 inch concave (on the bottom surface of the mount) version will fit a wide range of firearms, such as the Benelli shotgun. The 3/4 inch convex model can also be used on a wide range of weapons including the Remington 870 shotgun. Both of these mounts sell for just $26.00 each. For more information on these or any of GG&G's wide range of mounts contact GG&G, Dept. SAR, 3602 East 42nd Stravenue, Tucson, AZ 85713. Phone: 1-520-748-7167. Fax: 1-520-748-7583. Their website is www.gggaz.com.

WINCHESTER LAUNCHES NEW WEBSITE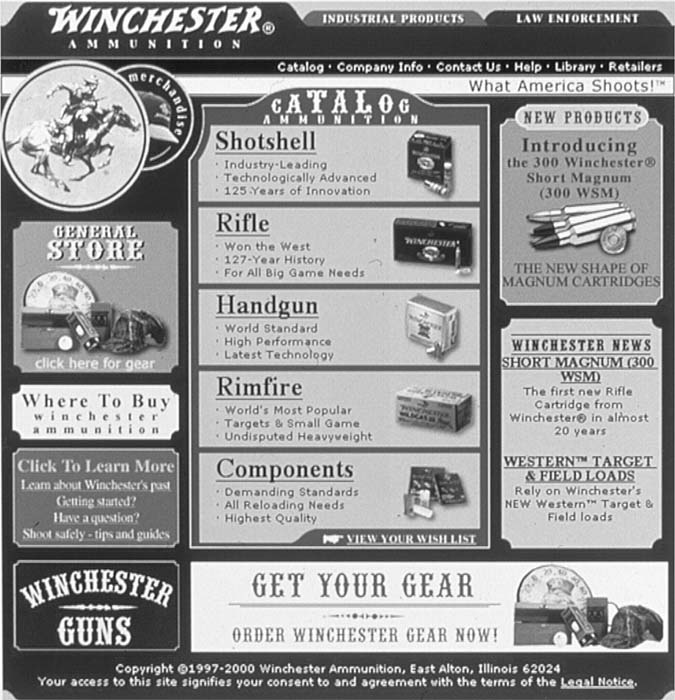 Winchester Ammunition is pleased to announce the launch of their new, third generation web site at www.winchester.com. The new site features a detailed product catalog that provides content to assist visitors in selecting Winchester Ammunition. The website now includes ballistic detail on all of their ammunition. Additional site features are a press release section, law enforcement and industrial sections, retailer locator, new product section, library section and much more. The new site will also showcase old artwork from the Winchester archives. In addition to providing extensive information for Winchester customers, the site includes a Winchester store where consumers can purchase Winchester logo merchandise online. For more information check on the new website at www.winchester.com.

SPEC-OPS NEW READY-FIRE MODE MAGAZINE POUCH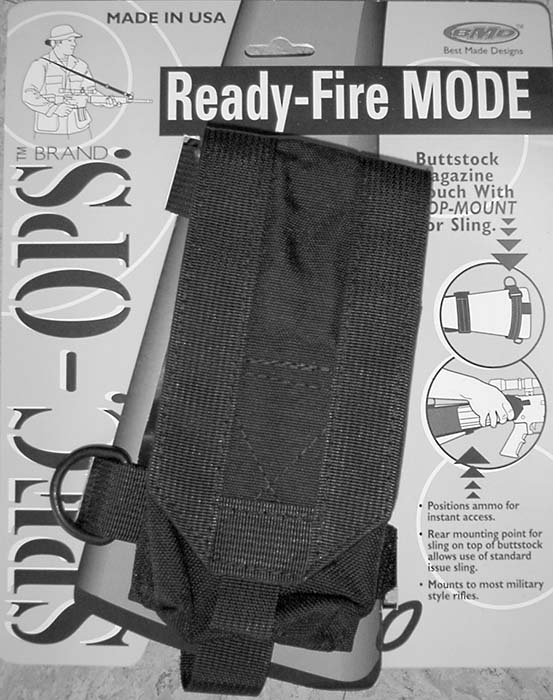 Best Made Designs, LLC, has just introduced another product in the Spec-Ops line. The new product is called the Ready-Fire Mode magazine pouch. The new mag pouch fits the buttstock of several different assault rifles; AR-15/M-16, Mini-14, AR-10 etc. The new pouch is made of 1000 denier Cordura fabric nylon and quickly attaches to the host weapon with Velcro straps. Once in place it provides the shooter with a mag pouch for either a 20 or 30 round spare magazine. The pouch is forward opening with pull-tab cover flap of positive magazine retention but quick access. The difference between this and other buttstock mag pouches is that the Ready-Fire Mode incorporates a rear mounted sling attachment point that allows the rifle to be carried in the Ready-Fire Mode! The Ready-Fire Mode works with the weapon's standard sling and can be attached or removed in seconds. For more information on this great new product contact Best Made Designs, L.L.C., Dept S.A.R. 1601 W. 15th Street, Monahans, TX 79756. Phone: 1-915-943-4888. Fax: 1-915-943-5565. They can be found on the web at www.specopsbrand.com.

COLUMBIA RIVER KNIFE AND TOOL INTRODUCES "1*" KNIFE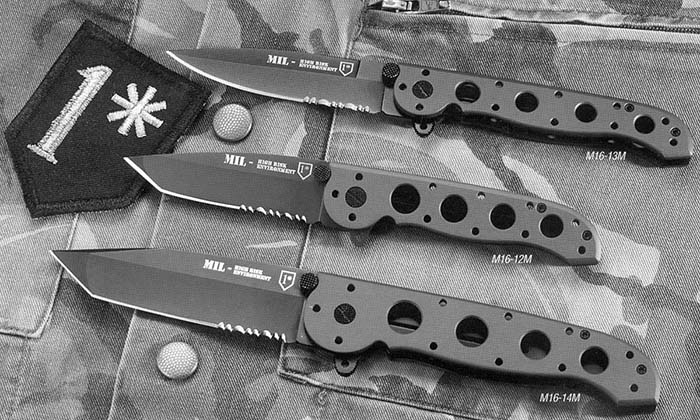 Columbia River Knife and Tool had recently introduced the new M16 "LE" and "M" knives with Gary Paul Johnsons "1*" logo on them. Gary designed the logo-1* (one ass-to-risk) while he was with the Shakers Heights Police Department. It was designed as a reminder to those who go in harms way to be careful out there. Gary granted CRKT the exclusive right to use his "1*" logo on special models of its folding and fixed blade knives. Identical in construction to their popular original M16, the new models offer the same sure-grip contoured handles of 6061 T6 aluminum, hard anodized in Law Enforcement blue for the LE models and Olive Drab for the M series. The stainless steel locking liners with friction grooves are also black Teflon plated, and give positive locking with limited access for superior safety. The new knives have AUS 8 stainless steel blades, chosen for edge retention and durability, plated in black non-reflective Teflon. All models feature the "Carson Flipper" extension to the blade, which aids in opening and acts as an additional blade guard. For more information on the M16 1* Knife Line contact Columbia River Knife and Tool, Dept. SAR, 9720 S.W. Hillman Ct., Suite 805, Wilsonville, OR 97070. Phone: 1-503-685-5015. Fax: 1-503-682-9680. Website: www.crkt.com.
This article first appeared in Small Arms Review V4N10 (July 2001)