by Chris Choat
SPRINGFIELD ARMORY INTRODUCES THE M1A SOCOM 16

The Springfield Armory M1A is the world standard, based on the legendary -M14. Accurate, reliable and durable, it's the dominant force at home and abroad, whether fired in competitive shooting or in active duty by elite military and police units. New for 2004, from Springfield Armory, is the new M1A Socom 16. Compact and powerful, it features a 16 inch barrel (the shortest allowed for civilian-owned rifles) made possible by a retuned gas system. It is a heavy-caliber alternative for a CQB (Close Quarter Battle) rifle, as well as the ideal patrol, ranch or pick-up rifle. Other features include a black fiberglass stock, forward-mounted scout-style scope mount and a proprietary muzzle break that virtually eliminates muzzle rise. Also included on the new rifle is a ghost ring aperture rear sight that has MOA click adjustments for both windage and elevation and a Tritium front sight. The rifle is 37.25 inches long with a weight of 8.9 pounds. The Socom 16 comes with a 10-round box magazine but 20-round magazines are available as an option. For more information please contact Springfield Armory, Dept. SAR, 420 West Main Street, Geneseo, IL 61254. Phone: 1-309-944-5631. Fax: 1-309-944-3676. Their website is www.springfieldarmory.com.
PENTEX ANNOUNCES NEW BINOCULARS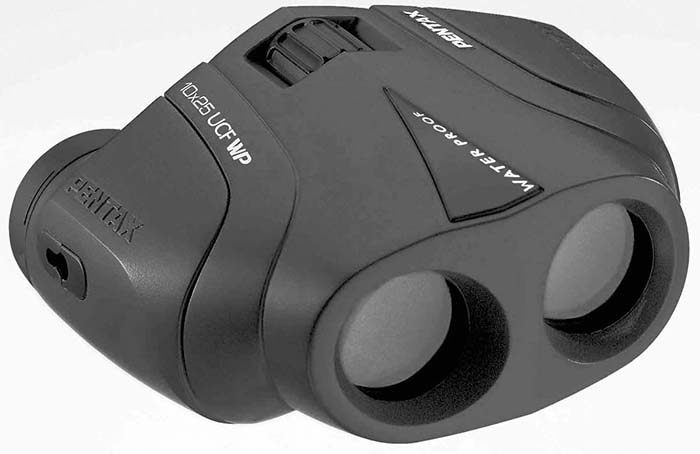 PENTAX U.S.A., Inc. announced the addition of two UCF WP-series models (8×25 UCF WP and 10×25 UCF WP) to its extensive porro-prism binocular lineup. Featuring high-performance, super-multi-coated optics and waterproof capability, these models are the ideal choice for use when hunting or bird watching — especially on or around water. With a choice of 8X and 10X magnification, the new UCF WP-series models feature a JIS Class 6 waterproof construction with a full-body rubber housing for protection against water and shock. The PENTAX developed dual-axis eye-distance adjustment system assures precise alignment of the lens barrels during viewing. Coupled with a compact, lightweight body design and a long 15-millimeter eye relief, these models offer fatigue-free viewing even during extended observations. The combination of inner-focus system, high-refraction BaK4 glass prisms, super-multi-coated optical elements, and aspherical eyepiece lens elements delivers outstanding image quality even under poor viewing conditions. Other user-friendly features include a short minimum focusing distance of 6.2 feet, helicoid-type extendible eyepiece rings, a fully retractable pop-up diopter adjuster, a quick-mount/removal strap, and a tripod socket. Legendary PENTAX sport optics feature PENTABRITE™ technology with precision ground lenses that feature Super-Multi-Layer coating on every surface throughout the optical system to help BRIGHTEN YOUR ADVENTURES™ in the great outdoors. For more information please contact Pentax USA, Inc., Dept. SAR, 600 12th Street, Suite 300, Golden, CO 80401. Phone: 1-303-799-8000. Fax: 1-303-728-0334. They can reached on the web at www.pentaxlightseeker.com.
MAXPEDITION HARD-USE GEAR LAPTOP CASE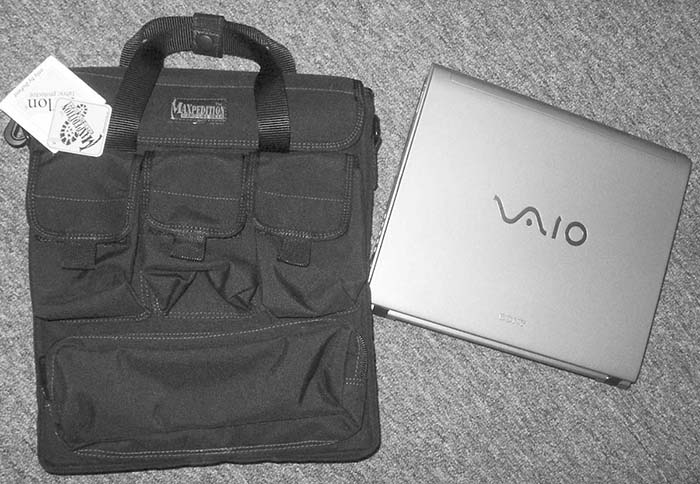 Maxpedition is a company that produces what they call Hard-Use Gear. Their products are made from premium-grade nylon and are all hand made. The 10 year old company makes products that are literally made to take a beating. While traveling the isles of the 2004 Shot Show, I came across their booth and was amazed at the quality of their products. I was very interested in one particular product of theirs, the Maxpedition Black Bear Laptop Case. MAXPEDITION's Black Bear Laptop Case protects your laptop computer in a compartment fitted with closed-cell foam. Four pockets on the front hold your computer's accessories and a rear flat pocket holds documents. It can be carried with shoulder strap or stored in one of MAXPEDITION's durable backpacks. MAXPEDITION's Black Bear Laptop Case also has handles and a shoulder strap for stand alone carrying of your computer. With strap retracted, this slim shock-resistant computer case will fit into most other backpacks as well. Maxpedition uses DuPont™ Teflon treated 1000 Denier nylon fabric as the base material for their products. Also used are super-strong nylon/acetal hybrid hardware by Duraflex, YKK #10 zippers and 550 paracord knot pulls. Products are double stitched throughout with box and "X" stitching on high tension areas. All this adds up to a superior product that is very well suited for extreme hard use. In addition to their laptop case they also have a complete line of backpacks and cases for everything from cell phones to flashlights. For more information contact them at Maxpedition Hard-Use Gear, Dept. SAR, 23206 S. Normandie Ave., Unit 2, Torrance, CA 90502. Phone: 1-310-784-0731. Fax: 1-310-784-0732. They can be found on the web at www.maxpedition.com.
LASER DEVICES INTRODUCES OPERATIVE TACTICAL FLASHLIGHT
Laser Devices, Inc. (LDI), a leading provider of laser aiming devices and weapon mounted tactical illumination systems to law enforcement and military agencies, has announced the release of the Operative OV-1 handheld tactical flashlight with a patented bulb design. Ideal for use by law enforcement, military units, or anyone looking for a compact, rugged and waterproof tactical flashlight, the pocket-sized flashlight produces as much light as some large D cell lights in a package that is a fraction of the size and weight. The Operative OV-1 flashlight produces 95 lumens of white light that can be focused to any spot. Additionally, the Operative OV-1 is O-ring sealed and waterproof to 20 meters and features a glass lens to maximize the brightness of the flashlight. The Operative OV-1 has a push button activation switch located on the tailpiece of the flashlight which makes it easy to operate in a momentary and/or continuous mode. The Operative OV-1 is machined from 6061T-6 Type III hard anodized aluminum and is available in black, blue, red, silver or gold finish. The Operative OV-1 is supplied with a state-of-the-art xenon lamp and two 3-volt lithium batteries that supply over one hour of continuous illumination. The lithium batteries have a ten year estimated shelf life which allows the light to be stored with the assurance it will be ready to operate when needed. The Operative OV-1 has an MSRP of $75.00 and comes standard with a rugged spring steel pocket clip and lanyard. Also, the Operative OV-1 is available in an elegant presentation box or a clamshell package and a custom logo service is available at no additional charge on orders of 100 or more units. For more information you can contact Laser Devices Inc., Dept. SAR, 2 Harris Court, A-4, Monterey, CA 93940. Phone: 1-831-373-0701. Fax: 1-831-373-0903. E-mail: sales@laserdevices.com They can be found on the web at www.laserdevices.com.
FOBUS NOW HAS HOLSTER FOR SIG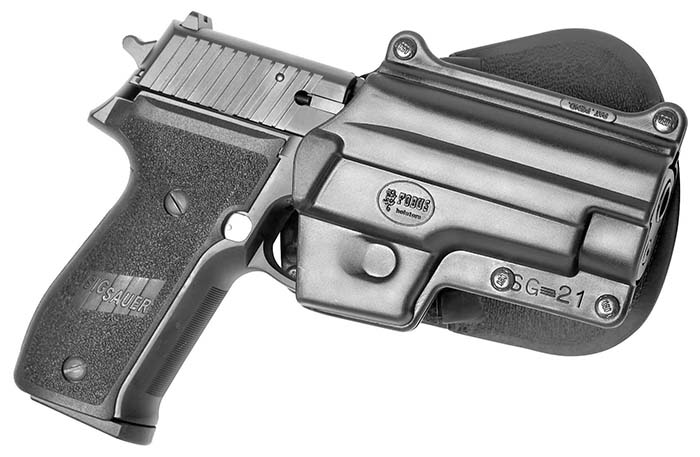 Fobus USA has just released a newly designed holster for the Sig Models 220, 225, 226 and 228 pistols with accessory rails beneath the receiver as well as models in the original configuration without the rail. The new series of holsters will add to an already extensive line of holsters for just about every pistol made. The current production will be in right hand paddle, belt, Roto-Holster™ paddle and Roto-Holster™ belt styles. Suggested retail for the new holsters is just $23.99. For more information contact them directly at Fobus USA, Division of First Samco, Dept. SAR, 1300 B-3 Industrial Highway, Southampton, PA 18966. Phone: 1-215-355-2621. Fax: 1-215-322-9223. On the web at www.fobusholster.com.
This article first appeared in Small Arms Review V7N10 (July 2004)