By Chris A. Choat
BIRCHWOOD CASEY ADDS NEW TARGETS TO SHOOT-N-C LINE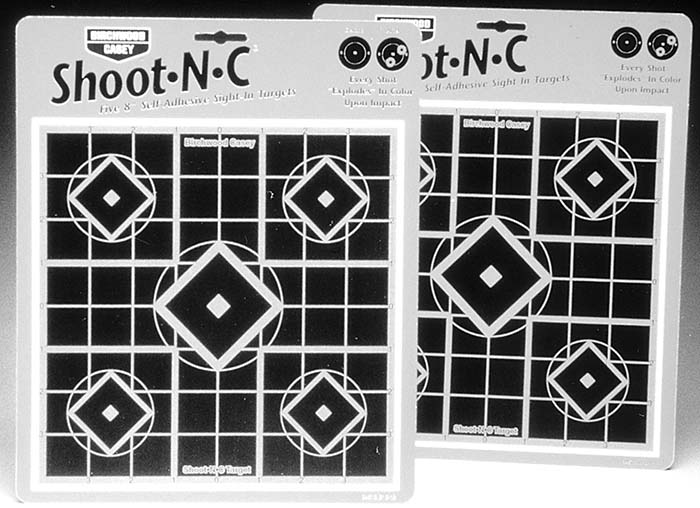 Birchwood Casey's new award winning targets.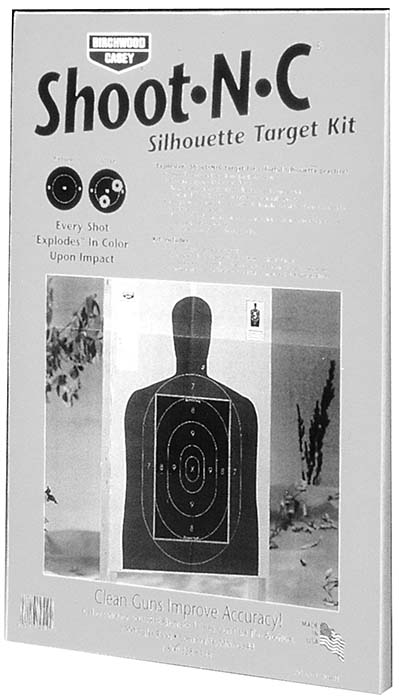 Birchwood Casey is adding two new targets to their popular SHOOT-N-C target line. The SHOOT-N-C targets were introduced in 1986. Their unique design, which lets shooters instantly see where bullets strike the target, earned them the Shooting Industry Academy of Excellence Specialty Product of the Year Award in 1996. The first new targets are self-adhesive Sight-In designs. You can choose from either 12" x 6" or 8" x 8" targets. Each target has five diamond-shaped targets within a 1-inch grid line configuration. Shooters can use the center diamond for sighting-in and then check other loads with the four outside diamonds. The second new design of SHOOT-N-C targets is the self-adhesive 12" x 18" Silhouette target for use with the B-27 Target. These new targets can be used to replace the center section of the popular silhouette targets used by police and those practicing self-defense. In addition to these new targets Birchwood Casey offers a complete line of other SHOOT-N-C targets as well as a full line of gun cleaning and maintenance products. For more information and a free target contact, Birchwood Laboratories, Inc., Dept. SAR, 7900 Fuller Road, Eden Prairie, MN 55344. Phone: 1-800-328-6156. Fax: 1-612-937-7979.
RECOIL BUFFERS by BUFFER TECHNOLOGIES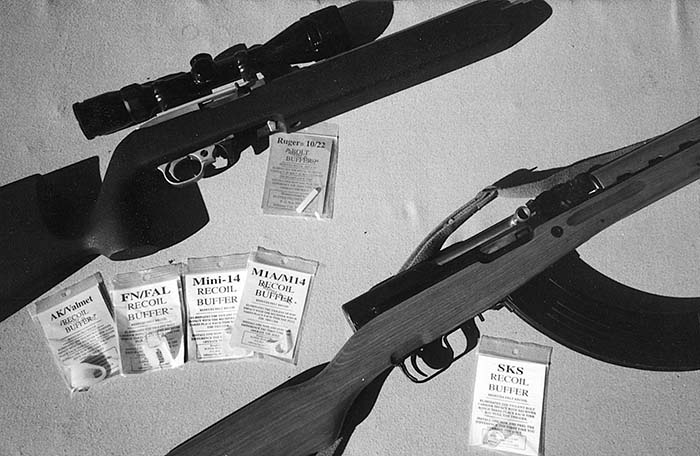 Buffer Technologies of Jefferson City, MO now has a line of recoil buffers for several popular rifles. These rifles include the AK, Valmet and Galil series, all types of SKS's, all M1A/M-14's, the complete series of Ruger Mini-14's and AC-556 models, both inch and metric pattern FN/FAL's and last but not least the good old Ruger 10/22. These buffers are made from polyurethane that is injection molded to fit each gun. Not only do the buffers help to lessen felt recoil they also increase the life of the firearm they are installed in by eliminating metal to metal contact when the bolt cycles inside the receiver. Another side benefit is that by eliminating the metal to metal contact of the cycling bolt these buffers actually help to eliminate some of the bolt noise in suppressed weapons. These tough little buffers are inexpensive, last for years and come with a 100% money back guarantee if you are not completely satisfied. For more information or to place an order contact Larry Bullock at Buffer Technologies, Dept. SAR, P.O. Box 104903, Jefferson City, MO 65110. Phone: 1-573-634-8529. Fax: 1-573-634-8522.
WORLD'S SMALLEST PISTOL GETS SMALLER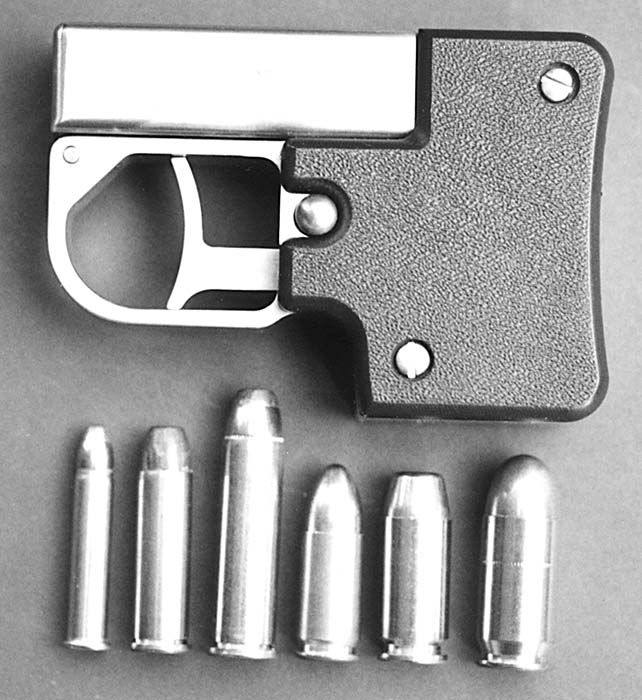 Downsizer Corporation's Model WSP, the worlds smallest pistol at only 3.25 inches in overall length, is now available in three new small bore chamberings. While still offered in the original chamberings of .45 ACP, .40 S&W, 9mm Parabellum and .357 magnum, the WSP is now available in .380 ACP, .32 Magnum and .22 Magnum for shooters desiring lighter recoil. This unique single shot pistol is constructed of stainless steel and has a double action only trigger. The patent pending design features a concealed firing mechanism with an internal firing pin block. The tip-up barrel measures a full 2.10 inches long. Weight is only 11 ounces. For more information contact: Downsizer Corporation, Dept. SAR, PO Box 710316, Santee, CA 92072-0316. Phone: 1-619-448-5510. Fax: 1-619-448-5780.
T.A.L. 5(tm) LUBRICANT FROM WD-40 COMPANY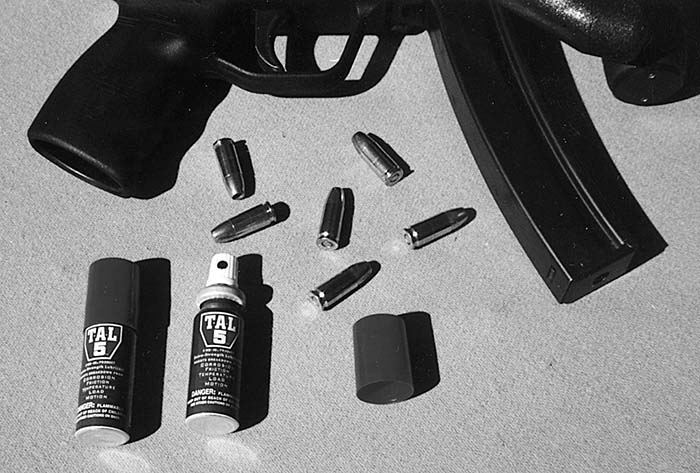 T.A.L. 5—Triple Additive Lubricant—has just been introduced by the WD-40 Company. T.A.L. 5 is an extra strength lubricant for heavy-duty applications. T.A.L. 5 resists breakdown due to five factors: corrosion, friction, temperature, load and motion. Applied to metal or plastic, T.A.L. 5 provides long-lasting film strength and durability, which can ultimately help prolong the life of many kinds of equipment. T.A.L. 5 was originally designed with the professional end-user in mind, and has numerous applications in the firearms industry as well as automotive, home improvement and general industry. For more information contact, WD-40 Company, Dept. SAR, P.O. Box 80607, San Diego, CA 92138-0607. Phone: 1-619-275-1400. Fax: 1-619-275-5823.
SRAT TARGETS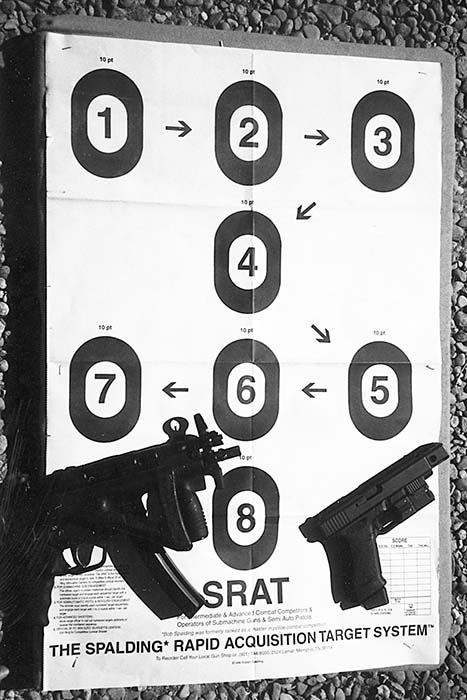 A new target is now available that promises to improve reaction time as well as hit probability for law enforcement officers, SWAT teams, IPSC competitors, submachine match shooters and all shooters in general. The Spalding Rapid Acquisition Target (SRAT) was developed by a former ranked master in Police Combat Competition. The target will improve the shooters engagement and reaction time faster than any static target system to date. The target is self-instructional and is designed to allow the shooter to practice target sweep exercises from either right to left or vice versa. The low cost targets offer excellent hit visibility from 3 to 25 yards. For more information or to place an order for these innovative new targets contact: Bob Spalding at Spalding Rapid Acquisition Targets Systems, Dept. SAR, 2524 Lamar Ave., Memphis, TN 38114 or phone 1-901-744-8000.
MECH TECH CARBINE CONVERSION UNIT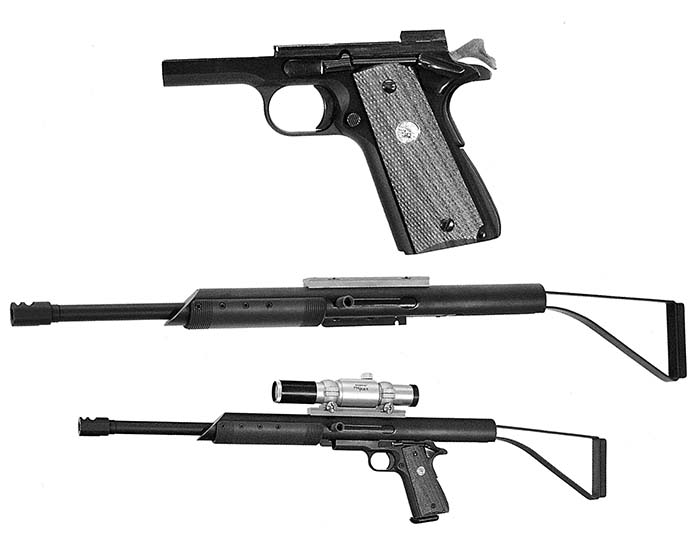 The Mec Tech Carbine Conversion Unit (CCU) Model 1911, is not a firearm but rather an accessory for your 1911 pistol. The CCU simply converts the autoloading pistol into a slick shooting shoulder stocked semi-auto carbine. The conversion process is simple, quick and requires no gunsmithing or tools. The pistols frame group just slides into the conversion. The pistol's take-down pin is used to lock the frame to the CCU conversion. The CCU functions as a straight blowback system and features a 16.25 inch barrel, straight skeleton stock and a Weaver style sight base. Overall length is 32 inches. The CCU is available in 9mm, .40S&W, 10MM, 400 CorBon, .45ACP, .38 Super and .22 rimfire. The conversion is presently made for the 1911 .45 model but will soon be available for Beretta/Taurus, Browning High Power and the Glock series. For more information contact Dalton Salyer, Sales & Marketing, Mec Tech Systems, Dept. SAR, 2840 Hwy 2 W, Kalispell, Montana 59901. Phone or Fax: 1-406-755-8055. E-mail: djsalye@cyberport.net.
This article first appeared in Small Arms Review V1N9 (June 1998)