By Chris Choat

STREAMLIGHT INTRODUCES LINE OF L.E. GUN MOUNTS

Streamlight, long known for their outstanding high-powered lighting equipment have now introduced a new series of long gun mounts for their M-3 and M-5 tactical lights. The new line of mounts will fit Benelli, Remington and Mossberg shotguns and AR-15/M-16 rifles and carbines. The M-3 and M-5 lights, which were introduced last year, were largely used in conjunction with handguns. Now those same lights can be used with shotguns and rifles. The gun mounts are designed for the Benelli Super 90 line of tactical shotguns, the Remington 870 and 1100 series of shotguns, the Mossberg 500 style of shotguns, the Ar-15/M-16 rifles and carbines as well as other shotguns with extended magazine tubes. The mounts can also be attached in a variety of different positions to suit the individual user. The new mounts are extremely light and don't interfere with the host gun's balance or handling. For more information contact Streamlight, Inc., Dept. DEPT. SAR, , 1030 West Germantown Pike, Norristown, PA 19403. Phone: 1-800-523-7488. Fax: 1-800-220-7007. They can be found on the web at www.streamlight.com.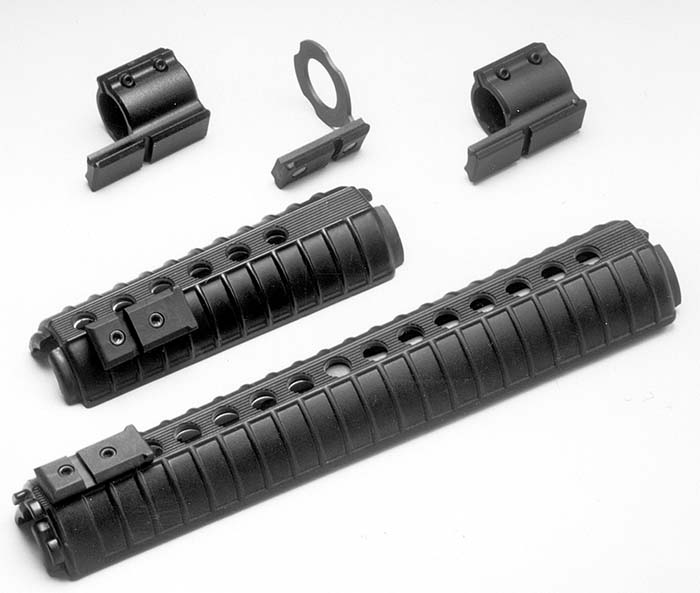 J.M.B. DISTRIBUTION INTRODUCES NEW 76/45 SUBMACHINE GUN

J.M.B. Distribution has just introduced their new 76/45 sub gun as well as several accessories for it. The new sub gun is an S&W 76 look-a-like only in .45 ACP! The new gun is full-auto only and fires from an open bolt. The 76/45 weighs 6.5 pounds and has a 7 inch barrel. They feature a parkerized finish and a baked-on epoxy finish is available as an option. The new guns use the tried and true Grease Gun magazine and have a side-folding stock. The cyclic rate is a very manageable 700 rounds per minute. The 76/45 is in stock and ready to ship at the time of this writing. JMB also has several accessories for their new gun. The first is an optional "push-in" stock that can replace the side folding type stock. The new stock is a Grease Gun style stock that can be pushed straight in instead of folded. The stock locks up rigidly, is very strong and is quick to deploy. The stock can be ordered at the same time as a gun is ordered or can be user installed. Two caliber conversions are also available for the 76/45. A .22 L.R. and a 9mm conversion help to make this a very versatile firearm. The next accessory is a Weaver rail style rear sight. This allows the user the ability to use scopes, red-dot sights, night -optics, etc. JMB is also offering a line of suppressed barrels for the 76/45. The suppressors are easily disassembled for cleaning and feature dry graphite coating on the internal parts. For more information contact Jim Burgess at JMB Distribution, Dept. DEPT. SAR, , 4291 Valley Quail South, Westerville, OH 43081. Phone: 1-614-891-5784.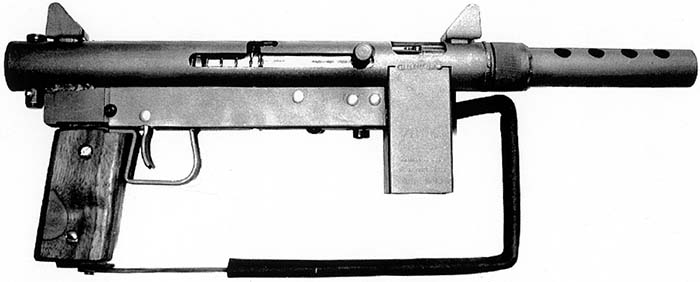 SPRINGFIELD ARMORY'S NEW INTEGRAL LOCKING SYSTEM

Springfield Armory has announced that its innovative and patented Integral Locking System (I.L.S.) will be a standard feature on every Springfield factory 1911 pistol produced after January 1, 2001. The I.L.S. is a totally internal, completely passive locking system designed to function within a 1911 mainspring housing. A retrofit kit will soon be available for the 2 million plus 1911's now in use without modification to the pistol. The new I.L.S. completely disables the movement of the slide and trigger components, while not affecting the regular function of the firearm. The I.L.S. is enables by an unobtrusive key-activated control located midway between the grip safety and the butt on the rear of the grip. The inconspicuous, tamper-resistant I.L.S. will not interfere with the grip or shooting action. Utilizing the provided I.L.S. key, a quick one-quarter turn will either activate or unlock any 1911. By design the new I.L.S. functions as an integral part of any make or model 1911. It allows gun owners to choose when and where they determine activation is necessary, without incorporating a bulky and obvious locking system which is highly visible when used-particularly in a home security or self-defense situation. For more information contact Springfield, Inc., Dept. DEPT. SAR, , 420 West Main Street, Geneseo, IL 61254. Phone: 1-309-944-5631. They can be found on the web at www.springfieldarmory.com.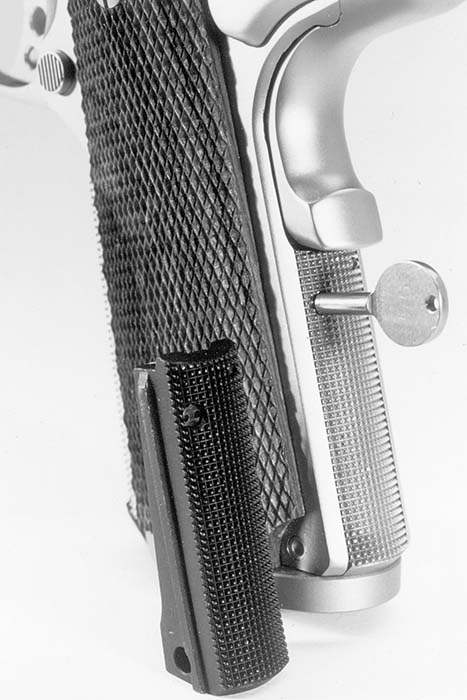 MIL-DOT SCOPE ADDED TO BUSHNELL ELITE RIFLESCOPE SERIES

The Mil-Dot reticle, which has become the standard in tactical scopes because of its through-the-scope ranging capability, is now available in a 6-24x40mm matte Elite 4200 Series riflescope. The reticle is calibrated so that at 12 power, each dot will be 3.6 inches apart (or 1 mil) at 100 yards. The Mil-Dot reticle is ideal for range estimating and to determine holdover on long shots. This scope also features RainGuard®, a permanent water repellant coating system which prevents cold temperatures and moisture from obscuring the lens. Coupled with fully multi-coated optics, RainGuard delivers 95% light transmission providing maximum clarity under all conditions. For more information contact Bushnell, Dept. DEPT. SAR, , 9200 Cody, Overland Park, KS 66214. Phone: 1-913-752-3400. Fax: 1-913-752-6112.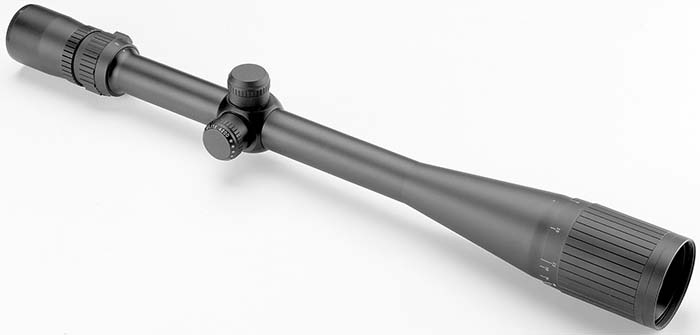 This article first appeared in Small Arms Review V4N9 (June 2001)