By Chris Choat

SPRINGFIELD ARMORY TEAMS WITH THE NRA FOR MEMBERSHIP PROMOTION

Springfield Armory, "The Oldest Name in American Firearms," has announced a new program in cooperation with America's premier gun rights organization, the National Rifle Association, to raise awareness among gun owners while increasing participation in the NRA. For a limited time, with every purchase of a Springfield Armory M1AO .308 caliber semi-automatic rifle, Springfield will provide a one-year membership to the NRA. The membership may be used by the purchaser or may be given to a friend or family member. "The important thing is to give someone who is not already an NRA member the opportunity to become involved in the organization doing the most to protect our Second Amendment rights," said Dennis Reese, Springfield Armory Co-Chairman. Springfield has launched a major magazine advertising campaign featuring the M1A / NRA promotion. In the past year, membership in the NRA has risen to all-time record levels, surpassing the 4 million mark for the first time in its history. The M1A / M14 is a symbol of American freedom in its own right. With nearly four decades of active duty, the M1A continues to rank first in tradition and history. With unsurpassed workmanship, attention to detail and a unique rugged beauty, the M1A is backed by the industry's strongest lifetime warranty. For more information on the M1A / NRA promotion and the entire line of Springfield products, contact your Springfield dealer or Springfield, Inc., 420 West Main St., Geneseo, IL 61254 309.944.5631 or visit our website: springfieldarmory.com.
SPOT SIGHT; INSTA-OPTICS CHECK SYSTEM

The Spot Sight was designed by inventor and hunter Bill Darwin to function in every caliber rifle and shotgun easily and without changing arbors. This allows hunters to be totally confident about their sights at any time. Simply slide the Spot Sight into the bore of any caliber rifle or shotgun making sure to align the top of the Spot Sight with the top of the bore. Look through your scope and the red laser dot will tell you if your gun is still perfectly sighted or if an adjustment is necessary. Good hunters are confident hunters – confident in their equipment and shooting ability. The most important aspect of any hunter's equipment is the optics used to put the bullet on target. The Spot Sight is the tool that can give you that confidence in your optics – in the dark, in your hunting camp, and after a jarring 4-wheeler ride, anytime. And you never have to fire a shot to be totally confident with your gun and optics. The Spot Sight also makes initial bore sighting extremely easy. The "Uni-Arbor™" system allows you to use the Spot Sight in all rifles and shotguns from .22 to 12 gauge without changing arbors. The most unique feature of the Spot Sight is the internal placement of the laser. Unlike all other laser bore or chamber sighting systems, Spot Sight has the laser mounted at an angle that allows the dot to represent the bullet's impact at 100 yards with the dot on a solid surface at only 12 to 20 feet. This allows for rough bore sighting at home, in camp or in a small gunshop. For more information on this unique new sighting check system contact Bill Darwin, Tribune Marketing LLC, Dept. SAR, 424 A King Street, Selma, AL 36701. Phone: 1-334-413-0001. They are on the web at www.spotsight.com.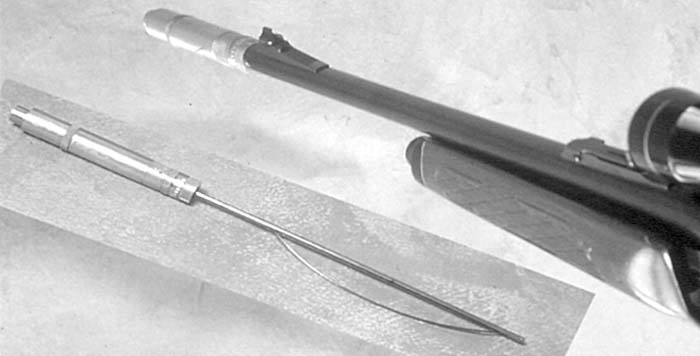 SPIDER SUPPRESSORS FROM ADVANCED ARMAMENT CORPORATION

The SPIDER and SPIDER II are thread-mounted silencers designed for use on 9mm semi-automatic pistols. Through the use of artificial environment technology, the SPIDER and SPIDER II completely eliminate muzzle flash signature and bothersome first round pop, thus making them equally suited for civilian sport shooters and military/law enforcement tactical users alike. The diminutive size and lightweight of the SPIDER and SPIDER II enable them to reliably cycle a number of popular 9mm semi-automatics without incorporating cumbersome and expensive recoil enhancing equipment into the design. The slimline design of the SPIDER II allows the use of most host firearms issue sights, and a scant weight of just 3.2 ounces allows reliable functioning on traditionally hard-to-suppress 9mm semi-automatic pistols such as the Browning High Power, Glock 19 and the H&K USP 9mm. As with all Advanced Armament Corp. silencers, the SPIDER and SPIDER II feature stainless steel rear mounts to prevent excess thread wear common with all-aluminum silencers. Constructed of aerospace quality, CNC machined components, the SPIDER and SPIDER II are available with a 1/2-28, 1/2-32 or 1/2-36 tpi threaded rear mounts. For information or to place your order, contact Advanced Armament Corporation, Dept. SAR, 221 West Crogan Street, Lawrenceville, GA 30045. Phone: 1-770-277-4946. Fax: 1-770-277-4841. On the web at www.advanced-armament.com.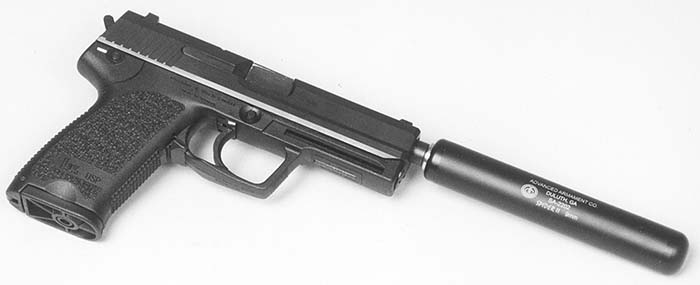 KG 500 BULLET-KOTE PRO

How do top ammunition makers such as Winchester®, Nosle®, Silver Bullets® and Barns X® keep their bullets as slippery as possible for maximum performance? They rely on an inside industry secret coating. But now the secret is out: it's called KG SYSTEMS™ KG 500 BULLET-KOTE PRO by KG Industries and is available to the general public. KG Systems Bullet-Kote Pro is the shooting enthusiast's secret weapon. It's a solid film molybdenum lubricant that produces a thin, dry moly film on bullets. It can be dipped or sprayed. It is then baked to cure and bond the lubricant to the bullet. And once it's applied, watch out! It provides outstanding lubrication, sustained accuracy across repeated rounds, reducing lead dissipation and greatly reduced bore cleaning time because it radically reduces copper, lead and powder fouling. And since it cuts friction and drag, it also reduces bore temperatures. It's no wonder KG 500 Bullet-Kote Pro is the product every home reloader and shooting enthusiast has been waiting for. The KG 500 Bullet-Kote Pro Kit comes complete with everything you need to give yourself the competitive edge. It includes a 16-ounce container of Bullet-Kote; an airbrush kit, complete with two material jars; propellant; an air compressor adapter and complete easy-to-follow instructions for building your own templates for coating bullets. It even includes a bonus bottle of KG Systems KG-6 Moly Bore Prep™. KG Industries has secured a solid reputation for providing top-quality dry film lubricants and protective coatings to government and industry. KG Systems KG 500 Bullet-Kote Pro is the cutting edge of that technology – the exact same product that top manufacturers depend on-and it's available, now, for convenient home use. For more information about this and the entire line of KG products, contact KG Industries, Dept. SAR, 537 Louis Drive, Dept. P, Newbury Park, CA. Phone: 1-800-348-9558. Fax: 1-805-499-4372. Website: www.kgproducts.net.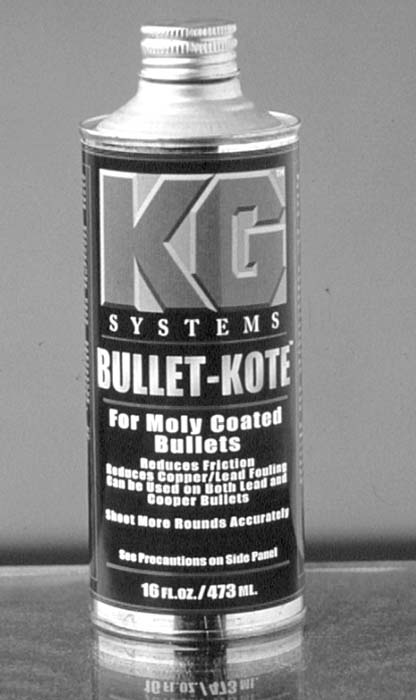 NEW PORTABLE SHOOTING RANGE FROM BIRCHWOOD CASEY

Birchwood Casey has just made sighting in a rifle, pistol or shotgun easier with the introduction of their PORTABLE SHOOTING RANGE. This new target back and stand makes it simple to set up a shooting range anyplace you have a safe backstop. The PORTABLE SHOOTING RANGE has a heavy-duty welded steel frame that is strong, yet lightweight. Coated with a durable black powder coat finish, the frame resists rust and comes with a lifetime guarantee. Rain and wind conditions are not a problem anymore with this new stand. The frame holds a 24" X 24" weatherproof plastic corrugated backboard that will last for hundreds of shots. The backboard is held in place by the side dual arms of the frame without the need for any tools. In addition to the frame and backboard, each PORTABLE SHOOTING RANGE comes with a supply of Birchwood Casey's SHOOT-N-C targets. Everything a shooter needs for sighting in a gun or just having fun shooting targets comes in the package. The PORTABLE SHOOTING RANGE has a suggested retail price of just $31.95. Packages of Birchwood Casey's SHOOT-N-C Targets are available in a variety of shapes and sizes. For more information contact Birchwood Laboratories, Dept. SAR, 7900, Fuller Road, Eden Prairie, MN 55344-2195 or call 1-800-328-1656 for a free full-color catalog. You can check out their products on the web at www.birchwoodcasey.com.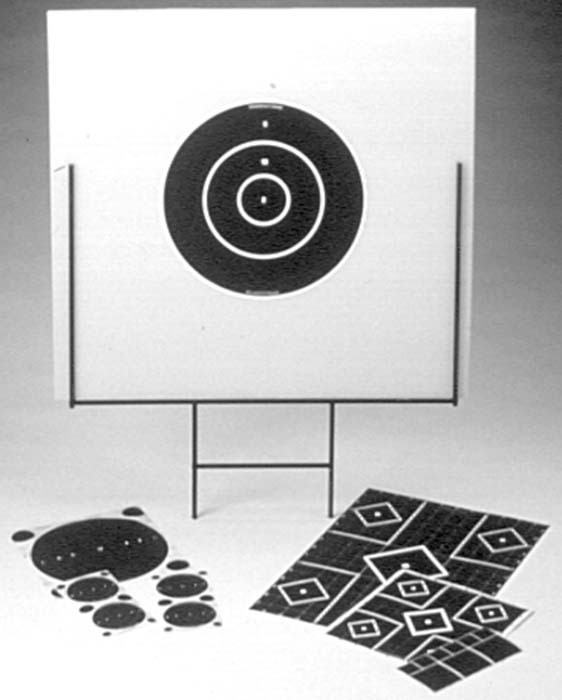 NEW PENTAX SPOTTING SCOPE

Pentax Corporation now offers a new concept in premium quality spotting scopes, the Pentax PF-80ED. Housed in a lightweight magnesium-alloy body, this spotting scope features time-proven porro-prism optics and a large 80mm objective lens incorporating ED (Extra-low Dispersion) glass elements. A key feature to this scope is the fact that it utilizes PENTAX XL telescope eyepieces, renowned for their sharpness, field of view, contrast and freedom from aberration. Due to the popularity of the Pentax XL eyepieces, originally used for astronomical telescopes, the PF-80ED was designed to further extend the use of these exceptional optical instruments. Users can select any of six optional eyepieces (sold separately) for their individual needs: five fixed-focus models with magnifications of 18X, 24X, 36X, 48X and 72X, and one zoom model offering the magnification range of 20X-60X. The zoom eyepiece is exceptional in that it is waterproof – the only waterproof eyepiece available on the market. The body of the PF-80ED scope incorporates the American-standard 1 1/4-inch diameter eyepiece receptacle, which accepts not only the optional PENTAL XL eyepieces, but also other telescope manufactures' eyepieces as well. The PF-80ED Spotting Scope includes a wealth of other features. A built-in lens shade cuts excessive light and helps to prevent rain and other weather elements from interfering with viewing. An extra wide focusing knob is incorporated for effortless focusing, and a tripod socket with a click-stop rotation mechanism is available to allow for different viewing angle options. An extendable eyecup allows variable adjustment for up to a full 20mm of eye relief. As with most scopes of high magnification, this exceptional eye relief is critical to utilize the full field of view. It allows those wearing eyeglasses the same view as non-eyeglass wearers. All optical surfaces are coated with PENTAX's acclaimed Super-Multi-Coating to maximize light transmission, clarity and contrast. And, a durable rubber housing completes the PF-80ED package for protection against shock and damage. Backed by over 80 years of optical experience, expertise and quality, the PF-80ED Spotting Scope and XL-series eyepieces are covered by Pentax's limited lifetime warranty. For more information contact Pentax Corporation, Dept. SAR, 35 Inverness Drive East, POB 6509, Englewood, CO 80155-6509. Phone: 1-303-799-8000. Their web address is www.PENTAX.com.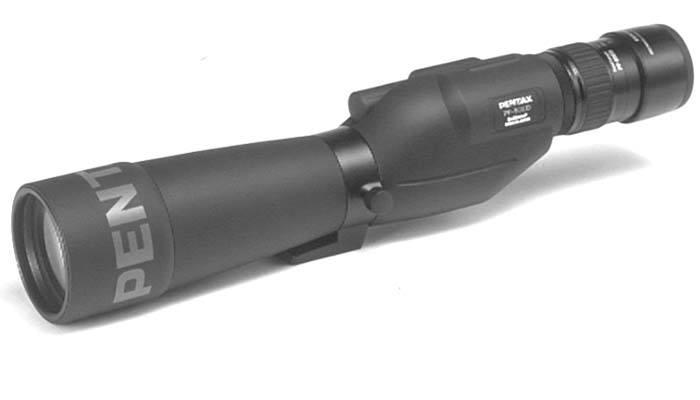 This article first appeared in Small Arms Review V4N6 (March 2001)