By Chris Choat

ARMALITE INTRODUCES EAGLE ARMS AR-10 RIFLE


The Eagle Arms Division of ArmaLite is introducing its first new model in 5 years: the Eagle Arms AR-10 rifle, with first shipments scheduled for December 2000. Like the famed Eagle Arms brand M-15 rifles, the Eagle AR-10 is a no-frills rifle of high quality and low price. The retail price of the Eagle Arms AR-10 is $999.95. It is intended to compete with .223/5.56mm rifles in the AR class. For the first time, retail customers will have the opportunity to upgrade to a .308/7.62mm rifle for a price only slightly higher than that of the smaller caliber rifles. The Eagle Arms AR-10 is very similar to the ArmaLite AR-10A4 rifle. It features a 20 inch chrome-moly barrel, and the A4 style flattop upper receiver and front sight base (gas block). It is provided with black furniture and a 10 round magazine. It will accept all optional ArmaLite scope mounts and the removable carry handle and sights. While the receivers of several competing rifles are machined from plate stock or extrusions, the new Eagles are finely machined from aircraft-grade forgings. Unlike the ArmaLite AR-10s, the Eagle Arms rifle is not equipped with a recoil check (muzzle brake). The ArmaLite brand AR-10 rifles, like our M-15 rifles, remain the company's flagship line. ArmaLite rifles are available with more features and options, and are manufactured to a higher degree of fit and finish than the Eagle Arms line. The Eagle Arms rifles are standard grade rifles intended for hard use, and feature the same internal mechanism as the ArmaLites. In addition to complete rifles, Eagle Arms offers AR-10 lower receivers and lower receiver assemblies. The new lower receivers will retail for $290, with complete lower halves selling for $397.00. ArmaLite brand receivers are not available for sale. Supplies of the new Eagles are limited, and they're being shipped in conjunction with orders for ArmaLite brand 5.56mm and 7.62mm rifles. During periods of peak demand, priority of ArmaLite's capacity will be to the ArmaLite line, so delivery dates for the Eagles will be estimates. For more information on these new rifles contact Armalite, Inc., Dept. DEPT. SAR, P.O. Box 299, Geneseo, IL 61254. Phone: 1-309-944-6939. Fax: 1-309-944-6949. They can be found on the web at www.armalite.com.

ITT NIGHT VISION CAMERA-ADAPTER VIEWER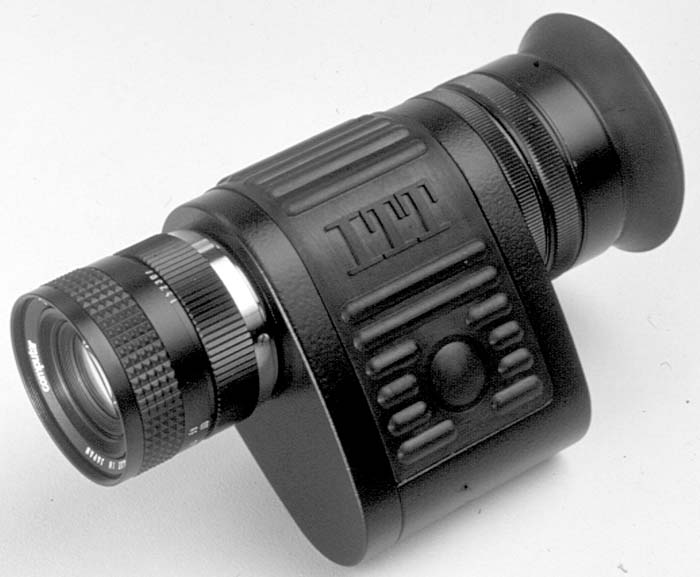 Now outdoor enthusiasts can document their nighttime adventures on film. ITT Industries Night Vision is introducing the Night Quest 190 a rugged, compact and versatile night vision unit that attaches to camcorders and 35mm cameras. ITT Industries Night Vision, the leader in night vision technology, adapted night vision to cameras and camcorders in response to consumer demand. Even in extreme low light conditions the Night Quest 190 can document on film recreational, animal and even criminal activities with superior clarity and resolution. Not only does the Night Quest 190 give outdoor enthusiasts the capability to perform new and different tasks at night; it also gives them the ability to document them. ITT Night Quest 190 works by collecting minute amounts of undetectable light and intensifying them, creating near-daylight conditions through the eyepiece. Independent of the camera or camcorder, the unit operates as a hand-held, night vision monocular. To document night vision experiences, remove the rubber eyepiece and attach the unit to a camera or camcorder using the locking adapter bracket and mounting rings. The Night Quest 190 has a new feature that enables users to deactivate the shut off device, allowing a camera to run for extended periods of time. The Night Quest 190 is designed to work with a variety of lenses as well. Users can remove the unit's objective lens and attach their favorite lens to its c-mount lens. Other features of the ITT Night Quest 190 include a 40 degree field of view, low battery indicator, automatic brightness control and Generation III technology. This new unit is weather resistance and weighs only 18 ounces. Optional accessories for the ITT Night Quest 190 include an infrared illuminator which allows users to see in extremely dark conditions which have a little or no ambient light. Also available for the ITT 190 is a 50-mm lens. For more information on the ITT Industries Night Vision's complete line of equipment for security and law enforcement, recreational or marine use contact ITT Night Vision Industries, Dept. DEPT. SAR, , 7671 Enon Drive, Roanoke VA 24019. Phone: 1-800-488-2848. They are on the web at www.ittnightvision.com.

M-16 PIGTAILS FOR SHORTY RIFLES


Every once in a while a product comes along that is an obvious solution to a lasting problem. Usually it makes you think, "Why didn't I think of that?" The M-16 pigtail is just such a product. The Pigtail is an alternate to mil-spec or factory standard gas tubes for the M-16 and AR-15 family of weapons. Barrels of 16.5 inches or less all use the same length gas tube of approximately 9.79 inches. The pigtail replaces this tube. There are two different size Pigtails. This allows them to be fitted to both rifles with standard narrow or heavy bull barrels that use the 9.79-inch gas tubes. The Pigtail for the narrow barrel rifles fits inside the "Shorty' handguards. The Bull Barrel Pigtail fits inside the floating tube hand guards. All of the Pigtails are CRYOGENICALLY treated for increased heat dissipation and metallurgic durability. The installation of the Pigtail is simple and requires only one or two modifications to the weapon. The upper receiver must be drilled and tapped for one (flat top) or two (A-1, A-2) set screws. These setscrews lock the gas tube in its proper position. Also the barrel's gas port for AR-15's, semi-automatic fire only, must be at a minimum diameter of 0.765 inches. M-16 barrels for full-auto firing must be at or opened up to a minimum diameter of 0.830 inches. No other modifications are required. The pigtail functions with mil-spec recoil springs and accompanying mil-spec buffers. Custom lengths are available for all barrels, including pistol and full length (24") rifles. The major benefit of the Pigtail include alleviation of most short stroking problems, reduced recoil in semi-auto mode, consistent capability of controlled fire and increased heat dissipation due to both Cryogenic treatment and increased tube length. For more information on this "must have" new product contact Greg Leaf at M16 Pigtail, Dept. DEPT. SAR, , HC 70 #9L, Glorieta, NM 87535. Phone: 1-505-757-6532. The website is www.m16pigtail.com.

JLB INNOVATIONS INTRODUCES THE STEADY ARM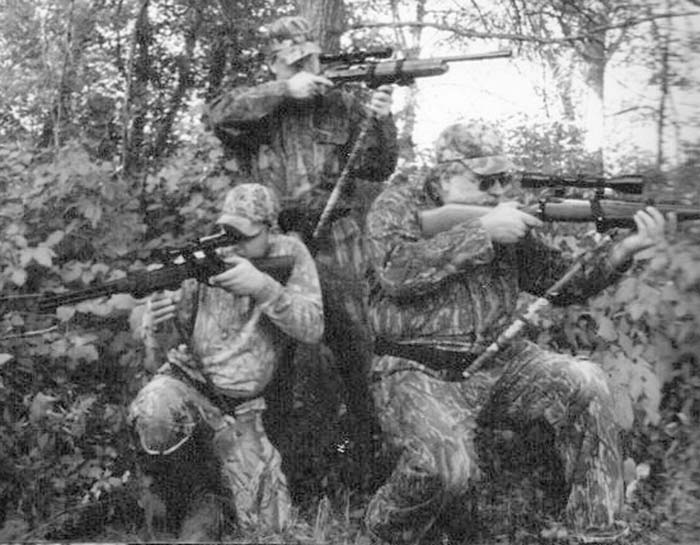 JLB Innovations Inc., has introduced a unique firearm device-designed for shooters of any age, size, gender or physical ability-that provides dramatically increased firearm stabilization for significantly improved shooting accuracy. Dubbed "Steady Arm", the innovative new product is a moveable cradle that straps securely to the gun's forestock at its balance point. Attached to the cradle is a camouflaged, telescoping aluminum rod that swivels connected to a special belt the user wears around his or her waist. Steady Arm's patented design carries the entire weight of the gun at the shooter's waist while supporting the user's lower back. It provides complete mobility and allows the gun to be fired from any position. With the Steady Arm, the firearm's weight is supported from the pivoting, center weight position on the gun, to the hips, eliminating the need for a sling and reducing fatigue during hiking in the field or maneuvering during tactical situations. Steady Arm works with rifles, shotguns, muzzleloaders, handguns or crossbows. Instead of carrying the weight of the gun high off the shoulders, as most people do when carrying a gun in hand or using a sling, Steady Arm puts the weight at the shooter's waist where it is hardly noticed. For more information on this new product contact JLB Innovations Inc., Dept. DEPT. SAR,, P.O. Box 65, Pinckney, MI 48169. Phone: 1-734-878-5610. They can be found on the web at www.steadyarm.com.

STREAMLIGHT INTRODUCES CUFFMATE™ FLASHLIGHT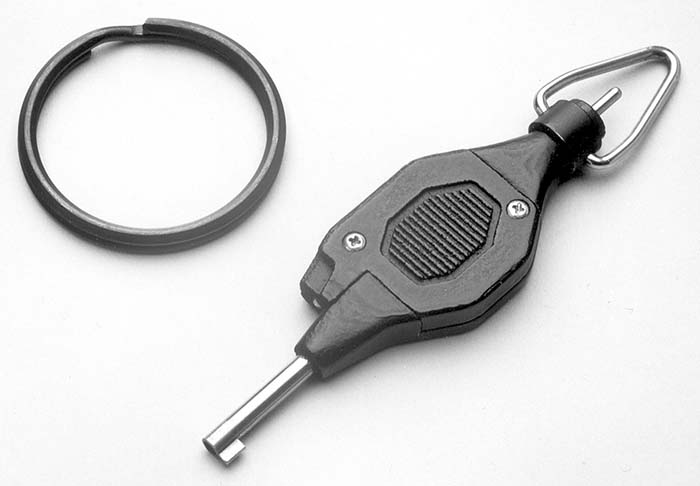 Streamlight, Inc., a manufacturer of high-performance flashlights for law enforcement professionals, introduces the CuffMate(tm), a handcuff key that features a high-intensity LED flashlight. Specifically designed with the needs of law enforcement professionals in mind, it combines the practicality of an alloy steel handcuff key with the ingenuity of a super-bright LED bulb. Weighing less than 0.5 ounces, the CuffMate(tm) is compatible with most handcuff brands, including S&W, Hiatt, American, Peerless, Trilock, Quik-Kuf and HWC. The CuffMate's flashlight is activated through a squeeze switch, and operates on two long-lasting lithium batteries that deliver up to 1000 momentary bursts of light for more than 12 hours of run time. The unbreakable LED bulb provides up to 100,000 hours of use. Built to an unparalleled level of durability, the CuffMate is constructed of virtually indestructible polymer that is reinforced with fiberglass. A swiveling key ring connector offers increased convenience and accessibility to law enforcement professionals. The CuffMate lists for $19.95, and includes a limited lifetime warranty on the body, switch and handcuff key. For more information contact Streamlight, Inc., Dept. DEPT. SAR, , 1030 West Germantown Pike, Norristown, PA 19403-3996. Phone: 1-800-523-7488. Fax: 1-800-220-7007. On the web at www.streamlight.com.

KENWOOD INTRODUCES FREETALK™ WX RADIOS


Offering the latest in 2-way personal communications for outings and outdoor recreation, Kenwood Communications has introduced its first family radio offering 10 NOAA weather radio channels and a vibration call alert. The new FreeTalk WX (Model UBZ-GM14) is a compact, feature-packed FRS radio allowing parties to stay in touch over distances up to two miles and to talk as often and as long as they like, since airtime is free. With 14 channels and 38 talk groups per channel, a large illuminated LCD display, visual status indicators, slip-resistant finish, and accessory jack for a headset or speaker-mic, the FreeTalk WX is suited for use on land or water, at meetings or events, and for any activity where people need to keep in contact. The suggested retail price of the radio is $84.95. The FreeTalk WX is equipped with many convenient and practical features. Most prominently, the built-in 10-band weather radio receiver allows users to obtain the latest NOAA weather report for the region where they are located. When activated, the vibration call alert ensures that transmissions will be received even if the recipient is in a noisy environment, such as an outboard motorboat, sports arena or convention, and can't hear a voice page or call tone. Users can lock the channel setting to prevent it from being changed unintentionally. A 1-second call tone can be used to alert users to a call. To conserve power, the FreeTalk WX has a battery saver function that switches the receiver on and off at predetermined intervals. When the battery is low, the radio beeps a warning. The large LCD, illuminated for use at night or in dark locations, displays both the channel and talk group numbers, the volume level setting, whether the radio is transmitting or receiving a signal, and whether the channel lock setting is engaged. Speaker volume is set with a 32-step control. For ease of use, the FreeTalk WX is small, less than 4-3/4" tall, 2-1/4" wide, and 1-1/4" deep, uses a fixed, low profile antenna, and is equipped with a removable belt clip. Controls are positioned so the radio may be held and operated with the same hand. An instruction manual is included, and the radio carries a 1-year warranty. For more information contact Kenwood Communications, Technology Park at Johns Creek, Dept. DEPT. DEPT. SAR, , 3975 Johns Creek Road, Suwanee, GA 30024. Phone: 1-800-950-5005. Their website is www.kenwood.com.
This article first appeared in Small Arms Review V4N8 (May 2001)