By Chris Choat
American Tactical Imports Introduces MP-5 Look-A-Like in .22
American Tactical is the exclusive U.S. importer of the GSG (German Sports Guns). The GSG-5 is a world innovation, the first semi-automatic small caliber rifle in the legendary design of the MP-5. The GSG-5 is a .22 Long Rifle High Velocity Caliber gun with an overall length of 26.7 inches. The rifle has a 22 round magazine capacity and weighs just 4.9 pounds. The gun features a shrouded barrel that resembles an MP-5SD. Other features include an ambidextrous safety/selector, adjustable sights, paddle magazine release and built-in "notches" for scope mounting. The gun combines the high-technology, reliability and appeal of the H&K MP-5 submachine gun series with the tactical accessories mount so popular these days. At a MSRP of $499.95, the GSG-5 is perfect for plinking, varmint or small game hunting. Watch for an in depth test on this new .22 in an upcoming issue of SAR. For more information, please contact them at American Tactical Imports, Dept. SAR, 100 Airpark Drive, Rochester, NY 14626. Phone: (800) 290-0065. Fax: (585) 328- 4168. Their website can be visited at www.americantactical.us.
Rainier Arms Introduces Enhanced Magazine for the P-Mag
Rainier Arms has teamed up with Gaylean Tactical to bring you the EMG (Enhanced Magazine Grip). The EMG was designed specially for the channels of the MagPul P-Mag and provides superior grip on the magazine. This allows for faster reloads when speed matters most. The EMG rubberized textured panel features an industrial strength adhesive with pressure application that adheres stronger the harder you press. The EMG can also be used on USGI magazines as well as any other mission critical item that needs superior grip. The new EMG comes in three configurations: front only with 12 front panels, Basic Kit with 24 side panels and Full Kit with 12 front and 24 side panels. Installation is simple; clean the magazine, press the panels in place and you're done. For more information or to place an order please contact Rainier Arms, Dept. SAR, P.O. Box 5786, Kent, WA 98064. Phone: (253) 218-2999. Fax: (253) 218-2998. Their website is www.rainierarms.com.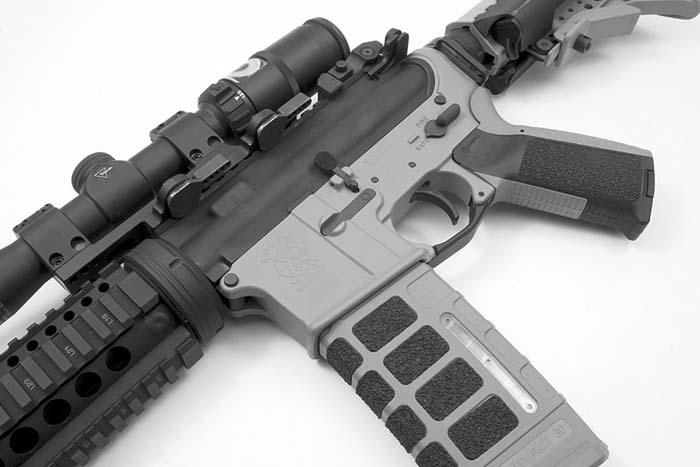 Buffer Technologies Introduces New Buffer for SIG P229
Responding to demands from law enforcement professionals, Buffer Technologies recently introduced an addition to its extensive line of recoil buffers. The newest member of the buffer family is for the SIG P229. Like Buffer Technologies' other SIG and Beretta buffers, the SIG P229 includes a new stainless steel guide rod with a high-density, shock-absorbing polyurethane buffer. The factory spring is retained. The stainless steel rod is a stronger, non-corrosive improvement over factory rods. Recoil buffers eliminate the metal-to-metal impact of the slide as it hits the frame. Over time, this continued force and impact can weaken the slide and jar internal workings of the gun, which can lead to cracks or potential malfunction. Law enforcement weapons can get heavy use, so the SIG line of buffers can help extend service life. The Buffer Technologies SIG P229 recoil buffer retails for $24.95 – a cost less than half that of many other after-market buffer products. The company also offers buffers to fit SIG 220 and 226 models, including the 9mm, .357SIG, .40 S&W and .45 ACP. Recoil buffers also are available for the Ruger 10/ 22, Ruger Mini-14/30, M1A/M14, FN/ FAL L1A1, SKS, HK G3/91 93, Model 1911 and clones, MAC-10/11 and all Kalashnikov-style weapons. For more information contact them at Buffer Technologies, Dept. SAR, P.O. Box 105047, Jefferson City, MO 65110. Phone: (573) 34-8520. Fax: (573) 634-8522. Website: www.buffertech.com.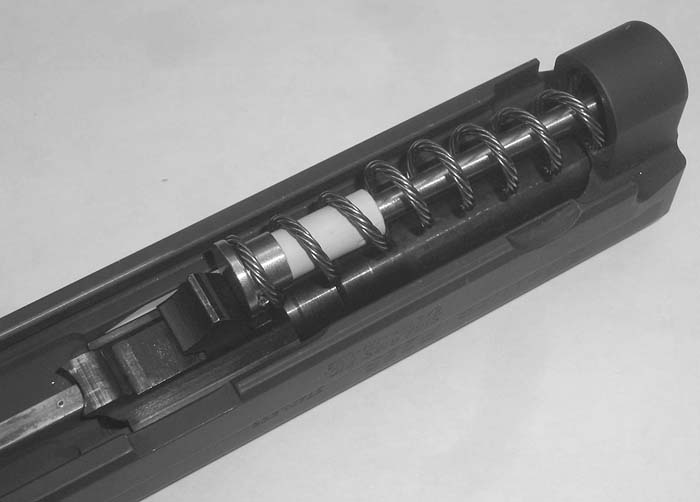 Taurus Introduces Their New 800 Series Pistols
Derived from the company's popular Taurus OSS model designed for U.S. Armed Forces, this new series of pistols boasts many new customer requested features including an added external hammer. The 800 Series, available in .45 ACP, .40 cal. and 9mm, features Taurus' industry changing Strike Two capability. Firing normally from single action mode, if the primer ever fails to ignite, the gun reverts to double action mode to provide a potentially life-saving second or third try at a faulty cartridge. Research indicates an 88 percent or better chance the round will fire on re-strike. The pistol will then automatically revert back to single action mode. When field stripping the 800 Series, which is achieved quickly with unique take-down levers, users will be impressed with the firearm's rugged construction including a forged slide and captured recoil spring with stainless steel guide rod. These components help create incredibly balanced spring pressure that allow for record-setting cycle times capable of firing ten rounds in under a second.
The series also features true ambidextrous magazine release buttons and extended magazine bumpers that double as a finger rest and helps prevent damage to the magazine when ejected in rapid-fire situations. Included with each firearm are three of Taurus' exclusive magazines, which fit into guided wells for record-setting reload times. Each magazine is double stacked for hi-capacity and features witness holes for easy round count. The 800 Series offers ultimate exclusive protection with three internal safeties, unnoticed by the shooter when firing. True ambidextrous safety and decock lever allows the user to leave a live round in the chamber and safely decock or leave a round in the chamber and apply the safety with the left or right hand. The series also comes standard with a visual loaded chamber indicator and the unique Taurus Security System that allows users to securely lock the gun using an inconspicuous onboard key-lock. Each caliber is available in either blue or stainless steel. For more information please contact Taurus International Manufacturing, Inc., Dept. SAR, 16175 Northwest 49th Avenue, Miami, FL 33014. Phone: (306) 624-1115. Fax: (305) 623- 7506. You can visit their website at www.taurususa.com.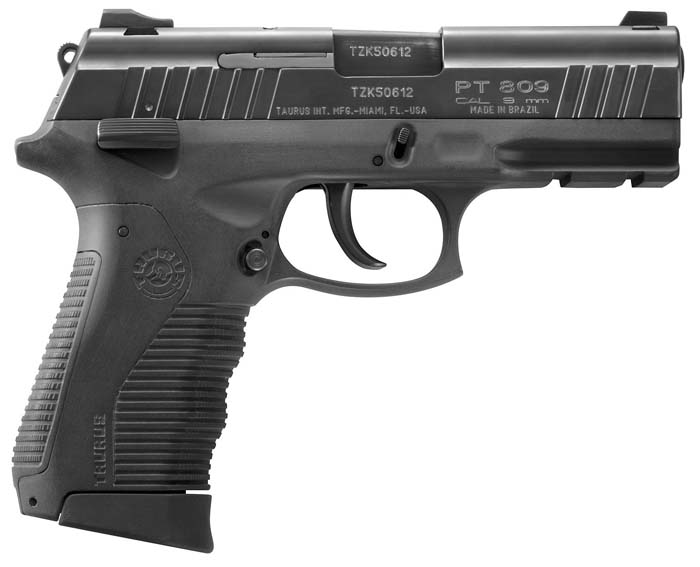 GunTec USA Introduces New AR-15/M16 Armorers Wrench
A new combination Armorer's Wrench for the AR-15/M16 series of rifles has just been introduced by GunTec USA. This new wrench combines many of the functions necessary for anyone building or repairing an AR-15 or M16 rifle. It is a two sided wrench. At one end, it attaches either multi-point or peg style barrel nuts on barrels up to 1 inch in diameter, and a torque wrench can fitted into the 1/2 inch square slot opening. This wrench also works well with installing free floating handguards. The other end fits CAR/M4 stock locking nuts, and a large flat head screwdriver blade is also included for use on full-size A2 buttstock screws. The two other slots on the wrench fit A1 and A2 birdcage flash hiders and receiver extensions. The wrench features all steel construction, is heat treated and has a parkerized finish. The wrench is 13 inches long and weighs just 1 pound 5 ounces. For more information or to place an order, please contact GunTec USA, Dept. SAR, P.O. Box 12731, Scottsdale, AZ 85267. Phone: (480) 518-5359. They can be found at: www.tacticalaccessories.com.

Spikes Tactical Introduces Two New Products
Spikes Tactical has just introduced two new long awaited products. The first is their new STZ "HAVOC" 37mm flare launcher. This new launcher features the latest in design and manufacturing technology. Parts are CAD designed and CNC machined from solid billet material rather than the typical stamped and welded construction of other launchers. The 6061 T-6 aircraft grade aluminum components are anodized in a non-glare matte black finish for maximum durability and ease of maintenance. This color also matches most AR finishes perfectly. Additional components are built from 1018 cold rolled steel and plated with a mil-spec black oxide finish. The proprietary STZ push button cylindrical breech lock design is three times stronger than existing lever locking systems. The HAVOC is designed to mount on any rail system that is carbine length or longer. Installation simply requires sliding the launcher onto the bottom rail of the handguard and tightening two set-screws which are included. The HAVOC also features a one piece launcher tube and hand grip design for the ultimate in strength. The launcher has an extended tube opening which will accept even the 5 3/4 inch long cased USCG approved munitions. Retail price of this new launcher is just $299.
The other new product from Spikes is their SL-15 lower receivers for AR-15 rifles. These new receivers are fully machined from forged 7075 T-6 aircraft quality aluminum and have a very durable black anodized finish. What really sets these lowers off from others is that they can be ordered with pictogram bullet markings. They are available with just safe and fire markings or also with safe, fire and fullauto markings. Spikes also offers color filled markings for a very unique look. Specially marked lowers can also be ordered on a custom basis. The fit and finish on these lowers is first rate. For more information on these or the full line of other AR uppers, lowers and accessories, please contact then at Spikes Tactical, Dept. SAR, 2593 Clark Street, Suite 103, Apopka, FL 32703. Phone: (407) 928-2666. Fax: (866) 283-2215. Their website is www.spikestactical.com.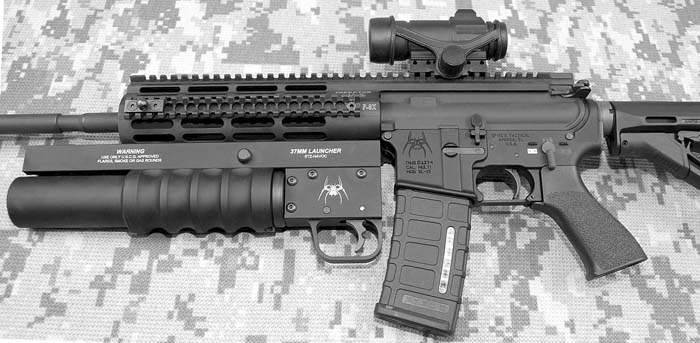 This article first appeared in Small Arms Review V11N7 (April 2008)