By Chris Choat

COMBAT SHOTGUN PRODUCTION CONTRACT AWARDED TO H&K

On May 12, 2000, the US Army Armaments, Research, Development, and Engineering Center (ARDEC) at Picatinny Arsenal, NJ, awarded the first year production contract valued at $2.8 million dollars for the Joint Services Combat Shotgun (JSCS) to Heckler & Koch, Inc (HK) of Sterling, Virginia and its teaming partner and subcontractor, Benelli Armi, S.p.A. (Benelli) of Urbino, Italy. Designated the M1014 Combat Shotgun, the M1014 is a gas operated, semi-automatic 12-gauge shotgun designed and manufactured by Benelli for HK, Inc. It is being procured for issue to all of the Armed Services, including the US Coast Guard and Special Operations Command, to replace or augment the current inventory of pump-action shotguns. The US Marine Corps is the Joint Service Program Manager for this procurement and will receive the first production deliveries. The M1014 functions using a new Auto Regulating Gas Operated (ARGO) Twin System with a rotating bolt with dual locking lugs. Engineered with dual gas ports, pistons, and cylinders, the ARGO Twin System was developed especially to meet the stringent Joint Services Combat Shotgun requirements. The ARGO system is self-cleaning and requires very little operator maintenance. With a 3-inch chamber, the M1014 can fire both 2.75 and 3-inch shells. It has an 18.5 inch barrel and holds nine rounds of 2.75 inch shells – seven in the tubular magazine with one on the carrier and one in the chamber – or eight rounds of 3-inch shells. It has a collapsible stock – with the stock extended, the length of the M1014 is 39.8 inches and when collapsed, 34.9 inches. Its unloaded weight is 8.4 pounds. The M1014 is fitted with Ghost Ring iron sights, adjustable for windage and elevation without special tools, and an accessory mounting rail is attached to the top of the receiver to mount sighting and night vision devices. A "Base Year Contract" was awarded to HK on February 9, 1999 after selection over four other competitors. Twenty pre-production shotguns were delivered in April 1999 and Technical Feasibility Testing (TFT) was conducted at Aberdeen Proving Ground during the summer of 1999. The results of this TFT led to a favorable Milestone III decision by the US Marine Corps on February 10, 2000 to exercise the first production year option for 3,977 shotguns. There are four production year options that may be exercised. The US Army, Coast Guard and Navy are expected to procure the M1014 in the 2001-2003 option years. For more information on this new MilSpec combat shotgun contact Heckler & Koch, Inc., Dept. SAR, 21480 Pacific Boulevard, Sterling, Virginia 20166-8903. Phone: 1-703-450-1900. Fax: 1-703-450-8160.

NEW MUZZLE FROM 25TH CTC

No more threading barrels, no more set screws or pins on muzzle breaks!! The "Muzzle Adapter" (c) has threads on the end; easily attaches to Smooth Non-Threaded Barrels, allowing attachments such as muzzle breaks, flash hiders, fake suppressors, etc., to be used on your firearm with no alterations to the firearms. The "Muzzle Adapter" (c) is self-aligning! No more eyeballing down the barrel, and then still shooting off the muzzle accessory! The new adapter installs quickly and easily and installation instructions are included. Models that are currently available include; AK-47s/MAK90 (any preban regular end barrel AK), SKS, Mini 14/30, Cobray PM-11/9mm and TEC AB-10. The AK, SKS and Mini14/30 models accept 14-1 left-handed and 3/4-10 threaded accessories. Cobray and TEC models accept 3/4-10 accessories. Many other models are to be available in the near future. The new "Muzzle Adapter" (c) is made in the U.S.A. and features a military black oxidized finish for durability. Special introductory price is just $24.95 each plus $5.05 for shipping and handling. For more information contact; 25th CTC, Dept. SAR, RT. 1, Box 127C, Griffithville, AR 72060. Phone: 1-870-256-9989. They can also be reached via e-mail at mjholowy@ipa.net.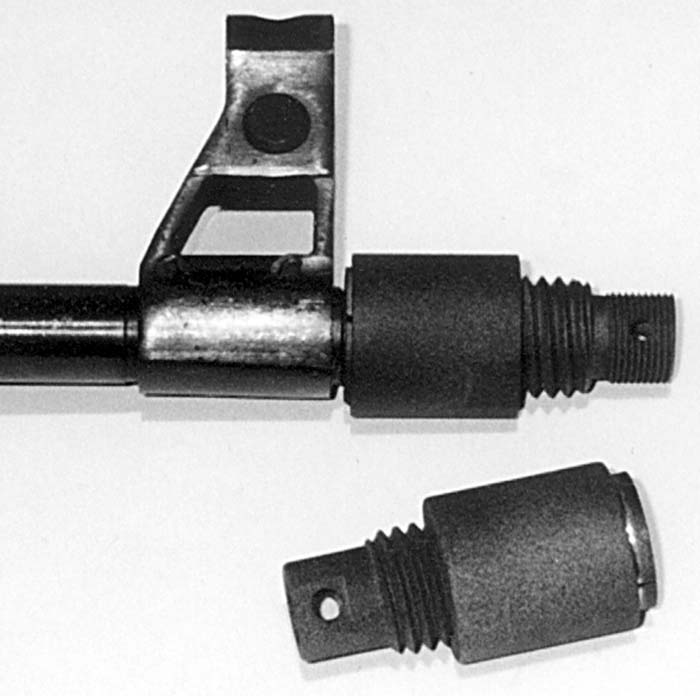 MOTOROLA UNVEILS NEW RECHARGEABLE RADIO

Motorola has introduced the smallest members of its award-winning TalkAbout family-the TalkAbout T289 and 280 SLK two-way radios. Sleek and light, these palm-sized radios, measuring 3.7 inches without antenna, are available with a rechargeable Nickel Metal Hydride battery or alkaline batteries. This new generation of radio offers virtually crystal-clear group communication up to two miles, depending on terrain and conditions. The TalkAbout T289 and 280 SLK radios are ideal for use in wilderness and lake areas, from remote areas back to camp, and even between vehicles or boats. With the touch of a button, hunters, fishermen, boaters, campers and hikers can keep in contact. Closer to home, these radios let families stay connected at the mall or around the neighborhood. The radios require no licensing or service fees because they operate on Family Radio Service (FRS). These radios can be used either with the Nickel Metal Hydride battery pack, that provides up to 12 hours of use, or three AAA batteries that provide up to 30 hours of use. They also include a channel and keypad lock, and an improved hands-free VOX (Voice Operated Transmission) feature that allows users to select sensitivity levels for those times when only a whisper is desired. They have 14 channels and 38 interference codes, a backlit display for low-light conditions and an audible low battery alert. A complete line of optional audio accessories and carry cases make the TalkAbout T289 and 280 SLK two-way radios even more user friendly, versatile and fun to use. Accessories include: Remote Speaker Microphone; Headset with Microphone Unit; Earbud; Earbud with Push-To-Talk Microphone; Flexible Ear Receiver; Arm Pack; Carry Case and even a Waterproof Bag. For more information on these great little radios contact Motorola, Dept. SAR, 600 North US Highway 45, Libertyville, IL 60048. Phone: 1-800-353-2729. Fax: 1-501-223-0301. Websight: www.motorola.com.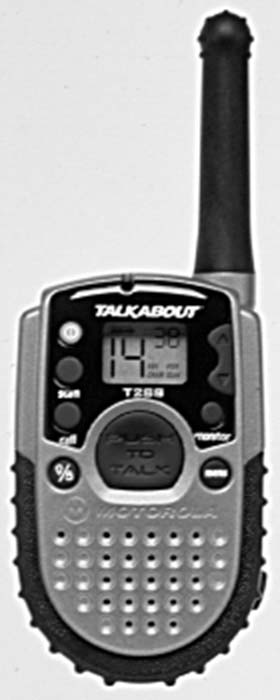 BUSHNELL INTRODUCES SECOND GENERATION HOLOSIGHT®

Bushnell has just introduced their new second generation Holosight® holographic gunsight. The new unit, which delivers instant target acquisition, is 2 inches shorter and 2.3 ounces lighter than the original Holosight that employed the first use of holographic technology in the shooting sports market. The Gen II's streamlined design contains no tubes, knobs or batteries to obscure the shooter's viewing area. Adapting jet fighter holographic heads-up display technology, the HOLOsight produces a reticle pattern that appears in the heads-up display window. When illuminated by a laser light, a holographic image becomes visible at the target plane where it remains in focus with the target. Since critical eye alignment is not required, the multi-plane focusing error is eliminated. Through the use of an on-board microprocessor, the Bushnell HOLOsight provides a battery power indicator feature, programmable auto shut-down modes and 20 levels of user selectable auto brightness start-up features. The new sight is powered by two type N-1.5 volt lithium batteries which are included. The Holosight is ideal for handguns, shotguns, rifles and subguns and fits any standard Weaver style base. The Holosight is legal for hunting and target competitions because, unlike lasersights, it does not project a beam of light. Two reticle patterns are available-a 2-dimensional ring with dots and tick marks and a 1 MOA dot. The field of view at 100 yards is unlimited. The Gen II Holosight is available now at Bushnell dealers nationwide and carries a retail price tag of $465.95. For more information contact Bushnell Corporation, Dept. SAR, 9200 Cody, Overland Park, KS 66214. Phone: 1-913-752-3433. Fax: 1-913-752-3489. Their web address is www.bushnell.com.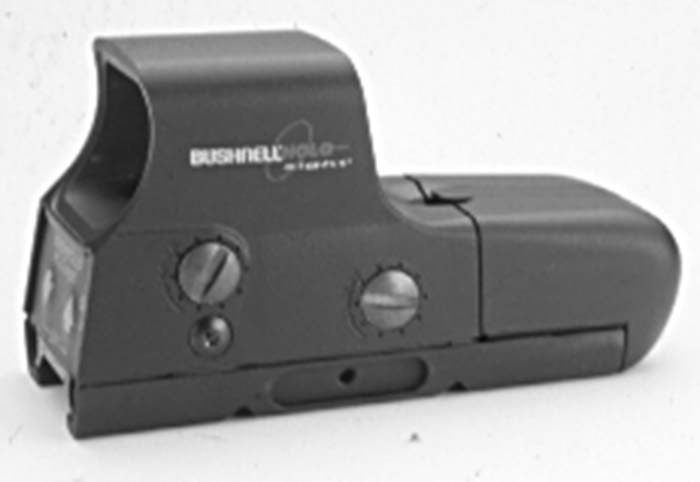 TRITON INTRODUCES CQD FRANGIBLE AMMUNITION

The most sought after high performance ammunition on the market now introduces a line of Close Quarter Defense (CQD) ammunition. The new CQD ammo is a reduced hazard hollow point ammunition that's designed for both personal defense and range use. Triton's new CQD Frangible features the SinterFire lead-free hollow point bullet. The copper/tin composite bullet utilizes a patent pending sintered metal technology. Upon impact with a bullet trap or backstop, the CQD Frangible breaks into small particles, minimizing wear to the backstop and reducing the back-slash hazard to the shooter. The SinterFire bullet's one-piece molded construction provides uniform dimensional and weight characteristics for superior accuracy. A molded-in crimp ring design provides bullet/case retention and minimizes the chance of bullet drive back. Full embodiment of a proprietary lubricant provides minimized barrel wear, reducing bore fouling and promoting easier cleaning. The cartridge cases are nickel finished for reliable feed and function. To guarantee reliable ignition, CQD Frangible utilizes standard pistol primers. Lead-free primers are available on request. CQD Frangible ammunition offers normal point-of-impact, accuracy and the felt recoil equivalent to conventional lead core ammunition. Unlike other lead-free ammunition on the market, CQD Frangible was also designed for defensive applications, offering controlled target penetration and maximum energy transfer. The CQD Frangible is ideal for use in urban scenarios where ricochet and overpenetration are major concerns. For more information on this and other high performance ammunition contact Triton Cartridge Corporation, Dept. SAR, P.O. Box 50, Wappingers Falls, New York 12590. Phone: 1-800-861-3362. Fax: 1-800-421-6391. On the web at www.triton-ammo.com.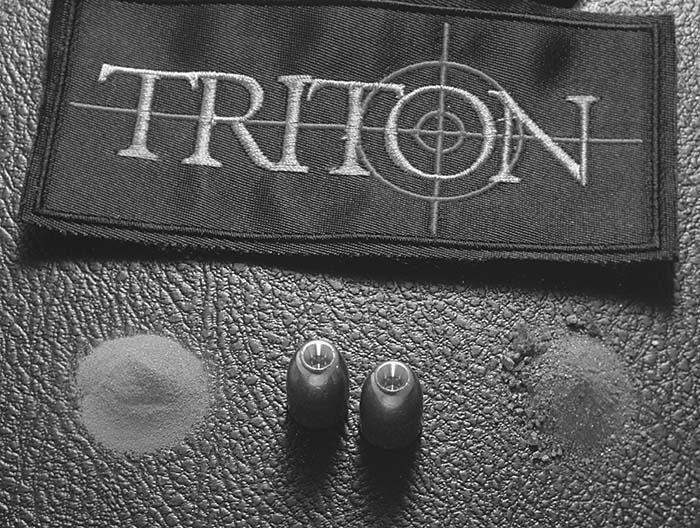 This article first appeared in Small Arms Review V4N2 (November 2000)