by Chris Choat
SENTRY® EXPANDS ITS OFFERING OF GUN SAFES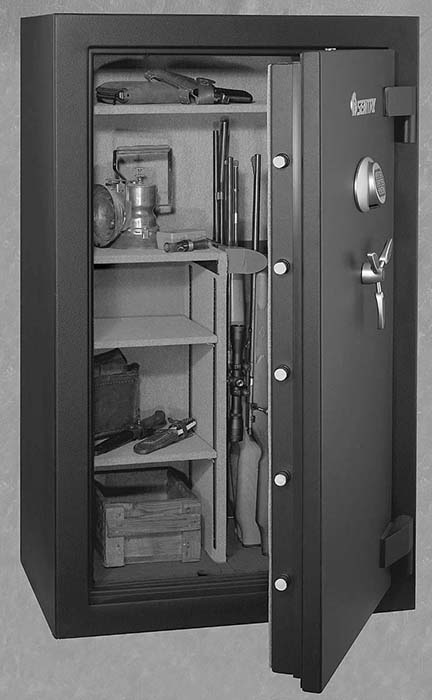 Just in time for the holiday gift-giving season, Sentry Group now offers more than 20 feature-rich, affordably priced gun safes, including eight new fire-rated models. Designed with a flush floor for easy access to all types of firearms, the enhanced line offers a sleek exterior body design with ergonomically friendly, rounded handles and easy-to-open lock options. To maximize storage opportunities, each standard model, includes a hidden floor compartment. All models include patent-pending features such as a bungee organizational system, gun barrel rests and sturdy door back hooks. Security features include solid-steel, pry-resistant doors; live locking bolts and hardened steel plates to protect from drill attacks. Sentry® Gun Safes are available at outdoor and sporting goods retail locations throughout the United States and Canada. For more information contact Sentry Group, Dept. SAR, 900 Linden Avenue, Rochester, NY 14625; phone: 1-800-828-1438; fax: 1-585-381-2940; website: www.sentrysafe.com.
ROYAL ROBBINS INTRODUCES THEIR 5.11 TACTICAL SERIES™ CLOTHING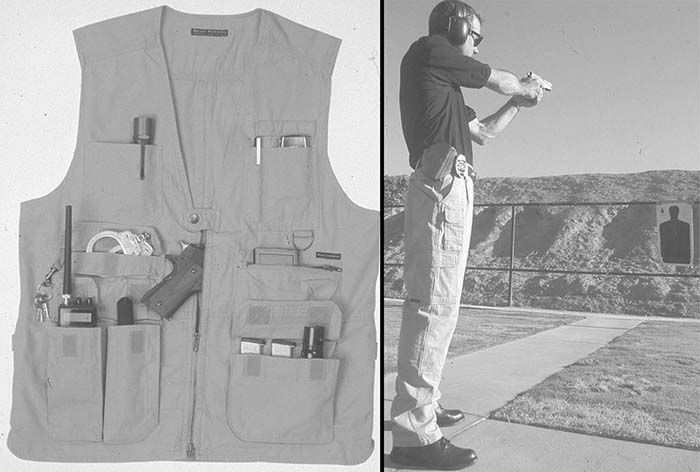 Royal Robbins, makers of fine clothing for years has now introduced their new 5.11 Tactical Series™. This new line includes tactical clothing that is not only good-looking but fully functional as well. They are please to unveil their new unisex 5.11 Tactical Vest. Loaded with features, built to endure the punishing use, and plain old good looking, the 5.11 Tactical Vest truly blurs the line between "clothing" and "equipment". It's not only for the military and law enforcement, but also perfect for hunting, target shooting, camping and fishing. The 5.11 Tactical Vest is the only vest good enough to be sold at the F.B.I. headquarters in the J. Edgar Hoover Building in Washington, DC., and worn by the U.N. Weapons Inspectors in Iraq. With more than a dozen pockets, the 5.11 Tactical Vest packs more useful and tricked-out features than any other vest on the market. Made of ultra-tough, trademarked 100% 8.5-ounce tactical canvas, the 5.11 Tactical Vest features a built-in brass key clip, bellowed vertical pockets for heavy stowage, a zippered security pocket, rear cargo pocket, document pocket, water bottle pockets and concealed carry pockets on both right and left sides and an interior Velcro® panel. The interior loop-sided Velcro® panel accommodates any type of hook-sided accessory holder. Despite all these features (as well as more) the vest is comfortable to wear all day long, courtesy of its adjustable snap tabs, action snap closure and very effective venting. The vest is available in sizes from medium to XXXL and comes in either black or khaki. The new 5.11 Tactical Vest joins the already popular 5.11 Tactical Pants, Shirts and Shorts that also are feature loaded and very good looking. The pants are the official pant for F.B.I. recruits training in Quantico, VA. For more information on these as well as other world-class tactical gear in their line contact 5.11 Tactical Series™ by Royal Robbins®, Dept. SAR, 1524 Princeton Ave., Modesto, CA 95350; phone: 1-866-451-1726; fax: 1-209-522-5511 website: www.511tactical.com.
NETWORK CUSTOM GUNS INTRODUCES Its SUPER "GAS GUN"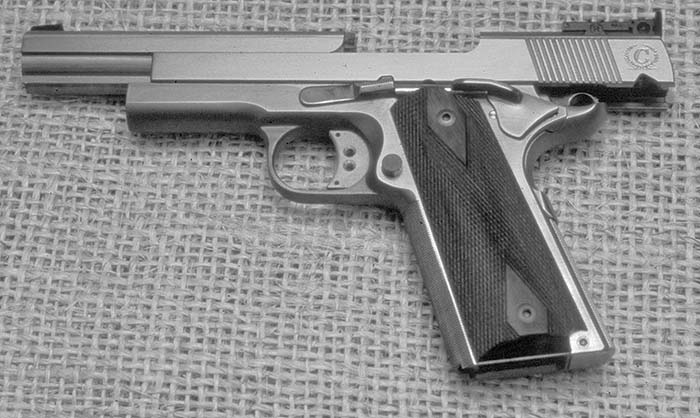 K.G. Industries, technical innovator on shooting sports, is pleased to team up with Network Custom Guns to offer the revolutionary Gas Gun conversion for the classic Model 1911 pistol. The Gas Gun conversion improves performance in a number of key areas, including accuracy, recoil and firing rate. Redesigning the 1911's original link-system for an exclusive fixed-barrel, direct blowback gas delay system, the Gas Gun eliminates many of the moving parts that contribute to the 1911's characteristic recoil and reloading action. Because the Gas Gun's barrel is fixed, it's inherently more accurate. Computer-machined from Douglas match-grade air-gauged barrel blanks, the Gas Gun is manufactured to much tighter tolerances than the barrel it replaces. In the higher-end Ultimate model, the 1911's slide is replaced too, with one that weighs only half as much. Felt recoil is reduced by as much as 60% with the Gas Gun. And since, in all Gas Gun models the barrel is parallel to the frame, rather than tilted down (as in the original design) recoil energy is shifted straight back to the shooters arm, rather than deflecting the wrist upward. This results in great accuracy as well as greater control. Due to it superior design, the Gas Gun effectively doubles cycle-times over the old style 1911. Among other numerous attributes, the self-cleaning gas system can handle magnum-class loads and is less prone to wear, since the number of moving, load bearing parts has been reduced. For more information on this innovative conversion contact Network Custom Guns, Dept. SAR, P.O. Box 939, Hayward, WI 54843; phone: 1-715-934-3567; fax: 1-715-934-3570; website: www.ncggasgun.com. 
NEW MAGELLAN HANDHELDS NOW WITH SECURE DIGITAL MEMORY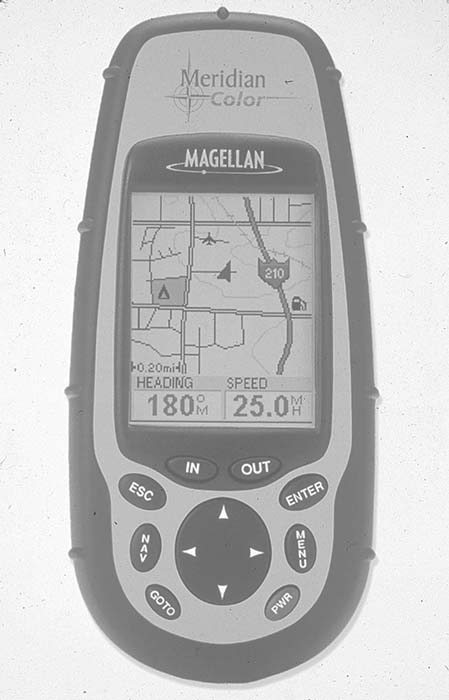 Thales Navigation, a leading global provider of GPS solutions including Magellan and Thales Navigation products, proudly announces the Magellan Meridian® series, the first line of GPS handhelds to offer Secure Digital Memory Card capabilities. The Secure Digital cards offer expanded data storage and downloading street detail, marine charts or topo data from Magellan Mapsend® software. This premium line of high-performance, waterproof receivers includes the new Magellan Meridian Color – the world's first color handheld – as well as the Magellan Meridian Gold, Magellan Meridian Platinum and the Magellan Meridian Marine. The WAAS-enabled receivers deliver better than three-meter accuracy and extensive, built-in 16 MB US map databases in a rugged, comfortable, slip-resistant design with a larger, backlit screen. Magellan Meridian units provide unprecedented expandability, versatility and functionality. The four Magellan Meridian receivers offer customers high-end navigation tools with a wide choice of capabilities for off-road, on-road and offshore functionality. Pocketsize and weighing just 8 ounces, the full-featured, PC compatible, 12 parallel-channel receivers store up to 500 waypoints and 20 reversible routes with up to 30 legs. Magellan Meridian receivers are also equipped with a quadrifilar helix antenna, which is the best for high-quality satellite signal reception and fast position fixes. For added convenience, Magellan Meridian units operate in nine different languages: English, French, German, Dutch, Finnish, Spanish, Italian, Portuguese and Swedish. Magellan Meridian receivers can accept industry standard secure digital memory cards for downloading up to 128 MB of additional navigation data from the Magellan Mapsend family of software. Other accessories include vehicle, bike and swivel mounting brackets, assorted power and data cables and a canvas carrying case. For more information on these and other GPS receivers please contact Magellan, Dept. SAR, 960 Overland Court, San Dimas, CA 91773; phone: 1-909-394-5000; fax: 1-909-394-7050; website: www.magellangps.com.
EOTECH ANNOUNCES NAME CHANGE ON PRODUCTS
EOTech has now changed the trade name of their military and law enforcement small arms weapon sights from HOLOgraphic Diffraction Sight (HDS) to HOLOgraphic Weapon Sight (HWS). It was decided that HOLOgraphic Weapon Sight (HWS) is a more descriptive trade name that helps to inform the customer very quickly what the product serves. No physical changes to the product are denoted by the name change. All current and future EOTech advertisements, catalogs, press releases and packaging will reflect the change to HWS. EOTech invented and manufactures the world's first and only holographic sighting system to interface with tactical small arms weaponry. Adapted from jet fighter aircraft Heads-Up-Displays, the HOLOgraphic Weapon Sight greatly enhances the operator's target acquisition speed while allowing the operator to maintain situational awareness by keeping both eyes open. The EOTech HOLOgraphic, whether called the HWS or the HDS, remains the finest Close-Quarter-Battle sight available for use on small arms weapon platforms. For more information on these excellent sights contact EOTech Inc., Dept. SAR, 3600 Green Court, Suite 400, Ann Arbor, MI 48105; phone: 1-734-741-8868; fax: 1-734-741-8221.
This article first appeared in Small Arms Review V7N2 (November 2003)