By Chris A. Choat
MICROTECH KNIVES BUILDS THE UMS FOR DEPLOYED TROOPS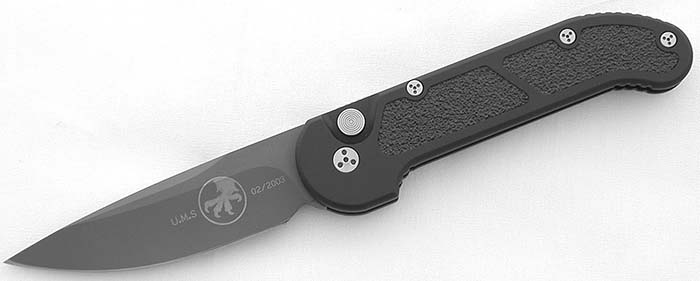 MicroTech Knives has begun shipping a new automatic folding knife designed expressly for use by law enforcement and the military. Known as the UMS, (Uniformed Military Service), the new knife is derived from the highly popular and successful UDT series that MicroTech designed and has built for several years. Among the changes from the UDT are the incorporation of an integral safety, a larger format, slip-resistant inserts in the handle and a plunge lock. The knife also has a lanyard attachment point and pocket clip. An operator's manual and specially designed nylon sheath are included in a moisture resistant package. Meeting the continuing and increased demand for a new, reasonably priced top-of-the line tactical knife presented an unusual opportunity for the Vero Beach, Florida company. "Our constant mission is to make a highly reliable, no-nonsense knife that is constructed exclusively from American materials," said company President Tony Marfione. "This in fact sounds easier than it is. Much of the production knife business has moved to the Pacific Rim and materials are coming from the same region. We get our steel, aluminum, titanium and everything else in our knives from US suppliers. We then machine and assemble the products right here, not in China or Taiwan. This makes the difference in the final product, but it comes at a price." Since 1994, MicroTech has built a wide range of folding tactical knife products. Using high technology for design and machining, MicroTech produces the UMS as a medium-sized tactical/utility knife for law enforcement and military. "This is no giant Bowie-style knife," said Marfione. "We designed the UMS to be carried in the BDU pocket, on the SEER vest or on any belt, paying attention to details like the wider size of the current military BDU nylon belt and making sure that the sheath had both horizontal and vertical loops big enough for that belt. The safety latch was an item required in some military units." Police, fire/EMT, combat military and government agency operatives continue to ask for an auto-folder with a high durability, wear-resistant blade, strong adhesion to the wet or sweaty hand and a reliable, very fast, one-handed blade deployment. Like all of the new knives from MicroTech, the UMS uses new, proprietary, tamper resistant fasteners. "This is to discourage unauthorized people from opening the knife in the field," Marfione says. "I know there are plenty of collectors who want to take a knife apart and see how it works, but for the field soldier or cop, this is not a desirable undertaking any more than it is for them to go beyond first level tear down of their personal weapons." The company will provide special tools for maintenance to a small group of selected dealers and distributors, but prefers for owners to return the knives under the lifetime warrantee provided for all original owners. Options for the UMS include various blade treatments: black, stone wash, desert tan and OD green finishes in plain or partially serrated blades. Production in 2003 will be numbered and limited to 3,600 pieces. The standard version of the UMS has a retail price of $165-170 US, depending on the blade finish. For more information contact Micro Technology, Dept. SAR, 932 36th Court, Vero Beach, FL 32968; phone: 1-772-569-3058; fax: 1-772-569-7632; website: www.microtechknives.com.
SRT ARMS INTRODUCES THEIR NEW HMaxR SUPPRESSOR

Legal in 35 states, this new HMaxR suppressor for the .17 Hornady Magnum Rimfire is advertised as quieting the muzzle blast of the .17 HMR round from about 155 dB down to 122 dB, which is about as loud as a pellet rifle. It completely eliminates the need for hearing protection, and does not affect bullet accuracy. The suppressor has a 1-inch outside diameter, is 6 inches long and weighs just 7 ounces. It is constructed of stainless steel and therefore is rust resistant. It is available in bright stainless finish or matte black. It mounts on standard 1/2 X 28 muzzle threads and the bore of the suppressor is large enough that it can also be used on .22 LR pistols and rifles as well as .22 Magnum firearms. For more information contact SRT Arms, Dept. SAR, 1769 E. Broadway Road, #1-161, Tempe, AZ 85282; phone: 1-480-967-6218; website: www.srtarms.com.
NEW SUPERSABOT FROM BRENNEKE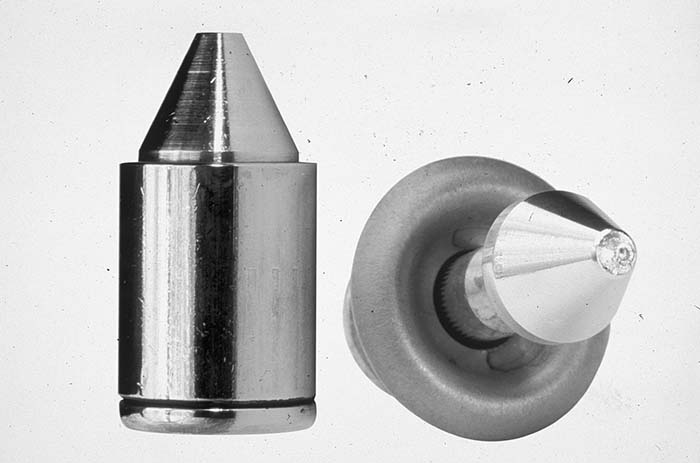 Brenneke® has introduced a revolutionary new sabot round for 12 gauge rifled shotguns that provides accuracy and knockdown power superior to virtually any other sabot load on the market. The SuperSabot features a "wadcutter" 49-grain projectile that measures a full 0.63-inch in diameter, providing 58% more frontal area than standard .50 caliber sabots. Expansion within the target is exceptional, with the brass exterior expanding to a full one-inch in diameter. The SuperSabot is completely lead-free. Its unique patented "piston" maintains optimum ballistic efficiency during flight while transferring more energy to the target. The SuperSabot is available in 2 3/4-inch and 3-inch loads, with muzzle velocities up to 1,526 fps producing 2,536 ft. lbs. of muzzle energy. It is capable of accuracy approaching that of a centerfire rifle, with five-shot groups under 2.5 inches at 100 yards being reported in actual field conditions. The SuperSabot is the first projectile that combines the accuracy of sabot rounds with the knockdown power of traditional lead shotgun slugs. For more information on this amazing new round contact Brenneke USA, Dept. SAR, P.O. Box 1481, Clinton, IA 52733; phone: 1-800-753-9733. website: www.brennekeusa.com.
SCHMIDT & BENDER INTRODUCES NEW PM II/LP TACTICAL SCOPE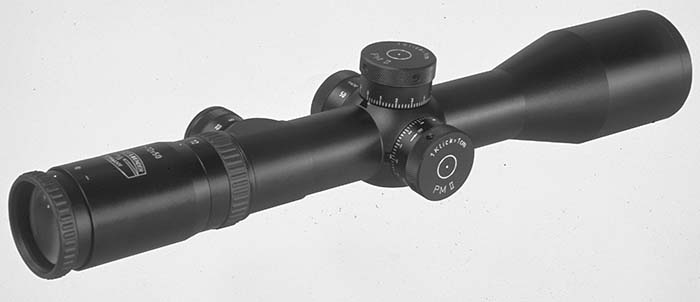 The new 3-12 X 50 PM II/LP has joined the Police Marksman II series of tactical scopes from Schmidt & Bender. The PM II/LP combines parallax compensation, illuminated reticle control and 1/4-inch MOA clicks in a highly ergonomic design, with controls clearly separated for safe, quick handling in high-stress situations. The PM II/LP features the sophisticated P-3 mil-dot reticle, facilitating range estimating and long-range capabilities to over 1,000 yards. It is built with a one-piece 34 mm tube, providing extended windage and elevation adjustment ranges. The PM II/LP is the first Schmidt & Bender scope to offer 1/4-minute click stops. Unique to the PM II/LP is a color-coded elevation knob that gives the shooter instant reference to where the elevation is set. Just one turn of the knob provides 28 minutes of elevation. A window within the dial than changes to yellow, and one additional turn provides an additional 28 minutes of adjustment. Thus, the complete 56-minute adjustment range can be covered in only two turns of the elevation knob, while the dial's window graphically shows the shooter where they are within the overall range. This solves the problem posed by many tactical scopes when the shooter can become "lost" within an adjustment range requiring several turns of the elevation knob, especially under stressful conditions. Parallax adjustment is located in its own separate turret, as are the illuminated reticle controls. The reticle brightness is fully adjustable with 11 graduated settings allowing precise selection relative to ambient light. There is a convenient "standby" position between the settings that switches off the illumination, while allowing the shooter to quickly return to the pre-selected brightness level. The full magnification range of the scope can be covered with only one-half turn (180°) of the adjustment ring. For more information on this innovative new scope contact Schmidt & Bender, Inc., Dept. SAR, P.O. Box 134, Meriden, NH 03770-0134; phone: 1-800-468-3450; fax: 1-603-469-3471; website: www.schmidtbender.com.
NEW EDITION WINCHESTER RELOADING COMPONENTS MANUAL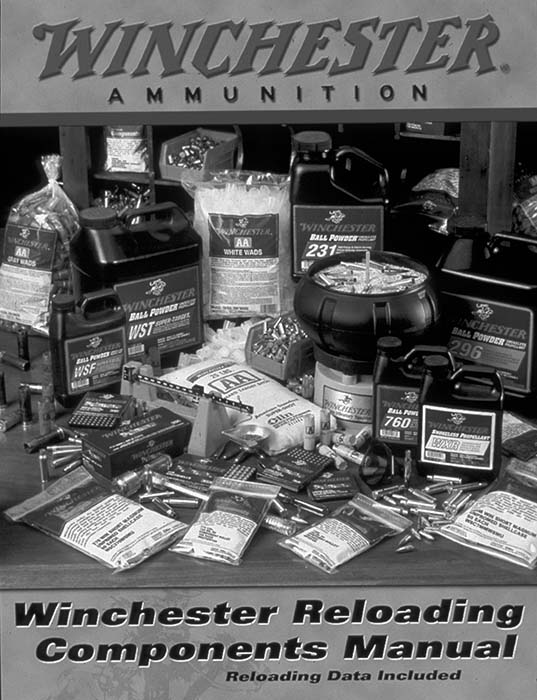 Winchester has just produced a revised edition of their Reloading Components Manual. This new edition includes data for new cartridges such as the 270 Winchester Short Magnum, 7mm Winchester Short Magnum and the 300 Winchester Short Magnum. Cartridge drawings have been added to all listings so you can compare dimensions of your favorite calibers, including the new 223 Winchester Super Short Magnum. Shotshells haven't been left out as loads are listed for the terrific new High Strength (HS) .410 gauge and 28 gauge rounds along with time-tested recipes using your favorite Winchester powders. For more information please contact Winchester Ammunition, Olin Division, Dept. SAR, 427 North Shamrock Street, East Alton, IL 62024; phone: 1-618-258-2000; fax: 1-618-258-3609; website: www.winchester.com.
This article first appeared in Small Arms Review V7N1 (October 2003)