By Chris Choat

PROFESSIONAL ORDNANCE RELEASES C15M L.E. RIFLE

Professional Ordnance has been known for some time as an innovator in the AR-15 type rifle with the introduction of their carbon fiber rifles. Now they have announced a new version of their Carbon-15 rifle-the C15M Law Enforcement (L.E.) Rifle. The Professional Ordnance reputation for quality and reliability is again revealed in their much-anticipated .223 semi-auto and select-fire short-barreled rifles that weigh under four pounds. The engineers at Professional Ordnance have developed what law enforcement professionals are calling the "finest L.E. gun we have ever seen". Designed specially for law enforcement applications the C15M is constructed of carbon fiber, the same proven material used in the extremely successful Carbon-15 commercial product line. Standard features on the C15M include carbon fiber receivers, hard chromed bolt, carrier, and barrel extension. Also included is their carbon fiber quick detach stock which can be ordered in either standard length or 2 inches shorter for use with body armor and tac-vests. The C15M also includes a stainless steel barrel, full length Picatinny Rail with combination ghost ring/200 yards peep rear sights, insulated carbon fiber handguard, quick detach compensator and a multi-carry sling. This is only a few of the special features. The C15M can also be configured as a semi-auto patrol carbine with a 16-inch barrel or as a short-barreled CQB/entry weapon. For more information contact Professional Ordnance, Inc., Dept. DEPT. SAR, 1070 Metric Drive, Lake Havasu City, AZ 86403. Phone: 1-520-505-2420. Fax: 1-520-505-2141. Their web address is www.professional-ordnance.com.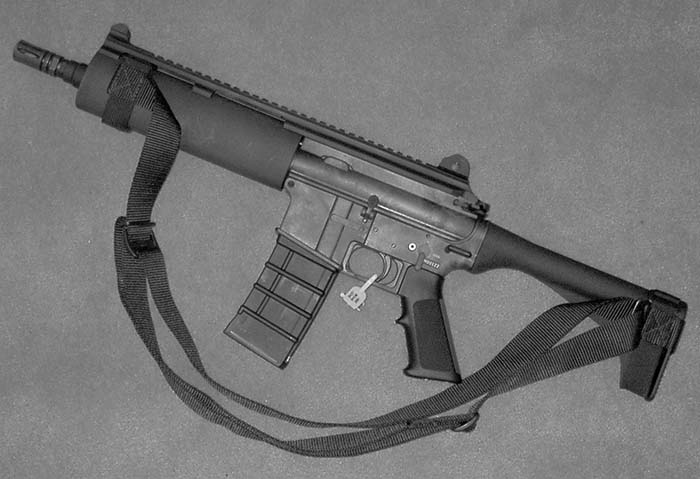 BIRCHWOOD CASEY INTRODUCES NEW TARGET SYSTEM

What can you say about Birchwood Casey other than that they produce great gun care products? They also produce some of the most fun targets! They have now introduced their new GALLERY Resetting Target. The new target makes it possible for shooters to enjoy uninterrupted shooting; no walking, no resetting, no hassle. Just continuous shooting fun. Created specifically for .22 caliber rimfire rifles and handguns enthusiasts, the Gallery Resetting Target lets you experience all the fun of knocking down targets without walking down range or pulling cords to reset them. Four swinging targets on the bottom swing around and rest on a crossbar when hit with a .22 caliber round. When all four targets have been hit, just shoot the top target (attached to the crossbar) to drop the four targets into their original position, resetting the targets. With this target, you can sit down and shoot until you run out of ammo. Retail price of the new target is $50.00. For more information contact Birchwood Laboratories, Inc., Dept. DEPT. SAR, 7900 Fuller Road, Eden Prairie, MN 55344. Phone: 1-800-328-6156. Fax: 1-612-937-7979. They are on the web at www.birchwoodcasey.com.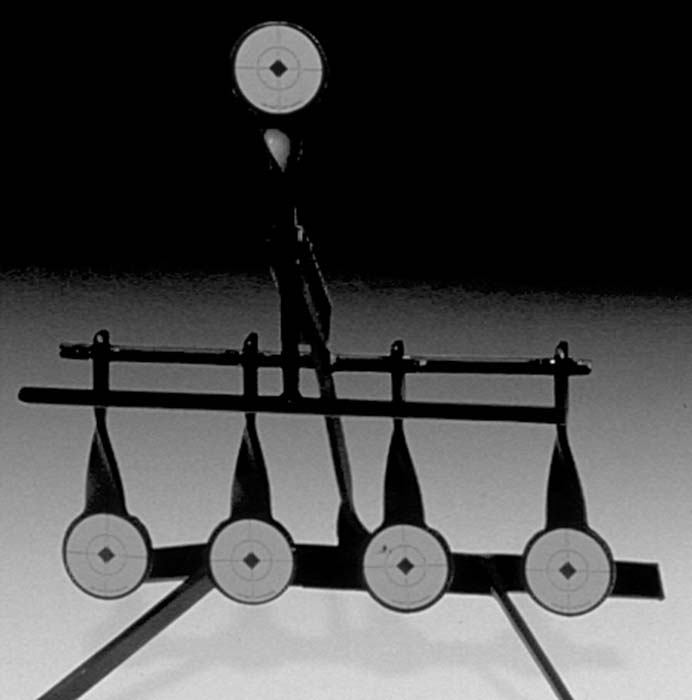 NEW REDI-CLIP ADDS FIREPOWER

Police officers can now dramatically increase their firepower with the new innovative magazine dispenser made by Redi-Clip, Inc. This revolutionary product is designed for the modern law enforcement officer and holds five fully loaded magazines and dispenses them in seconds. Redi-Clip is made of hardened nylon and is spring loaded for easy access. Redi-Clip was designed for back-up but can be used at the range as well. It clips to a duty belt or under the dash within easy reach. Increased firepower is now available without bulky belt inserts or cumbersome swinging pouches. Redi-Clip is lightweight and ergonomically designed to be low profile. It carries 9mm, 10mm, .40 caliber and some model .45 caliber magazines. For more information contact Redi-Clip, Dept. DEPT. SAR, 3126 South Boulevard, Edmond, OK 73013. Phone: 1-877-789-CLIP. Their website is www.redi-clip.com.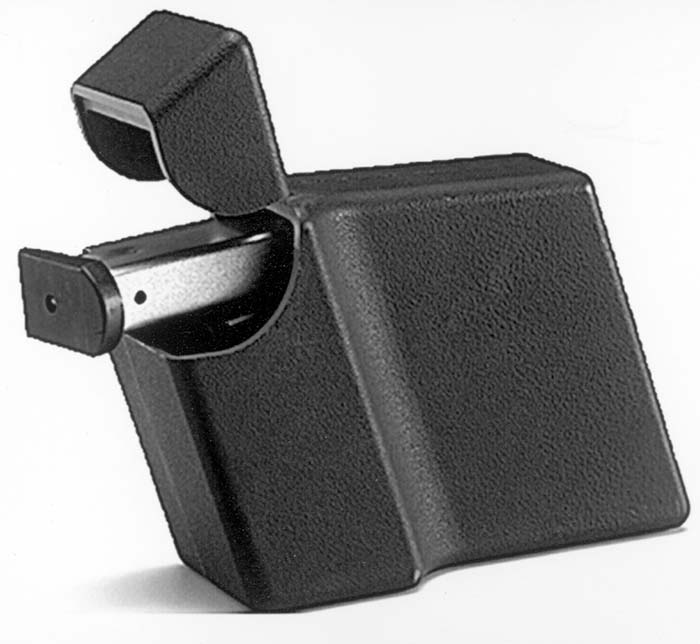 LEUPOLD INTRODUCES NEW SIDE FOCUS SCOPE

Leupold is very pleased to introduce the newest Leupold Premiere Scope-the LPS® 3.5-14x50mm Side Focus. Developed around the original LPS technology and incorporating new developments in the field of optical design the new LPS 3.5-14x50mm Side focus is certain to set new standards for riflescope design. The new scope brings the convenience of side focus parallax adjustment, which is proven so popular among Leupold's Long-Range and Mark 4 scopes, to the LPS scopes. With the convenience of side focus adjustment, parallax distance can be set without ever leaving the shooting position. It also features a newly designed optical system for superior resolution and contrast. The new 3.5-14x50mm Side Focus also features a 99.65% light transmission rate, DiamondCoat lens coatings, four inches of constant eye relief and Leupold's low profile adjustment dials. It offers a rugged, one piece, 30mm diameter maintube for both durability and image clarity. The new scope's long maintube allows for mounting on even the longest rifle actions, yet it weighs only 18.5 ounces. For more information contact Leupold & Stevens, Inc., Dept. DEPT. SAR, P.O. Box 688, Beaverton, OR 97075-0688. Phone: 1-503-646-9171. Fax: 1-503-526-1475. Web Site: www.leupold.com.

TWO NEW PRODUCTS FROM HOGUE

Hogue, Inc. has now applied their Overmold technology to the AR-16/M-16 style rifles, producing the ultimate grip and forend combination. The Overmold AR-15/M-16 grip is specifically designed to retain the important lines and aesthetics of the AR, while at the same time providing a comfortable rubber grip with finger grooves and palm swells. The forend is a unique two-piece, free-floating rubber Overmolded aluminum forend tube. Free-floating your AR barrel gives maximum accuracy by eliminating all hand guard forces on the barrel. The rubber Overmolding gives a super comfortable, non-slip grasping area that insulates your hand from the heat produced during rapid fire or from the cold of extreme climates. The two-piece design installs easily on any AR-15/M-16 style rifle. For more information contact Hogue Grips, Inc., Dept. DEPT. SAR, P.O. Box 1138, Paso Robles, CA 93447. Phone: 805-239-1440. Fax: 1-805-239-2553. On the web at www.hogueinc.com.
SUPER TRAP BULLET CONTAINMENT SYSTEMS

Super Trap now has a new bullet containment system designed with the tactical user in mind. Their new Tactical Target has a 24 inch by 36 inch target strike face. The new bullet trap has a replaceable rubber face that allows attaching any style target to it as well as eliminating bullet splatter. The new trap disassembles without tools for compact storage and has wheels mounted to its base to allow it to be portable. The trap has a 3 inch thick target face and will stop all pistol rounds even when fired from a submachine gun. The new Tactical Target trap features a bottom mounted bullet catch tray for catching and retrieving expended bullets. The Super Trap can be shot at all distances, including point blank, without fear of ricocheting bullets. The durable unit is very well built and weights 180 pounds. For more information contact Super Trap Bullet Containment Systems, Dept. DEPT. SAR, 42380 Rio Nedo, Temecula, CA 92590. Phone: 1-909-296-6272. Fax: 1-909-296-6279. They can also be reached on the web at www.supertrap.com.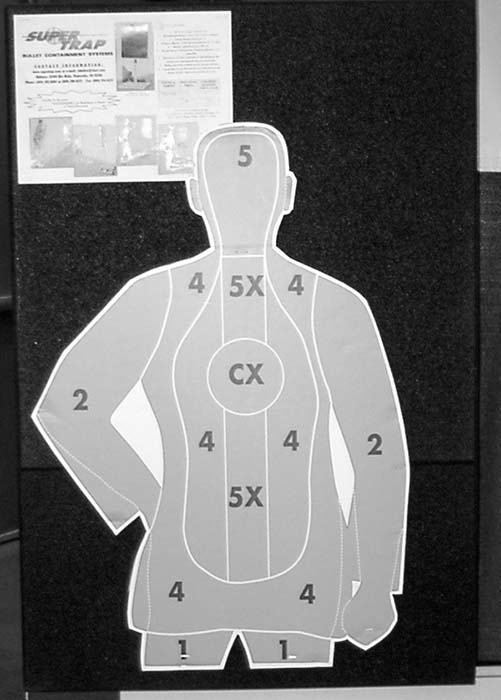 This article first appeared in Small Arms Review V4N12 (September 2001)