By Chris A. Choat
New .308 Hydraulic Buffer from Buffer Technologies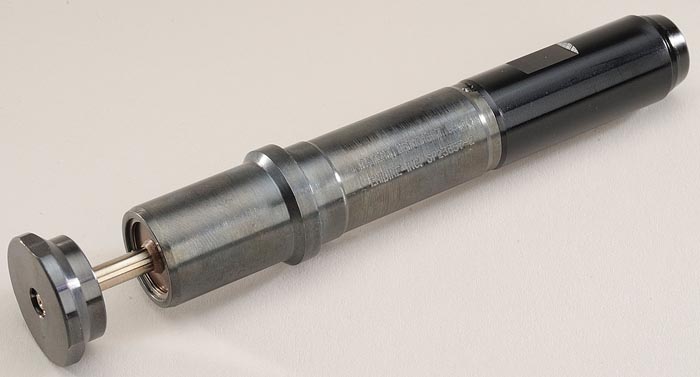 The .308 rifle becomes an even more versatile and efficient weapon by adding a new hydraulic buffer now offered by Buffer Technologies. The .308 is well known by law enforcement officers as a versatile and reliable weapon and one that many trust with their lives. However, because of its reliability, the .308 gets constant use, and can cause parts to wear down. This new product helps reduce shock, protect optics and improve accuracy. Other benefits include faster target acquisition, recoil reduction, suppression of bolt bounce, lower firing rates and drop in replacements. The new.308 hydraulic buffer is created from black oxide finished steel and black anodized aluminum. It weighs .38 pounds, has a 5.8 inch compression length and is designed for the .308 chambered rifle with a full length buttstock. Buffer Technologies is a Missouri-based manufacturer and distributor of tactical weapons accessories for law enforcement, military and shooting sports. For more information you can contact them at Buffer Technologies, Dept. SAR, P.O. Box 104903, Jefferson City, MO 65101. Phone: (877) 628-3337. Fax: (573) 634-8522. Their website is www.buffertech.com.
ATN Introduces Night Shadow Binoculars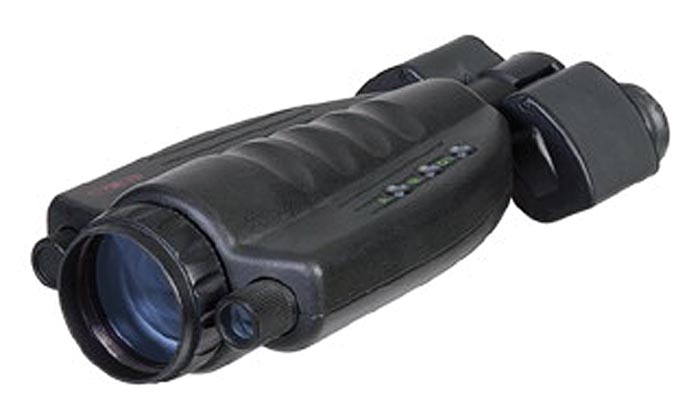 American Technologies Network, Corp. (ATN), a leader in night vision technology, has built in their exclusive "Smart Technology" into their Night Shadow Night Vision binocular line. ATN's Smart Technology includes a proximity sensor that automatically turns the night vision binocular on when it's brought into a viewing position. No more fumbling for on/off buttons in the dark or creating excessive movement or sound when predator hunting. An added plus to the proximity sensor happens because as the unit turns itself on or off automatically it saves on the battery life and the life of the unit itself. ATN's Smart Technology also includes easy-to-use digital controls and a long-range Infrared Illuminator which allows the viewer to see in total darkness with perfect clarity. ATN's family of Night Shadow Night Vision binoculars include the popular Generation 1, which is an affordable night vision tool for camping, predator hunting, fishing or personal security. Built on the same high quality and durable foundation, the ATN Night Shadow is also available in Gen.2+ CGT technology that provides a 45-54 lp/mm resolution with automatic brightness and gain control as well as bright light protection, HPT which is a multi-alkali compact 18mm format MCP image intensifier increasing sensitivity, resolution, signal to noise ratio and modulation transfer function, Gen.3, Gen. 3A, Gen. 3P, WPT which is ATN's White Phosphor Technology allowing the viewer to see crisper black and white images instead of the traditional green images and Gen. 4 filmless autogated technology making the Gen. 4 Night Shadow a perfect tool for military or law enforcement applications. They can be reached at American Technologies Network Corporation, Dept. SAR, 1341 San Mateo Avenue, South San Francisco, CA 94080. Phone: (650) 989-5100. Fax: (650) 875-0129. Visit their website at: www.atncorp.com.
New XRAIL System for Shotguns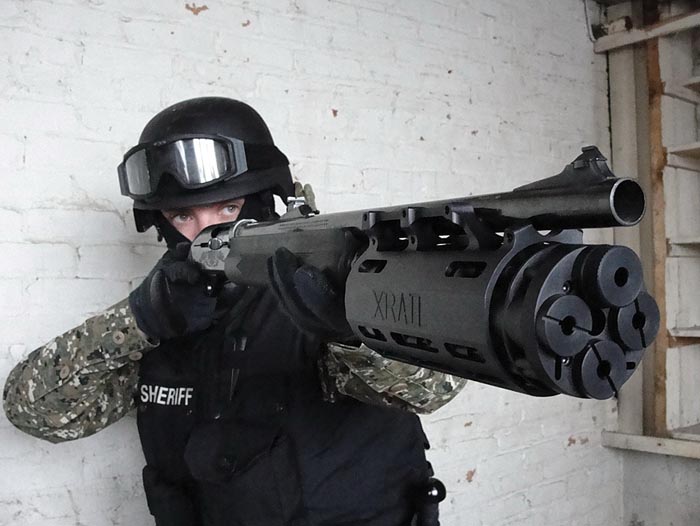 Roth Concept Innovations (RCI) designs and manufactures high capacity solutions for your shotgun. RCI introduces the New XRAIL System. The XRAIL System is an auto indexing loader for shotguns. The XRAIL System operates as a magazine extension for shotguns that allow up to 23 rounds of ammo without altering your gun. It takes only minutes to install and no gunsmithing required. The XRAIL System works easy and efficiently. Load the XRAIL the same way you would normally load your gun. Once the main tube is full, rotate the XRAIL System to the next auxiliary tube and load. Repeat until all tubes are full. When shooting, the tubes automatically rotate as the ammo is unloaded. The XRAIL System is an add-on XRAIL System that fits Benelli and Remington shotguns and is available in both standard and compact versions. The new XRAILs are made of hard coated black anodized aluminum and stainless steel all non corrosive with black nylon or clear polycarbonate unified tubes. The compact unit weight is 1 pound, 8 ounces empty and the full version weight is 2 pounds, 1 ounce empty. All XRAIL and RCI products are 100% made in the USA. For more information about the XRAIL please contact Roth Concept Innovations, LLC, Dept. SAR, 3825 East Calumet Street, Suite 400-173, Appleton, WI 54915. Phone: (920) 585-6534. Fax: (920) 731-6660. Visit their website at: www.xrailbyrci.com.
Insight Technology has New X2/X2L LED Series Tactical Illuminators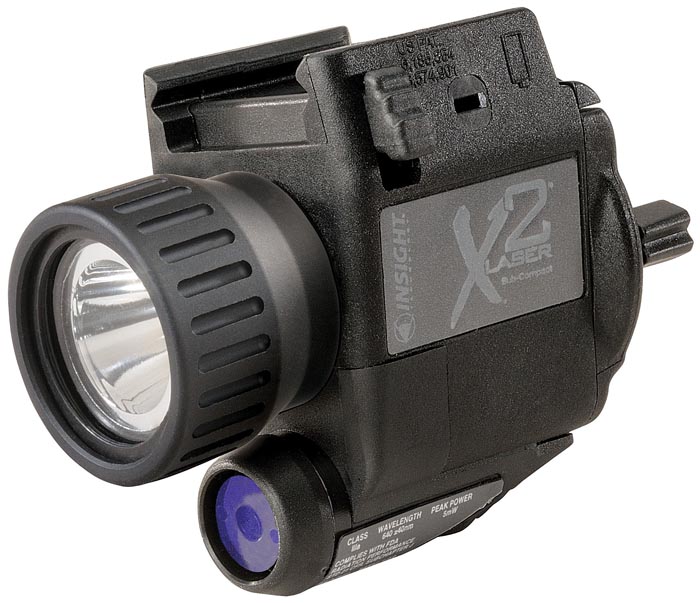 Insight Technology, the world's leading provider of tactical lasers, illuminators, thermal imaging equipment, and red dot sighting systems release their new X2/X2L LED Series Tactical Illuminators. The X2 series are the world's first and best subcompact weapon-mounted light/laser units now delivering a peak output of 80 lumens from a new LED emitter. The X2L LED features a visible red Class IIIa laser with a range of 200 meters. Both models are powered by one CR2 lithium battery for a run time of 60 minutes. The X2L LED Series easily mounts to most subcompact pistol rails utilizing Insight's patented Slide-Lock interface. The ambidextrous rocker switch allows the X2 LED series to be activated in either a momentary on or constant on mode. A two position laser switch on the X2L turns the laser on and off so it can be used in a white light only or white light and laser mode. Replacement LED kits available later this year. The X2/X2L LED series improve light output, extend run time, and increase durability. For more information please contact them at Insight Technology, Dept. SAR, 9 Akira Way, Londonderry, NH 03053. Phone: (606) 626-4800. Fax: (603) 668-1084. Their website is www.insighttechgear.com.
New SAW Sling from EMA Tactical
EMA Tactical is proud to introduce their new SAW (Squad Automatic Weapon) sling. The SAW sling is designed to be used by the operator when carrying crew served weapons. The whole squad depends on the soldier with the SAW and carrying it is tiresome. Designed with the comfort of the soldier in mind and understanding the need for a heavy duty sling in the marketplace today, the new SAW sling spreads the weight over a very large surface of the upper body. With the new SAW sling the soldier arrives at his destination in a much less fatigued condition than with an ordinary sling and is ready to complete the mission. The 4 inch wide, 1 inch thick padding is 33 inches long protected in a Cordura outer covering with a mesh lining for wicking moisture on the underside. The edges are protected with nylon piping. A 2 inch wide nylon webbing is securely stitched along the length of the padding and with box X stitching at both ends for extra reinforcement. There are metal strap length adjustment slides at both ends of the nylon webbing. Overall sling length can be adjusted between 57 and 75 inches. Heavy duty metal safety hooks are wrapped with vinyl backed nylon shrouds to eliminate noise from rattling and provide a secure attachment to the SAW. Manufactured in Israel by Marom Dolphin, EMA Tactical is the exclusive distributor of Marom Dolphin products in the USA. For more information please contact them at EMA Tactical, Dept. SAR, 1208 Branagan Drive, Tullytown, PA 19007. Phone: (215) 949-9944. Fax: (215) 949-9191. Website: www.ematactical.com.
This article first appeared in Small Arms Review V13N11 (August 2010)