By Chris Choat
Tactical Rifles Announces M40T7 Stock

Tactical Rifles is proud to announce the release of the new M40T7 stock. Designed with the input of law enforcement and military sniper customers, the T7 is undoubtedly the finest non-adjustable tactical stock available today. An advanced mix of carbon fiber and fiberglass ensures lighter weight whilst giving tremendous strength. Available in a multitude of different camo patterns and colors as well as their exclusive Tac-Coat non-slip finish, the T7 offers the ergonomics that have previously been unavailable in non-adjustable stocks. It is also available with an optional spare magazine holder located flush in the rear of the stock. For more information please contact Tactical Rifles Inc., Dept. SAR, 38439 5th Avenue #186, Zephyrhills, FL 33542. Phone: (877) 811-4867. Their website is www.tacticalrifles.net.
Browning Introduces Tactical Safe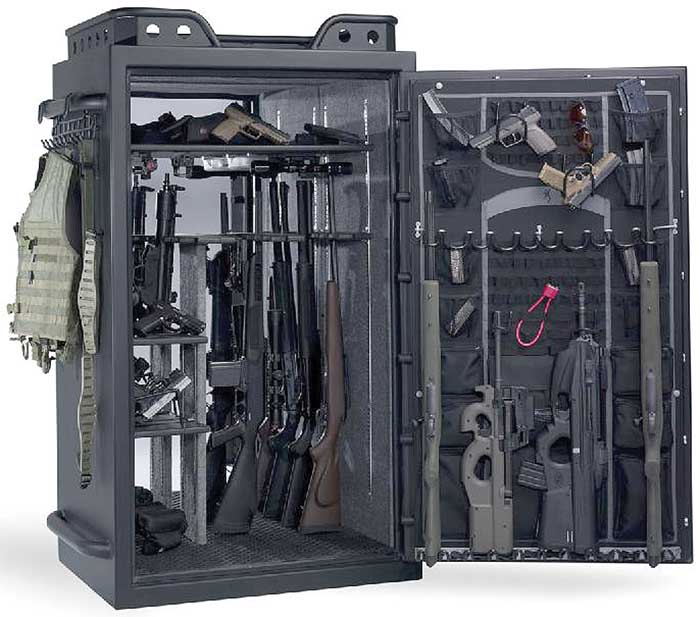 Browning has been the industry leader and innovator in gun safes for over 27 years. But there has never been a Browning ProSteel safe like the all new AR34F Tactical safe. In fact, the AR34F leads in ground breaking innovation and is the first tactical gun safe ever. And it is perfect for the person who has special guns – tactical guns – that have special storage requirements. On the outside it has the tactical look you like – black and textured – with the unique look of overhead and side racking. On the inside it is specially designed to handle the odd shapes and sizes and special storage requirements of tactical guns. That means it's made for shorter length rifles with different shapes, unique optics and unique buttplate-to-magazine-to-muzzle dimensions. Finally a practical way to secure your AR, M16, M4, AK, FAL, FNAR, SCAR, or whatever, in a way that makes sense and doesn't waste valuable space. It is not a beginner's safe. If you have the goods that need protection from theft and fire, this gun safe excels. If you like the look of black guns, then this gun safe rises to the top. The AR34F has tactical looks and an interior that will conveniently hold both tactical and sporting guns. For more on this exciting new product please contact Browning, Dept. SAR, 1 Browning Place, Morgan, UT 84050. Phone: (801) 876-2711. Fax: (801) 876-3331. Website: www.browning.com.
MasterPiece Arms Adds Rifle Version of MAC-10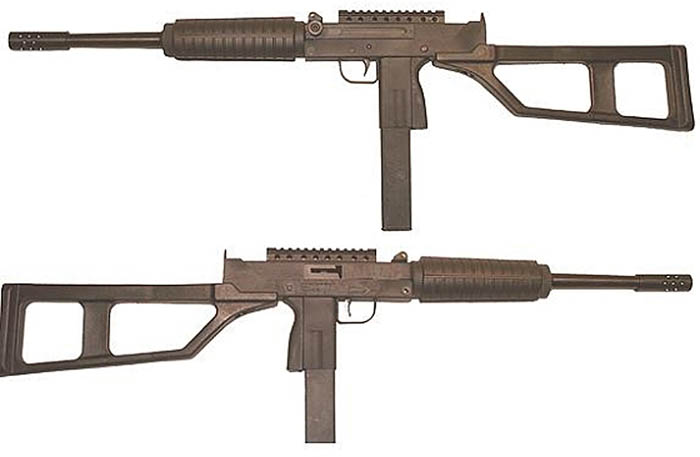 MasterPiece Arms, the nation's only true MAC-10 manufacturer, introduces four models of carbine rifles to their line. Known for their innovative alterations to the traditional MAC-10, MasterPiece Arms has taken the simplicity of the firearm's function and added rifle barrels and several stock options to form a rifle line that is sure to please any varmint hunter or collector.
MPA1T-A is a .45 caliber top-cocking carbine rifle with a 16 inch threaded barrel. This product comes with one 30-round magazine. Thread size is 11/16 x 16. This product has an MSRP of $549.95. The MPA1SST-A is also a .45 cal. carbine rifle with has a side-cocking mechanism and scope mount with a 16 inch threaded barrel with a thread size of 11/16 x 16 and includes one 30-round magazine. MSRP is $599.95. MPA20T-A is a 9mm carbine rifle and is a top-cocking model with a 16 inch threaded barrel with a thread size of 1/2 x 28 and one 30-round magazine is included. The MSRP is $529.95. And finally, the MPA20SST-A is also a 9mm carbine rifle and is a side-cocking model with scope mount has a 16 inch threaded barrel with a 1/2 x 28 thread size. MSRP is $579.95.
MasterPiece Arms uses state of the art CNC machining, turning, laser cutting and bending in its manufacturing process. MPA puts more than a year and a half into engineering, testing and re-testing its weapons to provide customers with one of the most enjoyable guns available. With versatile uses such as protection, hunting, tactical or novelty interests, MPA products are one of a kind and backed by a lifetime warranty for original owners. For more information please contact them at Masterpiece Arms, Inc., Dept. SAR, P.O. Box 669, Braselton, GA 30517. Phone: (770) 832-9430. Fax: (770) 832-3495. Website: www.masterpiecearms.com.
Gun Mounted Glass Breaching Tool from XS Sights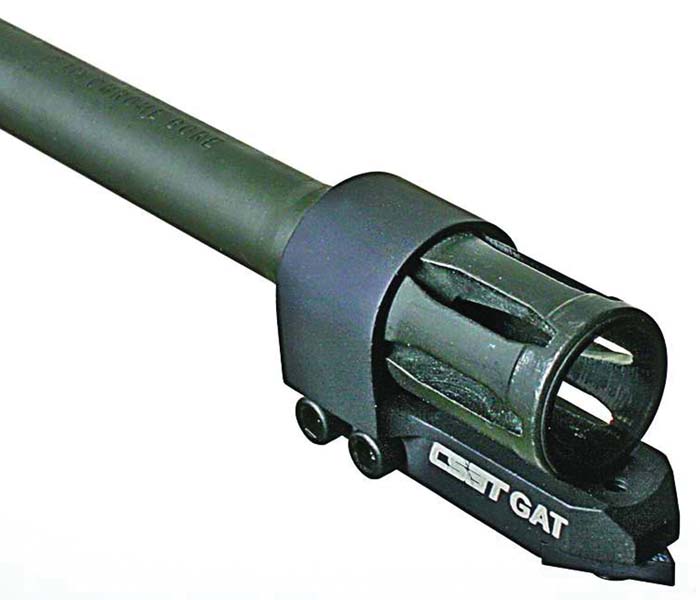 Tactical operations often require the breaching of glass obstacles. This can be necessary during vehicles extractions, while working with barricaded suspects or responding to hostage situations. XS Sights Systems' CSAT GAT (Glass Assault Tool) provides a rapid and effortless means of breaching automotive or cosmetic glass while keeping both hands on the primary weapon system. The XS Sights' CSAT GAT will let operators remain ready to properly address the threat or engage combatants immediately before, during and immediately after glass breaching actions.
The XS Sight Systems' CSAT GAT was developed by Master Sergeant (Retired) Paul Howe. Howe is the lead instructor for Combat Shooting and Tactics (CSAT) and the Senior Manager with Triple Canopy Law Enforcement Training. Howe spent 10 years with U.S. Military Operations as an Assault Team Leader, Sniper and Senior Instructor. The XS Sight Systems' CSAT GAT is easy to install. It slips over any standard A1/A2 flash hider and is held in place by a compression fit with two screws. The CSAT GAT is made with an aluminum housing and all-steel components. Suggested retail price is $80. It is available direct from XS Sight Systems. You can contact them at XS Sight Systems Inc., Dept. SAR, 2401 Ludelle, Fort Worth, TX 76105. They can be found on the web at www.xssights.com.
Quick Escape Tool by Ontario Knife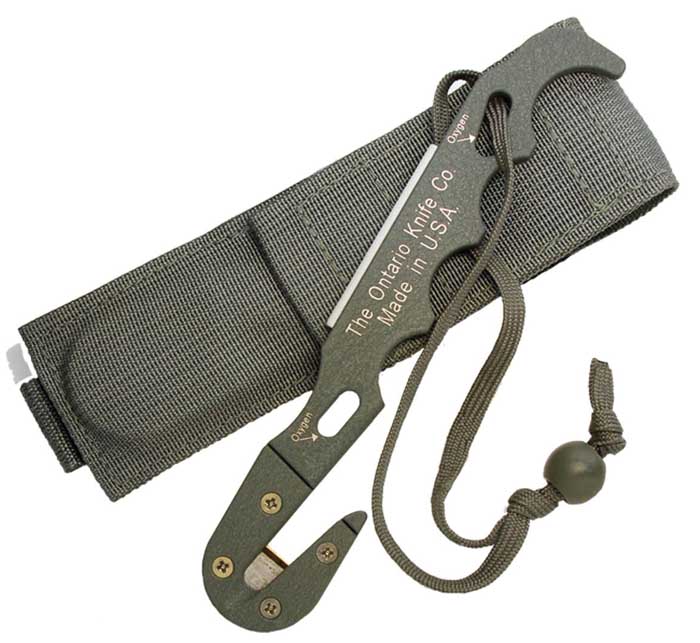 Accidents can happen in a split second, and can be made worse by straps, clothing or seat belts entangling the victim – whether on the highway, in the woods or on the battlefield. That's why Ontario Knife Company has developed the Ontario Knife Model 1 Strap Cutter, the perfect tool to cut through tough nylon straps when seconds can mean the difference between life and death. This compact, but powerful design is only 6-1/2 inches long, but don't let the size fool you. Its recessed razor-sharp blade cuts through the toughest fabrics and materials known to man in one quick motion, so you can promptly extricate yourself or other victims after a car wreck, an accident on the job, or fall from a tree stand. It's perfect for first responders, hunters, members of the military, pilots and parachutists – or simply to be kept in any car or hanging from your belt in the woods or first aid kit. The new Ontario Knife Model 1 Strap Cutter is made from amazingly sturdy, lightweight, anodized aluminum and features a honing rod and three ultra sharp, replaceable Titanium Nitride-coated blades. These unique shatter-proof blades are flexible, impact resistant, and can slice through clothing, plastic or leather boots like a hot knife through butter. Plus, it comes complete with a rugged foliage green nylon sheath which easily houses spare blades and screws, and an equally sturdy para-cord lanyard that keeps it right within reach. This safety tool also features two perfect-sized openings that fit standard oxygen valves. Like all Ontario Knife Company products, the Ontario Knife Model 1 Strap Cutter is proudly made in the U.S.A. Please contact them at Ontario Knife Company, Dept. SAR, P.O. Box 145-26 Empire Street, Franklinville, NY 14737. Phone: (716) 676-5527. Their website is www.ontarioknife.com.
DeSantis Features Roto-Tuck Tuckable Holster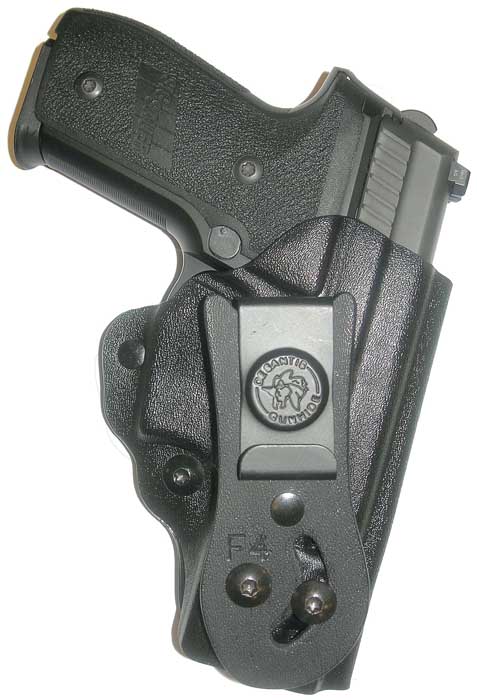 The Eighteen-11 style #D96 featuring the new Roto-Tuck attaching device and adjustable tension is now available for the Glock 17/22/31, and 19/23/32/36, and SIG P229R. Others will soon follow. The Eighteen-11is a tuckable holster, which means it's more concealable than the competition, and you're not limited in clothing choices. It's constructed of rigid Kydex sheet for strength and durability, and it won't collapse when the weapon is drawn. The Eighteen-11 can be worn strong side (butt rearward), cross draw (butt forward), small of back (almost horizontal) or anything in between. It is available in both right hand and left hand and is priced at $39.99. For more information you can contact them at DeSantis Holster and Leathergoods Company, Dept. SAR, 431 Bayview Avenue, Amityville, NY 11701. Phone: (631) 841-6300. Fax: (631) 841-6320. Visit them one the web at www.desantisholster.com.
DEZ Arms Introduces Match Grade Barrels

DEZ Arms, Inc.'s AR-15 custom match grade barrel is an upgrade from standard production or mil-spec barrels. Tactical, law enforcement, military, as well as avid hunters, report greater accuracy with this barrel. The DEZ custom match grade barrel offers durable 4140 chrome moly steel with M4 cut barrel extension. The barrel is already headspaced, predrilled for gas port hole, has 5.56 chambering, 1:9 inch right hand twist, 6-groove rifling and is turned on center. It is stress relieved, hardening to 26-33 Rc, and has a corrosion resistant matte finish (parkerized). The barrels are particle testing, air gauging, have a .750 inch diameter at the gas port, and 1/2 inch x 28 tpi threading for standard flash suppressors and muzzle brakes. Sold stripped, the barrels can be set up with your choice of hand guard. DEZ Arms is a custom manufacturer offering match grade barrels in a variety of styles including 10.5, 11.5, 14.5, 16, 17, 18 and 20 inch. AR-15 16 and 20 inch fluted and .625 retro barrels are also available. The company sells A2 front sight bases and other small AR-15 parts. DEZ Arms is committed to developing quality products made in the U.S.A. MSRP is between $160 and $190. For more information please contact them at DEZ Arms, Inc., Dept. SAR, 2899 11th Drive, Adams, WI 53910. Phone: (630) 280-9446. Fax: (630) 668-2041. Their website is www.dezarms.com.
Precision Target Rifle Snapcaps from Harbour Arms
Harbour Arms was started by competition shooters who saw the need for specialized equipment. Long time target shooter and police trainer Paolo Donisi and his partner Eric Kennard, who has 25 years of LE and instructor experience as well as being an avid mid and long range prone competitor and shooter, have introduced snapcaps in the target/sniper calibers that heretofore have been unavailable. They knew from experience that to safely test fire their rifles the cases had to properly machined to the exacting specification of accurate rifles. Their products, Precision Target Rifle Snapcaps, are machined from solid aluminum to exacting specs required, then red anodized. The brass spring loaded plungers are designed to absorb the firing pin shock at the appropriate level for the systems.
They are currently offering the following calibers: .223 (5.56x45mm), .300 Win Mag, .308 Win (7.62x51mm), .338 Lapua Magnum, 6mmBR, 6mm Dasher, 6mm BRX, 6XC, 6×47 Lapua, 6.5×47 Lapua, 6.5x.284, and .260 Remington, with more calibers in the planning stages. All are sold in pairs at $12.95 per pair.
For more information, please contact them at Harbour Arms, Dept. SAR, 231 Waterside Dr., Indian Harbour Beach, FL 32937. Phone: (321) 777-4604. They can found online at www.harbourarms.com.
This article first appeared in Small Arms Review V13N2 (November 2009)