By Chris A. Choat
New Lizard Pattern Camo from EOTAC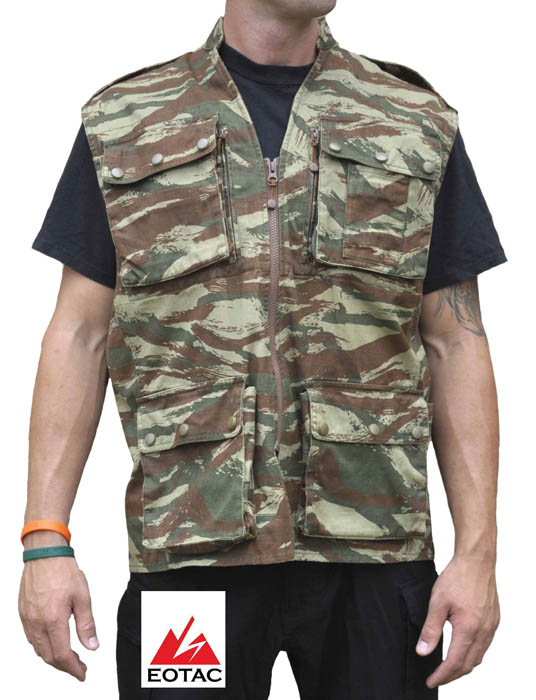 EOTAC, makers of the highest quality tactical and discreet garments available to operators, announces the introduction of the Operator Grade Field Jacket and Field Vest in Lizard Pattern Camo. The Lizard pattern camouflage was originally used on the uniforms of the French Foreign Legion Paratroopers during the Algerian War. A variation of the pattern was used by the Portuguese in Angola and over the years other versions were used on military uniforms from Namibia, Greece, Yugoslavia, and Cyprus. After receiving numerous inquiries, EOTAC is answering the demand by introducing the Field Jacket and Field Vest in an accurate reproduction of the original Lizard pattern. The Operator Grade Field Jacket is based on the French Foreign Legion Paratrooper Jacket that originally came in that pattern, making it a perfect match up. The Operator Grade Field Vest is a sleeveless version of the Field Jacket. The Lizard pattern, or Leopard pattern as the French called it, is the forefather to the famous Tiger stripe pattern used during the Vietnam War. The Field Jacket and Vest are also available in Coyote Brown, Black, and OD Green. The retail price for the Field Jacket is $124.99 for sizes small to 2XL and $131.99 for size 3XL. The retail price for the Field Vest is $99.99 for sizes small to 2XL and $108.99 for size 3XL. For more information on the EOTAC line of tactical and discreet garments contact EOTAC, Dept. SAR, 1940 Old Dunbar Road, West Columbia, SC 29172. Phone: (803) 744-9930. Fax: (803) 744-9933. They can be found on the web at www.eotac.com.
Ontario Knife Releases New XM Strike Fighter

An easy-to-access concealed knife can be an officer's or operator's saving grace when faced with a life and death encounter in the field, which is why Ontario Knife Company has introduced the ultimate automatic opening combat knife – the Ontario Knife Company XM Strike Fighter. Constructed with 154 CM stainless steel with a Tribocote R40 black powder coated finish – creating incredible toughness – the XM Strike Fighter provides U.S. military and law enforcement personnel with a sleek, compact and extremely effective blade that's accessible at a moment's notice. Available with either a plain or partially serrated blade edge, and yielding an overall length of 8.5 inches, the XM Strike Fighter features an outside quick release button and secondary safety lock to ensure this rugged folding combat knife is ready when you need it and stays concealed when you don't. The .55 inch thick 6061-T6 aluminum handle is extremely low profile, housing a 3.75 inch long/.125 inch thick blade, and comes equipped with a handy pocket clip so it is conveniently concealed in a pocket, boot or belt. The black anodized aluminum handle features milled grooves to improve grip and the blade's fuller keeps the knife's overall weight at a mere 4.5 ounces resulting in an extremely lightweight, low profile and useful knife. For more information about Ontario Knife Company and its industry-leading line of advanced knives, machetes, edged products and specialty tools, contact Ontario Knife Company, Dept. SAR, P.O. Box 145-26 Empire Street, Franklinville, NY 14737. Phone: (716) 676-5527. Web address: www.ontarioknife.com.
New Conceal Carry Products from Uncle Mike's
Uncle Mike's Law Enforcement has added three new products that are designed for concealed carry of handguns. Uncle Mike's Fanny Pack has a new design with updated materials for a better look and function. The pack holds the handgun snuggly but is easily accessible. In addition to a handgun, the Uncle Mike's Fanny Pack will hold other small items. Suggested retail price is $34.95. Uncle Mike's "Day Timer" Holster is a nice looking small day planner that is actually a holster. It looks like any other day planner from the outside, but instead is an excellent way for a gun owner to carry a concealed handgun. The day planner is made of ballistic nylon and sells for a suggested retail price of $16.95. Uncle Mike's PDA Holster looks like a regular cell phone or PDA carry case but it is really an alternative way to carry a small concealed handgun. The case comes with a belt clip and has a soft interior that protects the firearm. The PDA Holster gives the owner instant access to their firearm while keeping it undetected. It sells for a suggested retail price of $9.95. For more information on these as well as a full line of holsters, cases and firearms accessories, please contact Uncle Mikes Law Enforcement, Bushnell Outdoor Products, Dept. SAR, 9200 Cody, Overland Park, KS 66214. Phone: (913) 752-3400. Fax: (913) 752-3550. Their website can be visited at: www.unclemikesle.com.
Extreme Shock Ammunition now has AR Mag-Well Add-Ons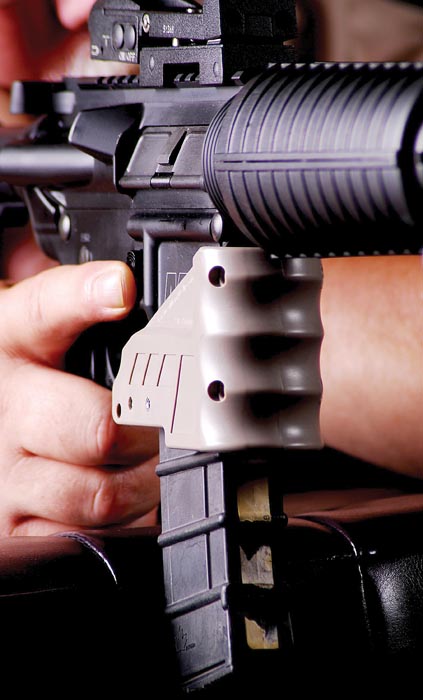 Extreme Shock Ammunition, known for producing the world's most advanced ammunition, introduces two new products, the Extreme Shock GripWell and the Extreme Shock LightWell. These two products are built for use with an M4 or AR-15 to offer better grip, allow for faster reloads, improve stance for CQB and protect the gun itself. The GripWell allows the operator to use the magazine well as a grip and creates a magazine funnel to reduce reload time. It weighs only 110 grams and is independent of the barrel length so it can be interchanged between full length and carbine length weapons. The GripWell design was developed to give the operator the preferred tight in elbow grip when holding the weapon. It will also allow the use of double mags. The "Mag Cinch" can be used by removing the top strap. Other manufacturer's magazine clips can be used as well. The LightWell has all the advantages of the GripWell with the added ability to have a weapon light mounted on the gun without the need for a heavy and expensive rail system. The LightWell design allows for the light to be mounted on either the left hand or right hand side. The GripWell and the LightWell allow for cleaning of the weapon without removal. For more information please contact them at Extreme Shock USA, Dept. SAR, 182 Camp Jacob Road, Clintwood, VA 24228. Phone: (276) 926-6772. Fax: (276) 926-6092. Their website is www.extremeshockusa.net.
Wilson Tactical Introduces New "Rogue Knight" Bowie Fighter Knife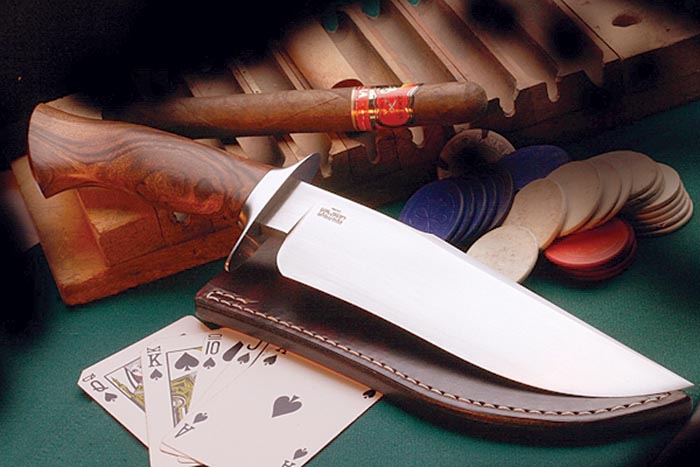 For over a decade Wilson Tactical, the knife and tool division of Wilson Combat, has brought the finest in quality edged tactical tools to their discriminating clientele. For 2009 they are raising the bar and are now offering a limited collection of handmade knives by some of today's premier tactical knife makers without the long wait typically associated with special ordering a custom edged masterpiece. These newly designed knives featured in the new Custom Alliance will be few in number and will quickly become a valued centerpiece of any collection. These offerings will typify the Wilson standards of extraordinary quality, classic design and unmatched value. Wilson Tactical is proud to announce their first Custom Alliance with Master Bladesmith Jason Knight of Harleyville, SC. The Rogue Knight features an 8.5 inch hand forged blade of virtually unbreakable L-6 high carbon tool steel. A special heat treatment and salt bath tempering ensures that the real-world toughness and edge holding of this knife is second to none. The immaculate blade grinding, flawless fit and hand contoured premium ironwood handle will exceed your expectations for finish, balance and hair-splitting sharpness. The Rogue Knight is the perfect piece for the discriminating user or collector of fine tactical edged weapons and is limited to 10 serial numbered pieces with leather concealment sheath also by the maker. For more information on these very limited knives please contact Wilson Tactical/Wilson Combat, Dept. SAR, 2234 CR 719, Berryville, AR 72616. Phone: (870) 545-3618. Fax: (870) 545-3310. On the web at: www.wilsoncombat.com.
Zel Custom Announces AR Upper Receiver in .416 Barrett

Due to the success of the Tactilite .50 BMG, Zel Custom Manufacturing has released a new line of Tactilite uppers that convert a standard AR-15 into a .416 Barrett bolt-action rifle. The Tactilite, a complete upper assembly that allows a user to quickly convert an AR-15 rifle into a precision single-shot, bolt-action rifle, chambered in either .50 BMG or .416 Barrett, has been a big hit for Zel Custom. Since its release in June 2009, the Tactilite has been enthusiastically received by the shooting community and have caused sales to skyrocket for the new company. From casual shooters to the professional user to even the on-line gaming community, the Tactilite .50 BMG has received an incredibly positive response. Now, they are proud to offer a version chambered in .416 Barrett, to meet the needs of both the California market and those who want to use this incredible new chambering. The .416 Barrett is more powerful than the .50 BMG out to 1,000 yards. For more information please contact Zel Custom Manufacturing, LLC, Dept. SAR, 11419 Challenger Avenue, Odessa, Florida 33556. Phone: (303) 353-1473. Fax: (303) 265-9268. Their website is www.zelcustom.com.
This article first appeared in Small Arms Review V13N3 (December 2009)