By Chris A. Choat
Sturm, Ruger Announces New SR-22 Rifle

Sturm, Ruger & Co., Inc. announces the introduction of the Ruger SR-22TM Rifle, an autoloading, rimfire rifle that combines the legendary reliability of the Ruger 10/22 with the ergonomics and configurability of the new AR-style Ruger SR-556. The new SR-22 rifle allows shooters to use economical .22 LR ammunition, while still enjoying the look and feel of an "AR" and experiencing the reliability they have come to appreciate from Ruger. Because it utilizes the unique rotary magazine supplied with the Ruger 10/22, the SR-22 Rifle offers the same gold standard for reliability in autoloading rimfire rifles. Like the 10/22, the AR-style SR-22 rifle also has an extensive array of accessories available, allowing shooters to select a custom configuration that best suits their tastes and needs. The SR-22 rifle uses a standard 10/22 action inside a top-quality, all-aluminum chassis that faithfully replicates the AR-platform dimensions between the sighting plane, buttstock height, and grip. The SR-22 rifle provides a Picatinny rail optic mount, and includes a six-position, telescoping M4-style buttstock (on a Mil-Spec diameter tube), plus a Hogue Monogrip pistol grip. Buttstocks and grips may be swapped out for any AR-style compatible option. The SR-22 also features a round, mid-length handguard mounted on a standard-thread AR-style barrel nut. Picatinny rails, specifically designed for this handguard, are available from Ruger, allowing the handguard to be configured to accept any number of rail-mounted sights or accessories. A barrel support block is installed in the handguard, ensuring accuracy and allowing the standard 10/22 V-block barrel attachment system to be used. The SR-22 is equipped with a precision-rifled, cold hammer forged alloy steel barrel. The 16-1/8 inch barrel is capped with an SR-556/Mini-14 flash suppressor mounted with a 1/2-28 thread. For more information on the SR-22 rifle, and other great Ruger products, please contact them at Sturm, Ruger & Co. Inc., Dept. SAR, 200 Ruger Road, Prescott, AZ 86301. Phone: (928) 778-6555. Fax: (928) 778-6633. Their website is www.ruger.com.
Trijicon Advanced Thermal Weapons Sight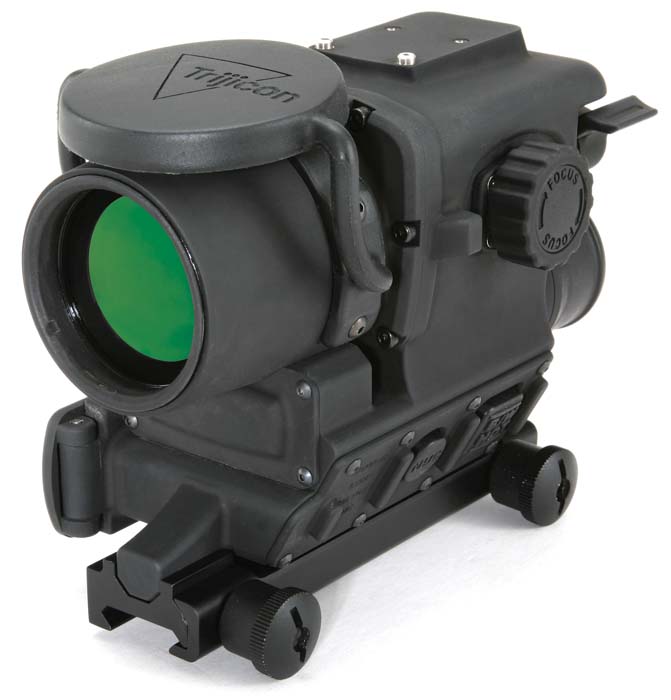 Trijicon, Inc., the world leader in Brilliant Aiming Solutions and combat optics, is proud to announce its development of the latest-generation, cutting-edge Advanced Trijicon Thermal Weapons Sight (ATWS) for small arms use. The Trijicon ATWS is the first high-definition (640×480 pixel) small arms mounted uncooled thermal sight in the world. It is also smaller and lighter than most current lower-definition weapons-mounted thermal sights available on the market. The Trijicon ATWS is specifically designed to be used in conjunction with the Trijicon ACOG (Advanced Combat Optical Gunsight) allowing extremely rapid and sure target acquisition and engagement, regardless of poor lighting conditions or battlefield obscurants like dust, smoke or fog. With nearly 500,000 Trijicon ACOGs currently in service, the new Trijicon ATWS can further enhance the gunner's ability to engage nighttime targets and provides convenience and combat readiness as it can be mounted and dismounted without removing the Trijicon ACOG optic. The Trijicon ATWS mounts forward of the Trijicon ACOG, allowing full use of the illumination capabilities and Bullet Drop Compensator (BDC) reticles incorporated into most Trijicon ACOG models. For additional versatility and utility, the Trijicon ATWS can also be used as a stand alone, hand-held thermal sight if desired. Partnering with FLIR Systems, Inc., a world leader in the design, manufacture and marketing of thermal imaging and stabilized camera systems, the product specifications for the new Trijicon ATWS make it the ultimate, next generation sight made for those whose lives could depend on the performance of their equipment. Using a 640×480 pixel uncooled microbolometer camera, the Trijicon ATWS matches the 7° FOV of the Trijicon ACOG, so the gunner sees the same scene with or without the Advanced Thermal Weapon Sight. The sight is powered by four CR123 lithium batteries yielding up to five-hour power duration, and weighs a mere 1.5 pounds with batteries. The Trijicon ATWS is also incredibly compact, measuring just 5.9 inches long x 3 inches high x 3.4 inches wide. Finally, the Trijicon ATWS is amazingly durable, having been tested to withstand the shock of 5,000 rounds of gunfire. For more information on this as well as their entire line of high quality optics please contact Trijicon, Inc., Dept. SAR, 49385 Shafer Avenue, P.O. Box 930059, Wixom, MI 48393. Phone: (248) 960-7700. Fax: (248) 960-7725. Their website is www.trijicon.com.
MKS Supply Introduces Their 1911 .22 Pistol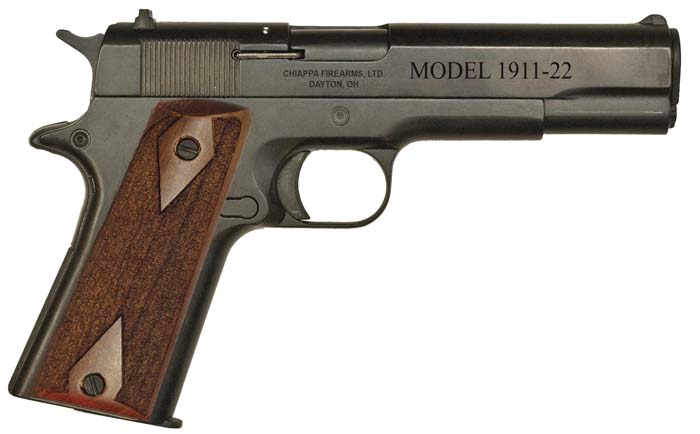 For a price under most 1911/.22 conversion units, MKS Supply, Inc., is making available a fantastic buy for gun owners across the country: a full size replica of the standard 1911 .45 ACP. The weight is less than the original 1911 because both the slide and the frame are constructed of aluminum alloy. The lighter slide in particular also allows for reliable functioning as it has much less mass for the recoil action of the diminutive .22 LR round to function. The internal components of the 1911-22 are all steel of course. The barrel is fixed to the frame to provide better accuracy. The fixed barrel also eliminates some not necessary parts found in the original .45 which was designed for full disassembly due to battlefield conditions. Finish on the slide and frame is a tough flat black oxide finish. MKS Supply is also going to make available models with olive drab and desert tan powder coated slides. The pistol's 10-round magazine is made of industrial-grade polymer and has been proven in extensive testing to be incredibly reliable as the polymer forming process ensures they are identical thus eliminating steel assembly and fit variances. Also, MKS Supply will offer extra magazines at a no-gouge price around $20 MSRP. The new pistol will also feature walnut grips with laser cut checkering and dovetail drift-adjustable rear sight. It will have a full one year parts and labor warranty. MSRP is $299. For more information please contact MKS Supply, Inc., Dept. SAR, 8611-A North Dixie Drive, Dayton, OH 45414. Phone: (937) 454-0363. Website: www.1911-22.com.
Arsenal Releases New 5.45×39 AK-74 Rifle

Arsenal, Inc. introduces its own AK-74 rifle chambered in 5.45×39. Combining 21st century technology with original Mil-Spec design features, Arsenal has succeeded in producing America's first ever AK-74 built on an original Russian Kalashnikov platform. Bringing the flat shooting, superior ballistic characteristics of the 5.45×39 round together with the world's most reliable battle rifle ever made, Arsenal is sure to re-invent history with the addition of this rifle to its product line. Each SGL31 will come standard with Arsenal's own, new production, US made, AK-74 muzzle brake that uses modern-day CNC technology to improve upon an already highly effective brake. As with all Arsenal products, this brake is made with original Mil-Spec designs, insuring the effectiveness of the brake is never compromised and only improved upon. Also, every SGL31 will have Arsenal's upper and lower handguards that are said to be the world's most effective heat dissipating AK handguards on the market due to its stainless steel heat shield. The SGL31 features a hammer forged chrome lined barrel that is built to stand not only the test of time but against any environment or situation encountered. In keeping with Arsenal's tradition of insuring authenticity and reliability, every SGL31 comes with a bullet guide and the ability to accept and feed reliably Arsenal's Mil-Spec, steel re-enforced, legendary, double circle 10 high capacity magazines. And, with Arsenal's exclusive two stage trigger design, the SGL31 provides a clean and crisp pull when shooting. Available with optional accessories, like the KV-04S scope mount and the four-sided aluminum Picatinny rail, the battle tested and battle proven design of the AK-74 becomes the battle rifle of the future in the form of the Arsenal SGL31. Combining these features and many more, like the different stock lengths and colors, the SGL31 sets the standard as the most reliable and accurate battle rifle ever. Starting with a MSRP of $799, the SGL31 sets the standard in yet one more category: affordability. Arsenal serves as full line manufacturer, importer, and developer of the best combat rifles available and the accessories for them. For more information on this product or any other product in the Arsenal, Inc. line, please contact them at Arsenal, Inc., Dept. SAR, 3300 South Decatur Boulevard, Suite 10632, Las Vegas, NV 89102. Phone: (702) 643-2220. Fax: (702) 643-8860. Website: www.arsenalinc.com.
SureFire Now has 200 Lumen Output with new LX2 Light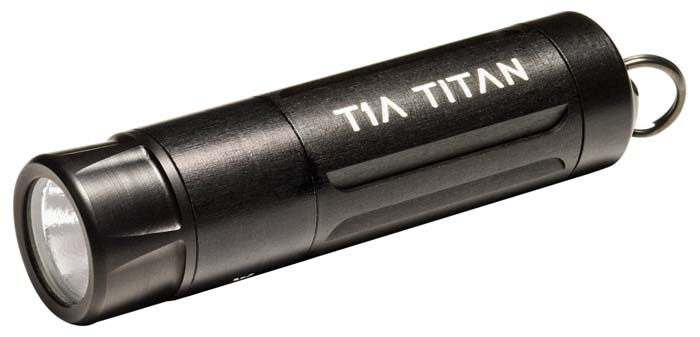 SureFire, LLC, manufacturer of high-end illumination tools and tactical products, has announced the release of its new LX2 LumaMax flashlight. The LX2 is the natural evolution of the popular L2 LumaMax flashlight introduced by SureFire in 2004. It features a cutting-edge design with higher output and longer runtime than its predecessor. When it was first introduced five years ago, the L2 featured state-of-the-art flashlight technology, with a two-stage light emitting diode (LED) that produced 15 lumens of useful light at its low setting and 100 lumens of tactical-level light at its high setting. The new LX2 follows in the L2's footsteps but makes strides of its own. It features the same lower output level but with double the maximum output, making it the first commercially available SureFire LED flashlight to produce an incredible 200 lumens of light, 10 times that of a typical two-D-cell flashlight. What's more, the LX2 has double the total runtime of the L2. SureFire engineers redesigned the L2 from the ground up to create the new LX2. They first shaved three quarters of an inch from the L2's overall length to give the LX2 a more compact 5.4-inch body. Next, the L2's rough-knurled body was replaced by a smooth body with flutes CNC machined into it for a smooth yet functional grip that won't wear down clothing. Like the L2, the body is coated in Mil-Spec Type III hard anodizing, and an optically coated Borofloat window maximizes light transmission while protecting the LED. Finally, SureFire's proprietary reversible pocket clip was added for convenient carry-bezel up or down or even clipped to the bill of a cap. SureFire illumination tools are used by more SWAT teams and elite special operations groups than any other brand. For more information please contact them at SureFire LLC, Dept. SAR, 18300 Mt. Baldy Circle, Fountain Valley, CA 92708-6122. Phone: (714) 545-9444. Fax: (714) 545-9537. Their website is www.surefire.com.
This article first appeared in Small Arms Review V13N4 (January 2010)